GUNMAN OPENS FIRE AT NAVY YARD IN WASHINGTON
A man brandishing an assault rifle, shotgun and handgun opened fire Monday inside a building at the Washington Navy Yard — killing at least four people and wounding at least seven more, including two police officers, authorities said.
SWAT officers swarmed the building, the headquarters of the Naval Sea Systems Command, and a shooter there was killed, sources told NBC News. More than two hours after the first gunfire, there were reports that tactical teams were entering a second building at the Navy Yard, but there was no hard evidence of a second gunman.
Terrie Durham, who works at the Naval Sea Systems Command building, said the gunman appeared to be wearing dark fatigues. Another worker there, Todd Brundidge, said he heard a fire alarm go off, and later saw the gunman come around the corner.
"He turned our way and started firing, and we ran downstairs to get out of the building," Brundidge said. "No words. He raised the gun and started firing."
A naval security guard was among those shot and was hit in both legs, U.S. military officials said. Washington city police told WRC, the NBC affiliate in Washington, that one of their officers was also among those shot. It was not clear how many of the others shot were civilian and how many were military.
Tim Hogan, a spokesman for Rep. Steven Horsford of Nevada, posted photos to his Twitter account of people tending to at least one person down on a street corner.
Chaos enveloped the surrounding neighborhood for hours. Flights were briefly grounded at Reagan National Airport, and nearby schools and the headquarters of the Department of Transportation were locked down. Farther away, police stepped up security on the Capitol grounds.
Dr. Janis Orlowski, the chief medical officer at MedStar Washington Hospital Center, said that the hospital was treating three gunshot victims — a woman hit in the head and hand, a woman hit in the shoulder and a man hit in the legs.
She said that the victims came in alert and talking.
"They're talking about gunshots that they heard in rapid succession," she said.
George Washington University Hospital said it had one patient.
The Navy said on its Twitter feed that three shots were fired at 8:20 a.m. ET at the Sea Systems Command headquarters. About 3,000 people work there, the Navy said. They were ordered to stay in place. WRC video showed a medical helicopter lifting someone off a roof.
"This is a huge piece of land with several building so it's going to take some time for us to get through it and search it so we can make sure it's safe," Peter Newsham, assistant chief of the Washington police, told reporters.
The White House said President Barack Obama was getting regular briefings.
The Naval Sea Systems Command builds, buys and maintains ships and submarines and their combat systems. The Navy Yard is along the Anacostia River in Washington, near the Washington Nationals baseball stadium.
-
AIR LIFT AT SCENE OF NAVY YARD SHOOTING
Published on Sep 16, 2013
A Defense Department official says several people have been killed and as many as 10 have been wounded in a shooting at the Washington Navy Yard.
-
12 killed, more wounded...
AP: 1 SHOOTER DEAD...
DC POLICE CHIEF SAYS 2 OTHER SHOOTERS MAY BE AT LARGE...
Wearing military-style uniforms...
-
WITNESS: 'HE RAISED, AND AIMED AND FIRED'
Published on Sep 16, 2013
Witnesses described the chaos at the Washington Navy Yard as shots were fired on workers there. Officials say several people were killed, and police are looking into the possibility of a second shooter.
-
WITNESS: SOMEONE WAS SHOT IN HEAD NEXT TO ME
A Navy commander says someone was shot right next to him after the two had a brief conversation outside a Navy Yard building where police say a gunman opened fire.
-
BEFORE DELIVERING REMARKS ABOUT THE ECONOMY, PRESIDENT OBAMA MAKES A BRIEF STATEMENT ABOUT THE SHOOTING AT THE WASHINGTON NAVY YARD ON SEPTEMBER 16, 2013
-
by John Nolte | Breitbart
September 16, 2013
Just minutes after the Washington DC police chief said that two shooters might still be on the loose in the Navy Yard mass murders, President Obama held a previously scheduled event to defend his economic record.
The president opened his remarks condemning a shooting that has reportedly left 6 dead and as many as 10 injured.
President Barack Obama is mourning what he called "yet another mass shooting" in the United States that he says took the life of American patriots.
Obama promised to make sure, quote, "whoever carried out this cowardly act is held responsible."
The president then went into a lengthy and familiar defense of his economic record as events surrounding the Navy Yard murders continued to unfold.  Obama criticized Republicans in advance of the upcoming budget battle, mocked Mitt Romney as having lost after calling for a repeal of ObamaCare, and talked about the economy he inherited from George W. Bush:
President Barack Obama says the nation's financial system is `safer' five years after the collapse of a Wall Street giant plunged the nation deeper into a recession.
Obama marked the fifth anniversary of the bankruptcy of Lehman Brothers by surrounding himself with Americans the White House says have benefited from the administration's economic and banking policies.
Obama says his administration has laid a "new foundation" for a stronger economy. But he admits that the benefits are not being felt by many middle class Americans.
While the president spoke, law enforcement officials just a few miles away took care of the wounded and dead, and attempted to track down two additional shooters suspected of being involved.
-
D.C. MAYOR: AT LEAST 12 DEAD, MOTIVE 'UNKNOWN'
D.C. Mayor Vincent Gray says at least 12 people have died in shootings at a military facility in the heart of the U.S. Capital. Officials are telling people to stay in their homes as authorities search for two other possible suspects.
-
AT LEAST 12 DEAD IN NAVY YARD RAMPAGE; ONE SHOOTER DEAD, HUNT ON FOR TWO MORE
By Kristina Wong and Jacqueline Klimas | The Washington Times
Mayor Vincent Gray said at least 12 people were killed in the Navy Yard rampage as D.C. Police Chief Cathy Lanier revealed one shooter was killed at the scene and authorities are looking for two other men who may also have been involved in the attack.
Authorities have identified the dead shooter as a Navy employee whose work status had been changed earlier this year, a federal government official told the Associated Press on condition of anonymity because he wasn't authorized to speak on the record.
While that may suggest the motive was job related, authorities haven't ruled out anything, including terrorism, the official said.
A senior federal law enforcement official said authorities were investigating whether the main shooter, a black male, was motivated by a dispute with employees at the Navy Yard.
Authorities were still clearing the building early Monday afternoon but expected the death toll could reach as high as eight people, including the shooter, said the official, who spoke only on condition of anonymity.
The two at large suspects were dressed in military garb but are not believed to be U.S. service personnel, Lanier said.
One was a young white man in a khaki like uniform and the other was a black man in his 50s with a long rifle in an olive colored garb, she said.
Lanier said there were multiple fatalities at the scene but exact numbers were not immediately.
A Navy spokesman said early Monday that four people were killed and eight wounded in shooting at the Washington Navy Yard — though the death toll is expected to climb.
-
-
Capt. Ed Buclatin, a spokesman at Naval Installations Command, which is based at the Navy Yard, tweeted:
#BREAKING: 4 killed and 8 injured. One shooter down #NavyYardShooting #Navy #CNICHQ
The Associated Press reported six people were dead, though it was unclear if that figure included the shooter. More than a dozen people were injured.
Multiple media reports said at least two attackers were involved in the rampage.
Mayor Vincent Gray said officials are still working to determine the number of fatalities during a press conference at noon.
Buclatin said all the injuries occurred in the Building 197, which is home to the Naval Sea Systems Command.
Navy officials had reported three shots were fired at 8:20 a.m. at the headquarters of the Naval Sea Systems Command in Southeast Washington.
D.C. police quickly deployed an "active shooter team" within seven minutes of reports of shots fired, Ms. Lanier said.
Two of the shooting victims are D.C. police officers.
Omar Grant, a civilian worker at the Navy Yard said he was on the first floor of the five-story atrium when he heard the first shot. "At first I didn't know if someone dropped something," Mr Grant said. "It echoes in an atrium."
Then he heard the other shots, Mr. Grant said.
"It was unmistakable," he said. "Nobody had dropped anything. Those were shots."

The Navy has issued a shelter-in-place order for personnel, Pentagon Press Secretary George Little said.
"We believe there has been loss of life and several injuries," Little said. "We continue to monitor this ongoing situation."
George Washington University Hospital has confirmed that a 60-year-old male was killed in the Navy Yard shooting Monday morning.
A spokesman said the man, whose name was not given, was dead on arrival to the hospital at around 9 a.m, about 40 minutes after the shooting.
The spokesman said the man was shot in the left temple and the wound was "not survivable by any stretch."
The hospital said it was told to be prepared to take more victims of the shooting.
A spokeswoman for Medstar Washington Hospital Center said the D.C. hospital has already received three people wounded in Monday's shooting at the Navy Yard and "we've been told to expect more."
Spokeswoman Jamie Orlowski said one D.C. police officer was already in surgery. The three shooting victims — one man and two women — have "a good chance of survival." One of the women had been shot in the hand and head, she said.
Ms. Orlowski told reporters she did not know if any other victims of the shooting would be transported to the hospital. She said Medstar officials have been in touch with other hospitals in the area to coordinate treatment of victims.
The rampage plunged D.C. into chaos during the morning commute.
The 11th Street Bridge was shut down, and people were routed away from the area, the police spokesman said.
Flights departing from Ronald Reagan Washington National Airport were stopped, the FAA said, and incoming flights are being held at their origin. Flights resumed shortly after 11 a.m.
At least six D.C. public schools in the area went into lockdown.
Also, people in the neighborhood around Fort Myer could hear a "shelter in place" order being issued over the loudspeakers about the time of the shooting.
About 3,000 people work at the headquarters of the Sea Systems Command, which is responsible for engineering, building, buying and maintaining ships, submarines and combat systems for the Navy.
The Washington Navy Yard is an administrative center for the Navy, housing the headquarters for several commands including Commander, Naval Installations Command, and Naval Sea Systems Command, which is located in Building 197 and is responsible for procurement and maintenance on the Navy's fleet of ships and submarines.
The National Museum of the U.S. Navy and the Naval History and Heritage Command are also located on base. It also serves as the location for court martials, or military trials, for the Washington area, including Annapolis.
It is the Navy's oldest shore command, according to Naval History and Heritage Command's website, and has been in operation since the beginning of the 19th century, first as a shipbuilding site before being designated as the manufacturing plant for all Navy ordnance after the Civil War.
It is now used for ceremonial and administrative functions, like change of command ceremonies for Navy leaders like the Master Chief Petty Officer of the Navy or the Chief of Naval Personnel.
-
NAVY YARD SHOOTING: THE DAY AFTER
Published on Sep 17, 2013
Washington, DC tries to regain normalcy one day after a mass shooting at the Navy Yard killed 13 people. New details are emerging about the shooter, Aaron Alexis, who's believed to be the lone gunman. RT's Sam Sacks recaps the day that was and gives the latest on the FBI's ongoing investigation.
-
AT LEAST 13 DEAD IN NAVY YARD SHOOTING, 14 INJURED
By Carol Morello, Peter Hermann and Clarence Williams | The Washington Post
At least 13 people are dead and 14 others were injured after a gunman opened fire at the Washington Navy Yard on Monday, Navy officials said, spreading fear and chaos across the region as authorities sought to contain the panic.
The incident, in which the death toll rose almost hourly, represents the single worst loss of life in the District since an airliner plunged into the Potomac River in 1982, killing 78.
D.C. Police Chief Cathy L. Lanier and Mayor Vincent C. Gray announced the mounting number of casualties in a series of news conferences. The suspected shooter, identified by the FBI as Aaron Alexis, 34, living in Fort Worth, is among the 13 dead. Alexis was a military contractor, one official said.
But even hours after the rampage began, it was still unclear whether the shooting was the act of a lone gunman, or if other shooters were involved. Lanier initially said authorities were looking for two more potential shooters dressed in military style clothing. But shortly after she announced a detailed description of two suspects, city officials said one had been located and cleared.
Lanier described the other possible suspect, who has not been located, as a black man in his 40s with gray sideburns, wearing an olive-drab military-style uniform. He, and the man who was cleared, came under suspicion when they were seen on surveillance videos.
Police are asking anyone with information on the suspect to call 202-727-9099.
Gray said no motive is known yet. He said there is no reason to believe it was an act of terrorism, though he added that he could not rule it out.
Gray said that in addition to those killed, about a dozen people were hurt. Later in the evening Vice Adm. Bill French said the number of injured was 14.
It was not clear whether those people were shot or suffered other injuries.
As of 8 p.m. Monday, Navy officials said about 2,000 people remained on base, and that it could take another 3-4 hours before everyone was cleared to leave.
Throughout the day, people were warned to stay in their homes and offices on the Naval Base as the incident unfolded.
Alexis was armed with an assault rifle and a handgun, two law enforcement officials said. One said he also had a shotgun. One official said all the weapons have not been accounted for.
The first, sketchy details about the suspect offered few hints about what may have gone wrong.
Alexis grew up in Brooklyn with his mother, Sarah, and father, Anthony Alexis, according to his aunt Helen Weeks.
"We haven't seen him for years," Weeks said of her nephew in a telephone interview. "I know he was in the military. He served abroad. I think he was doing some kind of computer work."
Alexis spent nearly four years in the Navy as a full-time reservist from May 2007 until he was discharged in January 2011, according to a summary of his personnel records released by Navy officials at the Pentagon.
The officials said they were still researching whether Alexis had been employed as a defense contractor or a civilian employee of the Navy, and were uncertain if he was assigned to work at the Navy Yard.
He achieved his final rank of Aviation Electrician's Mate 3rd Class in December 2009. Officials said they did not immediately know the reasons for his discharge.
The carnage began around 8 a.m. when the U.S. Navy said that three shots were fired at Building 197, headquarters of the Naval Sea Systems Command. About 3,000 people work in the building. As the noise that some thought sounded like construction work continued, the realization set in that a gunman was firing on them.
Rick Mason, a program management analyst who is a civilian with the U.S. Navy, told the Associated Press that a gunman was shooting from a fourth floor overlook in the hallway outside his office. He said the gunman was aiming at people in the building's first floor cafeteria.
Terry Durham said that as she and co-workers were evacuating, she saw a man down the hall raise a rifle and fire toward them, hitting a wall.
"He didn't say a word," said her co-worker, Todd Brundage.
One man who said he was at his desk on the second floor when the shooting began recalled hearing a loud noise "like someone dropping an old metal desk." The man, who declined to give his name, said there was a pause, then several noises close together and he realized the danger: "There's a shooter in the building. I started walking toward the door and I heard people running down the hall."
Employees described the chaos, as a fire alarm sounded and people shouted, "Where is he? Where is he?"
Gregory Dade, a Navy contractor, said he and a co-worker locked themselves in a second floor office of Building 197 as soon as the shooting went on, in fits and stops. Dade, called it "terrifying."
He heard a woman scream, glass crashing and a series of gun shots. Then he heard shouting: "Get down! Get down! This is the police."
Finally, about 11 a.m., he and a co-worker made a break for it.
At an exit, they noticed a trail of blood running to the next building.
Tim Jirus, a Navy commander who works in Building 197, said that as he was evacuating the building he saw a co-worker who had been shot getting into a police car, and heard more shots fired from inside his workplace.
A far worse sight lay just ahead. Jirus went to an alley where he thought he would be safe, and talked briefly with a man there about what was going on. Jirus said he heard two gunshots, loudly echoing off the building. It caused him to spin around to look for the source of the noise. But when he turned back, he looked down and saw the man he had been conversing with lying on the ground, shot in the head.
Uncertain where the shooter was, he ran.
"I was just lucky," he said. "The other person was shorter than me. There were two shots, he got that guy, he didn't get me. . . . The randomness of it — standing right next to me, one person gets shot."
At least two police officers were among those shot. Police on the scene said one is a D.C. police officer who was shot twice in the leg and was evacuated to a hospital. Lanier said he was in stable condition after engaging the shooter with gunfire. The other was a base officer. The D.C. officer, was conscious at MedStar Washington Hospital Center and his chances for survival were good, hospital officials said.
Janis Orlowski, the chief medical officer at Washington Hospital Center, said three victims in all were brought to the center, all in critical condition but alert, responsive and able to talk with doctors. The victims were also able to speak briefly to law enforcement officers before undergoing surgery or treatment, she said.
The other two victims at the hospital were female civilians, Orlowski said at a news conference. All are likely to survive.
The impact of the incident rippled across town, forces schools, offices and homes into an enforced lockdown.
Senate buildings on Capitol Hill went on lockdown at about 3 p.m., with no one allowed to enter or leave the building, though it was partially lifted toward the end of the day to allow staffers to go home.
The Nationals, whose ballpark is near the Navy Yard, postponed a Monday night game. Instead, they will play a double header Tuesday at 1 p.m. and 7 p.m.
Ten public and charter schools and a public school administration building in the District went on lockdown, and flights out of Reagan National Airport were briefly halted, causing delays even after they began departing again.
Adm. Jonathan W. Greenert, the chief of Naval Operations, was evacuated from his residence at the Navy Yard complex shortly after the first report of shots fired, Navy officials said.
Greenert, a four-star admiral and member of the Joint Chiefs of Staff, was safely evacuated to the Pentagon along with his wife, Darleen, said Cmdr. Ryan Perry, a Navy spokesman.
Police closed the 11th Street Bridge as well as M Street SE between Second and Fourth streets SE because of the shooting. Entrances to the Navy Yard Metro station remain open.
As helicopters circled overhead and emergency vehicles continued to rush to the scene, crowds of onlookers gathered on sidewalks and at a construction site near the Navy Yard, but police pushed them back, yelling at them to keep a distance from the grounds.
President Obama on Monday expressed sympathy for the victims of the shooting and said justice must be sought.
"I've made it clear to my team that we want the investigation to be seamless, so that local and federal authorities are working together," he said.
As a long day drew to a close, weary and stunned Navy personnel filtered into Capitol Hill in their tan uniforms, blue camouflage fatigues and civilian clothes, many of them saying little, just wanting to get home after a day spent running or hiding, and then waiting.
Tom Dick-Peddie, 46, was at work in another building in the Navy Yard and said they were on lockdown for about an hour and a half, then they were evacuated to another building. Shortly after 3 p.m. they were allowed to leave.
Kate O'Neill of Arlington and Stephanie Cates-Harman of Columbia, who work in the office of the general counsel, said their office had been ordered to shelter in place until 2 p.m. While some people were very upset, and others were calm, and tried to contact relatives to assure them that they were okay.
"Texts were going fast and furious," O'Neill said.
-
HOSPITAL: THREE BROUGHT IN CRITICAL CONDITION
Published on Sep 16, 2013
The chief medical officer at a Washington, DC hospital says three patients were brought in with severe gunshot injuries. MedStar Washington Hospital Center says all three are in critical condition but expected to survive.
-
U.S. CAPITOL ON GUARD: SWAT-STYLE TEAMS DEPLOYED IN WAKE OF NAVY YARD SHOOTING
-
-
By Stephen Dinan |The Washington Times
At the Capitol, police armed with military-style assault rifles were posted at the intersection of Constitution and Delaware avenues to intercept traffic headed to the Senate side of the complex.
The U.S. Capitol was on high alert, but did not go into lockdown inside the building.
U.S. Capitol Police say they are assisting authorities at the Washington Navy Yard.
-

MEDS? Gunman claimed to have PTSD after rescuing victims on 9/11...
MEDS: Navy yard gunman was treated by US for serious mental illness, 'hearing voices'...
Had 'secret' clearance...
Was arrested for shooting bullet into neighbor's home...
Cited 8 times for misconduct...
Got honorable discharge...
'Anger-fueled blackout'...
Awarded 'Global War on Terrorism Service Medal'...
Attended Buddhist temple...
Navy exploring base security measures...
Carney: Obama implementing executive actions...
REPORT: Gunman entered with shotgun, picked up weapons inside...
REPORT: No AR-15 involved...
DC mayor blames 'sequester'...
-
REVEALED: GUNMAN, 34, WHO MURDERED TWELVE IN WASHINGTON NAVY YARD RAMPAGE CLAIMED HE HAD 'ANGER ISSUES' AFTER RESCUING VICTIMS OF 9/11 AND WAS KICKED OUT OF NAVY AFTER 2011 GUN CHARGE
Aaron Alexis, 34, named as the heavily armed gunman who opened fire at the Washington Navy Yard in Washington D.C. – killing 12 people and injuring up to 15 more

He is reported to have used an AR-15 assault rifle during his rampage and was also armed with a shotgun and handgun

SWAT Teams fought a heavy gun battle with him and shot him dead

Alexis served in the U.S. Navy for almost four years before he was discharged in 2011 for 'misconduct'

He was awarded two Medals during his military service


It has been reported he was kicked out of the U.S. Navy because of an arrest for discharging his own gun in 2010; similar incident in 2004

FBI has reportedly ruled that Alexis was the only shooter, but they are still searching for another man who is a person of interest related to shooting


All of the 15 people wounded are in critical condition, authorities said

President Obama vowed Monday to hold responsible those who carried out the 'cowardly' mass shooting, while calling the victims 'patriots'

By James Nye, Louise Boyle, David Martosko In Washington, Meghan Keneally and Paul Thompson In Washington | Daily Mail
-
The Washington Navy Yard gunman who killed 12 today has previously claimed to be suffering from PTSD after helping rescue efforts in New York following the 9/11 terrorist attacks.
Gunman Aaron Alexis was shot dead by responding officers after he opened fire inside a Navy facility around 8am on Monday morning.
Since he was identified as the shooter, reports have come out revealing that it was not the first time that he was involved in a shooting.
In 2004, he was arrested in Seattle for shooting the tires of someone's car during an anger-fueled 'blackout'.
'He said that he didn't remember pulling the trigger of his firearm until about one hour later,' according to the Seattle police report.
Later he said that he felt the intended victim 'disrespected him'.
The report states that his father said his anger issues stemmed back to his time in New York where he helped the rescue efforts following the September 11 terrorist attacks.
The shooter's father told police 'that his son had experienced anger management problems that the family believed associated [sic] with PTSD.'
-
Gunman: According to NBC Washington, this man Aaron Alexis, 34, from Fort Worth, Texas is the Navy Yard shooter. A background check has revealed that this is the police mugshot for Alexis who was arrested but not charged for firing a gun in his apartment in 2010
-
He was arrested in relation to this instance but never charged, and the same outcome occurred in Fort Worth, Texas where Alexis was living in 2010.
He was arrested for discharging a firearm when his neighbor reported that Alexis fired a shot into their apartment. At the time, Alexis claimed that his hand slipped when he was cleaning his gun, accidentally shooting the weapon.
Today Alexis- who had three different types of guns on him when he was shot- killed at least 12 people in cold blood this morning at the Washington Navy Yard. The motive has not been revealed, speculation is growing his dismissal from the U.S. Navy for 'misconduct' in January 2011 may have inspired him to commit a deadly revenge.
It has also been revealed he was awarded the Global War on Terrorism Service Medal and the National Defense Service Medal prior to his discharge in January 2011.
The family of the Washington shooter are 'distraught' to learn that he carried the massacre, relatives told MailOnline today.
-
Frantic Search: Emergency responders arrive at the scene of a shooting at the Washington Navy Yard in Washington, where several people were killed and others injured when at least one gunman opened fire at the U.S. Navy Yard
-
Despite the lack of acknowledged motive, one U.S. official has been quoted as saying Alexis was kicked out of the Navy in 2011 for a series of incidents of 'misconduct'.
Law enforcement said that Alexis' identity was confirmed by fingerprints and that he served in the U.S. Navy between May 5th, 2007 and January 31st, 2011, the date he was dismissed from the service.
A U.S. Navy spokesman said that Alexis was an 'aviation electrician's mate' – ranked as a third class petty officer and served at the Naval Air Station in Fort Worth, Texas.
He is reported to have enlisted in New York and the Brooklyn native graduated from boot camp at Great Lakes, Illinois as an Airman Recruit.

Throughout the late 1990s to 2002, he was listed as living in Manhattan and Queens in New York City – and he still maintains his New York social security number and is registered as a voter in New York City.
Alexis, who worked as a civilian I.T. contractor at the military base in the nation's capital, entered the cafeteria of Building 197 just before 8.15 a.m. brandishing an AR-15 semi-automatic rifle, shotgun and handgun and began shooting.
It is thought that he used another employee of the base's identification card to gain entry to the heavily secured Building 197, where he carried out his deadly attack.

After SWAT teams swarmed the headquarters of the Naval Sea Systems Command the FBI said that Alexis was shot dead by officers.
During his rampage witnesses said he appeared to fire at selected targets and not randomly.
Washington D.C.'s FBI field office also reportedly said that they have 'all assets out' as they search for one other possible shooter they described as a black man in his 40s or his 50s.
According to a deleted Linked In profile, he attended Embry-Riddle Aeronautical University and worked for a tech firm.
A former roommate from Ft. Worth, the owner of Happy Bowl Thai restaurant, told NBC News he had not seen Alexis in three months.
Police records reveal that Alexis was arrested for accidently discharging a firearm at his Ft. Worth home in September 2010.
A witness who lived in a neighboring apartment told police that she heard a pop and then to her horror a hole appeared in her floor and ceiling.
Alexis told police he was cleaning his gun when while cooking and that his hands were slippery.
All charges against him were dropped.
Washington D.C. Metropolitan Police Department chief Cathy Lanier said the other potential gunman was wearing a military-style uniform and has greying sideburns.
'It appears that we have at least 13 fatalities … it doesn't get much more serious than that, obviously,' said Washington D.C. Mayor Vincent Gray.
'We have no known motive at this stage. We will continue the investigation to try and figure out what that motive is.'
'We don't have any reason to suspect terrorism, but certainly it has not been ruled out.'
Previously, Washington D.C. police chief Cathy Lanier said that law enforcement were searching for two individuals, one white and one black.
However, police have said they have identified  the white individual and he's not a suspect or person of interest
'The big concern for us right now is that we have potentially two other shooters that we have not located at this point,' Lanier said earlier this afternoon.

Witnesses reported one man described as an African-American male  dressed in military fatigues and armed with an AR-15 assault rifle opening fire upon entering the base at the Naval Sea System Command HQ.
Police are investigating whether the ID of a former Navy petty officer called Rollie Chance was used by Alexis to gain entrance to the the Navy Yard compound.

FBI investigators visited Chance's home Monday but have not revealed how Alexis obtained the identification.

Todd Brundidge, an executive assistant with Navy Sea Systems Command, said he and other co-workers encountered a gunman in a long hallway of their building on the third floor. The gunman was wearing all blue, he said.
'He just turned and started firing,' Brundidge said.
Patricia Ward, who works at the Navy Yard, described how she was in the cafeteria when she heard 'three gunshots, pow-pow-pow, straight in a row.'
'All of the people that were in the cafeteria, we all panicked, and we were trying to decide which way we were going to run out," she said to NBC News. "I just ran.'
Tim Hogan, a spokesman for Rep. Steven Horsford of Nevada, posted photos to his Twitter account of people helping someone who had been hit by gunfire.
The attacks came three days after al-Qaeda used the 12th anniversary of 9/11 to call for strikes on America.
The mass shooting was the deadliest in the United States since the massacre at Sandy Hook Elementary School in Newtown Connecticut last December, and the worst at a military base since 13 people were killed at Fort Hood, Texas, in 2009.
'We don't even know, most of us, ourselves, the identities of the victims at this stage,' said Washington D.C. Mayor Vincent Gray.
Three people, including a Washington D.C. police officer, were admitted to MedStar Washington Hospital Center with gunshot wounds.

They are expected to survive, chief medical officer Janis Orlowski told reporters this afternoon during an emotional press conference.
Hundreds of SWAT and FBI rapid response units descended on the nation's capital to deal with the situation which unfolded just before 8.30 a.m. this morning.
-
Capital Attack: The Washington Naval Yard in relation to the Capitol Building and the White House – both buildings have had their security increased in the light of the shootings
-
Terror at the Washington Naval Yard: How events Unfolded This Morning:
08.20am: Shots fired at Building 179 on the Naval Sea

Systems Command headquarters in Washington D.C. where about 3,000 people work.

08.30am: Base police enter the building following reports of an active shooter


09.00am: First responders arrive at the scene as loudspeakers are heard telling people on the naval base to 'shelter in place'

10.00am: The Navy reports one confirmed injury

10.06am: Roads and intersections closed around the Navy Yard as police cars and SWAT teams flood into the area

10.54am: Federal Aviation Agency grounds all flights at National Airport in D.C. due to Navy Yard incident

11.13am: First reports that three civilians, one metropolitan police officer and one officer on the naval base were shot

11.20am: Police report that a gunman has been shot dead

11.50am: Chief Medical Officer at George Washington Hospital confirms that they have taken three wounded – a police officer with bullet wounds to the leg; a female with gunshot wound to the shoulder; and a female with gunshot wounds to the head and hand

Midday: Washington Metropolitan Police Department Cathy Lanier says that one shooter is believed to be deceased at the scene while there are potentially two other shooters at large.
The potential shooters were believed to be dressed in military outfits


12.15pm: Woman who was shot in head confirmed dead, by medical staff at George Washington Hospital

12.20pm: President Obama makes a statement calling those who had been shot at the naval base 'patriots' and expresses his grief at another mass shooting
-
The number of injured was not clear as of the early evening on Monday, but some reports placed it as high as 16.
Initial reports from the scene were that one of the suspects walked up to the facility, opened fire  and then ran inside the building.

'The first call arrived, and 'within 2 to 3 minutes, MPD officers were on the scene .. within 7 minutes we had active shooter teams … moving inside the building,' said Lanier.
Metro police got into 'a final gun battle' that killed the suspect.
'One of the worst things we've seen in Washington, D.C.'
'There was gunfire still going on' while officers  searched.

'There's no question he would have kept shooting' if officers hadn't killed him
Civilians inside the military complex described the frantic scenes thatgreeted them first thing on a Monday morning.
Officers wearing bullet-proof vest and carrying automatic weapons surround the naval base this morning
Armed police prepare to enter the Washington Navy Yard as they respond to a shooting in Washington, Monday, Sept. 16, 2013. At least one gunman opened fire inside a building at the Navy yard
On the move: The naval base descended into chaos this morning after shots were fired around 8.20am
Solemn: A U.S. Capitol Police officer patrols the steps at the Capitol as the investigation continues at the nearby Washington Navy Yard where at least one gunman opened fire on Monday
'There was three gunshots straight in a row,' said Patricia Ward, who works at the Navy Yard, describing how she first heard the gunfire while having breakfast at the headquarters building.
A few seconds later, Ward said she heard four more gunshots. Security guards rushed in and got people out as fast as they could – "Run, run, run, 'they told people,' Ward told reporters.
NBC News, citing a senior naval officer at the Navy Yard, said at least 12 people had been shot.
'We saw him hold the rifle, and we saw him aim it in our direction,' said one witness to Fox News.
Another Navy official, also speaking on condition of anonymity, said more than one gunman may have been involved. The Washington Post reported at one point that there were several gunmen.
The Navy said in a statement the shooting took place at the heavily guarded headquarters, where about 3,000 people work.
The shooting hit the military establishment less than three week after U.S. Army psychiatrist Major Nidal Hasan was sentenced to death for murdering 13 people in 2009 at Fort Hood, Texas, where he gunned down unarmed soldiers in what he later called retaliation for U.S. wars in Muslim countries.
The Navy Yard is believed to have tight security.

Visitors without military ID must have a valid reason for entry and provide some other civilian identification.

The gates are protected by U.S. Marines and civilian security guards.

The National Museum of the U.S. Navy is in the grounds of the Navy Yard – and open to the public. However they must show ID to enter.

One victim was reported to have been shot on the roof of a building, reported News4′s Tony Tull.

A U.S. Park Police helicopter lowered a basket to a building and lifted what appeared to be a shooting victim from the roof just before 10 a.m.
A Navy Yard employee told MailOnline that she thought the Washington, D.C. Navy Yard was undergoing a Fort Hood-style attack when she heard a total of nine shots on Monday morning, as a gunman opened fire on workers at one of the Navy's largest facilities.
And she added that she wished she could have carried a gun to work with her.
'A group of four of us were getting coffee down the hall and we heard three "pop, pop, pop" sounds,' said Pat – who asked MailOnline not to publish her last name.
'We all looked at each other and froze. And I said, "Oh, Jesus, here we go again. It's another Fort Hood."'
Army Major Nidal Malik Hasan killed 13 and injured 30 others in a jihad-inspired attack at the Texas military base on November 5, 2009. A military panel recommended a death sentence for Hasan on August 28.
Pat, who lives in a northern Virginia suburb of Washington, D.C., said she heard another group of six gunshots after the first barrage.
Heavy Vehicle: Police respond to the report of a shooting at the Navy Yard in Washington, DC as a gunman shot and wounded at least one person Monday in a headquarters building at the US Navy Yard in Washington
Grief: Obama described the victims of the shootings as 'patriots' as he offered support to those affected by the DC naval yard shooting on Monday
'They couldn't have been more than 30 or 40 yards away. We didn't hear people screaming or anything. I mean, these are military folks we work with. But within a half-minute everyone was rushing down the hall and headed to the emergency exits.'
'I heard lots of voices saying, "Let's go! Now!" and in a minute or so I was outside.'
She spoke with MailOnline at a satellite parking lot adjacent to Nationals Park, where family members of Navy Yard employees met their loved ones.
Although she emerged unscathed, Pat said she would have felt safer if she had been permitted to carry her own gun to work.
'I'm a gun owner, and so is my husband,' Pat said, 'but I work in D.C. so I can't carry a weapon. Now I wish they would let us do it anyway. I felt like a fool walking around unarmed after shots were fired.'
SWAT officers, military police, U.S. Capitol police and Washington city police all rushed to respond.
Monday's shooting at the Navy Yard in Washington, D.C. has, currently, 'no known connection to terrorism,' according to an early internal Department of Homeland Security document obtained by The Daily Caller.
'Metropolitan Police is responding to reports of shots fired at the Washington Navy Yard Base,' the DHS report reads.

'Multiple units responding including SWAT unit at this time. Subject allegedly has multiple weapons.'
Earlier, according to a source at the Joint Terrorism Task Force there is no evidence that the attack is terror related at this time.
'There are 12 dead including the shooter. The entire JTTF is active on the case. But there is no conclusion that it's terror-related but DHS is leading the investigation and police are searching for two more suspects,' a source told the MailOnline.

Speaking at a press conference this afternoon, President Obama said that 'We send our thoughts and prayers to all the Navy Yard who have been touched by this tragedy.'

The president spoke of how the spectre of mass shootings had reared its head in America again and said that despite the Navy Yards housing civilians as well as military personnel,'Today they faced the unimaginable violence they wouldn't have expected at home.'
The Capitol police said they were stepping up security on the Capitol grounds and the White House.
Washington police told WRC that nearby schools were being locked down, and that some bridges were being closed as a precautionary measure.
A Park Police helicopter carries a sniper to the roof of a building on the Navy Yard complex where a shooting took place early this morning on September 16
Snipers take their positions on the roof of a building at the Navy Yard complex where two gunmen have shot at least ten people
A Park Police helicopter patrols over the Navy Yard as it was reported that the two shooters involved in the attack are 'down'
Rapid response: Hundreds of FBI and law enforcement officers flooded the scene at the Naval Yard in the capital
Emergency personnel respond to a reported shooting at the Washington Navy Yard where at least ten people have been shot, four killed
Emergency personnel are on scene and a 'shelter in place' order has been issued for Navy Yard personnel.
One suspect has been described as a black male, believed to be nearly six feet tall, wearing a military uniform and black hat, WUSA 9 News in D.C. reported.
President Obama was briefed about the shooting, according to a statement from the White House issued earlier in the morning.
'The President directed his team to stay in touch with our federal partners, including the Navy and FBI, as well as the local officials,' the statement said.

'We urge citizens to listen to the authorities and follow directions from the first responders on site.'
The shooter was "contained" but not yet in custody, according to the official, who spoke on condition of anonymity because they were not authorized to discuss the matter publicly.

Helicopters swarmed overhead, schools were on lockdown and airplanes at nearby Reagan National Airport were grounded as authorities swarmed the area in southeast D.C., just miles from the Capitol.
-
Search: A police helicopter flies overhead as police walk on the roof of a building as they respond to a shooting at the Washington Navy Yard in Washington September 16, 2013
Two DC Metro Police officers put their gear up as they respond to a reported shooting at an entrance to the Washington Navy Yard September 16, 2013 in Washington, DC
Witnesses described a gunman opening fire from the fourth floor, aiming down on people in the first-floor cafeteria. Others said a gunman fired at them in a third-floor hallway.
As witnesses emerged from the building, a helicopter hovered over the building, schools were on lockdown and airplanes at nearby Reagan National Airport were briefly grounded. Less than 2 miles away, security was beefed up at the Capitol, but officials said there was no known threat there.
The exact number of people killed and the conditions of those wounded was not immediately known. About 3,000 people work at the Naval Sea Systems Command headquarters, which builds, buys and maintains the Navy's ships and submarines and combat systems.
Todd Brundidge, an executive assistant with Navy Sea Systems Command, said he and other co-workers encountered a gunman in a long hallway of their building on the third floor. The gunman was wearing all blue, he said.
'He just turned and started firing,' Brundidge said.
Terrie Durham, an executive assistant with the same agency, said she also saw the gunman firing toward her and Brundridge.
Reaction: Police work the scene on M Street, SE in Washington near the Washington Navy Yard on Monday, Sept. 16, 2013. The U.S. Navy says one person is injured after a shooting at a Navy building in Washington
-
'He said nothing. He just raised the gun and started firing at us': Eyewitnesses recount terror after gunmen open fire
Terrified workers described how one of the suspects walked calmly into the facility and silently sprayed bullets from an AR-15 assault rifle.

'No words. He raised the gun and started firing. He said nothing,' witness Todd Brundidge said.

Brundidge and his co-worker Terrie Durham were in the Office of Naval Sea Systems Command on Monday morning when a fire alarm went off, followed by orders to leave the building.

'I was on the phone and someone came up to my desk and said, "This is not a drill. Someone had just been shot. There are shots in the building",' Brundidge said, NBC reported.

As chaos swirled around them, they began to leave their offices to escape the path of danger – and when they entered the hallway, they spotted a man about 40 yards away.

'We were standing right outside the door to go to the exit and we saw a man standing down the hall,' Durham said.

'He was a tall man, appeared to have dark skin, looked like he was in some kind of uniform and he had a rifle. And he aimed at us and shot but missed, thank God.'

Navy Yard worker Patricia Ward told said that she had been in the cafeteria when she heard what sounded like 'pop, pop, pop'.

'Everybody just panicked at first,' she said. 'It was just people running, running, running.'

Another worker described the scenes of chaos as people desperately tried to get out of the building.

'Everyone was going down the stairs, people were pushing, people were shoving, people were falling down,' he told Fox News.

Don Andres, a legislative aide to Rep. Steven Horsford of Nevada, was driving from his home – which is just a block from the Navy Yard – when he learned something was amiss.

'Folks are scared,' he told MSNBC. 'There was a man lying on the corner… I don't know what happened to him [but] people began running up to him and tending to him.

'People were definitely scared and so was I… There was definitely a sense of panic.'
-
'He aimed high and missed,' she said. 'He said nothing. As soon as I realized he was shooting, we just said, "Get out of the building."'
Rick Mason, a program management analyst who is a civilian with the U.S. Navy, said a gunman was shooting from a fourth floor overlook in the hallway outside his office. He said the gunman was aiming down at people in the building's cafeteria on the first floor. Mason said he could hear the shots but could not see a gunman.
Shortly after the gunfire, Mason said someone on an overhead speaker told workers to seek shelter and later to head for the gates at the complex.
Police and federal agents from multiple law enforcement agencies responded. Ambulances were parked outside, streets in the area were closed and departures from Reagan National Airport were temporarily halted for security reasons.
Among the wounded was a D.C. police officer, according to a law enforcement official who spoke on the condition of anonymity because the person was not authorized to discuss an ongoing investigation.
A U.S. Park Police helicopter hovered over the building and appeared to drop a basket with a person onto the roof.
Officials at MedStar Washington Hospital Center said two shooting victims had been brought there.
District of Columbia schools officials said six schools and one administrative building in the vicinity of the Navy Yard were placed on lockdown. The action was taken out an abundance of caution, schools spokeswoman Melissa Salmanowitz said.
Janis Orlowski, chief medical officer at George Washington Hospital said that they have taken three people who are seriously injured but have good chances of survival.

The doctor said that all victims are conscious and speaking. She said the first male victim has multiple gunshot wounds to the leg.

The second victim is female and has been shot in the shoulder. The third victim is female and has been shot in the head.

The hospital said that it is expecting to receive more of the injured.
Naval Sea Systems Command (NAVSEA) is the largest of the Navy's five system commands. With a fiscal year budget of nearly $30 billion, NAVSEA accounts for one quarter of the Navy's entire budget.

The Navy Yard is along the Anacostia River in Washington, near the headquarters of the Department of Transportation and the Washington Nationals baseball stadium.
Flights were grounded at Washington Reagan National Airport on Monday during the attacks at the Naval Yard
Shooting: The Main Gate into the Washington Navy Yard lies at the juncture of the Eighth Street axis and M Street in Southeast Washington
DC Fire EMS units are on the scene. Fire officials say there are victims, but there is no confirmation of numbers yet
Navy Yard attack 'could just as easily have been directed at Congress,' says FBI insider
The Federal Bureau of Investigation has taken over the inquiry into what a source in the bureau's Washington, D.C. Field Office called 'a horrible – just ridiculous – attack' that 'could just as easily have been directed at Congress.'
The civilian employee said the FBI 'sprung into action immediately. Any time there's a serious thing like this in the District [of Columbia], we're going to wind up leading  the investigation when the dust settles.'
The source wouldn't address the identity of the dead suspect, nor comment on progress toward locating two persons of interest presumed to be at large. Neither has been confirmed as a suspect.
'Everyone in the building who's at least 35 years old remembers the morning of 9/11, when it was "all hands on deck," and this feels a little bit like that.'
'Look – when this started, no one knew whether it was another Newtown or Fort Hood, or maybe another 9/11,' the source added. 'All we knew that there were shots fired, and then we knew there was an officer down. By then the WFO [Washington Field Office] was already asking questions and talking to naval security guards – and of course the JTTF was looped in, just in case.'
The JTTF is the Joint Terrorism Task Force, an interagency group present in most American metro areas, designed to help law enforcement agencies collaborate on cases that involve domestic terror attacks.
But Washington, D.C. Mayor Vincent Gray said during a press briefing at 2:00 p.m. EDT that officials 'have no known motive at this stage' for the attack, which involved a shooter entering a Navy Yard building and firing into a cafeteria from a fourth-floor walking overpass.
'It's never easy hearing about this kind of a horrible – just ridiculous attack,' the FBI employee added. 'And the really scary thing is that if the shooter could get that close to military officers, he could have probably gotten inside other government buildings too.'
'Not the White House or the Pentagon, but this could just as easily have been directed at Congress, and you would probably have had more casualties. Someone who wants to kill people won't have any qualms about shooting his way in.'
-
AARON ALEXIS: WASHINGTON NAVY YARD GUNMAN 'OBSESSED WITH VIOLENT VIDEO GAMES'
Exclusive: The Washington Navy Yard gunman Aaron Alexis played violent video games including Call of Duty for up to 16 hours at a time and friends believe it could have pushed him towards becoming a mass murderer.
-
-
By Nick Allen, Fort Worth, Texas | telegraph.co.uk
He also felt racially discriminated against, and believed he had been financially "screwed" over a contracting job in Japan at the end of last year, friends said. They also said that he was working in a nearby building when the Twin Towers at the World Trade Center went down following the September 11 terrorism attacks.
The addiction to violent video games and guns was at odds with his devout commitment to Buddhism, which saw Alexis spending half the day every Sunday meditating at the Wat Busayadhammvanaram temple in Fort Worth, Texas over a period of several years. He also spent a month in Thailand in April, The Daily Telegraph can disclose.
Friends said he appeared to have a "chilled" personality and enjoyed watching American Football on television. He spent last Christmas Day singing karaoke and bursting into Elvis Presley's "Can't Help Falling in Love."
The two sides to Alexis's personality revealed themselves as he spent the last three years living in the Texan suburb of White Settlement.
Much of that was spent in several different homes with his best friend Nutpisit Suthamtewakul, 31, his wife Kristi, 35, and Mr Suthamtewakul's parents.
Mr Suthamtewakul, who runs the Happy Bowl Thai restaurant, described Alexis as being like his "big brother." He told The Daily Telegraph: "I first met him at the Buddhist temple. He had been in the Navy but he was unemployed. I saw he was struggling with his finances, and I said why not move in and you can just pay the electricity bill? He was doing online school, something about electronic stuff and aircraft
"He never got angry with us. He was always very nice to us. He had a couple of issues with being black. He felt he hadn't been treated right, not by the Navy, just generally. He didn't have a lot of friends – me, my wife and family, and people from temple."
Thai was spoken in the house and over time, with the help of watching Thai dramas, Alexis became fluent.
Looking dazed as he stood outside his restaurant, and several times referring to his former friend in the present tense, Mr Suthamtewakul said: "When I first met him he couldn't speak Thai. He picked it up really fast. He's a smart guy. If he wasn't dead he would be standing right here and we'd be talking in Thai. He believed that meditation would give him wisdom."
Alexis was supposed to be Mr Suthamtewakul's best man at his wedding last December, but instead spent the end of the year in Japan working. His wife picked Alexis up at the airport when he returned from Japan.
Mr Suthamtewakul said: "He got this job and had to go to Japan to do a military business. He missed my wedding but he was very sorry.
"Then, after he came back from Japan, he was telling me he didn't get paid the right amount. He got screwed."
He played down an incident in 2010 when Alexis was arrested for allegedly firing his gun through the ceiling of their home.
He said: "It didn't go through the ceiling, it went through a wall. I was in the bedroom and I heard the gunshot. I jumped up and said "What the…" and Aaron came in and was really sorry. He said 'I was cleaning my gun.' I said 'Put the safety on so you don't kill people in here.' He said 'I'm sorry man.' It was just an accident."
The darker side to Alexis's character saw him playing violent "zombie" video games in his room, sometimes from 12.30pm until 4.30am.
Mr Suthamtewakul said: "He could be in the game all day and all night. I think games might be what pushed him that way. He always had this fear people would steal his stuff so that's why he would carry his gun all the time. He would carry it when he was helping out in the restaurant which scared my customers."
But he did not believe Alexis had a grudge against the government. Mr Suthamtewakul said he saw mail that indicated Alexis was receiving regular cheques from the government for "some problem with his feet."
His wife Kristi, who also spent time living in the house with Alexis, said: "I remember him talking about 9/11. he was there and when he came outside one of the buildings was gone already.
"All of a sudden the second building came down. He was an angry American, angry with the terrorists. I think maybe there was PTSD.
"But he was very chilled. He loved Thai culture, Buddhist culture, he just loved to hang out and help out. He always had the gun tucked in his pants in the restaurant but it didn't concern me because he had a licence.
"My heart breaks for the people he killed. These images are going to flash in my mind forever."
-
WAS NAVY YARD KILLER ON ANTI-DEPRESSANT MEDS?
SSRI drugs linked with multitude of mass shooting cases
Paul Joseph Watson
Infowars.com
September 17, 2013
Several indications suggest that Navy Yard killer Aaron Alexis may have been taking psychiatric drugs, bringing into focus once again the clear connection between anti-depressants and mass shootings.
With the motive behind yesterday's tragic rampage still unknown, speculation has centered around Alexis' personal life.
The Associated Press reports that Alexis, "had been treated since August by the Veterans Administration for his mental problems," which included paranoia, sleep disorder and hearing voices in his head.
According to his father, Alexis suffered from post-traumatic stress disorder as a result of his harrowing experiences during his involvement in rescue operations on 9/11.
SSRI (selective serotonin reuptake inhibitor) drugs are the most common form of treatment for PTSD, with Paroxetine being one of the most prescribed medications for this purpose. Paroxetine was also listed as the number 3 top violence-causing drug by the Institute for Safe Medication Practices (ISMP).
The study, which is based on FDA figures, reveals that antidepressants Pristiq (desvenlafaxine), Paxil (paroxetine) and Prozac (fluoxetine), all appear in the list of the top ten violence-causing drugs.
We also know that Alexis "blacked out" during a violent confrontation in 2004 when he shot out the tires of vehicles belonging to construction workers parked next to his home. Black outs are also a common side effect of SSRI drugs.
We've also learned that Alexis had "anger management" issues. SSRI drugs including Paroxetine, Prozac and Zoloft are also routinely prescribed to treat anger issues.
These circumstances indicate that Alexis was almost certainly taking SSRI drugs at some point over the last decade, although whether he was on them during yesterday's deadly shooting remains to be seen.
Anti-depressant drugs, or SSRI's, have been linked with numerous mass shootings in recent history.
Earlier this year it emerged that Aurora shooter James Holmes was taking "sertraline, a generic version of Zoloft used to treat depression, panic disorder and obsessive-compulsive disorder and Clonazepam, usually prescribed to treat anxiety and panic attacks," according to the L.A. Times.
Zoloft is the same psychotropic drug that Columbine killer Eric Harris was taking before his rampage.
The connection between Zoloft and violent outbursts is well documented. Countless studies identify Zoloft as being responsible for more than 1,000 suicides and hundreds of episodes of mania and aggression.
As CCHR documents, psychiatric drugs have been involved in at least 31 different school shootings and other massacres over the last 25 years. In addition to Holmes and Harris, mass shooters who were on SSRI drugs include;
- Kip Kinkel
– Christopher Pittman
– Elizabeth Bush
– Jason Hoffman
– Shawn Cooper
– T.J. Solomon
– Seung-Hui Cho
America's addiction to psychotropic drugs is out of control and growing every year.
According to a London Guardian report, "(subscriptions) for benzodiazepines – the class of anti-anxiety drugs including Xanax, Valium, Ativan, and Klonopin – have gone up 17% since 2006 to 94m annually, New York magazine notes. Generic Xanax, which goes by the name alprazolam, has become 23% more popular in that same timeframe "making it the most prescribed psycho-pharmaceutical drug and the 11th-most prescribed overall, with 46m prescriptions written in 2010."
Harvard-trained psychiatrist and former full-time consultant at the National Institute of Mental Health Dr. Peter R. Breggin has testified in approximately 100 trials since 1976 about the clear connection between psychiatric drugs and outbursts of violence. Breggin asserts that there is a definite "causal relationship between antidepressant drugs and the production of suicide, violence, mania and other behavioral abnormalities."
However, in the aftermath of every mass shooting, the establishment media routinely blames the massacre on guns, despite gun-related homicides showing a 49% decrease since 1993, and pays little or no attention to how SSRI drugs are fueling unnecessary violence.
-
CONFIRMED: NAVY YARD SHOOTER WAS ON ANTI-DEPRESSANT TRAZODONE
Drug linked to previous mass shooting despite Washington Post declaring it "safe"
Paul Joseph Watson
Infowars.com
September 19, 2013
It has been confirmed that Navy Yard gunman Aaron Alexis was on the anti-depressant drug Trazodone, providing yet another example of a connection between psychiatric drugs and mass shootings.
In verifying that Alexis was prescribed Trazodone by the Veterans Affairs Office, the Washington Post published a brief article downplaying the danger of the drug, quoting Miami physician Gabriela Cora who stated (almost too eagerly), "Honestly, it's a very safe drug to use."
However, the drug has been linked to a number of murders, including one mass shooting.
Trazodone is sold under the brand names Desyrel, Oleptro, Beneficat, Deprax, Desirel, Molipaxin, Thombran, Trazorel, Trialodine, Trittico, and Mesyrel. Although not strictly a member of the SSRI class of antidepressants, it shares many of the same properties and also serves to increases the amount of serotonin in the brain.
Despite the Washington Post's attempts to portray the drug as being safe, it is linked with a whole host of side-effects including suicidal tendencies, panic attacks, depersonalization and anger. Symptoms of Trazodone withdrawal include aggression and violent behavior.
The drug also carries an, "FDA black box warning for suicide, and is documented to cause mania and violent behavior," writes Kelly Patricia O'Meara.
Several murder cases over the past few years have been directly connected to Trazodone.
- Eight people were killed and one wounded during a mass shooting at a beauty parlor in Seal Beach, California in 2011. The killer, Scott Evan Dekraai, was on Desyrel, a commercial variant of Trazodone.
- In 2009, Perley Goodrich Jr. beat his mother and then shot his father dead shortly after being injected with Trazodone in a psychiatric hospital. Goodrich had complained that he didn't want to take the medication because it made him feel violent.
- In 2009, Steven Foster shot a gas station attendant in the head before shooting him a second time. Bottles of Trazodone pills were later found in Foster's room.
- Marine Lance Cpl. Delano Holmes fatally stabbed an Iraqi soldier to death in 2007 after military doctors prescribed him Trazodone.
- Indiana soldier Pfc. David Lawrence was taking Trazodone in combination with Zoloft when he killed a Taliban commander in a prison cell in 2010. Lawrence was charged with premeditated murder. According to the FDA, taking these drugs in combination can cause "altered consciousness, confusion, hallucinations and coma."
This is interesting given that Aaron Alexis had also suffered from PTSD, blackouts and anger issues years before he began receiving treatment from the VA. Was he on more than just one anti-depressant drug at the time of the rampage?
As we highlighted yesterday, the establishment media has been loathe to make the connection between Alexis' rampage and anti-depressants, despite hundreds of other cases of suicides, murders and mass shootings linked to psychiatric drugs.
Presumably keen to protect around $2.4 billion in advertising revenue that comes from pharmaceutical companies every year, the media failed to even address the question of psychiatric drugs and instead blamed the rampage on the AR-15 assault rifle, which authorities confirm Alexis did not even use.
-
CONGRESSMAN: ALEXIS' DRUG MAY HAVE HAD 'PROBLEM' SIDE EFFECT
John Aaron
WTOP
September 20, 2013
Navy Yard shooter Aaron Alexis may have been taking a prescription drug with a potentially dangerous side effect, according to one lawmaker.
"One of the medications that (Alexis) received does have a side effect that could in fact have been a problem," Rep. Jeff Miller (R-Fla.), chairman of the House Committee on Veterans' Affairs, tells WTOP. "However, that doesn't mean that it was, and that's why we're asking the VA for a little more information as to what they prescribed, why they prescribed it, how much was prescribed."
Miller says that doesn't necessarily mean the medication is to blame. But he would like more disclosures from the VA, which treated Alexis.
-
DID PSYCHIATRIC MEDS CAUSE NAVY YARD TRAGEDY?
Written by  Rebecca Terrell | The New American
September 24, 2013
Congress is investigating whether prescription medications played a role in last week's massacre at the Washington Navy Yard when former reservist-turned-military contractor Aaron Alexis killed 12 people and injured three. U.S. Representative Jeff Miller (R-Fla.), chairman of the House Committee on Veterans' Affairs told Washington, D.C.-area radio station WTOP, "One of the medications that [Alexis] received does have a side effect that could in fact have been a problem." He said his committee has directed the Department of Veterans' Affairs (VA) to save all records relating to the 34-year-old mass murderer. "We want to make sure everything that could have been done was done, and that the VA does not do something to change the storyline."
The drug in question is apparently Trazodone, which the New York Times reported Alexis received for insomnia August 23 at a VA hospital in Providence, Rhode Island. He had the prescription refilled on August 28 at the VA in Washington, D.C. Trazodone is an antidepressant often used to treat insomnia but proven to cause suicidal thinking, panic attacks, mania, and aggressive behavior. This psychotherapeutic is directly linked with several murder cases in the past six years, including a 2011 mass shooting at a salon in Seal Beach, California, and a 2009 incident in Maine that left a father dead and a mother injured after Perley Goodrich, Jr. was injected with Trazodone at a psychiatric hospital. Goodrich complained the medication was dangerous and made him feel violent.
Many media such as USA Today reacted to the Navy Yard tragedy with reports that Alexis suffered from post traumatic stress disorder, but the Navy Times said the VA issued a statement in response to these claims denying it ever diagnosed Alexis with or treated him for mental health issues. The September 18 statement confirmed he was treated twice in August for insomnia. "On both occasions, Mr. Alexis was alert and oriented," reads the report. It adds that he "was asked by VA doctors if he was struggling with anxiety or depression, or had thoughts about harming himself or others, which he denied."
However, further investigation into the case reveals doctors should have already known the answer to these questions. Less than three weeks before his VA treatment, Alexis had run into trouble in Newport, Rhode Island, where police say he started an argument with a stranger Alexis claimed had "sent 3 people to follow him and keep him awake by talking to him and sending vibrations into his body." The August 7 police report contains Alexis' description of his attempts to hide from these three individuals, moving to several different hotels in one night, where they nevertheless continued to speak to him "through the walls, floor and ceiling," and to use "some sort of microwave machine" to send vibrations through his body and keep him awake. He did not tell the officers what the three were saying but expressed fear they would harm him. When police asked about a history of family mental illness or personal mental episodes, Alexis denied both.
Newport authorities didn't keep the incident secret. Lieutenant William Fitzgerald told the Los Angeles Times that police followed routine procedure by informing the Newport Naval Station. "We faxed [the report] to them that same day, an hour after we spoke to Mr. Alexis," Fitzgerald recounted. "They said they would look into it, that they would follow up on it."
Research conducted by the National Institutes of Health has shown hallucinations such as those Alexis suffered to be a common symptom of bipolar disorder, while the Physician's Desk Reference warns doctors that Trazodone is not approved for treatment of bipolar disorder. It also urges caution when combining the drug with other medications including anti-depressants.
It is unknown whether Alexis suffered from bipolar disorder or was taking other prescriptions that could adversely interact with Trazodone when VA doctors prescribed it August 23. Yet might they have exercised more caution considering Alexis' violent history which, along with the August 7 incident in Newport, included several run-ins with the law since 2004 and a discharge from the Navy for misconduct? This information should have thrown up red flags.
"Severe adverse drug reactions such as suicide and violence typically occur in this relatively short time span after starting an antidepressant," said psychiatrist Peter Breggin, M.D., an expert in the mental health field and an outspoken critic of psychiatric drug overuse. "Individuals with a known history of violence like Alexis are at even higher risk of being driven to more extreme violence by exposure to antidepressant drugs."
The mental health watchdog group Citizens Commission on Human Rights International (CCHRI), says drug-induced violence is no secret. In an article calling for official investigations into the link between psychiatric drug use and acts of mass violence, CCHRI points out:
The FDA's MedWatch system reveals that between 2004-2012, there were 14,656 reports of psychiatric drugs causing violent side effects — 1,415 cases of homicidal ideation/homicide, 3,287 cases of mania & 8,219 cases of aggression. The FDA admits that less than 1% of all serious events are ever reported to it, so the actual number of side effects occurring are most certainly higher.
CCHRI laments that a recent study by the Department of Defense (DOD) on military suicides completely omitted any discussion of psychiatric drug use though yearly increases of such use are recorded in other DOD data. Until now, there has been no federal investigation on the link between psychotropics and violence.
Since Alexis chose the Navy Yard for his rampage, the federal government is now forced to investigate, and it would seem that Veterans' Affairs Committee Chairman Miller plans a thorough inquiry. The Navy Times reports that he wants to question VA employees and expects to review all records related to Alexis. "To be clear, no such records shall be destroyed, modified, altered, deleted, removed, relocated or otherwise negligently or intentionally handled so as to make them inaccessible to the committee," wrote Miller in a September 18 letter to VA Secretary Eric Shinseki. "If the practice of the VA involves the routine destruction, deletion, recycling, relocation, alteration or removal of such materials, such practices should be halted immediately and all records preserved."
-
MEDIA BURIES PSYCHIATRIC DRUG CONNECTION TO NAVY SHOOTER
Networks don't want to risk losing $2.4 billion in ad revenue from pharmaceutical giants
Paul Joseph Watson
Infowars.com
September 18, 2013
Despite every indication that Navy Yard shooter Aaron Alexis was on SSRI drugs that have been linked to dozens of previous mass shootings, the mainstream media has once again avoided all discussion of the issue, preferring instead to blame the tragedy on a non-existent AR-15 that the gunman didn't even use.
We now know that Alexis "had been treated since August by the Veterans Administration for his mental problems."
As Mike Adams points out, "This is proof that Aaron Alexis was on psychiatric drugs, because that's the only treatment currently being offered by the Veterans Administration for mental problems. Alexis' family members also confirmed to the press that he was being "treated" for his mental health problems. Across the medical industry, "treatment" is the code word for psychiatric drugging."
Alexis also suffered from PTSD, blackouts and anger issues – all of which are treated with SSRI drugs. The most common form of treatment for PTSD is Paroxetine, which is listed as the number 3 top violence-causing drug by the Institute for Safe Medication Practices (ISMP).
The Navy Yard shooter was clearly on some form of psychiatric drug, but the media has shown no interest in discovering its identity.
Despite it being reported that prescription drugs were found in the apartment of 'Batman' shooter James Holmes days after the Aurora massacre, it took nine months to find out exactly what those drugs were. Like Columbine killer Eric Harris, Holmes had been taking Zoloft, another SSRI drug linked with violent outbursts.
The length of time it took to find out that Holmes was on Zoloft was partly because the media habitually shows zero interest in pursuing the link between anti-depressants and violence.
As the website SSRI Stories profusely documents, there are literally hundreds of examples of mass shootings, murders and other violent episodes that have been committed by individuals on psychiatric drugs over the past three decades. The number of cases is staggering.
Why is the corporate media so disinterested in pursuing this clear connection?
Perhaps it has something to do with the fact that the pharmaceutical giants who produce drugs like Zoloft, Prozac and Paxil spend around $2.4 billion dollars a year on direct-to-consumer television advertising every year. By running negative stories about prescription drugs, networks risk losing tens of millions of dollars in ad revenue.
While failing to ask questions about what SSRI drugs Aaron Alexis was taking prior to his rampage, the media instead blamed the shooting on assault rifles, even after it had been confirmed that no AR-15 was used by Alexis during the massacre.
FBI assistant director Victoria Parlave stated at a press conference on Tuesday that authorities, "do not have any information at this time that [Alexis] had an AR-15 in his possession."
Despite there being no evidence that an AR-15 was used, the New York Daily News ran a front page headline yesterday morning entitled, "Same Gun Different Slay," next to a picture of an assault rifle.
Hours after the FBI stated that no AR-15 had been used, MSNBC's Alex Wagner, who previously blamed the Boston bombings on Alex Jones, continued to use an animated graphic depicting Alexis carrying an assault rifle during the massacre.
Anti-second amendment crusader Piers Morgan also erroneously blamed the shooting on "a man with a legally purchased AR-15, who just committed the same kind of atrocity as we saw at Sandy Hook, and Aurora," during his CNN show on Monday.
CNN's live news coverage also reported that Alexis had "recently purchased (an) AR-15 shotgun," when in fact that purchase had been denied.
Both the New York Times and the Washington Post also falsely reported that an AR-15 had been found on Alexis after the massacre.
D.C. gun grabbers Dianne Feinstein and Dick Durbin also regurgitated the false claim that Alexis used an AR-15 during the rampage.
The U.S. press has once again behaved like state media in the aftermath of the Navy Yard shooting by pursuing the assault rifle angle – despite the fact that it was patently false – in order to bolster the White House's gun control agenda.
In doing so, they have concurrently buried an integral aspect of mass shootings that needs to be highlighted as part of a national conversation – the clear connection between violent outbursts and SSRI drugs.
-
AARON ALEXIS: SCHIZOPHRENIA OR PSYOP?
Published on Sep 21, 2013
-
POLL: AMERICANS NOW BLAME MENTAL HEALTH SYSTEM FOR MASS SHOOTINGS, NOT GUNS
Americans no longer fault "easy access" to guns as number one reason for gun violence
Julie Wilson
Infowars.com
September 20, 2013
Americans are finally waking up to the fact that gun control does not curb gun violence. A recent Gallup poll conducted on Sept.17 and 18, just days after the shooting at the DC Navy Yard, reveals Americans think "easy access" to guns has less to do with mass shootings than they did in 2011.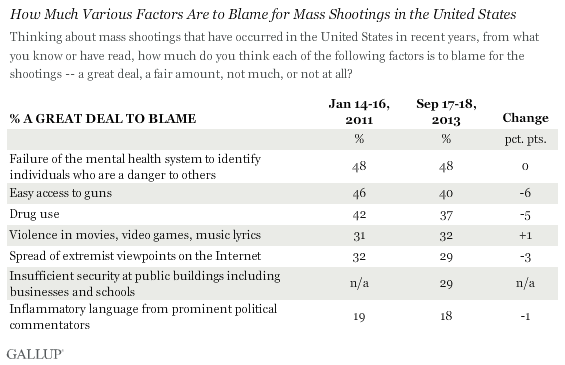 The new poll, as reported in the Washington Times, shows 48 percent of Americans now blame failures in the mental health system for gun violence.
After the 2011 shooting in Tucson, Ariz., in which six were killed and several wounded including then Rep. Gabrielle Giffords, a poll was conducted to measure the public's response. 46 percent blamed "easy access" to guns as the root cause, compared with just 40 percent today.
It looks like Americans may finally be basing their opinions on gun violence around real statistics. In May, the LA Times released an article exposing statistics that show gun crime has plunged dramatically since the early 1990s. The statistics, released by the Pew Research Center, show "in less than two decades gun murder rates [have] been cut nearly in half."
"The number of gun killings dropped 39% between 1993 and 2011, the Bureau of Justice Statistics reported in a separate report released Tuesday," said the LA Times.
The recent Gallup Poll shows 20 percent believe "easy access" to guns has nothing to do with mass shootings.
It appears that the anti-gun propaganda promoted by government and corporate media has begun to wear off since the Sandy Hook shooting last December. Since the shooting, fewer Americans think that "stricter gun sale laws" are necessary.
-
WASHINGTON NAVY YARD GUNMAN AARON ALEXIS HEARD 'VOICES IN HEAD' AFTER PLAYING VIOLENT VIDEO GAMES UP TO 18 HOURS A DAY
The former navy reservist played "shoot 'em up" games like Call of Duty – with his best friend saying the games pushed his dark side
By Christopher Bucktin | mirror.co.uk
September 18, 2013
Crazed Aaron Alexis was treated for mental illness after playing violent video games for up to 18 hours day and night.
The 34-year-old told psychiatrists he heard voices in his head long before he went on the rampage at a US naval base and slaughtered 12 people before being shot dead himself.
Friends said the length of time he spent glued to the "shoot 'em up" games on his computer, including the popular Call of Duty, triggered his dark side that had previously landed him in trouble with the police on gun crimes.
But despite his psychiatric problems and arrests for violence, the IT contractor was never declared mentally unfit by the US Navy – a move that would have stripped him of the security pass that allowed him to drive unchallenged into the ­Washington base and carry out his murderous mission.
And as a result, his gun licence was also never rescinded.
Friend Nutpisit Suthamtewakul said "hard-core drinker" former navy reservist Alexis became so hooked on video games he would have to take him food as he would not tear himself away to eat.
He added: "He could be in the game all day and all night. I think games might be what pushed him that way."
Alexis had worked at Suthamtewakul's Happy Bowl Thai restaurant in Fort Worth, Texas.
His best pal added: "He always had this fear people would steal his stuff so that's why he would carry his gun all the time.
"He would carry it when he was helping out in the restaurant which scared my customers."
Happy Bowl customer Chris Childs said he would often chat to Alexis about violent video games.
He said the killer was "really into" Call of Duty and World of Warcraft.
Mr Childs added: "There were a couple of guys I worked with that were kind of into shooter games, but by the time a new one came out, he would know a lot about the game."
Another friend, Michael Ritrovato, told how he saw twisted Alexis playing the part of a killer in the games.
A source close to the case said: "What is emerging is a picture of someone who was clearly troubled but yet no one in authority picked up on it.
"There are several events in his life that should have set alarm bells ringing that he was unsuitable to be around firearms.
"We know he had an obsession with violent video games and we will look into that part of the investigation."
Experts have argued for many years people addicted to violent computer games can be affected by their content.
Call Of Duty are first-person shooting games where the gamer plays the role of military men on realistic missions.
Alexis went to the Veterans Administration last month seeking treatment for ­paranoia, insomnia and possible schizophrenia.
Around the same time he called police to his hotel room in Rhode Island after complaining of hearing voices.
He had also claimed to be suffering from post traumatic stress disorder after helping with rescue efforts in the wake of the New York 9/11 attacks.
Troubling questions have already been asked of the US Department of Defense which cleared the killer for military base access twice in the past 12 months.
A Google search would flag up his previous arrests for gun offences and Congress is demanding to know how security staff failed to pick up on them.
Alexis had visited six military ­installations across America and Japan while working in IT for a Hewlett-Packard sub-contractor.
He was employed by a firm called The Experts. CEO Thomas Hosko confirmed Alexis had been passed by the ­Department of Defense.
He said: "He did have a secret clearance. We had recently rehired him.
"Another background investigation was rerun and cleared through the security service in July 2013."
The pass would permit Alexis to drive on to the navy base, allowing him to hide his weapons from security.
Mr Hosko added further checks on the gunman "revealed no issues other than one minor traffic offence".
Alexis, who served full-time in the navy between 2007 and 2011 before being discharged over misconduct, was shot dead by police after he opened fire inside the base around 8:20am on Monday.
He used three guns – a shotgun, 9mm pistol and an AR-15 semi-automatic rifle – the same type of weapon used in the Sandy Hook and Aurora massacres.
After shooting some of his victims he stripped them of their weapons before becoming involved in a gun fight with police.
Witnesses said he had taken refuge in a command HQ and started picking off people in a cafeteria from a fourth-floor window.
It is understood the killer purchased a shotgun in Lorton, Virginia, within the past week as he stayed in Washington's Residence Inn hotel while preparing to start work on the base.
Alexis had been arrested by Seattle and Texas police for firing a gun in the past.
In 2004 he shot out the tyres of a construction worker's truck in an "anger-fuelled blackout" after he thought he had been mocked.
Six years later he fired a bullet through his apartment ceiling, narrowly missing his neighbour, who he had complained about for making too much noise. He claimed the gun went off accidentally.
Yesterday, Defence Secretary Chuck Hagel laid a wreath at the US Navy Memorial in remembrance of those who were murdered.
Nine of the 12 civilian workers killed had been identified by last night. They were aged between 46 and 73. The eldest victim was John Roger Johnson, who had four daughters.
The logistics analyst set off for work early that day to beat rush hour and his wife Judy said: "He always said, 'Goodbye beautiful, I love you so much. You have a good day and God bless you'."
Of the 14 injured doctors have said all are expected to make a good recovery.
They include a woman shot in the head and police officer Scott Williams, whose legs were blasted.
Budget cuts may have also been behind the lax security at the base. Excerpts from a soon-to-be-released government audit reveal how screening of the yard's 3,000 staff has suffered.
Washington Mayor Vincent Gray last night said such cuts "put people at risk".
The federal security assessment done over the past year highlighted how ­contractors such as Alexis were given too much access at navy yards across the US.
-
NOT A DIAGNOSIS: VOICES IN HEAD MORE COMMON THAN THOUGHT
By JoNel Aleccia | NBC News
September 18, 2013
Reports that the shooter who killed a dozen people in Monday's Washington Navy Yard attack was hearing voices raises the possibility of mental illness — but it's not a diagnosis, experts say.
"I think it's too early to tell what the real motivation was in this recent case," said Dr. Jeffrey Lieberman, president of the American Psychiatric Association.
Aaron Alexis, the 34-year-old gunman, appeared to report auditory hallucinations when he called police to a Rhode Island hotel six weeks ago and said he was hearing voices in the closet and wanted to move to a Navy hotel.
Such hallucinations are the hallmark of psychiatric disorders; about 75 percent of those diagnosed with schizophrenia experience voices that they can't explain. They're also common in up to half of cases of bipolar disorder and in about 40 percent of post-traumatic stress disorder cases, psychiatrists say.
But they're not always critical, shaming voices that urge people to commit violence. In fact, many people with no disorder also report hearing voices — and they're often neutral, even innocuous, said Lieberman, who's also a professor and chairman of psychiatry department at Columbia University.
"A larger than you would think portion of people in our population have these hallucinations," Lieberman said.
"You can have things which are pleasant, such as music. You can have voices that may be grandiose and extolling your praises," he added. "And you can also have auditory hallucinations that are completely neutral … voices talking to each other and it's just background chatter, like a crowded room or a cocktail party."
There's no way to know whether Alexis heard voices that said derogatory things about him or instructed him to commit violence.
"The most pernicious type of hallucination and the one that's the biggest risk factor is the so-called 'command hallucinations' that tell you to do something," Lieberman said. "Once they become strong enough, they can't distinguish these as external fabrications, they are under the influence of the voices."
Such hallucinations can be resistant to treatment with anti-psychotic drugs and with counseling, experts say.
As more details emerge about Alexis, Lieberman said he was concerned that the shooting renews worries for people with mental illness and once again raises questions about how society treats disorders.
"I think it immediately arouses fears and enhances stigma about people with mental illness, that they're psychotic killers and wackos running amok," Lieberman said. "It's unfortunate."
Instead, there needs to be more focus on diagnosis and treatment of people with psychiatric disorders, a call that seems to be raised routinely after tragedies such as Monday's shooting – and the attack in Newtown, Conn., last December.
"We remain unaware, uniformed and fearful of what disturbances in brain function can lead to," Lieberman said. "Everyone talks about it and nobody does anything about it."
-
WASHINGTON GUNMAN RECENTLY TOLD COPS HE WAS BEING BOMBARDED BY MICROWAVE SIGNALS THAT KEPT HIM AWAKE AT NIGHT
The Smoking Gun
September 17, 2013
Six weeks before going on a killing spree at the Washington Navy Yard, Aaron Alexis told Rhode Island police that he was being followed by individuals who were using a "microwave machine" to send vibrations into his body that kept him from falling asleep, according to a bizarre police report.
On August 7, Alexis summoned Newport cops to a Marriott hotel where he was staying. During a 6:30 AM interview, the 34-year-old–who said he was a "naval contractor" who traveled often–told officers that voices were harassing him through a hotel wall, adding that he was fearful he could be harmed.
Alexis explained to police that he had previously gotten into an argument prior to boarding a plane in Virginia, and believed that the person with whom he quarreled had dispatched three individuals "to follow him and keep him awake by talking to him and sending vibrations into his body." While he had not seen these individuals, Alexis said he "believes they are two black males and a black female."
While Newport cops have confirmed that Alexis is the subject of their report, his name has been redacted from the document.
Additionally, Alexis claimed that the voices had forced him to flee two prior hotels, one of which was on Naval Station Newport (where Alexis was apparently set to do contracting work). Alexis refused to tell cops what the voices were saying to him "through the walls, floor and ceiling."
The unknown individuals, Alexis said, were using "some sort of microwave machine" to send vibrations into his body. Alexis assured cops that he did not have a history of mental illness in his family or any sort of prior "mental episode."
A Newport patrolman advised Alexis to "stay away from the individuals that are following him" and notify police "if they attempt to make contact with him."
Alarmed by Alexis's behavior–and concerned about possible "Naval Base implications"–a Newport police sergeant faxed a copy of the department's report to naval station police. A Navy cop–whose name is redacted from the Newport Police Department report–advised that they "would follow up on this subject and determine if he is in fact, a naval contractor."
-
AARON ALEXIS CARVED 'MY ELF WEAPON' ON THE STOCK OF HIS SHOTGUN
Andrew Pontbriand
Intellihub.com
September 19, 2013
Officials involved in the investigation of the Navy Yard shooting, have come forward with new insights on the weapon that was used in the shooting. Alexis had carved the words 'My ELF weapon' on his Remington 870-Express-Tactical shotgun. ELF stands for 'extremely low frequency', and usually refers to communications or weather.[1]
For those who are familiar with this technology, it is well understood that this is used in programs such as H.A.A.R.P. It has also been reported by several government whistle blowers, and even political activists that they suspected a 'ELF weapon' was being used on them.
The report about the carvings is most interesting, because it seems to confirm the claim made by Alexis that 3 men were following him using an ELF weapon while he was in his hotel room. He even filed a report to the Newport, Rhode Island Police stating these claims. Aaron stated he had to change his hotel 3 different times because these people were using the microwave machine on him.
On August 7, the police alerted the Newport Naval Station about the incident, however they did not hear from Alexis again. Although he was being treated for multiple 'mental disorders', Aaron was still able to keep his security clearance, enabling him to use his key card to gain access into the Naval Yard Building's fourth floor and open fire.
The news about the etching on the stock of his rifle is incredible to say the least, as such information rarely reaches the public. The use of ELF waves on humans is usually thought to be science fiction to most, but to others it is very real. Researchers such as Fred Bell, who died after shooting an episode of  'Conspiracy Theory' with Jesse Ventura; spoke about said weapons.[2]
-
SIGNS OF DISTRESS MULTIPLIED ON KILLER'S PATH TO NAVY YARD
In the days before Aaron Alexis called the police in Newport, R.I., to complain that he was hearing voices sent by a "microwave machine," employees at the Residence Inn in nearby Middletown were struggling to cope with his behavior.
Daily logs kept by the hotel detailed how on successive nights, he knocked on doors to find the voices, woke up a person in one room and frightened another so badly she asked to move. Then came a call from his employer.
"Brenda from The Experts Inc. called re: Mr. Alexis in 407," a Residence Inn employee noted in a log dated Aug. 7 that was reviewed by The New York Times.
"She explained that he is unstable and the company is bringing him home," the entry continued. "She asked me to check the room (it was vacant), and check him out."
The call from the company, placed six weeks before Mr. Alexis, a former Navy reservist who the police say shot and killed 12 people at the Washington Navy Yard, suggests it had deep concerns about his state of mind and raises questions about why he continued to be sent to Navy bases in different states to work on their computer systems.
Company officials have said that although they knew Mr. Alexis was complaining about voices, they believed he was saying that the hotel was too noisy. The company did not respond immediately to requests for comment on Thursday.
It was one of numerous occasions in the weeks just before the shootings on Monday when Mr. Alexis' increasingly bizarre behavior was noted by others, including hotel employees, guards at a Virginia airport and the police in Newport. Yet no one managed to head off the violence.
Much remains unknown about Mr. Alexis' life and what drove his actions, gaps that are likely to remain at least partly unfilled with his fatal shooting by police officers at the navy yard. But as details emerge, they suggest a man engaged in an intense internal struggle for control, a battle he ultimately lost. And like other mass killers before him — James E. Holmes in Colorado, Jared L. Loughner in Arizona, Seung-Hui Cho in Virginia — he left a trail of telltale signs that were minimized, misinterpreted or ignored.
In many ways, Mr. Alexis, 34, seemed a jumble of contradictions. In Fort Worth, where he spent years in the Navy Reserve, he was described as friendly and sociable, drinking Heineken at bars with co-workers and chatting with customers at the Thai restaurant Happy Bowl, where he worked for a time.
But he also held a piece of himself apart. "He would kind of close into himself," said Melinda Downs, who knew him in Fort Worth and served as a motherly figure in his life. "He didn't let a whole bunch of people in, because he'd been hurt. He handled himself carefully."
Like others, Ms. Downs recalled Mr. Alexis as "sweet" and often "playful." But he also had outbursts of rage, some extreme; he told the police in  Seattle in 2004 that he shot out the tires of a construction worker's car in an anger-fueled "blackout." And co-workers at the Borough of Manhattan Community College in New York described him as a person who held on to grudges and did not tolerate fools gladly.
Perhaps in an effort to keep his more violent emotions in check, Mr. Alexis practiced Theravada Buddhism, meditating for hours on the thick rugs of a temple in White Settlement, the suburb west of Fort Worth where he lived on and off for three years. He told one man affiliated with the temple that he aspired to be a monk, but he would stay up late at night playing violent video games in his room.
Mr. Alexis, a computer specialist who led an itinerant life, traveling to naval installations around the country to service their systems, seemed aware of his emotional problems, telling friends he suffered from depression and post-traumatic stress disorder. But it is not clear whether he ever sought mental health treatment. Visiting an emergency room at a veterans' medical center in August, he said only that he was having trouble sleeping, according to the Department of Veterans Affairs.
Yet in the last weeks before the shooting, when he ricocheted from Washington to Virginia, Rhode Island, Massachusetts and possibly other states, whatever control that Mr. Alexis seemed to have maintained began to fissure, the cracks spreading through his life.
The notation made in the log of the Residence Inn in August was one of several describing his tortured two-day stay there. He complained about kitchen noises that were disturbing him in his fourth-floor room, though the kitchen was several floors below, the hotel noted. Later he called the desk to complain about noises coming from the room under his.
On the evening of his second day at the hotel, he checked out suddenly, moving to a room at the Navy base reserved for veterans. But he stayed only a few hours, moving again, to the Marriott in Newport.
Early the next morning, he called the Newport police, telling them about the voices and saying he was being followed by people whom he had argued with at an airport in Virginia.
His interpretation of the airport dispute may have veered into paranoia, but the argument itself was probably real. Glynda Boyd, 50, of Birmingham, Ala., said in an interview that she was standing at a gate in the Norfolk airport on Aug. 4, laughing and talking with family members, when an intense young man in bluejeans and a T-shirt approached them from across the aisle of the terminal.
"Why is she laughing at me?" the man asked her, referring to her 78-year-old aunt, who sat in a wheelchair near the boarding door. Ms. Boyd, whose account was first reported by Fox News, said she and her family later recognized the man as Mr. Alexis when they saw his image on television.
"She's just laughing, she don't know you," Ms. Boyd, who said her family had just come from a reunion in Norfolk, told him. But he persisted, asking again, while rubbing his head and moving his arm as if reaching for something. When Ms. Boyd and her brother moved away, seeking out an airline agent and asking her to call security, Mr. Alexis, who had been speaking softly, grew belligerent and began shouting obscenities, she said.
"You could see there was something very wrong with him," she said, adding that she felt he could easily become violent. "We said, he's either on drugs or he's mental." Security guards arrived and Mr. Alexis eventually calmed down, Ms. Boyd said, returning to his own gate and making a call on his cellphone. Later that day, he checked into the Residence Inn outside Newport. It is not clear whether the Experts ever ordered him home or exactly where he traveled next.
But on Aug. 18, at a meeting of a Thai Buddhist congregation in Raynham, Mass., about 40 miles north of Newport, Mr. Alexis approached Mongkol Kuakool, the head monk. He introduced himself in Thai and told the monk he had a "pain in his head."
"When I come to the temple it gets better, it's good," Mr. Kuakool remembers him saying. He added, "When he explained it, I was afraid of him."
Mr. Alexis, Mr. Kuakool said, spent the night in his car and returned to the temple the next morning. He thanked the monk, bowed to the gold statue of the Buddha and signed the guest book before leaving, writing, "Happy to visit here."
The two late-summer encounters may have been signs that Mr. Alexis' private tumult was becoming more public. But as early as July he seemed to be having problems with both finances and friends.
In Fort Worth, where he was living with Nutpisit Suthamtewakul and his wife, Kristi, the owners of Happy Bowl, he complained about his paychecks from the Experts, saying that they were late or that he was not getting paid enough.
"He had a problem with his company," Mr. Suthamtewakul said. Mr. Alexis worked for the Experts from last September until January, then took off several months to attend college. But he returned to the company in July, telling friends he needed money.
For nearly three years, he and Mr. Alexis had shared living quarters in Fort Worth and in White Settlement, a town of 16,000 dotted with bingo halls, pawn shops, auto-repair garages, self-storage facilities and vacant businesses and homes. The town is home to a number of immigrants from Thailand.
Mr. Alexis attended meditation sessions at a nearby Buddhist temple, Wat Busayadhammavanaram, chanting and praying with the mostly Southeast Asian worshipers and learning the stages of purification that are part of Thai Theravada teachings.
"People have free will to commit wrongs or rights," according to a Web site explaining the Theravadan school. "Evil doings may result when egoism, cravings, attachments, and ignorance are expressed as greed, hatred, and violence, which, if unmitigated, is perpetuated through rebirth."
Mr. Alexis learned to speak Thai, studying at night at Happy Bowl and visiting Thailand. Not everyone believed he was devoted to Buddhist principles, though. Michael Ritrovato, who met Mr. Alexis at an Asian festival, said he seemed more interested in finding ways to meet Thai women. "Maybe he meditated," Mr. Ritrovato said. "But he wasn't like the monks." He added, "He was a big-time Asian-girl person."
A few of Mr. Alexis' friends in the Fort Worth area said he drank often. "We'd go to any kind of bar," Mr. Suthamtewakul said.
He said he noticed nothing of concern in Mr. Alexis' behavior during the early summer, other than his persistent worry about his car. One night he got up at 2 a.m. to check on it, flashlight in hand, Mr. Suthamtewakul recalled. "He constantly think that someone was going to take something from him or try to damage his property," he said.
But in July, relations between the Suthamtewakuls, who had recently married, and Mr. Alexis became strained. He complained that their cat had fleas and stole food from the refrigerator, according to Ms. Suthamtewakul. He complained that Mr. Suthamtewakul no longer had time to spend with him. He owed them money, she said.
On July 5, Mr. Suthamtewakul filed a police report accusing Mr. Alexis of putting sugar in the gas tank of his Honda Accord. And soon after, Mr. Alexis left, moving in with his friend Ms. Downs and her husband.
"I got married, and I wanted to spend time with my wife, and he understand," Mr. Suthamtewakul said. "He might have a little problem with my wife, but for me, we've been friends."
Ms. Downs saw the breakup of the household differently, saying Ms. Suthamtewakul had driven Mr. Alexis out.
Still, she said, she could not think of anything in Mr. Alexis' life that "would cause this type of reaction" and noted that before leaving Texas, he had put his belongings in storage. "He was planning on returning," she said.
-
NAVY YARD SHOOTER AARON ALEXIS WAS 'NOT HAPPY WITH AMERICA,' FRIEND SAYS
FORT WORTH, Texas — Aaron Alexis was so unhappy with his life in America — where he was beset by money woes and felt slighted as a veteran — that he was "ready to move out of the country" last year, a friend said Tuesday.
"He was tired of dealing with the government," said Kristi Suthamtewkal, whose husband owns the Thai Bowl Restaurant in Fort Worth, where Alexis worked in exchange for room and board.
But instead of leaving the U.S., the former Navy reservist relocated from Texas to Virginia, where an IT company called The Experts put him on a government contract at the Washington Navy Yard.
A day after Alexis, 34, gunned down 12 people at the yard, new details emerged of his troubled past — from his preoccupation with 9/11 to recent mental problems that included hearing voices in his head.
Investigators said Tuesday that a preliminary probe has turned up no evidence that Alexis participated in rescue operations at Ground Zero, as his father once told police.
He was, however, employed as a clerical worker at the Borough of Manhattan Community College, in the shadow of the Twin Towers, when they were destroyed on Sept. 11, 2001.
"He talked about 9/11 and where he was and how the buildings had collapsed and he couldn't believe that…and how he was upset with the terrorists for taking innocent lives," Suthamtewkal said.
Melinda Downs, who took in Alexis after he moved out of the Suthamtewkals' house last year, said he told her he suffered from post-traumatic stress after "surviving 9/11 in New York."
And when Alexis was arrested in Seattle in 2004, for shooting at a parked car in what he called an "anger-fueled blackout," he brought up 9/11 during his interrogation and "how those events had disturbed him," police said.
Three years after that arrest, Alexis enlisted in the Navy Reserves and served as an aviation electrician's mate — a third-class petty officer — before he was given an honorable discharge in January 2011.
Military officials acknowledged that Alexis had disciplinary issues including absence without permission, insubordination and disorderly conduct.
Among the problems: an arrest in September 2010 by Fort Worth police after he accidentally fired a bullet into the apartment above him while he was cleaning a gun with slippery hands. Prosecutors determined that there wasn't enough evidence to bring a recklessness case.
After his discharge, Alexis began an online course in aeronautics with Embry-Riddle Aeronautical University. He worshiped at a Buddhist Temple and was befriended by Suthamtewkal's husband, Oui, who " took him under his wing and took care of him."
He was given a room at their house in exchange for help at the restaurant, where he was one of the more popular waiters.
"Everybody loved him," Kristi Suthamtewkal said.
He spent a lot of time in his room, burning incense, she said. Michael Ritrobato, a handyman at the restaurant, said Alexis played violent online video games but was good-natured, not angry.
After he returned from a contract job in Japan in Nov. 2012, he didn't seem as easy-going, though.
He felt like he had been cheated out of money from the contract and complained that he was mistreated because he was black, Kristi Suthamtewkal said.
"He felt a lot of discrimination and and racism with white people especially," she said.
There was also a growing sense of entitlement and disrespect, she said. "He did have the tendency to feel like people owed him something all the time."
He got annoyed when she couldn't give him rides, and he started eating the couple's food without permission, and ignoring her when she complained, she said. When her cats developed fleas, he was angry.
Mostly, though, she felt like he was fed up with the United States.
"I knew he was not happy with America and he felt slighted as a veteran and he was ready to move out of the country," she said.
When he abruptly left their house in July, he went to live with Melinda and Marvin Downs.
"He would get really quiet sometimes, put his head down," Melinda said. "You would see him in thought but not in rage, not angry at the world."
After he left Fort Worth for a series of jobs on the East Coast, Alexis kept in touch with the Downses. The last they heard from him, on Sept. 9, he said everything was going well in Washington.
Even before Monday morning, though, there were signs that wasn't true.
He sought treatment with the Veterans Administration for paranoia and hearing voices in two states.
In August, Newport, R.I., police were called to a Marriott Hotel room where Alexis said he was being followed by three people and heard voices coming from his closet. He couldn't sleep because he thought they were using a microwave machine to send vibrations through the ceiling, the police report says.
His small circle of friends in Fort Worth say they saw no evidence of mental illness or aggression and struggled to reconcile the accusations against their friend with the man they knew.
"I don't know him as a monster.  I choose to rather remember him as being the jokester.  An honorable young man — not the one that flipped out and just went off on everybody," Melinda Downs said.
Kristi Suthamtewkal recalled his devotion to the Wat Busayadhammavanaram temple.
"Buddhism is a religion of peace," she said. "It does not make sense."
-
ALEXIS: A BUDDHIST WITH A BAD TEMPER
By Reuven Fenton, Rebecca Harshbarger and Carl Campanile | NY Post
September 17, 2013
Aaron Alexis was a practicing Buddhist but was hardly Zen — he had a hair-trigger temper that landed him behind bars several times. The Navy vet, who gunned down 12 people in Washington, DC, Monday, before being killed, was busted for incidents such as shooting another man's truck tires and firing a round into a neighbor's apartment. The New York native blamed the first incident on the stress of being near Ground Zero on 9/11.
Born and raised in Queens, Alexis lived on 77th Road in Kew Gardens Hills. He attended Hillcrest HS and bounced around Brooklyn, Staten Island and Harlem. In 2000, he obtained a rifle permit from the NYPD to shoot at local firing ranges, sources said. Alexis, 34, spent nearly four years in the Navy from May 2007 until 2011.
He was stationed at the Naval Air Station in Forth Worth, Texas, as a petty officer third class before he was given a general discharge after a "pattern of misconduct," military records show. Despite the trouble, he was awarded the Global War on Terrorism Service Medal and the National Defense Service Medal. Alexis stayed in the Fort Worth area, in the city of White Settlement,and worked as a waiter in a Thai restaurant called the Happy Bowl. He spoke Thai and lived for a short time in a bungalow near a local Buddhist temple.
A temple member said Alexis could chant better than some of the Thai worshippers. But the vet was disgruntled over military dismissal. "He thought he never got a promotion because of the color of his skin," said the fellow congregant, Ty Thairintr.
"He hated his commander." The former reservist worked as a computer contractor for The Experts, a subcontractor of Hewlett-Packard. He moved to Washington about a month ago to begin a new HP contract and was scheduled to start at the Navy Yard this month. His position gave him security clearance that allowed him access to the facility.
The CEO of The Experts said on Monday that the company performed a background check on Alexis. "Nobody could have done anything to prevent this except Aaron Alexis," said the exec, Thomas Hoshko. "Maybe he snapped. I don't know."
Alexis had spent several months this year in Thailand to immerse himself in the culture and learn the language.
A former roommate, Nutpisit Suthamtewakul, who owns the Happy Bowl, told The Wall Street Journal that Alexis was his "best friend" but a "hard-core drinker."
"He cursed a lot, but I [didn't] see him angry very much," Suthamtewakul said. "He has a gun, but I don't think he's that stupid.
He didn't seem aggressive to me." He also said Alexis loved first-person shooter video games, and described him as "a 13-year-old stuck in a 34-year-old body."
Alexis' former Fort Worth landlord Somsak Srisan told The Washington Post that when he asked Alexis why he left the Navy, "He said, 'Somebody doesn't like me.'"
In 2004, Alexis was collared in Seattle for shooting out the tires of a vehicle in what police called an anger-fueled "blackout."
After the incident, Alexis blamed it on the trauma of being near "the tragic events of Sept. 11, 2001." His father told cops Alexis was an "active participant in rescue attempts." He was never charged in connection with the incident.
In 2010, he was arrested in Fort Worth for firing a gun through his ceiling into a neighbor's apartment. The neighbor said she was "terrified" of Alexis. Alexis insisted the gun mistakenly misfired during a routine cleaning. Once again, he was never charged.
He was also arrested for disorderly conduct in DeKalb, Ga., in 2008 and released on $364 bond, according to The Smoking Gun.
Only a couple of months ago, in July, a roommate called Forth Worth cops and said Alexis had put an "unknown substance" into a gas tank in an apparent attempt to damage it, the Web site said.
At the Brooklyn home of Alexis' relatives Monday night, a brother-in-law said the killer had been estranged from the family. Still, "he was a regular guy," the brother-in-law, Anthony Little, said. "Nobody expected this. No one saw it coming. No one knew anything. This is just shocking."
-
NAVY YARD SHOOTER AARON ALEXIS CREATED WEBPAGE WITH THE NAME 'MOHAMMED SALEM'
September 20, 2013
Law enforcement officials told NBC News that Alexis created a webpage with the name "Mohammed Salem." This is the first I am hearing of this, and have seen no media mention of it (although the fact that he had been a Buddhist has been headlined and recounted numerous times, despite the fact is that there is no compulsion to violence, oppression and ethnic cleansing in the teachings of Buddhism).
It is striking that he would create a page "Mohammed Salem." Perhaps as he became more violent, he identified with the homicidal doctrine of jihad. I do not expect the jihad-aligned media to look into this aspect of the case.
Clearly, Muslim Brotherhood groups were concerned that it was jihad. Hamas-CAIR canceled a press conference on Tuesday that was going to expose the funding of the "islamophobia" industry. What funding? I mean, really. And devout Muslims cheered and suggested responsibility for the Navy Yard shooting that killed 13. And many jihadists "expressed their joy" that the Nazy shooting was a response to Muslim leader Ayman al-Zawahiri 's strikes in America.
"Navy Yard gunman's mother says she is heartbroken and sorry for families," by Kyle Eppler, Pete Williams and Erin McClam for NBC News, September 18 (thanks to Robert Spencer):

The mother of Aaron Alexis, the Washington Navy Yard shooter, said Wednesday that she was heartbroken and sorry for the families of the victims and that she was glad he is "in a place where he can no longer do harm to anyone."In a brief statement to a reporter in New York, the woman, Cathleen Alexis, said her son "has murdered 12 people and wounded several others."…

Authorities say they are still looking for a motive. Since Alexis carried out the attack Monday at the headquarters of the Naval Sea Systems Command, signs have emerged of a troubled history.
• Alexis, who served as a naval reservist from 2007 to 2011 and worked more recently as a civilian contractor, had a military disciplinary record that included disorderly conduct, insubordination and unexcused absences.
Newport, R.I., police said he called them Aug. 7 to say he had changed hotels twice because he believed people were chasing him and sending vibrations through the walls to keep him from sleeping.
Police said they had forwarded their report to police at the naval station in Newport. Military officials told NBC News on Wednesday that they had found no evidence that naval police forwarded the information to any higher command outside the base.
• The Department of Veterans Affairs said Wednesday that it saw Alexis twice. He went to a VA emergency room in Providence, R.I., on Aug. 23 complaining of insomnia and was given sleep medicine and told to follow up with a doctor, the agency said. Five days later, Alexis showed up at a VA emergency room in Washington to get a refill and was again encouraged to see a doctor, the VA said.
The VA said Alexis denied struggling with anxiety or depression or having thoughts about hurting himself or others. It also said he enrolled in VA health care in February 2011 and never sought an appointment for mental health.
• Alexis also had run-ins with the law over gun violence. He was accused in 2004 of having shot out the tires of a car in Seattle and in 2010 of having fired a gun into an upstairs apartment in Fort Worth, Texas.
• Friends and relatives have also said he had a preoccupation with the Sept. 11, 2001, attacks, felt slighted as a veteran, had money problems and was so unhappy with his life that he considered leaving the U.S.
Law enforcement officials told NBC News that Alexis created a webpage with the name "Mohammed Salem," but they said he never did anything with it. They said they had found nothing else that might indicate any interest in violent jihad or even in Islam.
-
HOW DID NAVY SHOOTER GET SECRET CLEARANCE?
General: 'We're taking attitude of tolerance a bit too far'
By World Net Daily
September 18, 2013
Major changes need to be enacted in conducting government and contractor background checks and in evaluating those who already have clearance, warns Lt. Gen. William G. "Jerry" Boykin in the wake of Monday's horrific murders at the Washington Navy Yard.
Boykin, who is executive vice president at the Family Research Council, is also blasting the Obama administration for its handling of Syria, saying the president bungled an already wrongheaded policy and is now actively supporting Syrian opposition forces engaged in genocide.
Twelve people were murdered at the Navy Yard Monday morning. Authorities eventually took down alleged shooter Aaron Alexis, 34. Since Alexis had valid credentials for entering the installation – and also had a history of mental illness, violent and aggressive behavior and arrests for gun incidents – Boykin told WND this latest tragedy shows the background check system in serious need of reform.
"It is very difficult to get a security clearance in most cases but in this case his emotional problems, his mental illness as well as his history were not a factor. Why was that? Why were those things not considered in granting him a security clearance?" asked Boykin, who said recent attempts to add scrutiny to the background check process were pilloried on Capitol Hill.
"People like Michele Bachmann asked that somebody investigate how Huma Abedin, who had a clear connection to the Muslim Brotherhood through her father, mother, brother and even her own previous employment [received clearance]," he said. "They were just scalded by the media as well as their comrades in Congress for questioning how she could have gotten a security clearance. This is a big problem, and these security clearances need a better process that ensures that we're not getting people with mental illness and people that have criminal backgrounds walking around with a clearance that gives them access, not only to information but also, in many cases, to facilities," he said.
The general also advocates great vigilance in monitoring people who already have security clearance and suspending or revoking that clearance if troublesome indicators arise.
Boykin also sees a larger cultural trend that puts us at greater risk.
"I think a lot of it goes to this whole attitude of tolerance," he said. "We're taking it a bit too far here."
The Obama position on Syria is also galling to Boykin. He is not at all impressed by the diplomatic deal struck between the U.S. and Russia that requires Syria to declare the extent of its chemical weapons arsenal within a week and destroy it by the middle of next year. Boykin said that goal is pure fantasy.
"(Syrian President Bashar al-Assad) stays in power because he has chemical weapons. He is not going to give those up. It is nonsense, a thousand tons of chemical weapons and you think his inventory is going to be accurate? You think he's really going to turn those over? You think he's going to disassemble production facilities that would allow him to make more?" he asked. "That is not going to happen because when he loses those chemical weapons, he has no ability to stay in power there. This is a farce."
Boykin said Assad would be in peril without the weapons because his Alawite sect makes up a small percentage of the Syrian population and is hated by Sunni and Shiite alike.
Secretary of State John Kerry said the threat of force remains on the table if Assad fails to comply. Boykins sees that as an empty threat.
"I put about as much credibility in that as I did the threat of a red line," Boykin said. "This is an administration that has, frankly, gotten in over its head and is looking for any way out right now and the Russians as well as the U.S. Congress have given him a way out."
Boykin is disgusted by Obama's reversal of U.S. policy in his decision to arm the Syrian resistance, which is comprised in large numbers by al-Qaida, the Muslim Brotherhood and other radical elements. He said the U.S. is bankrolling the slaughter of innocent people, particularly Christians.
"What we're doing by arming these people is we're contributing to the genocide of the Christian community," Boykin said. "As bad as he is, Bashar al-Assad has allowed the Christians there to live in peace. What these people are determined to do is to destroy every Christian village, kill as many Christians as they can and run the rest of them out of the country."
Boykin said the U.S. is repeating the same mistakes that led to persecution of Christians by the Muslim Brotherhood in Egypt and the murder of four Americans in Benghazi.
-
CONTRACTOR THAT VETTED SNOWDEN SAYS IT ALSO RAN BACKGROUND CHECK FOR NAVY YARD SHOOTER
By Jia Lynn Yang and Matea Gold | The Washington Post
September 20, 2013
USIS, the Falls Church government contractor that handled the background check for National Security Agency leaker Edward Snowden, said Thursday that it also vetted Navy Yard shooter Aaron Alexis for his ­secret-level clearance in 2007.
The company, which is under criminal investigation over whether it misled the government about the thoroughness of its background checks, said earlier this week that it had not handled Alexis's case.
USIS spokesman Ray Howell said the company got new information Thursday.
"Today we were informed that in 2007, USIS conducted a background check of Aaron Alexis" for the Office of Personnel Management, Howell said in a statement. "We are contractually prohibited from retaining case information gathered as part of the background checks we conduct for OPM and therefore are unable to comment further on the nature or scope of this or any other background check."
USIS, which was spun off from the federal government in the 1990s, has become the largest private provider of government background checks. With 7,000 employees, the company handles about 45 percent of all background checks for the OPM, congressional staffers say.
Despite the investigation, there was no indication that USIS did anything improper when it vetted Alexis.
A statement late Thursday by the OPM division that handles security checks for most federal agencies said that the OPM has "reviewed the 2007 background investigation file for Aaron Alexis, and the agency believes that the file was complete and in compliance with all investigative standards."
The statement by Merton W. Miller, associate director of OPM's Federal Investigative Services, acknowledged that Alexis's background investigation was carried out "with support from a Government contractor, USIS."
"OPM's involvement with matters related to Aaron Alexis' security clearance ended when we submitted the case to the Department of Defense . . . for adjudication in December 2007," Miller's statement said. The DOD "did not ask OPM for any additional investigative actions after it received the completed background investigation."
Government officials said this week that the 2007 background check uncovered an incident in which Alexis shot out the tires of a car. The 2004 incident was characterized as "malicious mischief."
Two other run-ins with law enforcement and reports of more serious mental-health issues occurred years after the initial background check.
Lower-level clearances such as the one granted to Alexis typically remain valid for a decade.
The government's security clearance process is not designed to flag people struggling with mental illness, experts said. The aim of the system is to root out individuals at risk of compromising classified information. Mental-health treatment is not a disqualifying factor, and there are few ways to alert security officials when someone with clearance develops mental-health problems, according to analysts and former government security officials.
Federal officials are trying to implement a system that would continuously evaluate personnel with classified security clearance. But with nearly 5 million federal workers holding secret or top-secret security clearance, government officials say they are struggling to keep track of all their cases.
-
ALLEGED NAVY YARD SHOOTER FELL THROUGH POROUS SECURITY CHECK SYSTEM
By James Rosen, Greg Gordon and Lindsay Wise | McClatchy Washington Bureau
September 18, 2013
WASHINGTON — Gaps in how the military conducts background checks enabled the shooter in Monday's deadly Washington Navy Yard rampage to obtain a high-level security clearance and gain access to protected installations, despite a history of disciplinary problems in the Navy and run-ins with police.
Still unclear Tuesday was where the problems occurred that allowed the alleged shooter, 34-year-old former Navy reservist Aaron Alexis, to slip through a supposedly thorough examination of his conduct, some of which was easily found by simple Internet searches.
In the wake of the Navy Yard assault that left 13 people dead, including Alexis, President Barack Obama on Tuesday ordered a sweeping review of all federal agencies' practices for allowing access to civilian employees and contractors who work for the government.
Alexis' employer at the Navy Yard, a federal subcontractor based in Fort Lauderdale, Fl., called The Experts, said the Defense Department had confirmed his "Secret" security clearance twice in the last year, even though he'd been arrested three times between 2004 and 2010, twice for suspicious gun firings.
"The latest background check and security clearance information were in late June of 2013 and revealed no issues other than one minor traffic violation," The Experts said in a statement.
But police records show that Alexis was arrested in 2004 after he shot out the tires of a car near his Seattle home; arrested in 2008 on disorderly conduct charges in DeKalb County outside Atlanta; and arrested in 2010 in Fort Worth, Texas, after his gun was fired into his ceiling and through a neighbor's floor. He wasn't prosecuted in any incident.
FBI spokesman Steve Fischer said the National Crime Information Center's database, even with 75 million arrest records, is incomplete because it relies on voluntary reports from 18,000 local police departments across the country.
It was unclear whether Alexis' arrests were in that database, which former FBI director J. Edgar Hoover launched in 1967.
"The security investigation in this case doesn't seem adequate," said Michael Barrett, owner of Diligent Innovations, a federal security contractor based in Arlington, Va.
Barrett said most security clearance checks don't focus on past encounters with law enforcement, but instead on potentially embarrassing chapters in people's pasts.
"The existence of security checks is primarily about making sure that people don't have skeletons in their closets, because we were concerned about people being susceptible to blackmail," Barrett said.
The Pentagon faces a backlog of five to six months on background checks, which places pressure on the outside firms that conduct most of them to finish their work quickly.
"These guys are pressured on getting the information, so some shortcuts could have been taken" in Alexis' background probe, a federal contractor and former military officer with a "Top Secret" security clearance told McClatchy.
In a lengthy statement released Tuesday evening, a Defense Department official said Alexis received his "Secret" clearance – which is lower than "Top Secret," but higher than "Confidential" – in March 2008, when he was serving as a Navy reservist in Fort Worth.
The security clearance was good for 10 years, or through March 2018, the Pentagon said, and Alexis carried it with him when he left the Navy in 2011 and later when he went to work for The Experts as a computer technician at the Navy Shipyard.
A Navy official said Alexis received an honorable discharge in 2011 after four years of reservist duty despite a number of disciplinary problems.
"There were a series of military conduct offenses," the official said. "I can't give you a number on them, but they ranged from unauthorized absence from work to insubordination to disorderly conduct. None of them rose to the level of court martial, but they were things that were handled in the conduct system by his chain of command."
Once he was working at the sprawling Navy Yard, Alexis carried an access card provided by a private firm that Pentagon investigators criticized Tuesday for running a weak Navy-wide security program with poor background checks.
The Defense Department's inspector general said the Oregon-based firm, Eid Passport, developed a system called RAPIDGate that gave 52 convicted felons "routine, unauthorized installation access, placing military personnel, dependents, civilians and installations at an increased security risk."
Sen. Claire McCaskill, a Missouri Democrat who chairs a key Senate subcommittee on federal contractors, demanded answers in a letter Tuesday to Navy Secretary Ray Mabus
"Yesterday's tragic and senseless violence highlights the importance of complete, thorough background investigations of the contractors and subcontractors granted access to Navy installations," McCaskill wrote.
Despite a push since the Sept. 11, 2001, terror attacks for coordination between law enforcement and intelligence agencies, some state and local police have resisted sharing their data with federal agencies, Barrett said.
Many police departments "decided they were just absolutely not going to share any information with the FBI because it could get mixed up with the FBI Joint Terrorism Task Force and the NSA (National Security Agency) and the CIA," he said.
The FBI's office in Clarksburg, W.Va., also runs the National Incident-Based Reporting System, which collects rich details of 11 categories of incidents that fall short of arrests.
FBI spokesman Fischer said, however, that only 30 percent of law enforcement agencies report these details to the database, and that in any event, it is not checked during government background investigations.
-
SECURITY AT NAVY YARD WEAK, SURVEILLANCE EXPERT SAYS
September 17, 2013
WASHINGTON — The Washington Navy Yard, a former shipyard where Monday's fatal shootings occurred, has a history of weak security with past reports citing poor entrance controls, video dead spots, inadequate lighting, malfunctioning alarms and other problems.
Building 197, which houses the Naval Sea Systems Command headquarters on the 65-acre campus along the Anacostia River, was the main site of the gunfire that claimed 13 lives, including that of the killer identified by police as Aaron Alexis, 34, of Fort Worth, Texas.
James Atkinson, a former military intelligence officer who now heads Granite Island Group in Gloucester, Mass., said the Navy hired his surveillance security firm in 2009 to test newly installed electronic security gates and other access controls inside Building 197.
The "controlled penetration" test revealed that a tamper sensor wasn't working because of a design defect and that hardware store-variety screws had been used to secure the main access-control panel instead of more expensive screws that could only be loosened with a specific screwdriver, Atkinson said.
"We found not only had people opened it up, but there were traces that somebody had placed a device inside that was recording data, so somebody could hoax the unit and claim to be a person they were not," Atkinson said.
More broadly, in two dozen probes over previous years, Atkinson's firm found major security lapses throughout the facility, among them doors jammed open with pieces of cardboard, "crisscrossed" video cameras pointed at one another, too few cameras and bad lighting at night.
"The security there is extraordinarily poor," Atkinson said. "They need more cameras, better door security, better lighting. The access controls were appalling. The Washington Navy Yard has security that is below the level of security you see at Harvard or MIT (the Massachusetts Institute of Technology) or Boston University or any other major campus."
Mo Schumann, a Pentagon spokesman, declined to discuss security at the Washington Navy Yard, but he said there have been broader security upgrades at military facilities.
"Since the shootings at Fort Hood, the Department of Defense has taken a number of steps to harden our facilities and establish new systems to prevent and respond to active shooter threats," Schumann said, referring to a 2009 shooting at an Army base in Texas that left 12 dead and 31 wounded.
A mid-level civilian employee who's worked at the Navy Yard for more than a decade said security upgrades are long overdue.
"They'll check your badge and they'll check your car to make sure it has a Naval District of Washington current sticker, but you can drive through the base with a bazooka in your trunk and they wouldn't know," said the employee, who asked not to be identified in order to speak candidly.
"They don't check inside the car," he said. "You can drive in with a ham sandwich, a banana and a pistol in your lunch bag, and they don't check. It's pretty bad."
The Navy Yard is part of the Washington's Waterfront region, a neighborhood in transition with Nationals Stadium, baseball home to the Washington Nationals, on its edge, condo buildings going up and new restaurants and bars opening.
Even though the Navy Yard is a military facility, security is tighter at some non-military campuses in the Washington region.
At the National Institutes of Health in Bethesda, Md., for example, every visiting car is stopped, its underside is examined with mirrors, and guards sweep the trunk and cabin interior.
After its founding in 1799, the Navy Yard was the nation's biggest shipyard, making military ships and munitions that served in major conflicts through World War II. It now serves as one of the Navy's procurement hubs, buying parts and materials to build and maintain the nation's fleet of ships and submarines.
Under military base consolidations over the past decade, several intelligence agencies have leased offices there, among them the CIA, the Defense Intelligence Agency and the National Security Agency, so some areas of the Navy Yard require higher security clearances to enter.
The Naval Criminal Investigative Service, which is helping the FBI, Washington police and other law enforcement agencies probe the shootings, also has a large center at the Navy Yard.
The site is also home to some of the service's top brass, including the chief of naval operations, who lives on the grounds.
A retired admiral, who also requested anonymity in order to provide honest assessments, said the public has some access to the Navy Yard in order to visit the National Museum of the U.S. Navy, and there's a new waterfront park along its southern border.
"They've always tried to find the sweet spot between enhanced security and providing access," the admiral said. "If people wanted to come up (the river) in a dingy and go over the seawall, it wouldn't be overly challenging. But that's true in a lot of (military) facilities. There are access points to (nearby) Fort McNair and Fort Myer with relatively low walls that are patrolled episodically. We have not garrisoned our military installations. In fact, there is a whole school of thought that says why make military facilities hard targets when terrorists are more likely to hit an elementary school or a hospital."
Rep. Eleanor Holmes Norton, delegate to the House of Representatives from the District of Columbia, disagreed with the detractors.
"The (Navy Yard) facility is one of the most secure facilities in the District of Columbia," she said.
-
SECURITY REVIEWS FOR NAVY, MARINE INSTALLATIONS
Published on Sep 17, 2013
Navy Secretary Ray Mabus ordered two security reviews Tuesday to look at how well the Navy protects its bases and how accurately it screens its workers, following the mass shooting at the Washington Navy Yard.
-
HAGEL ORDERS REVIEWS IN RESPONSE TO SHOOTING
Published on Sep 18, 2013
Two days after 12 people were killed in a mass shooting at the Washington Navy Yard, Defense Secretary Chuck Hagel ordered the Pentagon to review the physical security of all U.S. defense facilities and the clearances that allow access to them.
-
MAJOR SECURITY REVIEW ORDERED AT U.S. DEFENSE FACILITIES WORLDWIDE
RT
Sept. 18, 2013
The US Department of Defense has ordered a security review at its facilities worldwide, including security clearances. The move follows the massacre at Washington Navy Yard, where Aaron Alexis killed 12 people.
"Time frame, the depth of the clearance, kind of clearance, access, different clearances given to individuals. We're going to look at all that," Defense Secretary Chuck Hagel said during a news conference..
"Obviously the longer clearances go without review, there is some jeopardy to that. There's no question about it. So we're going to take a look at every one of those components."
Hagel has ordered the military to look at all existing security measures, check their sufficiency and to determine what other measures may be needed.
The Defense Secretary also tasked an independent panel to undertake the same reviews.
He acknowledged that there were some "red flags" about suspect Aaron Alexis.
It still remains unclear how the 34-year old shooter maintained a security clearance despite numerous violent incidents, run-ins with the law and serious mental illness. Earlier, US lawmakers demanded a review into that issue.
"I want to know who conducted his [Alexis'] background investigation, if that investigation was done by contractors, and if it was subject to the same systemic problems we've seen with other background checks in the recent past," US Senators Claire McCaskill said in a statement to Reuters on Tuesday.
The shooting incident has prompted the US Secretary of Defense to seek a report on American military installations around the world. A senior Pentagon official said that Hagel will work with senior officials to create a process for the review, which was formally announced Wednesday.
-
CONGRESS FINDS SHORTCUTS, EYES COVER-UP IN HANDING OUT SECURITY CLEARANCES
-
-
By Stephen Dinan | The Washington Times
November 20, 2013
The federal agency charged with screening employees for security clearance offered hints about how to cut corners, and its lax policies could have led to the clearance the Navy Yard shooter needed to access the base, the House's top investigator said.
Rep. Darrell E. Issa, California Republican and chairman of the Oversight and Government Reform Committee, said his staffers have come across verbal and written policies from the Office of Personnel Management that indicate the security clearance process was short-circuited in the case of Aaron Alexis, the Navy Yard shooter.
But Mr. Issa says OPM is refusing to turn over those documents and allowing them to be viewed only behind closed doors. If he doesn't have the documents by noon Thursday, he said, he will issue a subpoena.
Mr. Issa said he thinks the agency is trying to protect itself from embarrassment from questions about the clearance process for Alexis and for Edward Snowden, the former contractor whose leaks have exposed some of the government's most secret spy programs.
"These policies include the failure to secure arrest records that would have alerted federal officials to his violent past," Mr. Issa wrote in a letter, obtained by The Washington Times, which was sent Wednesday to OPM Director Katherine Archuleta. "Perhaps most disconcerting, though, is OPM's indifference to obtaining all the relevant information about individuals under review for a security clearance."
Mr. Issa said his investigators also have seen an OPM training presentation that offered tips on "how to complete a thirty day caseload in less than thirty days."
That same document also told those conducting the security review that when looking for criminal records, local law enforcement officers "either got 'em, or they don't." Mr. Issa said that "cavalier" guidance made it seem like it was acceptable not to fully pursue those records.
That matters because, in the case of Alexis, security clearance investigators failed to turn up information about an arrest and failed to uncover accusations that he used a gun to shoot at a vehicle's tires.
Mr. Issa is seeking all training materials, the contracts with third-party companies that help with the screenings, and information on how the screeners' job performances are assessed.
In an earlier letter to Mr. Issa, OPM's chief attorney said the agency was withholding documents because some of them contain sensitive business information and others, if made public, would lay out clear ways to defeat the clearance system.
OPM also hinted that it could claim to protect the documents by executive privilege because they implicate the White House budget office's interests.
Spokeswoman Lindsey O'Keefe said Wednesday that the agency believes it has given access to Mr. Issa's investigators.
"We have already made these documents available to the committee for review. We have received Chairman Issa's most recent letter dated November 20, 2013, and plan to respond to him as appropriate," Ms. O'Keefe said in an email.
The method of granting security clearances has become a heated topic this year, with several congressional committees vowing to review the procedures in the wake of the Navy Yard shooting and the Snowden leaks.
Mr. Issa said the fact that the government and its contractors cleared Alexis and Mr. Snowden "enabled them to carry out their heinous acts."
The push for documents has bipartisan support — though not necessarily Mr. Issa's threat of a subpoena.
"I believe the committee has a right to these documents, and I hope we can work this out without resorting to a subpoena," said Rep. Elijah E. Cummings of Maryland, the ranking Democrat on the oversight committee. "The agency should identify any sensitive material, and the committee should safeguard this information appropriately."
In his letter, Mr. Issa said the committee has the experience and ability to protect sensitive data.
Mr. Issa first requested unredacted OPM documents in September, including the full 2007 background investigation report that approved Alexis' security clearance.
Alexis used that clearance in September to gain access to the Navy Yard facility, where he killed a dozen people and wounded eight others before he was fatally shot by police.
-
NAVY YARD SHOOTING: SWAT TEAM ORDERED TO 'STAND DOWN'
Elite tactical team responsible for defending DC Capitol complex were reportedly ordered to leave the scene
Julie Wilson
Infowars.com
September 18, 2013
According to a BBC report, one of the most heavily armed police teams, assigned with the task of protecting the Capitol complex and responsible for responding to threats of terrorism, was ordered to stand down in response to Monday's shooting at the Naval Sea Systems Command Headquarters building in D.C.
The Containment and Emergency Response Team (CERT), is highly trained and equipped with the best gear on the market. The team consists of four men and is responsible for safeguarding the Capitol complex.
The specialty unit is the department's elite tactical team assigned with the task of "dealing with the rise in terrorist actives being directed at the US and its citizens," according to the SpecWarNet.net.
"Since there won't be time to call for assistance in the event a terrorist is ever able to execute an attack against the Capitol, their [CERT] primary mission consists of rescuing Congressional members, their staff, and visitors who have been taken hostage by terrorists."
"Secondary missions include, countering threats made against dignitaries, responding to critical incidents and providing security for major events, such as the Presidential Inauguration," says the website.
Reports confirm that although the team arrived on the scene shortly after news spread of an active shooter situation at the Navy Yard, several Capitol Police team members say they were told by a watch commander to leave the scene.
The sources spoke anonymously to BBC in fear of repercussions.
The leader of the officers' union, Jim Konczos, said the whole purpose of the CERT team is to respond to and handle active shooter situations. The officers, who are specifically trained to be expert marksmen, arrived fully dressed in their tactical gear and armed with HK-416 assault weapons around 9:00 a.m. Monday morning.
BBC's report reveals that an officer with the Metropolitan Police Department (MPD) told the CERT team they were the "only police on the site equipped with long guns and requested their help stopping the gunman."
However, shortly after the CERT team arrived, they were reportedly told to leave.
"I don't think it's a far stretch to say that some lives may have been saved if we were allowed to intervene," said one Capitol Police source.
"Odds are it might have had a different outcome," said Konczos. "It probably could have been neutralized."
One Capitol Police officer who supposedly overheard the request for CERT to stand down felt frustrated by the command.
Spokeswoman for the MPD responded to the allegations saying they were "not true." The Capitol Police announced Wednesday they are investigating the allegations and plan to pull radio logs from Monday's incident.
Senate Sergeant-at-Arms Terry Gainer, overseer of the US Capitol Police Department, had the following response: "It's a very serious allegation and inference to indicate that we were on scene and could have helped and were told to leave. It crushes me if that's the case."
The shooting left 13 people dead, including the suspect, Aaron Alexis.
Alexis, 34, was employed by a defense contractor for the Navy and had been issued a "secret" clearance and a common access card (CAC) that enabled him to get into the building.
Officials say they are reexamining the measures used to decide who can be granted such clearances. According to the Washington Post, 4.9 million federal government workers and contractors held such clearances last year.
US Secretary of Defense Chuck Hagel has ordered the Pentagon to "…conduct a wide-ranging review of the physical security at all US defense installations across the world and of the security clearance process," reported the BBC.
-
CONGRESSMAN CONFIRMS: SWAT TEAM TOLD TO 'STAND DOWN' AT NAVY YARD
Rescue team could have responded immediately to mass shooting
-
-
by Bob Unruh | World Net Daily
A congressman has confirmed a "stand down" order was given to a rescue team that could have responded almost immediately to the shooter running amok at the Washington Navy Yard more than a week ago.
In an interview with Jake Tapper of CNN, Rep. Michael McCaul, R-Texas, said his information came from a member of the rescue team.
Ultimately, authorities said, 34-year-old Aaron Alexis was shot and killed by police after he allegedly shot two dozen people at his place of work, killing 12.
The Atlantic Wire and other outlets reported several days after the attack that there was a "tactical unit of heavily armed Capitol police" near the scene "as it happened, ready and capable of stepping in."
But multiple sources, according to the report, said the unit was ordered to stand down.
The Wire report said the officers were part of a four-person Containment and Emergency Response Team with routine responsibilities of guarding the Capitol. But they were wearing full tactical gear and armed with assault weapons, the report said.
They arrived on the scene of an active shooting but were told, according to initial reports by BBC News, "to leave the scene."
Capitol police officials said they were investigating.
McCaul, in his interview with Tapper, said that agencies, reportedly, were having problems communicating with each other.
"The idea that we're not interoperable is really inexcusable, so we will be investigating that," he said. "I plan to hold a hearing on the House Homeland Security Committee on this issue."
He then referenced the "stand down" order.
"I just happened to bump into one of these SWAT team members outside the classified briefing room at the Capitol and he told me about how the … and I heard this firsthand, that his commanding SWAT team officer told them to stand down."
McCaul said team members were eating breakfast when the commanding officer told them to stand down.
"That's obviously of great concern when you have a SWAT team that close by that could respond to the situation," the congressman said.
"I need to verify the veracity of that statement. I've no reason to believe he was simply making this up, and so that's something obviously we're going to be looking into."
Earlier, Terry Gainer, the Senate sergeant-at-arms, described it as a very "serious allegation" to suggest the police were on the scene and could have helped but were sent away.
A police department official in Washington told the BBC it might have been a misunderstanding.
It's the second time recently in which an alleged "stand down" order has made headlines. Critics of the U.S. government's handling of the terror attack on U.S. diplomats in Benghazi, Libya, a year ago charge a team was preparing to assist but was told to stand down.
Four Americans died there.
-
FIRST RESPONDERS: RADIOS FAILED DURING NAVY YARD SHOOTING
Technical snafu adds extra layer of mystery to Navy Yard shooting's questionable events
Adan Salazar
Infowars.com
Sept. 21, 2013
In a report that has gone virtually unnoticed in the mainstream press, D.C. police and firefighters who first arrived to assist at the Washington Navy Yard earlier this week say they were frustrated when their radios failed during inspection of the building, adding yet another strange development to the already questionable set of circumstances that took place that day.
A union representative for the first responders said, "Initially, officers found that their radios were working. But as they ventured deeper into the building where the shooting took place, their equipment stopped functioning," according to a report from The Hill.
Instead, officers were forced to rely on their cell phones to communicate with one another, a detail the chairman of the Fraternal Order of Police Naval District Washington Labor Committee, Anthony Meely, says was "unnecessary and sad."
"They had to use their cellphone to just call out and tell them what's going on," Meely said.
Meely said he was disgusted by news that the team had to use cell phones, but that faulty radios were "a known issue" on the base, and that they were notorious for not being able to function properly within buildings, in addition to having batteries that could never sustain charge.
"…what could they do if the radios weren't working?" asked Meely, adding "…that was the only way for them to call and get them some help."
Additionally, firefighters were having the same problems with their radios. "The incident commander from Naval District Washington was not able to communicate from his position inside the building to fire units outside of the building. He was not able to communicate with his subordinate units outside of the building," Greg Russell, president of the National Capital Federal Firefighters, said.
Although this may merely have been a technical snafu, it adds an extra layer of mystery to an already convoluted story that has only gotten stranger.
Wednesday, the Associated Press reported that alleged shooter Aaron Alexis believed people were trying to harm him with microwave radiation and had reportedly told Veterans' Affairs physicians he was hearing voices and being followed.
On Thursday, we learned Alexis was found with firearms carved with messages, including one that read, "My E-L-F Weapon," a message which the Washington Post wrote generally stands for "extremely low frequency," which has led many to speculate he may have been a victim of targeted government mind control.
We also reported earlier this week that D.C.'s Containment Emergency Response Team (CERT) was mere minutes away from the shooting when it took place, yet when they arrived they were told by a commanding officer to leave the scene.
The CERT team's leader has since been replaced and members of the team have not been questioned or debriefed as to why the stand down order was given, despite a source telling the BBC that the CERT team is typically debriefed "right away, at the very least the following day."
-
ATF KEPT OUT OF THE LOOP AFTER NAVY YARD SHOOTING
September 22, 2013
WASHINGTON (AP) — Within hours of the Navy Yard shootings, the FBI had traced the gunman's recent shotgun purchase and sent agents to the shop in northern Virginia where he bought it. Left out of the loop was the Bureau of Alcohol, Tobacco, Firearms and Explosives, a surprising snub between top U.S. law enforcement agencies that comes as the ATF struggles to show its relevance in Washington.
The ATF is the federal agency in charge of tracing guns used in crimes, including the military-style semi-automatic rifle used in rampage at a Connecticut school last year, a similar rifle used in the deadly shooting at a Colorado movie theater and a handgun used to kill six people and critically wound a congresswoman, among others, outside a grocery store in Tucson, Ariz.
By the afternoon of the Navy Yard shootings, FBI agents — not ATF agents — were in northern Virginia at the gun shop where Aaron Alexis, 34, bought a Remington 870 Express shotgun and about two dozen shells barely 48 hours earlier. By day's end it was clear that the shotgun, which Alexis altered with a sawed-down barrel and shoulder stock, was purchased legally after Alexis showed his valid Texas driver's license and passed both a state and federal background check.
But the ATF wasn't involved.
There is no evidence that the FBI did anything wrong in tracing the gun on its own, but the move is unusual.
"I have never seen an instance where ATF had not been relied upon to trace the gun," said Mike Bouchard, a former ATF assistant director for field operations. "I have never heard of a situation like that."
By 6 p.m. Monday, the day of the shooting, The Associated Press had learned that the shotgun had been legally purchased at a gun shop in Lorton, Va. When asked about those details, the ATF said its trace had not been completed. ATF spokeswoman Ginger Colbrun said in a statement Friday that once ATF traced the shotgun, that information was handed off to the FBI, which is leading the investigation. She declined to say when the ATF completed its trace.
"ATF is the sole federal agency that is authorized to conduct firearms tracing," Colbrun said in the statement. The ATF's National Tracing Center "is authorized to trace a firearm for a law enforcement agency involved in a bona fide criminal investigation."
The FBI's Washington Field Office declined to comment on the investigation.
A 1968 overhaul of gun laws gave the ATF the authority to trace firearms used in crimes and required that gun dealers keep records of who bought what gun and when. The powerful gun lobby has successfully pushed a series of legislation that limits what the ATF can do with that information, including bans on storing it in any searchable computer database.
When law enforcement needs to trace a gun, the low-tech process includes a series of phone calls, starting with the manufacturer. Depending on the age of the gun and how many times it has changed hands, the process can take days. In the case of the Navy Yard shotgun, Alexis bought the weapon just two days earlier. The paper trail ended about 17 miles from the crime scene.
The Navy Yard shooting comes less than three weeks after ATF Director B. Todd Jones was sworn in as the first Senate-confirmed ATF director.
The agency had been without a permanent leader since 2006 when the Senate was given the power to approve the director. In pushing for Jones' approval, Senate supporters, including President Barack Obama, suggested ATF was unnecessarily weakened by lack of leadership.
The ATF was noticeably absent in the gun debate that dominated the attention of lawmakers in the months after the December massacre of 20 school children and six adults at a Newtown, Conn., elementary school.
Bouchard said another law enforcement agency asking for gun sales records could be confusing for licensed dealers who have become accustomed to dealing with the ATF.
"Gun dealers are accustomed to dealing with ATF and will always be cooperative with any law enforcement agency," Bouchard said. "But because of dealing with ATF there could be some confusion on their part as to what they have to do during an investigation, or if they should surrender records that they are legally instructed to keep by ATF.
-
NAVY YARD SHOOTING: APPEARANCE OF ANOTHER SETUP
by Joel Skousen | World Affairs Brief
September 20, 2013
One could almost predict the tone of the news stories about the shooting this week at the Navy Yard in Washington DC. Witnesses reported multiple shooters who were allowed to escape. Later, police reports and statements by controlled police chiefs dismissed the other shooters without explaining why. The "lone shooter" was revealed to have a history of being mentally unstable and taking mood altering drugs (or mind control/hypnosis). The weapon was broadly reported to be an assault weapon even as the facts indicated otherwise. The shooting took place in one of the most restrictive weapons areas in the country but government failed to intervene despite multiple warning signs. This same old pattern continues to emerge time and again with each successive mass murder with guns—and the inevitable coverup by law enforcement ensures the full truth will never be known.
The object of all these manufactured mass murders is gun control including eventual confiscation, and though politicians are loath to risk their careers by voting against guns, this is a prime issue on the globalist agenda and they won't take no for an answer. America will continue to be subjected to these setup killings until they get their way.
Combined with the almost weekly occurrence of urban workplace or gang shootings (13 dead in a Chicago ghetto today) the PTB are hoping Americans can be goaded into gun confiscation. However, they run the risk that people will rightly come to the conclusion that the only solution is for more citizens to be armed for personal protection, rather than less. After all these mass killings always happen in places where no one can be armed for self protection.
After the Newtown shootings, members of the anti-gun lobby were ready and waiting to pounce on reports that the perpetrator, Aaron Alexis, was using an AR-15 assault rifle to do the killing. Pundits immediately called for a renewal of the assault weapons ban and more gun control. As Erik Wemple hints, this was a massive disinformation campaign propagated by law enforcement and the media:
 CNN correspondent Pamela Brown just reported on air that Aaron Alexis, the deceased suspect in the Navy Yard shootings, entered the facility yesterday armed with a shotgun. Citing the Bureau of Alcohol, Tobacco and Firearms as well as law enforcement sources, Brown reported that the gunman had tried to purchase an AR-15 at a gun shop in Northern Virginia but was turned down. Two pistols were also recovered.
 So why all the reports about the gunman and an AR-15? This is how Brown explained it [of course, never admitting that CNN and others were all too willing to promulgate this lie]: "Military personnel that were responding to the shooting were carrying maybe one or more AR-15s and that's where the confusion came from, initially from law enforcement. That's why that was reported."
 Reported far and wide, that is. A Nexis search — "AR-15 and gunman and 'navy yard'" — turned up nearly 270 articles. In the mix, the AR-15 plays a role in several ways. Either the guy was "armed" with the AR-15 or it was instrumental in his terrorizing a cafeteria or it was found alongside him. It's an enormous data point, too, given that the AR-15 was used in the Newtown and Aurora, Colo., mass killings.
 The actual weapon was a Remington 870 shotgun Alexis had purchased two days earlier. According to police he also shot a security guard and began using the officer's .40-caliber Beretta semiautomatic. It's good that this shooting hasn't implicated an assault weapon again. The evidence of an AR-15 as the sole weapon used in Newtown was most likely fabricated and I'm glad they aren't pulling the same stunt here.
Early reports from Newtown said the assault rifle had been left behind in the gunman's car and it wasn't implicated in the deaths until the coroner issued his statement that the AR-15 had killed all the victims. Although the other shooters at that scene could have been using such weapons, I think the coroner falsified parts of his report to demonize the assault rifle. Based on combat reports in Vietnam, the .223 high velocity round of an AR-15 assault rifle would have passed through most people and especially children—and not lodged in the body as claimed by the coroner. No actual detailed ballistics report has been issued showing the weapons found and matching them to the bullets extracted and analyzed. Why not if it is conclusive and so many conspiracy questions abound?
In fact very little evidence has to be presented if the culprit (or patsy) is killed or kills himself as part of the shooting and thus eliminating the need for a trial. James Holmes, the movie theater shooter, is one of the few cases where a mass shooter didn't end his own life and I think it wasn't meant to end that way. Apparently he lapsed into a daze and wandered into police custody without a fight or taking his own life. Notice he has been kept under mood-altering drugs and psychiatric care since his arrest. If you doubt that government would be willing to fabricate criminal reports involving guns, consider that the FBI national lab was recently criticized by the Inspector General for fabricating evidence on gun crimes in past years.
One of the terrible aspects of the Navy Yard shooting is that the gunfire was allowed to go on for over half an hour—way too long given standard emergency response times. In what could become a major scandal it was discovered that the DC Police forced a highly trained and heavily armed emergency tactical response team to stand down and leave the ongoing battle scene within minutes of it starting. If true, this means there was a conspiracy to make sure there were a lot more casualties than a quick response would have allowed. This article on "Capitol Police thwarted from aiding at Navy Yard" is from USA Today:
 Officer says tactical team arrived quickly but Capitol Police commander ordered officers to return. The U.S. Capitol Police have launched an investigation into whether an elite tactical team was abruptly recalled from responding to Monday's Navy Yard shooting massacre before D.C. Metropolitan Police officers confronted the shooter.
 Two Metropolitan Police officers entered the Navy Yard without the Capitol Police team and one was wounded by the gunman, Aaron Alexis. The elite Capitol Police Containment & Emergency Response Team is based just a few blocks from the Navy Yard. A law enforcement source told WUSA-TV the unit was less than 30 seconds from the gate and responded as Metropolitan Police pleaded for help.
 A Capitol Police watch commander "wouldn't let them go in and stop people from being slaughtered," one officer told the Washington TV station, which is owned by Gannett, USA TODAY's parent company. Capitol Police spokesman Shennell Antrobus said Wednesday that Chief Kim Dine ordered the independent inquiry, which is to report its findings and recommendations by Oct. 21.
This is explosive evidence, and Dine's ordering an "inquiry" is a typical stalling tactic which will use controlled individuals to cover up or downplay the significance of this stand-down order. Dine should be the chief suspect in this inquiry not the one ordering the investigation, but that's not going to happen. This delay in police reaction sounds like what happened at Columbine where the shooters were left so much time they would wander around looking for more victims.
 Fortunately, the gun control hype surrounding this incident is fading as the media is forced to address several difficulties surrounding Alexis getting on base with loaded weapons, in particular how Alexis got his Security Clearance renewed in July after numerous police and mental health red flags that were somehow dismissed by gatekeepers in the system. Here's a summary of the problems a background check would have revealed (via CBS News):
 Seattle police posted details about the May, 2004 incident… Two construction workers there reported seeing Alexis walk out of his home, pull a gun from his waistband and fire three shots into the two rear tires into a 1986 Honda owned by one of the workers before slowly walking back to the home.
 Police reportedly later arrested Alexis after finding a gun and ammunition in his room in his grandmother's home, where he had been staying. After his arrest, Seattle police reported he told officers he felt "mocked" by the workers and felt they had "disrespected him." He claimed his anger caused a "blackout" and that he couldn't remember the incident until about an hour after he fired the shots at the car.
 A continuing records check uncovered that Alexis had a concealed pistol license and a Glock .45 caliber gun registered to him, according to a police report made public on the Seattle Police Department's website. He was booked for malicious mischief, according to the report. [Why didn't he have this gun with him on his Navy Yard rampage?]
 Alexis was also was arrested in September 2010 for allegedly firing a gun inside his Texas apartment, reports the Ft. Worth Star-Telegram… Alexis had been arrested in DeKalb County, Ga., in 2008 on a disorderly conduct charge and held for two nights.
So that makes 3 arrests, and the gun crimes get on the national database accessed by the federal government for use in security clearances. Yet, strangely, none of these disciplinary problems or arrests prevented Alexis from receiving a security clearance or from purchasing a shotgun recently in northern Virginia.
That's just not possible unless someone inside is hiding his records from the computer database—as happens with people with criminal records that are working for the dark side. The US has seamless relationships with many hit men in the Mafia, who also do contract work for the CIA. Their records are also kept out of the databases. Then there's the issue of his honorable discharge from the Navy after a series of problems:
 LA Times: Alexis had a Navy record that included several unauthorized absences from duty, instances of insubordination and disorderly conduct, one instance of being absent without leave, and several failed inspections, according to a Navy official. The Navy gave Alexis an administrative punishment after his 2008 arrest. Officials have not revealed what punishments Alexis received for his other offenses, but sanctions often range from loss of pay to reduction in rank.
 Alexis applied in 2011 for an early discharge from the Navy, before his enlistment was up. Because of the spate of disciplinary problems, Navy officials looked at giving him a general discharge, which is given to sailors with conduct problems whose performance otherwise is satisfactory. But after examining his record closely, they opted to give him an honorable discharge in January 2011, the official said.
Someone had to intervene to upgrade his general discharge to honorable. Naturally, we are being led to believe that someone just had a soft spot for Alexis and let him pass. However, going AWOL and engaging in multiple instances of insubordination and disorderly conduct—especially when that conduct leads to an arrest—are serious charges in the Navy and call for a degraded discharge unless higher ups intervene. Oftentimes these anomalies are signs that dark side agents have lured someone into their world and made them a "special offer" they "can't refuse," in exchange for future cooperation. Alexis, I believe, was a patsy being protected and set up for this shooting.
As in the case of Timothy McVeigh, the dark side of the CIA has recruiters placed throughout all the uniformed services looking for just this kind of mix of cockiness, instability and intelligence that can be used in various forms of mind control for black operations. McVeigh became a willing dupe for his handlers thinking he was doing a great service to the nation by helping blow up the Murrah building—and probably didn't even know about the other black operations personnel who were tasked to plant other explosives in and around the building to ensure a more lethal blast. Seismographs showed two major explosions that morning in Oklahoma City, not one.
Neither did McVeigh know he was being set up as the patsy for the crime done by government agents. Even as he bragged to a cellmate about his ongoing relationship with secret US operations, he was loyal to the end—hinting at significant mind control. That kind of mind control can't be done with just anyone. You have to start with someone disturbed and unstable and then use a combination of measures to further destabilize them, "help" with mood altering drugs and then use hypnosis to program them into doing the act. The evidence below indicates of several types of destabilization and mind-control were also used on Alexis.
 LA Times: Police in Rhode Island warned the U.S. Navy last month that Aaron Alexis was hallucinating and hearing voices, and security officials at the local Navy base where he worked promised to look into the matter. Newport Police Lt. William Fitzgerald said Wednesday that officers had faxed a copy of their report to the Newport Naval Station after Alexis told them on Aug. 7 that he was being threatened by unseen people and feared that "some sort of microwave machine" was penetrating his body.
These types of emotionally destabilizing techniques do exist. Alexis saw the people following him. He could feel the vibrational bombardment of the electronic devices government was using to give him insomnia. He could hear voices, even though the media chuckles at his complaints and make them appear as if he was simply imagining these things. You'd have insomnia too after these attacks, and that's what drives them to government facilities where they can be channeled to a controlled psychiatrist.
 While in Newport, Alexis contacted human resources for his employer, the Experts, multiple times to complain about hearing voices in his hotel room, company spokesman Lou Colasuonno said. Company employees thought he was referring to actual voices, Colasuonno said, and moved him to new hotels twice. [Another indication that moving didn't help—his handlers were following him with the equipment to ensure he would be driven somewhat crazy. Sleep deprivation is a powerful adjunct to mind control.]
 The Department of Veterans Affairs said Alexis had been treated on Aug. 23 in the emergency room at the VA Medical Center in Providence, R.I., "complaining of insomnia." He was given "a small amount" of medicine to help him sleep and instructed to see his primary care provider. Five days later, he received a small refill from the emergency room at the VA Medical Center in Washington.
That single incident of prescription drugs probably isn't the whole story. It is telling that the shotgun Alexis bought and used had two cryptic messages carved into the weapon's wooden stock: "Better Off This Way" and "My ELF" according to one police source. If these were done by him, it smacks of both a suicide message and a reaction to the electronic radiation he claims to have been subjected to. ELF is "Extremely Low Frequency" and is unique in that the long wave lengths can actually be felt by the body.
But what the public records never show are the sessions the target patsy eventually has with a government controlled psychologist who administers the drugs and hypnosis, which is always an integral part of programming used on unstable people in order to get them to do these mass shootings. The revelations MK Ultra by the Church Committee and the revelations about US torture in Iraq both indicated that there were unprincipled psychiatrists working for the dark side of government helping them enhance torture and mind control.
However, mind control is not an exact science so all these setup mass shootings utilize another key element—one or more additional shooters whose job it is to make sure the patsy dies in the act, so he can't talk when the drugs wear off. For example, there was at least one other shooter inside the Sandy Hook Elementary School, seen by at least one witness who was down on the ground with police handcuffing him. They don't do that to dead men.
There was another accomplice in the Dunblane massacre in Scotland that gave Britain the excuse to ban all handguns. The authorities claimed that the shooter in the Scottish school that killed 32 committed "suicide." The trouble is, the gun left near the dead shooter didn't match the caliber of bullet in his head. He was killed by his handler to make sure he couldn't talk. Similar incidents happened in Australia and Finland to justify total gun control.
Multiple witnesses saw at least one other shooter at the Navy Yard, wearing camouflaged clothing, and the police put out numerous alerts two other shooters. Early reports by officials talking to the LA Times declared that more shots had been fired after one shooter was killed at the scene. Police also said there are potentially two other shooters dressed in military-style clothing. At least one of these shooters had engaged police in a running firefight.
Then suddenly all these reports were tamped down and DC Police Chief Cathy Lanier announced (the same day) that there was only the lone shooter —end of story. No more inquiries, no more reports about the guys that got away. Incredible. The mainstream press simply accepts this and fails to keep investigating.
Of course, the establishment has prepared excuses for all of the lapses in security procedures that are being focused upon. No one ever loses their jobs over this—but they always proffer the universal solution to human error: "new procedures" to make sure this doesn't happen again.
Defense Secretary Chuck Hagel admitted that the clearance personnel had missed many warning signs. "When you go back in hindsight and look at all this, there were some red flags — of course there were,… obviously something went wrong," as he announced a series of reviews into base security procedures.
The only advantage to liberty in the overall outcome of this setup is that these horrendous security lapses will force the media into spending a lot of time concentrating on this as a government problem rather a civilian gun control issue. After the successful recall election of the two top Colorado anti-gun legislators, Congress is in no mood to tackle gun control again—I hope.
But one thing we must never forget is that most of the security personnel and all of the military personnel in the Navy Annex were disarmed. This was another gun free zone that is always the preferred target of these kinds of setups. One almost-victim using the handle "Loddy" texted a friend saying, "I'm in a building being secured [by] a security officer that doesn't have a gun!!! Ask me do I feel safe." Even guards weren't allowed to be armed.
Now the area has roving SWAT teams—the same ones that were called off and told to stand down at the beginning of this fight. Something is very much amiss here.
 To make things even more convoluted, Jon Rappoport writes about the other versions of events that have surfaced which are very much contradictory.
 Yesterday, I referenced a USA Today piece which cited a federal law-enforcement source (off the record), who states that Aaron Alexis, the accused shooter, cleared a Navy Yard security checkpoint in his car. After parking in the lot, he got into an argument and opened fire on one or two people. He then entered the building where he went on a killing spree.
 So did Alexis shoot his way past security guards at the building's separate checkpoint? Why weren't the guards waiting for him just outside the building with their weapons drawn, after he, Alexis, had already shot people in the parking lot?
 This USA Today account hasn't spread widely through major media. It's a version of events quite different from the official, more peaceful "gained entrance to the building by using someone's else's ID."
 So that's two accounts. Now I have a third, from an unsourced person who appears to be familiar with procedures at the Navy Yard and other naval facilities where computer techs (private contractors) work.
 According to this source, Alexis was to show up at the Yard to work. He'd been hired as a tech. This was his first day on the job. He didn't need two IDs, because these private-contractor techs are issued a VAL, Visitor Authorization Letter, which permits them to enter and work in various buildings. These VALs have an expiration date. Alexis would have been carrying a VAL to get past checkpoints. Also, these techs typically carry no more than a backpack or small bag for cables and program CDs. Highly unlikely that Alexis could have gotten inside with a shotgun.
 So that's three scenarios. Then we have the variations. He obtained an AR15 inside the building. No he didn't. He got hold of two handguns. CNN says, He fired an AR15 shotgun, which doesn't exist. There were two other shooters. [then] there weren't. One of the two was interviewed and released. [which doesn't mean another shooter didn't exist] The third suspect? Who knows?
 Somebody's lying, big-time. Have the networks shown pictures of the actual security checkpoints outside the parking lot and at the building, allowing us to infer what really happened there? If so, I haven't seen them. Neither have I seen pictures of the parking lot, where, if pictures were taken early enough, one would expect to find shell casings and blood, assuming the USA Today story is correct.
 The narrative is crumbling. And reporters aren't picking up the ball, because they [are] merely take dictation from law-enforcement officials.
Rich Lowry wrote an editorial for National Review and Politico.com that discussed the "impossibility of gun control."
 The Navy Yard massacre won't revive the gun debate in Congress for a simple reason. There is no gun control agenda this side of a total ban and confiscation that would have stopped Aaron Alexis.
 The Toomey-Manchin bill could have passed Congress unanimously. The assault weapons ban could still be in place. Gun-controllers could have achieved their long-ago goal of barring the private purchase of handguns. And every step of his mayhem at the Washington Navy Yard would have been unimpeded.
 The media rushed, based on erroneous reports from law enforcement, to place in his hands an AR-15, the popular rifle that has been used in mass shootings before and that an assault weapons ban would prohibit. The front page of the Daily News blared, "Same gun, different slay." The newspaper's columnist Mike Lupica worked himself into lathers of dudgeon over the offending gun. "They call semiautomatics like this sports rifles," he fumed. "You bet. Mostly for the sport of killing innocent people, and killing them fast."
 Lupica's screed would have been absurd if an AR-15 had been the murder weapon — hundreds of thousands of them are bought annually, by people with no interest in killing innocent people — but it turns out that the best sentence he wrote about the gun was the disclaimer: "We still don't know how much Alexis used it Monday." He used it, we now know, not at all.
 According to law enforcement, Alexis used a shotgun in his rampage. This didn't compute in some newsrooms. CNN referred to the weapon as an "AR-15 shotgun." Maybe the new protocol should be that any gun used in commission of a crime automatically gets an "AR-15" prefix.
Alexis chose a weapon, as it happens, that has been endorsed and promoted by the vice president of the United States, who makes it his business to tell us which guns should be banned and which are all-American tools of self-defense. The shotgun is firmly in the latter category. Joe Biden sounded like a pitchman for Remington at a Facebook town hall earlier in the year when he urged a mother concerned about safety: "Buy a shotgun, buy a shotgun."
 This may be fine advice, but there should be no mistake: Shotguns are dangerous. When it comes to "the sport of killing innocent people," almost any gun will do, especially if it is in a permissive environment where no one else is likely to be armed. This makes a hash of the conceit that the government can ban a few guns — based largely on cosmetic features — and make shooting rampages less likely.
 Other common panaceas would have had no effect, either. Alexis bought his shotgun from a duly licensed dealer, not at a gun show. He passed a federal background check with no problem [which shouldn't have happened given his arrest record for gun violations]. He didn't have a high-capacity magazine. He reportedly got the handgun or handguns he may also have used in the attack after shooting a security officer.
 So the Navy Yard rampage demonstrates the essential sterility of the gun control debate, and all the ill-informed nattering that the likes of Piers Morgan can muster won't change that fact. It is true that James Holmes and Adam Lanza used AR-15s. But Seung-Hui Cho and Jared Loughner used 9-mm semi-automatic pistols. And Aaron Alexis used a shotgun.
 The common theme is that they were all deeply disturbed young men whose acts of murder had a sickening aspect of utter senselessness. The Daily News got it backwards. Its headline about the Navy Yard should have read, "Different gun, same slay."
 Maybe, just maybe, this time we can have a real debate about mental illness.
No, mental illness isn't the problem. There is no history of either hardened criminals nor the mentally ill committing these mass killings, especially of children. These mass shootings only happen when unstable people are cultivated by government, subjected to hypnosis and mind control and driven to do these acts.
So watch out for anti-gun writers proposing that anyone seeing a psychologist for any reason is disqualified from having a gun. Often courts will order such psychiatric evaluations or interrogations and that could be used against a perfectly normal person. I don't trust the psychology profession, nor agree with their methods of diagnosis, and am opposed to giving them any power at all to mandate treatment.
-
AS NAVY YARD SHOOTING DISTRACTS, FRANCE FUELS SYRIA WAR MACHINE
French report fuels military action in Syria as news cycle focuses on Navy Yard shooting
Anthony Gucciardi
Infowars.com
September 16, 2013
Amid the turmoil over the recent Navy Yard Shooting in DC, France is now greasing up the wheels of the international war machine by using the latest UN report on the August 21 Syrian chemical attack to claim that there is 'no doubt' that Assad's government used the weapons to kill innocents.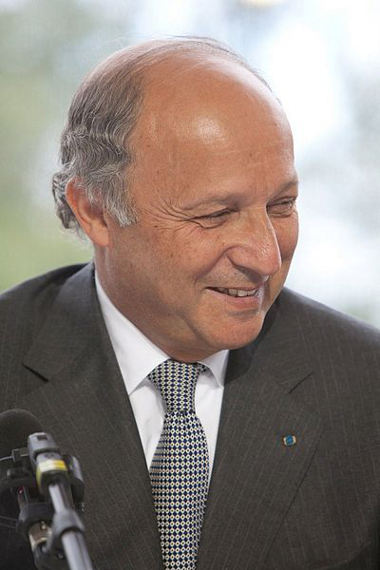 French Foreign Minister Laurent Fabius, Courtesy CC Wikimedia
In what was the top story before the shooting occurred, French Foreign Minister Laurent Fabius went on record in saying that there was 'no doubt' that Assad's government carried out the chemical attacks in Syria. This comes after top Syrian officials say they also submitted evidence showing that the rebels carried out the attacks with the aid of the United States and France. In fact, the declaration by Syria's deputy foreign minister that the US and France aided the rebels in the chemical attacks was reported by Reuters in a piece irrelevantly entitled 'Syria says 'terrorists' will strike Europe with chemical weapons'.
In the article, in which the Syrian official does indeed discuss how the same terrorist groups funded by the US and France will ultimately carry out attacks within their own nations, the deputy foreign minister states:
"We repeat that the terrorist groups are the ones that used (chemical weapons) with the help of the United States, the United Kingdom and France, and this has to stop," he said. "This means these chemical weapons will soon be used by the same groups against the people of Europe," he added.
The official also went on record saying that the Syrian government provided the U.N. evidence that 'armed terrorist groups' had utilized sarin gas in the attacks. Assuming that these statements are even remotely true, and certainly we know top analysts agree that it would really make no sense for Assad to carry out the attacks, then it means that France and the US are now continuing to grease up the war machine over the very same chemical attacks they helped to fund and push.
And even with the British Parliament failing to sound the war drums due to extreme backlash, France has picked up the torch and is continuing to place the blame on Assad over the attacks. Meanwhile, even Pat Buchanan and Ron Paul have come out with others and revealed how the attacks absolutely show signs of a classic false flag event.
Here's a breakdown on the Syrian official's statements from my August 28th appearance on the Alex Jones Show:
-
SHELTER IN PLACE AND OBEY
Published on Sep 17, 2013
As news breaks of a shooting at the Navy Yards in Washington, DC, the Feds endanger the public by issuing "shelter in place" orders. It appears that we're in for a new round of assaults on our right to keep and bear arms after the same people who were after our 1st Amendment rights last week turn up the rhetoric against the 2nd Amendment this week, ignoring the FBI's statistics that violent crime has collapsed as gun ownership has risen.
-
NAVY YARD'S "SHELTER IN PLACE" ORDER LEAVES VICTIMS SITTING DUCKS
Navy says "shelter in place," while DHS says use scissors to defend yourself
Julie Wilson
Infowars.com
September 16, 2013
Reports have confirmed at least 12 dead and many more injured after multiple gunman allegedly opened fire inside the Naval Sea Systems Command Headquarters building Monday morning in D.C.
Police say three shots were fired around 8:20 a.m. in building #197. Reports have varied regarding how many shooters were involved. Initially there were believed to be three shooters, now reports are alleging two shooters were involved, one wearing fatigues.
The Navy has issued a "shelter-in place" order for personnel, which seems to fall right in line with the notion that you're not supposed to adequately defend yourself in the event of a mass shooting, but instead put your life and safety completely in the hands of police and other local authorities.
Just a month after the shooting at Sandy Hook Elementary, the Department of Homeland Security (DHS) posted a video on their website titled "Options for Consideration Active Shooter Training Video" that provided instructions on how to deal with a mass shooting at work. In January, Infowars covered the story pointing out the ridiculousness of advising victims to bring scissors, or a fire extinguisher to a gun fight.
Sheltering in place is just as ridiculous as the DHS advising victims to use scissors to defend themselves. Of course, nowhere in the video does DHS mention that victims should own or use a firearm, because that would mean victims aren't relying on police or government to keep them safe.
DHS doesn't want you to be armed, but they have no problem stockpiling massive amounts of ammunition for "personal defense."
Sheltering in place in the midst of a mass shooting confines victims, leaving them nothing more than sitting ducks, giving the shooter the opportunity to take even more lives.
Tweets ran rampant as news of the shooting spread.
From one of our staffers sheltering in place in SE DC. #NavyYardShooting pic.twitter.com/UNcWqRLExY

— Tim Hogan (@timjhogan) September 16, 2013
"He aimed his gun at us and fired two, three shots" – watch eyewitnesses describe #NavyYardShooting in Washington DC http://t.co/mXPzEYsI0a

— BBC News (World) (@BBCWorld) September 16, 2013
#BREAKINGNEWS: Police now believe 2 shooters, not 3, carried out rampage at Navy Yard. http://t.co/kmeekLpMps #navyyardshooting

— Washington Post (@washingtonpost) September 16, 2013
The White House made it clear in their statement this morning that they want to make sure you are following orders and listening to authorities.
The province appears to be in complete disarray, grounding flights at Reagan National Airport and even placing at least ten schools on lock down.
New York Times' latest reports confirm one gunman dead and possibly two others at large.
-
CRYPTIC WHITE HOUSE MESSAGE: 'RESPECT AUTHORITY'
Government once again begs public to trust it
Adan Salazar
Infowars.com
Sept. 16, 2013
Amid confusion caused when gunmen opened fire at the Washington Navy Yard in D.C. this morning, the White House attempted to take control of the situation by issuing an anonymous statement telling citizens to unquestionably obey orders from so-called "authorities."
"We urge citizens to listen to the authorities and follow directions from the first responders on site," the anonymous source advised in a message relaying the president was aware of the situation.
The timing of the White House's request to "trust it" is interesting in light of last Friday's Gallup poll which indicated Americans' trust in government to handle problems is at an all-time low.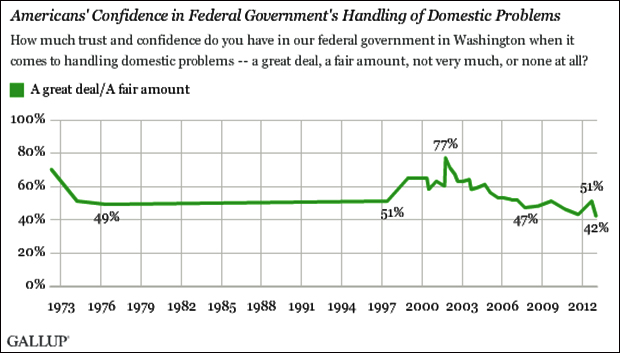 Poll: Less Americans trust government than ever before.
Even the Defense Department has had to beg its public affairs employees to come up with more-believable lies to resuscitate its credibility in the eyes of the public.
However, these are the types of events governments take advantage of to rally the public and build credibility. Predictably, the White House will push the agenda of fear and rely on its media cronies to blame guns for the shooting.
It could be equally argued that casualties suffered were the result of the government's unconstitutional D.C. firearm-ban, as an armed, and thus prepared, citizen might have been able to stop the gunmen.
It's also interesting to note that just yesterday, Obama reiterated his efforts to attack gun rights.
-
IS NAVY YARD SHOOTING RELATED TO AL-QAEDA CALL FOR MASS SHOOTINGS IN AMERICA?
Kurt Nimmo
Infowars.com
September 16, 2013
-
-
The Navy Yard shooting in Washington, D.C., follows a call by al-Qaeda leader Ayman al-Zawahri on Friday for attacks inside America.
"As we defeated it in the gang warfare in Somalia, Yemen, Iraq and Afghanistan, so we should follow it with… war on its own land. These disparate strikes can be done by one brother or a few of the brothers," said al-Zawahri, according to the SITE Intelligence Group, a government intelligence contractor run by Rita Katz, the daughter of an executed Israeli spy.
Al-Zawahri said Muslims should exploit opportunities to stage small attacks or a "big strike" against the United States.
It has not been determined as of this writing if the shooters at the Navy Yard in Washington are in fact Muslims acting under the direction of al-Qaeda or inspired by the video produced by Ayman al-Zawahri.
Despite all this, the White House still expects the public to blindly follow its orders.
-
AL-QAIDA LEADER CALLED FOR 'LONE WOLF' ATTACK
Threat came 2 days before shooting killed 13 in Navy Yard violence
by World Net Daily
September 17, 2013
Authorities in Washington say their investigation so far gives them no reason to believe Navy Yard shooting suspect Aaron Alexis, 34, with a Fort Worth, Texas, address, is linked to organized terror even though just two days earlier, al-Qaida's leader had called for a "lone wolf" attack on Washington.
The attack Monday at the Washington Navy Yard left 13 dead, including Alexis, a military contractor, authorities said. The motive for the gun assault on the base was unclear and authorities even still wondered whether the gunman was alone, or whether there were others involved.
At the Debkafile intelligence report, a submission Monday said, "Two days ago al-Qaida leader Ayman Zawahiri issued a videotaped call for an adherent to carry out a 'lone wolf attack' inside the United States."
And at the Washington Free Beacon, a report from Bill Gertz confirmed that several online jihadists were linking Islamists to the violence.
He reported, "Several jihadists wrote in Arabic on Twitter shortly after the shooting began around 8:20 a.m. ET that it appeared to be motivated by Islamist extremism. Some used the hashtag 'Al Qaeda' to report news of the shooting."
He continued, "Some jihadists said the shooting was part of global jihad but none indicated inside knowledge of the killings, suggesting the comments are probably speculation or propaganda."
He reported one jihadist on Twitter "said the attacks took place close to the 12th anniversary of the al-Qaida attacks on New York and Washington and thus appeared to be linked to Islamism."
District of Columbia Mayor Vincent C. Gray said no motive was known, and he affirmed that there is no known reason to link it to Islamist terror, although he did tell the Washington Post he could not exclude that as a possible reason.
"We don't know what the motive is at this stage," Gray explained. "We don't have any reason at this stage to suspect terrorism, but certainly it has not been ruled out."
But while Gertz concurred that there was no immediate claim of responsibility from known terror groups, "A jihadist named Idaat Amniyah (@abdallahsaker) who claimed to be part of the Middle East group Fatah al-Islam stated that the shooting showed 'we have moved from the defensive to the offensive stage' of global jihad."
And Gertz identified another jihadist, named Abu-Osama al-Muwahhid (@ab_osama1), who Tweeted praise for the attack.
Washington Police Chief Cathy Lanier said for a time police were seeking two others as possible suspects, but one was found and ruled out. The third person still remained of interest to authorities.
She reported "multiple pieces of information" raised the prospect of more than one suspect involved.
The Debkafile further reported that the participation of more than one gunman would point to a coordinated attack.
The target was a base where about 3,000 service members are assigned, and it's only a couple of miles from the Capitol.
Larry O'Daniel, a member of the 250,000-strong National Vietnam and Gulf War Veterans Coalition's Counter Terror Committee, said his group concluded that Zawahiri has great influence on al-Qaida's tactics.
Noting that Gertz had reported as early as January that an al-Qaida website was lobbying for attacks on the U.S., his report explained that warning was "strikingly similar" to Zawahiri's statements.
"In February, WND reported that CIA asset 'Reza Kahlili' alleged Iran was targeting American utilities including cell towers, power utilities, water supplies, high voltage towers, and public transportation," O'Daniel's report said.
"Also in January, Mohammad al Zawahiri, younger brother to Ayman, echoed the jihadist call for action against a number of countries, roughly equivalent to those mentioned later in August 2013, who helped France as outlined in the Gertz article. Zawahiri asked for help from 'all Muslim brothers' as part of Quranic duty," he said.
The report noted Zawahiri did give specific instructions.
O'Daniel's report said while some interpreted Zawahiri's call for lone wolf attacks as a sign of weakness, his coalition found that al-Qaida's forte is a decentralized leadership group "providing aid, resources, guidance, and other assets for localized allied groups who carry out reconnaissance and actual attacks."
"History shows that 19 well trained men killed almost 3000 persons on 9/11/01. A small well trained group came close to killing many times that number in the first WTC attack in early 1993. Al Qaida uses well trained small groups. They are good in putting in place sleeper cells with no prior law enforcement exposure to slip under security radar," the report said.
-
NAVY YARD SHOOTING: RIGHT ON TIME, GUN CONTROL ADVOCATES BLAME AR-15
Semi-auto rifles are involved in less than 2.5% of murders, which are trending downwards nationally
Kit Daniels
Infowars.com
September 16, 2013
Major media outlets are now reporting that one of the Washington Navy Yard shooters was armed with an AR-15 semi-automatic rifle.
No doubt that this will lead to a continued push by the establishment to completely ban "assault rifles," especially in the heels of California passing a bill to stop new sales of semi-automatic rifles.
-
-
According to the FBI's Crime in the United States 2012 statistics, however, rifles only account for 2.5% (322 of 12,765) of all recorded murders.
Because the "Rifles" category does not further break down rifles by type, it can be safely assumed that the 322 murders involving long arms also include those not typically known as "assault rifles" such as bolt-action and single-shot rifles.
The point is, AR-15 rifles do not even account for 2.5% of recorded murders per the FBI, yet anti-Second Amendment advocates want to ban them even though they are perhaps the best self-defense choice for shooters sensitive to recoil.
As the mainstream media continues to cover the navy yard shooting throughout the day, pay particular attention to the wording and tone that they will use to try and condition you into believing that there is a surging wave of mass murders and AR-15s are to blame.
This isn't the case at all.
Again, according to the FBI statistics, for the past 20 years violent crime has been trending downwards even though the U.S. population has increased by over 56 million.
This past year, violent crimes were 36.9% lower than the 1993 level.
-
-
Unfortunately the majority of Americans do not realize this.
According to a L.A. Times article from May 7, 2013, 56% of poll respondents believed that violent crimes involving guns are increasing, contrary to the FBI statistics.
"Killings, assaults, robberies and other crimes involving guns have dropped since their peak in the mid-1990s," the article reported.
Only 12% knew the truth.
But like clockwork, talking heads on the cable news networks will ignore these statistics which do not conform to their agenda to disarm and enslave Americans.
-
NAVY YARD SHOOTING: DID GUN FREE ZONE ENABLE KILLER?
Almost all mass shootings take place where Americans have been disarmed 
Steve Watson
Infowars.com
Sept 16, 2013
Today's shooting at a Navy Yard in Washington DC constitutes yet another to have taken place within a gun free zone. With several people dead and more injured, questions over the disarming of citizens are once again sure to be raised.
As is the case at most military bases, personnel are forbidden from carrying their own personal firearms. Under a ruling enacted by The Clinton Administration, there must be "a credible and specific threat against [Department of the Army] personnel [exist] in that region" before military personnel "may be authorized to carry firearms for personal protection."
This was the reason that the Fort Hood shooter Major Nidal Malik Hasan was able to go on a rampage for a full ten minutes in 2009, without being stopped.
-
-
Indeed, the entirety of Washington DC is well on the way to becoming a gun free zone, a fact that means only criminals like the shooter in this latest incident are able to carry arms.
-
-
Any deranged shooter looking for defenseless victims need only look to a gun free zone, knowing that it will be populated by defenseless victims that can provide no resistance.
-
-
John Lott, an economist and gun rights advocate who authored the book "More Guns, Less Crime," recently discovered that: "With just one single exception, the attack on congresswoman Gabrielle Giffords in Tucson in 2011, every public shooting since at least 1950 in the U.S. in which more than three people have been killed has taken place where citizens are not allowed to carry guns."
Recent drills and experiments, following the mass shootings in Connecticut and Colorado, have also confirmed that gun free zones do more to enable would be killers.
With police forces unable to respond quickly enough, people in gun free zones are sitting ducks for would be mass murders, yet the proposed "solution" provided by lawmakers is always to water down the Second Amendment and disarm more law abiding citizens.
-
D.C. SHOOTING: OPPORTUNITY FOR OBAMA REGIME TO TAKE ALL GUNS
September 16, 2013
-
NAVY YARD SHOOTING: AR-15, BACK IN THE NEWS
(CNN) — It has been called the most popular rifle in America, and it briefly returned to the spotlight after Monday's shooting at the Navy Yard: the AR-15.
A U.S. law enforcement official said Monday that gunman Aaron Alexis unleashed a barrage of bullets using an AR-15, a rifle and a semi-automatic handgun. Authorities believed the AR-15 was used for most of the shooting, the official said. The news prompted Sen. Dianne Feinstein, one of the strongest proponents of a ban on assault weapons like the AR-15, to issue a statement the same day asking, "When will enough be enough?"
However, federal law enforcement sources told CNN Tuesday that authorities have recovered three weapons from the scene of the mass shooting, including one — a shotgun — that investigators believe Alexis brought in to the compound. The other two weapons, which sources say were handguns, may have been taken from guards at the Navy complex.
The sources, who have detailed knowledge of the investigation, cautioned that initial information that an AR-15 was used in the shootings may have been incorrect. It is believed that Alexis had rented an AR-15, but returned it before Monday morning's shootings. Authorities are still investigating precisely how many weapons Alexis had access to and when.
Regardless, the massacre pushed the AR-15 back into the gun-control debate. The weapon has been used in several other rampages that shocked the nation:
– Sandy Hook: Adam Lanza killed 26 people at the Sandy Hook elementary school in Newtown, Connecticut, with an AR-15 in December 2012.
– Aurora: Police say James Holmes killed 12 people and wounded 58 using an AR-15 rifle, a 12-gauge shotgun and at least one of two .40-caliber handguns police recovered at the scene.
– Portland: Jacob Tyler Roberts stole an AR-15 and killed two people in a mall food court in December 2012.
– Santa Monica: John Zawahri allegedly pieced together an AR-15-type gun and went on a rampage that started at his father's home and ended at Santa Monica College in June. Five people were killed.
More or fewer guns
Advocates for tighter gun laws don't want to see the semi-automatic cousin of the military-issue M4 assault rifle in the hands of civilians.
"Almost every mass shooting involves an AR-15 assault rifle," Staff Sgt. Alonzo Lunsford told CNN's Piers Morgan Monday night.
"It's the preferred mass shooter's weapon of choice," added Lunsford, who was wounded by Maj. Nidal Hasan during the Ft. Hood shooting in 2009.
"But I don't see a logical reason why any civilian needs to have one of these killing machines."
Gun ownership proponents, on the other hand, say the solution lies in more guns, not fewer.
That's precisely the point CNN commentator and pro-gun activist Ben Ferguson made to Morgan.
Armed security guards aren't enough, he said. Once a gunman gets past them, they are no longer effective.
"When you allow a military base to be infiltrated by an individual like this… at that point he has free rein," Ferguson said.
Had the contractor and civilians working in the Navy Yard been armed, they could have gunned down the gunman and stopped the shooting quickly.
Morgan, who has dedicated many hours of his show to gun violence in the United States, did not seem hopeful that there will be a resolution soon to the controversial issue, even after the latest slaughter.
"I want the day to come where we don't have to have this ridiculous debate time and again in America," he said in frustration. "I just cannot have this debate anymore. It is ridiculous."
Efficient but deadly
The AR-15 is an efficient killing machine that originated as a U.S. Army rifle, military documents say. At the time, it was a fully automatic weapon.
The Army tested it as early as 1958.
It was said to be more effective than its predecessor, the M14, and showed distinct advantages against the AK-47, the weapon carried by the United States' opponent in the Vietnam War, the Viet Cong.
It led to a surge in military purchases during the mid-1960s. Eventually the AR-15 was further developed into the M16 rifle.
The original M16 patent ran out years ago, and now the AR-15 is manufactured by several gun makers.
The AR-15 has since become a semiautomatic rifle, firing one bullet per squeeze of the trigger. But like the M16, ammunition is loaded through a magazine.
In the Sandy Hook Elementary School shooting, police say Lanza's rifle used numerous 30-round magazines.
An AR-15 is usually capable of firing a rate of 45 rounds per minute in semi-automatic mode.
Under the 1994 federal ban on such weapons, buying some variants of new AR-15s was against the law. The ban expired in 2004.
It's easy to get an AR-15. They can be purchased online or in a gun store. Online purchases are sent to a gun store for pick-up and a background check is still required.
Early Tuesday, one online retailer had a special running: Plunk down $999, and it can be delivered to the gun retailer of your choice in 10 days.
Political deadlock
The gunfire in the nation's capital quickly drew echoes from Washington politicians.
Some, like Feinstein, renewed their calls for restrictions on semi-automatic weapons.
The California Democrat, one of the strongest proponents of a ban on assault rifles, called for Congressional action. "We must do more to stop this endless loss of life," she said.
The new mass shooting is nothing new, bemoaned Democratic Sen. Jay Rockefeller of West Virginia. "We are becoming far too familiar with senseless, tragic violence. This is the seventh shooting since 2009, and these repeated incidents demand our attention," he said.
But their words will likely fade away, said Democratic Sen. Joe Manchin of West Virginia. The broad support for gun ownership in Congress is too strong.
He doesn't think the shooting will be enough to sway the 60 votes a gun control measure would need to break a Republican filibuster.
Efforts to push gun control legislation through Congress led by Vice President Joe Biden after the Sandy Hook tragedy have run aground.
The National Rifle Association did not respond to a request for comment Monday. The gun rights organization has typically not responded to similar shootings immediately.
-
MASS SHOOTING FOLLOWS OBAMA'S LATEST ANTI-SECOND AMENDMENT PUSH
Kurt Nimmo
Infowars.com
September 16, 2013
Obama pitched his latest effort to disarm the American people hours before a deadly shooting at the Washington Navy Yard.
Appearing on "This Week With George Stephanopoulos," Obama insisted 90 percent of Americans support gun control but that a "faction of the Republican Party" prevented Democrats from passing anti-Second Amendment legislation.
"The problem we have is we have a faction of the Republican Party, in the House of Representatives in particular, that view compromise as a dirty word, and anything that is either remotely associated with me, they feel obliged to oppose," said Obama. "And my argument to them is real simple. That's not why the people sent to here."
Following a defeat to pass draconian anti-firearms legislation back in April, Obama and Democrat Senate Majority Leader Harry Reid pledged to continue the effort to diminish gun rights in the United States.
The Navy Yard attack arrives less than a week after two Democrat gun control advocates were recalled in Colorado. Senate President John Morse and Sen. Angela Giron were replaced with Republicans who are staunch supporters of the Second Amendment. Both Democrats were supported financially by notorious New York gun grabber Michael Bloomberg and his Mayor's Against Illegal Guns.
The recall effort highlighted the fight between supporters of gun rights and those who would roll back the Second Amendment following the massacre in Newtown, Connecticut and a shooting in Aurora, Colorado.
-
TOP COMMENTS ON CNN NAVY YARD SHOOTING CALL FOR COMPLETE GUN BAN
by Anthony Gucciardi
September 16th, 2013
Move over Piers Morgan. Even before the tired mainstream media talking heads have gotten a chance to come out of the woodwork to blame firearms for the Navy Yard shooting incident, it seems that some of the most highly voted comments on CNN's Navy Yard shooting article are already calling for a complete ban on guns.
In a case of talking point regurgitation like I've never seen before, one such comment truly exemplifies everything that the dying media would desperately love for you to believe. Written by none other than a user named 'HillaryClintonFor2016′, the comment has been voted up by 460 other readers (and downvoted by around 500 logical thinkers). Sitting among the top three of the 11,000s-trong comment section, the comment reads:
Amazingly, this comment sits high at the top among 11,300 others. Thankfully, there are indeed reasonable comments that cite real gun stats, like the ones reported on by top criminology researchers. Like the reality that an astounding 989,883 incidents of crime are stopped each year by legal firearms according to the Journal of Quantitative Criminology. But some, like this following comment, agree that we should flat out go along with the previous comment's plan:
Thankfully, a large number of individuals appear to be able to understand that a gun ban would only fuel crime and destroy our rights:
FEINSTEIN CALLS FOR NEW GUN CONTROL LAWS AGAIN AFTER NAVY YARD SHOOTING
By Alex Pappas | The Daily Caller
September 16, 2013
California Democratic Sen. Dianne Feinstein is renewing her call for new gun-control laws because of Monday's deadly Navy Yard shooting.
"When will enough be enough?" Feinstein said in a statement Monday evening.
"Congress must stop shirking its responsibility and resume a thoughtful debate on gun violence in this country," she said. "We must do more to stop this endless loss of life."
The FBI confirmed Monday afternoon that 34-year-old Aaron Alexis is the suspect in Monday's massacre at the Navy Yard in Washington, D.C. Alexis died at the scene. Authorities are still looking for other potential gunmen in the rampage that has killed at least a dozen people.
"I mourn those killed today at the Navy Yard in Washington and send my thoughts and prayers to those families grieving the loss of loved ones," Feinstein said.
"There are reports the killer was armed with an AR-15, a shotgun and a semiautomatic pistol when he stormed an American military installation in the nation's capital and took at least 12 innocent lives," she said.
Feinstein has long been an anti-gun rights activist. After last year's Sandy Hook Elementary School shooting, she unsuccessfully pushed to ban more than 150 types of firearms, including rifles, pistols and shotguns.
On Monday, she reiterated a call for new legislation in light of the Navy Yard shootings.
"This is one more event to add to the litany of massacres that occur when a deranged person or grievance killer is able to obtain multiple weapons — including a military-style assault rifle — and kill many people in a short amount of time," Feinstein said.
-
D.C. DEMOCRAT: NAVY YARD SHOOTING DUE TO "GUNS LOOSE IN SOCIETY"
D.C.'s strict gun laws didn't prevent massacre.
Kurt Nimmo
Infowars.com
September 17, 2013
Rep. Eleanor Holmes Norton, a non-voting delegate representing the gun-free zone of the District of Columbia, told CNN the Navy Yard shooting was possible because of the Second Amendment.
-
-
"There is no indication this was a terrorist event," she said. "But I hope we all understand that with all these guns loose in the society, it doesn't take a terrorist to do what was done here today."
By "loose," Ms. Holmes Norton undoubtedly meant legal, as stipulated by the Second Amendment of the U.S. Constitution.
In D.C., all firearms must be registered with the police and conform to a number of government regulations, including the completion of a firearms training course conducted by a state-certified firearms instructor or a certified military firearms instructor. Firearms must be re-registered every three years.
Simply carrying a handgun, rifle, or shotgun in the District is prohibited, except for a person holding a valid registration to carry a firearm in his home or place of business. It is illegal to carry a loaded or accessible firearm in a vehicle and ammunition cannot be stored in the glove compartment or console. Open and concealed carry are strictly illegal.
So-called assault weapons are banned, as are "large capacity" magazines. It is illegal to sell a gun to a person who is not "of sound mind" or has been adjudicated by government to be an alcoholic.
Defense free zones proliferate. They include schools, universities, day care centers, public swimming pools, youth centers, video arcades, and many other places. Carrying a firearm in a so-called gun free zone results in imprisonment.
In District of Columbia v. Heller, the Supreme Court ruled that the District's draconian anti-gun laws violate the Second Amendment. Despite this ruling, the city still requires firearm registration, so-called assault weapons remain illegal, and open and concealed carry are criminal offenses.
-
DURBIN: DC SHOOTING DEMANDS GUN CONTROL RESPONSE FROM CONGRESS
By Pete Kasperowicz – The Hill
Senate Majority Whip Dick Durbin (D-Ill.) said Tuesday that the Monday morning shooting in Washington, D.C., that left 13 dead means Congress must return to the issue of putting reasonable limits on gun ownership.
"If we value our right for ourselves and our families and our children to be safe, if we value this Constitution, if we value the the right of every American to enjoy their liberties with reasonable limitations, then we need to return to issues that are of importance," Durbin said on the Senate floor.
Durbin said the shooting raises several unanswered questions, including how a man with an apparent mental illness gained security clearance to enter the Washington Navy Yard, and how he gained access to weapons.
Durbin said the shooter, Aaron Alexis, had an assault weapon, although some reports say Alexis entered the Navy Yard with a pistol and shotgun, and picked up an assault rifle during the event.
Nonetheless, Durbin said Congress should pass legislation aimed at limiting access to firearms for certain people.
"We've got to … do everything we can to keep guns out of the hands of those who would misuse them," he said. "Felons who would have a history of misusing firearms, the mentally unstable who can't be trusted to have a firearm."
Durbin gave a nod to language from Sens. Joe Manchin (D-W.Va.) and Pat Toomey (R-Pa.) that would have required criminal background checks at gun sales and over the Internet, a proposal that failed in the Senate earlier this year.
Durbin said most Americans think it's common sense to put some limits on gun ownership, and urged Congress to renew its effort to find a legislative proposal.
"God forbid we go on as business as usual," he said.
-
LESS THAN HALF OF AMERICANS WANT STRICTER GUN LAWS
Fewer blame violence on easy access to guns now than two years ago
Steve Watson
Infowars.com
Sept 20, 2013
Significantly less Americans believe stricter gun laws are necessary now than In December 2012, after the Newtown shooting, even in the wake of the Navy Yard incident this week.
In a poll conducted by Gallup, 49 percent said gun laws should be more strict, with 13 percent saying they should be less strict.
Those numbers have starkly changed from just nine months ago, when 58 percent said gun laws should be more strict and 6 percent said they should be less strict.
The numbers reveal that even in the aftermath of a shooting in Washington, D.C. that killed 12 people and the gunman this week, public support for another gun control push is not there.
The poll revealed that the vast majority of Americans, 80 percent, believe that mental illness is an overriding factor in mass shootings.
Despite a blanket refusal to cover the issue by the mainstream media, drug use was also pinpointed as a factor, with 66 percent saying they believed drugs could lead to such gun violence in some form.
Violent movies, video games and music was singled out by 56 percent as a perceived cause of the shootings.
Forty percent of those polled said that easy access to guns was to blame "a great deal" for the shootings, however that figure represents a decrease by 6 points since January 2011.
The spread of extremist viewpoints on the Internet was named as a factor by 57 percent, while insufficient building security was also named as a factor by 58 percent.
Only 37 percent of those polled believed that inflammatory rhetoric from prominent political commentators could be blamed for mass shootings.
"The current results support longstanding evidence from Gallup polling that Americans believe more can be done on the mental health side." Gallup's write up states.
"Americans are more likely to believe the mental health system is to blame than gun laws," the report continues, noting that "…support for stricter gun laws is down from the surge of support seen right after Newtown."
-
SHOOTER'S GUN LEGAL, DESPITE MENTAL ISSUES
Angry outbursts, previous shootings, didn't result in disqualifying conviction
by F. Michael Maloof | World Net Daily
September 19, 2013
WASHINGTON – The shotgun Aaron Alexis allegedly used to launch the shooting Monday at the Washington Naval Shipyard that killed 12 naval and civilian personnel was legal, since when he purchased it, Alexis had no record of either a misdemeanor or felony conviction.
Police officers ultimately killed Alexis, bringing the total fatalities from the episode to 13.
While he had numerous brushes with the law, Alexis apparently never was convicted of a crime that would have denied him the ability to purchase a weapon or apply for a conceal-carry firearms license.
Alexis, 34, a former Navy reservist, was a contractor with a Secret clearance doing work at the shipyard. He worked for a subcontractor of Hewlett-Packard called The Experts that refreshed equipment used on the Navy-Marine Corps Intranet network.
The fact that he may have been toting a firearm – a shotgun — in the District of Columbia and in a concealed fashion is against D.C. firearms laws.
While authorities say they have not determined a motive, a friend, Kristi Suthamtewkal, whose husband owns the Thai Bowl Restaurant in Fort Worth where Alexis worked at one point, said that "he was tired of dealing with the government," feeling he was slighted as a veteran, and had financial problems.
She added that he was "ready to move out of the country" and that he complained of racism.
According to various sources that have been pieced together, Alexis had purchased legally a Remington 870 pump-action 12-gauge shotgun from Sharpshooters Small Arms Range of Lorton, Va.
He made the purchase after first test-firing an AR-15 and then the shotgun.
One report said that he sought to purchase the AR-15, but a spokesman at Sharpshooters said that there was a wait for approval, so he chose the shotgun instead.
He subsequently purchased the shotgun, filling out Virginia and federal application forms.
On both Virginia and federal forms, the applicant is asked, among other things, whether he has any prior convictions or a history of mental illness.
Presumably he answered these and other questions in the negative, because any single "yes" answer would have halted the purchasing process.
Following a brief wait for a police check, he was allowed that day – just two days before his shooting spree – to take the shotgun with him.
Less than a month earlier, however, Alexis had sought help at the Department of Veterans Affairs for mental illness.
Other reports say that Alexis was a troubled man with a history of angry outbursts.
Prior to seeking help from the VA for mental illness, he had called police in Newport, R.I., at a motel near a naval facility, complaining of hearing the voices of three people talking to him through the walls. He said that he was being kept awake by people "sending vibrations into his body" by "using some sort of microwave machine."
Alexis apparently was convinced to change hotels. However, police said that he called again to complain that those voices were still talking to him through the walls.
Newport police said that because of its relationship with the nearby naval facility, it filed a report with the duty officer.
Because there was no violent encounter with Alexis, he wasn't arrested, and the episode apparently didn't rise to the level of the Navy suspending his Secret security clearance.
In addition, because there was no record of his mental illness to which Virginia or federal police had access, there was no way for the process of purchasing a weapon to be halted.
Consequently, he could continue gaining access to military facilities nationwide and legally purchase a firearm.
Alexis was able to gain access and pass through security checkpoints to make his way up to the fourth floor of Building 197 at the Washington Naval Shipyard.
He then began to shoot down at a crowded Atrium one floor below and into the lobby below that where the cafeteria was full of employees having breakfast.
Developing information reveals that Alexis went through security checks at the shipyard with a valid government contractor identification card. He  was carrying either a backpack or duffel bag, whose contents were not checked due to his employee status.
Employees with an authorized identification badge generally don't have to reveal the contents of a bag unless there is an alert.
The evidence suggests he carried the Remington 870 in a bag out of sight of police at the security checkpoints.
One suggestion is that the Remington 870 pump-action shotgun had a pistol grip, which would have significantly shortened the length of the shotgun to make it more concealable.
The Washington Post, however, quotes unnamed officials as saying that Alexis had carved bizarre phrases on the stock of his shotgun. The phrases were "Better off this way" and "My ELF weapon." ELF can be a communication abbreviation meaning "extremely low frequency."
The Navy has used ELF in a number of capacities, including the High Frequency Active Auroral Research Program, or HAARP, which often is cited by conspiracy theorists.
Law enforcement sources say that he went into the bathroom on the fourth floor with his bag and then emerged with the shotgun.
He began firing the shotgun around 8:15 a.m. from the fourth floor and then went down to the third floor and lobby.
While still fragmentary, reports suggest he used a combination of double-ought buck, or OO-buck, and slugs, which would have constituted considerable lethal fire, especially into crowded areas as the open area of the atrium.
The OO-buck would have sprayed out from nine to 12 pellets about the size of a .38 caliber bullet. After 15 yards, the pellets would have spread out over a wide area, hitting anyone in their path.
Any pinpoint shooting at a distance would have necessitated the use of slugs, which are larger than .50 caliber.
Around 8:45 a.m., Alexis killed a security guard in the lobby and took the guard's 9 mm handgun, law enforcement officials said.
He then dropped the shotgun and began firing with the handgun.
In the intervening encounter, he also wounded a D.C. police officer on the third floor.
However, police units then engaged him and at around 9:20 a.m. fatally shot Alexis in the head on the third floor.
-
MASS SHOOTINGS FUEL FEAR, ACCOUNT FOR FRACTION OF MURDERS
By Annie Linskey -Bloomberg
Sept 17, 2013
Mass U.S. shootings such as the bloody rampage at the Washington Navy Yard spur safety concerns and garner intense media attention while statistically accounting for few of the total murders reported nationwide.
In the 30 years through March, 78 public mass shootings occurred in the U.S. — incidents in which four or more people were killed at random by a gunman murdering indiscriminately, according to a report issued that month by the Congressional Research Service. These crimes don't include gang-related killings or domestic disputes where a person slays relatives or other people linked to the murderer.
The mass slaughters listed in the report caused the deaths of 547 people. Over the same three decades through 2012, that's less than a tenth of 1 percent of the 559,347 people the Federal Bureau of Investigation estimates were murdered in America.
"It is a very, very small percentage," said James Alan Fox, who teaches criminology at Boston's Northeastern University and co-authored a book about mass shootings called "Extreme Killing," published in 2011.
In the wake of shootings such as the one in Washington that claimed at least 13 lives, including the alleged shooter, "our tendancy is to go overboard and overreach in terms of trying to increase levels of security," Fox said. "The fear is greater than the risk."
No 'Epidemic'
In his research, Fox uses a broader definition of mass killing than the research service report — he looks at any homicide resulting in four or more deaths, regardless of motive, which includes killings in domestic disputes and robberies gone bad. He reports no increase in mass killings in recent years.
"This is not an epidemic," he said.
In a database of mass killings since 2006 compiled by USA Today, roughly half of all instances where more than four died were motivated by a family dispute of some kind, while 30 percent start as robberies or burglaries. Just 20 percent were the type of public, random killings that occurred in Washington, the newspaper said.
Still, such incidents fuel calls for increased security at schools, malls and offices. And some result in calls for tighter regulations on firearms ownership.
President Barack Obama pledged to make gun control a second-term priority after 20 children and six educators were shot to death at an elementary school in Newtown, Connecticut, last December. He failed, though, in his push for legislation to expand background checks for gun buyers.
State Laws
A handful of states including Connecticut, New York and Maryland expanded their bans on assault weapons following the Newtown tragedy, and at least 17 other state legislatures moved to tighten gun-control laws.
At the same time, 27 states weakened restrictions, including seven that now specify guns are allowed in schools, according to the Law Center to Prevent Gun Violence, a San Francisco-based group that tracks state gun laws.
Though mass shootings are rare, police departments are increasingly being trained for them and have changed their recommended response tactics, said Peter Blair, director of research at the Advanced Law Enforcement Rapid Response Training Program at Texas State University in San Marcos.
Unlike the handling of the 1999 shootings at Columbine High School outside Denver, first-arriving law enforcement officers are encouraged to enter a building rather than wait for backup. In the Columbine case, the initial responders formed a perimeter outside the school while two students methodically murdered 13 and wounded 24 before killing themselves.
'Go In Solo'
"Police make an effort to go in and get in quickly," Blair said. "Police policies around the country now authorize officers to go in solo."
The average response time by authorities to an active shooting scene is three minutes, Blair said. Still, about half of the massacres are over by the time the police arrive — usually because the shooters take their own lives, he said.
Blair recommends that after first trying to flee, people at a mass shooting may find safety in hiding because the killers tend not to breach locked doors since they know the clock is ticking before police arrive.
The last resort is to attack the shooter — perhaps during reloading, Blair said. That's when the gunman was tackled to the ground in the January 2011 shooting in Tucson, Arizona, in which six people were killed and 13 wounded, including then-U.S. Representative Gabrielle Giffords.
Theater Killings
In July 2012, a lone gunman fired into a packed movie theater in Aurora, Colorado, killing 12 and injuring 70 others. At one point, James E. Holmes used a semi-automatic weapon equipped with a 100-round barrel magazine to spray the audience — shooting until the weapon jammed.
This July, lawyers for Holmes said their client was "in the throes of a psychotic episode" when he committed the crime. Holmes has pleaded not guilty by reason of insanity; prosecutors are seeking the death penalty.
Though the motivation remained unclear for yesterday's shooting by suspected gunman Aaron Alexis, a former Navy reservist, its occurrence at a military facility sparked recollections of the 2009 shootings at Fort Hood in Texas. Army Maj. Nidal Hasan, who had become radicalized by an al-Qaeda terrorist based in Yeman, killed 13 and wounded more than 30 at a base facility while yelling "Allahu Akbar," Arabic for God is Great.
Hasan, who later said he took aim at the soldiers because he viewed them as a threat to Taliban leaders in Afghanistan, was sentenced to death by a military court on Aug. 28.
Rare Type
A CRS report issued this January identified another jihadist-inspired violent attack in the U.S. in 2009. Carlos Leon Bledsoe, who had taken the name of Abdulhakim Muhammad, shot and killed one soldier and wounded another at the U.S. Army-Navy Career Center in Little Rock, Arkansas. He pleaded guilty and avoided the death penalty.
After the report was published, two ethnic Chechen brothers living in America terrorized Boston on April 15 with a jihadist-inspired attack that killed three people and injured more than 200. Following the bombings at the Boston Marathon finish line, one of the brothers shot and killed a Massachusetts Institute of Technology policeman April 18 as they tried to flee the area. Hours later, Tamerlan Tsarnaev, 26, died following a faceoff with law officers. Dzhokhar Tsarnaev, 20, is in jail awaiting trial.
-
WASHINGTON SHOOTING: READY, FIRE, AIM
Criticism of gun rights doesn't wait for facts
By World Net Daily
September 17, 2013
The victims had not yet been recovered and police were uncertain who had done the Washington Navy Yard shooting, but that didn't stop actor Henry Winkler, the "Fonz" of "Happy Days" fame, from reaching his conclusion.
On Twitter, he said, "ANOTHER shooting in WASH D.C. PLEASE America do nothing to promote gun control. because thats how we roll until we have all shot each other."
Was this the "jump the shark" moment for the gun-limit crowd? From the sound of some of the responses to Winkler, it's a possibility that the movement has reach the point from which decline is inevitable.
"@hwinkler4real Why don't you at least let the bodies cool before you start your classless gun grabbing…." wrote Dblnaughtspy.
Added lekiax, "@hwinkler4real How about we wait for the facts to come out before we start assigning blame? Ignorance at its finest."
"Really? You do know DC is a gun free zone? Only criminals carry. My BFFs 21 y.o. son is on lock down there now. Priorities?" said WrapVegas.
And jlhutch84 wrapped it up with "Looks like@hwinkler4real is jumping the shark again…"
"Jumping the shark" references an episode in the fifth season of "Happy Days" when a water-skiing Fonz jumped a penned shark. It has come to mean the moment, especially in a television show, when a decline begins that is beyond recovery.
Although it first was used in reference to television shows, it now indicates a moment when something loses the qualities it needs to survive.
Twitchy reported on Winkler's comments, which came Monday amid a surge of other politicized comments about the tragedy in Washington, which is estimated to have claimed over a dozen lives. One gunman who was identified was dead.
The comment from Winkler drew a huge response, such as from 403Doggstar: "Stick to punching juke boxes. DC has strict gun laws already. How are they working?"
JosephMehler1 said, "Military bases AND DC are already gun free zones. How about you tell us how well that worked out?"
Said another, "A law on paper won't stop psychos from shooting."
At Buzzfeed, Andrew Kaczynski said, "How the NRA handles a shooting: Silence."
Brad Cundiff responded right away, "How Buzz Feed fires without aiming."
Among his comments:
"Rule 5: Gun ownership is essential to freedom, as in Serbia & Guatemala. Gun restrictions lead to tyranny, as in Australia & Canada."
He also contributed, "Any attempt to stop mass casualty shootings is 'political.' Allowing them to continue is 'non-political,' and, "It is 'ghoulish' to suggest in any way that the easy availability of guns might in any way enable gun slaughter."
The National Journal also noted that absence of facts as many were making political statements about guns.
Russia' parliamentary chief, Alexey Pushkov, for example, insultingly tweeted, "A new shootout at Navy headquarters in Washington – a lone gunman and 7 corpses. Nobody's even surprised anymore. A clear confirmation of American exceptionalism."
The Nation's Dave Zirin noted that there have been radio ads for AR-15s, "It's eerie they're using the gun that commercials locally are hardcore pushing people to buy."
Others who come from a little more conservative perspective pointedly noted that the site, effectively, was a gun-free zone. From Katie Pavlich, "In a gun-free zone, again."
Steve Watson at Infowars noted that a study by guns rights advocate John Lott found with only one exception, "every public shooting since at least 1950 in the U.S. in which more than three people were killed has taken place where citizens are not allowed to carry guns."
-
'IF WE HAD THE AMMUNITION, WE COULD'VE CLEARED THAT BUILDING,' SON AT NAVY YEAR TOLD DAD
By Matt Vespa | CNSNews
September 17, 2013
Today, we celebrated Constitution Day, and Dan Joseph took to the streets to ask people how they felt about our founding document.  He also asked people if there was anything they would change.  In the wake of the horrific shooting at the Washington Navy Yard, one individual made an interesting point about yesterday's mass shooting at the Navy Yard in the nation's capital:
"I know a lot of people are concerned about guns these days, but you know if everybody had arms, then there wouldn't be these problems.
-
-
"My son was at Marine Barracks — at the Navy Yard yesterday – and they had weapons with them, but they didn't have ammunition.   And they said, 'We were trained, and if we had the ammunition, we could've cleared that building.' Only three people had been shot at that time, and they could've stopped the rest of it."
The Navy Yard shooting brings up the legitimate issue of carrying – and using – firearms on military installations.
Back in 1993, the Clinton administration virtually declared military establishments "gun-free zones." As a result, the policy banned "military personnel from carrying their own personal firearms and mandates that 'a credible and specific threat against [Department of the Army] personnel [exist] in that region" before military personnel 'may be authorized to carry firearms for personal protection." Indeed, most military bases have relatively few military police as they are in heavy demand to serve in Iraq and Afghanistan," according to economist John Lott.
Additionally, Lott discovered that "every public shooting since at least 1950 in the U.S. in which more than three people have been killed has taken place where citizens are not allowed to carry guns."
The answer is simple.  Murderers pick places where they know their victims will be unarmed. It's time we debate having concealed carry on military bases.  After all, there's no evidence showing that firearms owners are more irresponsible than the police, as Wall Street Journal columnist John Fund noted back in December of 2012:
"According to a 2005 to 2007 study by researchers at the University of Wisconsin and Bowling Green State University, police nationwide were convicted of firearms violations at least at a 0.002 percent annual rate. That's about the same rate as holders of carry permits in the states with 'shall issue' laws."
Editor's Note: John Lott contacted us to add these updates/clarifications:
1)There are two mass public shootings that have occurred in places that allowed concealed carry.  One was at the Gabby Giffords attack.  The second was at an IHOP in Carson City, NV in 2011 (Lott had originally missed this because one of the people who died did so at a later date).
2) Apparently, we have a bipartisan problem on the issue of military installations becoming "gun-free" zones.  It seems that the Clinton administration merely updated the rules.  It seems that this effort was approved by President George H.W. Bush.  We apologize for this omission.
-
IN CROSSHAIRS: MILITARY BASE GUN BAN
'These are the guys that we entrust to protect our country'
by World Net Daily
September 24, 2013
Rep. Steve Stockman, R-Texas, says he's going to try to do something about the ban that prevents members of the U.S. military from being armed while on military bases.
The policies have allowed two mass shootings in recent years – Nidal Hasan's attack that killed 13 and injured dozens at Fort Hood in Texas several years ago and Aaron Alexis' attack on the Washington Navy Yard, where a dozen were killed, last week.
Rep. Steve Stockman, R-Texas
"Wouldn't it be nice if everyone whipped out a gun back and shot that SOB" Stockman said, "It's really wrong that we have a policy in which we don't trust our military to protect themselves."
His comments came at a Liberty Political Action Conference just days ago, and were reported by Red Alert Politics.
Stockman said his plan is to introduce a bill to let military personnel pack heat while on military bases.
He explained not only will there be authorization to carry weapons, but permission to fire back in the event an armed combatant opens fire on a base.
"You know, it is really strange, and one of the things we're introducing which we'll, you'll be the first to hear this, is that, do you all find it odd that somebody can pull out a gun on a military base and our guys can't shoot back?" he asked.
"I don't know about you but I'm sitting there going, 'that is the strangest thing.' These are the guys that we entrust to protect our families. These are the guys that we entrust to protect our country. These are the guys who, by the way, we have trained. And what do we do? We say, 'excuse me, you can protect our nation but you better not protect yourselves.'"
He continued, "I want every military man to have a sidearm, and if somebody goes crazy, there will nine people or 10 people shooting back."
The current rules, set up under President George H.W. Bush in 1992, prohibit concealed carry on military bases and specify that every gun kept on a military base must be registered with the base.
In addition, in order to use a gun for any purpose ranging from hunting to target shooting, it must be checked out.
Both of the attacks attributed to Hasan and Alexis happened at a location where members of the military, although present, were unable to return fire because they were unarmed.
According to Yahoo News, Rep. Louis Gohmert, R-Texas, also thinks members of the military should be allowed to carry weapons.
And John R. Lott, author of "More Guns, Less Crime," said the the Pentagon simply "disarmed" service members.
"The law-abiding, not the criminals, are the ones who obey the ban on guns," Lott wrote about the 2009 attack by Hasan at Fort Hood. "Instead of making areas safe for victims, the bans make it safe for the criminal."
Judson Phillips, of Tea Party Nation, told the Washington Times, "The cold, hard truth is when Americans are armed they can fight back and shootings like Fort Hood and the Navy Yard would not happen. Our Founding Fathers understood this."
Members of the U.S. military, say they are reviewing security processes following the latest shooting on a base targeting unarmed workers.
Meanwhile, Barack Obama said at a memorial for victims of the Navy Yard shooting that there should be more gun restrictions.
"If we really want to honor these 12 men and women – if we really want to be a country where we can go to work, go to school and walk our streets free from senseless violence without so many lives being stolen with a bullet from a gun – then we're going to have to change," he warned.
-
WHITE HOUSE PETITION ASKS FOR MILITARY PERMISSION TO CARRY CONCEALED FIREARMS ON GOVERNMENT INSTALLATIONS
Joshua Cook
BenSwann.com
Sept. 21, 2013
Mass shootings on military bases illustrate the problems with gun control, perhaps more effectively than any other tragedy. Military personnel, highly trained in the safe and effective use of firearms, shouldn't be disarmed and left helpless enough that they can't even protect themselves on military bases. After the second such incident since 2009, a White House petition is asking for such rules to be eliminated.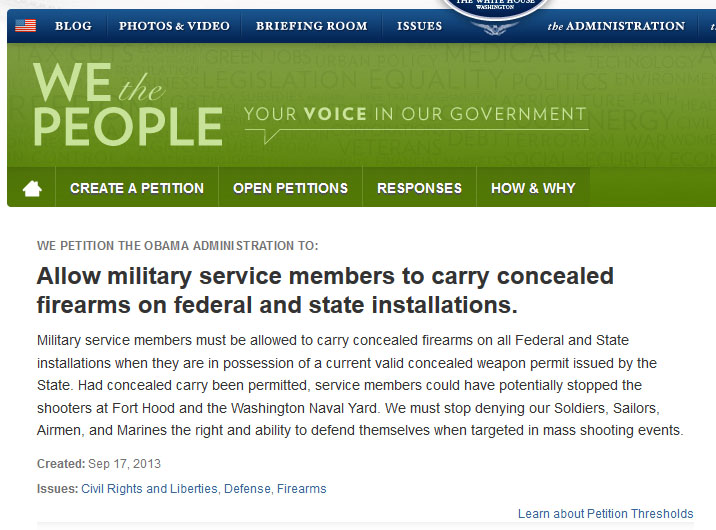 See Petition here.
The petition starts "Military service members must be allowed to carry concealed firearms on all Federal and State installations when they are in possession of a current valid concealed weapon permit issued by the state." Indeed, armed, trained military personnel would be able to carry concealed weapons at places like school and state capitol buildings as well, both of which are very vulnerable to attack.
It goes on to say that, "had concealed carry been permitted, service members could have potentially stopped the shooters at Fort Hood and the Washington Naval Yard." Concealed carry was forbidden at the locations of both the Fort Hood and Washington Naval Yard, though they were both military installations. Had military members been able to carry their weapons, the shooter in both cases would only have been able to kill one or two people before being killed himself, if he had even attempted the shooting.
When James Holmes carried out the Aurora Theater shooting in 2012, he passed multiple, bigger theaters and went to the nearest location which forbade concealed weapons. A couple days later, another person attempted a shooting at a movie theater in San Antonio and was stopped before he was able to fire a single round.
The person who stopped him was an off-duty policewoman. Similarly, a couple days after Sandy Hook, a would-be mass shooter at a mall in Oregon was stopped by someone with a concealed weapon. Stories like this are more common than those of mass shootings, though they don't gain as much media attention because they simply don't impact as many people's lives. The main counterargument to these statistics by gun control advocates is that more guns in society will allow more gun-related accidents.
That is not an issue in allowing well trained military professionals to carry concealed weapons. There are many such people in society, and they could make a difference in combating mass shootings while avoiding the arguments used by the left. There is simply no justification for leaving military service members helpless on their own bases, but the benefit of this petition could extend far beyond that simple truth.
Obama launched the "We the People" petition platform in September 2011, initially stating that he would respond to every petition with 25,000 or more signatures. The first petition was for the White House beer recipe. After the 2012 elections, the petitions became a popular outlet to draw attention and demand the president's response to popular concerns and discontentment, and soon the number of signatures requires for a response increased to 100,000. This petition, though, is just over 2,000 signatures away from that goal after only three days.