EXCLUSIVE: USS NIMITZ CARRIER GROUP REROUTED FOR POSSIBLE HELP WITH SYRIA
-
By Andrea Shalal-Esa
WASHINGTON (Reuters) – The nuclear-powered aircraft carrier USS Nimitz and other ships in its strike group are heading west toward the Red Sea to help support a limited U.S. strike on Syria, if needed, defense officials said on Sunday.
The Nimitz carrier strike group, which includes four destroyers and a cruiser, has no specific orders to move to the eastern Mediterranean at this point, but is moving west in the Arabian Sea so it can do so if asked. It was not immediately clear when the ships would enter the Red Sea, but they had not arrived by Sunday evening, said one official.
"It's about leveraging the assets to have them in place should the capabilities of the carrier strike group and the presence be needed," said the official.
President Barack Obama on Saturday delayed imminent cruise missile strikes by five destroyers off the coast of Syria, and sought approval from Congress, a move that effectively put any strike on hold for at least nine days.
The delay gives military planners more time to reassess which ships and other weapons will be kept in the region – and which may be swapped out – before the U.S. military launches what defense officials say is still intended to be a limited and narrowly targeted attack on Syria.
The U.S. Navy doubled its presence in the eastern Mediterranean over the past week, effectively adding two destroyers to the three that generally patrol the region. The five destroyers are carrying a combined load of about 200 Tomahawk missiles, officials say.
The Nimitz carrier group had been in the Indian Ocean, supporting U.S. operations in Afghanistan, but was due to sail east around Asia to return to its home port in Everett, Washington, after being relieved in recent days by another aircraft carrier, the USS Harry S. Truman.
Given the situation in Syria, U.S. military officials decided to reroute the Nimitz and send it west toward the Red Sea, and possibly the Mediterranean, officials said.
The Navy has also sent the USS San Antonio, an amphibious ship with 300 Marines and extensive communications equipment on board, to join the five destroyers, diverting it from a previously scheduled mission that would have taken it farther west.
A second official said the San Antonio had been asked to serve as an afloat forward staging base, which could provide a temporary base for special operations forces, if they were needed. It could also assist with evacuations.
A spokesman for the ship declined comment, referring questions to the Navy. Lieutenant Adam Cole, spokesman for the Navy's European headquarters, declined to discuss any specific plans for the San Antonio or future ship movements.
Decisions about the location of other ships will be made in coming days, based on military needs, maintenance issues and staffing requirements, officials said, noting that the delay in a strike on Syria had sent planners back to the drawing board.
The USS Kearsarge, a large-deck amphibious ship that is part of a readiness group with the San Antonio, is also on the way toward the Red Sea after a port call in the United Arab Emirates, officials said. No further specific orders had been issued to the ship, they said.
The Kearsarge, which carries 6 AV-8B Harriers, 10-12 V-22 Ospreys and helicopters, played a key role in the 2011 strikes on Libya. Two Ospreys launched from the ship helped rescue a downed F-15 pilot during that operation.
-
MILITARY ASSETS ALREADY DEPLOYED FOR ACTION IN SYRIA
The Navy has sent four warships — USS Ramage, USS Mahan, USS Gravely and USS Barry — armed with ballistic missiles into the eastern Mediterranean Sea amid violence in Syria.  The Navy ships are capable of a variety of military actions, including launching Tomahawk cruise missiles as they did against Libya in 2011.
USS Ramage
-
USS Mahan
-
USS Gravely
-
USS Barry
-
U.S. DEPLOYS FIFTH WARSHIP NEAR SYRIA
-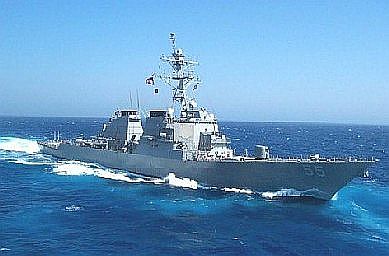 USS Stout
-
By David S. Cloud | Los Angeles Times
August 30, 2013
WASHINGTON — The Pentagon is moving a fifth warship armed with cruise missiles to the eastern Mediterranean Sea, giving the U.S. more firepower for a possible attack on Syria in response to alleged use of chemical weapons, a defense official said.
The guided-missile destroyer Stout is expected to arrive in the area Thursday, joining four other missile-carrying U.S. destroyers within range of Syria.
Each can carry up to 90 cruise missiles, though experts say they are likely carrying about half that number. Cruise missiles have a range of nearly 1,000 miles, allowing the vessels carrying them to stay well out of range of Syria's anti-ship missiles, even when they launch the missiles.
Meanwhile, Defense Secretary Chuck Hagel said the United States would not act alone in any attack on Syria.
"We continue to consult with our allies," Hagel said at a news conference in Brunei after a meeting of regional defense chiefs in Indonesia. "And as I think has been made very clear by President Obama — and I have said it on a number of occasions — if any action would be taken against Syria, it would be an international collaboration."
Obama administration officials are scheduled to brief lawmakers late Thursday on the intelligence that U.S. officials say indicates Syrian President Bashar Assad's government used chemical weapons in an Aug. 21 attack that is believed to have killed hundreds of people in rebel strongholds on the outskirts of Damascus.
The Obama administration has been moving toward a strike against Syria in response to the alleged attack, but when such a response might occur remains unclear.
The Syrian government denies using chemical weapons in the war and has pointed the finger at rebels, who have been engaged in a civil war with regime forces since early 2011.
United Nations chemical weapons experts now in Syria to investigate the alleged attack are expected to leave by Saturday and report to U.N. Secretary-General Ban Ki-moon and the Security Council on Sunday or Monday.
-
SYRIA WAR: WHAT OBAMA'S STRIKE WILL LOOK LIKE
-
U.S. FUELS TENSION BY DEPLOYING WARSHIPS NEAR SYRIA: RUSSIA
-
-
MOSCOW (Reuters) – Russia criticized the United states on Tuesday for sending warships close to Syria, saying the deployments would exacerbate tension as Washington prepares for a possible military strike.
"The pressure being applied by the United States causes particular concern," Russian Defense Ministry official Oleg Dogayev was quoted as saying by the state-run Itar-Tass news agency.
He said "the dispatch of ships armed with cruise missiles toward Syria's shores has a negative effect on the situation in the region."
Five U.S. destroyers and an amphibious ship are in the Mediterranean, poised for possible cruise missile strikes against Syria, and U.S. officials said the aircraft carrier USS Nimitz and four other ships in its strike group moved into the Red Sea on Monday.
Russia, one of the Syrian government's main arms suppliers, opposes military intervention over an alleged chemical weapons attack in Syria. Moscow is also sending new warships to the Mediterranean but says it is just rotating ships in the area.