HARRY REID INTRODUCES AMMUNITION BACKGROUND CHECK BILL WHILE OBAMA MOVES ON GUNS WITHOUT CONGRESS
RELATED POST: RED ALERT: UNITED NATIONS PASSES SWEEPING INTERNATIONAL ARMS REGULATION VIEWED BY SOME AS SECOND AMENDMENT OVERRIDE
-
Senate majority leader Harry Reid, introduced Frank Lautenberg's bill that would require background checks for the sale of explosive powder.  Depending on the bill's language, it would include not only loose gunpowder (such as that used by handloaders) but could also cover standard ammunition cartridges. Lautenberg and Reid are trying to label these propellants as "explosives" in the wake of the Boston bombings and use that tragedy to limit general access to ammunition and reloading components .
It's a way to make gun ownership more difficult and possibly put smaller local ammunition manufacturers out of business. After the stinging defeat of the "common sense" gun control proposals the Democrats tried to ram through the Senate, there's little doubt that they will redouble their efforts to hurry this bill through while the Boston bombing is still fresh in the public's mind.
-
REID BILL WOULD REQUIRE BACKGROUND CHECKS TO PURCHASE EXPLOSIVES
Senate Majority Leader Harry Reid (D-Nev.) on Tuesday introduced a bill that would require background checks to be run on anyone buying explosive powder, a reaction to last week's Boston Marathon bombing.
Reid introduced the bill, S. 792, for Sen. Frank Lautenberg (D-N.J.), who has been out sick for much of the year. But in a press statement, Lautenberg said the Boston bombing shows that background checks are needed for explosive materials.
"It defies common sense that anyone, even a terrorist, can walk into a store in America and buy explosive powders without a background check or any questions asked," Lautenberg said Tuesday. "Requiring a background check for an explosives permit is a small price to pay to ensure the safety of our communities.
Under current law, people can buy up to 50 pounds of explosive "black powder" with no background check, and can buy unlimited amounts of other explosive powders, such as "black powder substitute" and "smokeless powder."
Lautenberg's bill would require a background check for the purchase of any of these powders.
It would also let the attorney general stop the sale of explosives if a background check shows the applicant is a known or suspected terrorist, and if there is a belief the explosives will be used for terrorism.
It would also require a permit to make homemade explosives, and direct the government to study how to better trace the use of explosive powders.
-
LAUTENBERG INTRODUCES BILL REQUIRING BACKGROUND CHECKS FOR SALE OF EXPLOSIVE POWDER
New Report Exposes NRA Influence in Making Dangerous Explosives Easily Accessible
WASHINGTON, D.C.—U.S. Sen. Frank R. Lautenberg (D-NJ) re-introduced legislation that he had proposed in a prior Congress to require that sales of explosive powder be subject to a background check.  The introduction of Lautenberg's legislation follows the tragic Boston bombing and the release of a report by the Violence Policy Center that highlights the NRA's influence in creating dangerous security loopholes that allows anybody, including terrorists, the ability to legally purchase explosive powders without a background check or permit.  
Current law allows an individual to purchase as much as 50 pounds of explosive "black powder" without a background check, and also permits an individual to purchase unlimited amounts of dangerous "smokeless powder" and "black powder substitute" without a background check.  Sen. Lautenberg's proposal would change that and require a background check for any purchase of these explosive powders.  These powders can be used as the explosive material in assembling pipe bombs, used in the Columbine school shooting, and pressure cooker bombs, which were used in the recent Boston attack.
"It defies common-sense that anyone, even a terrorist, can walk into a store in America and buy explosive powders without a background check or any questions asked.  Requiring a background check for an explosives permit is a small price to pay to ensure the safety of our communities.  The NRA is hard at work putting the financial interests of weapons dealers and manufacturers over the public safety of our families and I applaud the Violence Policy Center for exposing the gun lobby's back room deals," stated Lautenberg.    
Lautenberg's "Explosive Materials Background Check Act," would: 
Require a background check to purchase black powder, black powder substitute, or smokeless powder, in any quantity;

Provide the Attorney General with the authority to stop the sale of explosives when a background check reveals that the applicant is a known or suspected terrorist and the Attorney General reasonably believes that the person may use the explosives in connection with terrorism;

Make it illegal to manufacture homemade explosives without a permit; and

Direct ATF to conduct a study on the tagging of explosives, particularly black powder, black powder substitute, and smokeless powder, which could enable law enforcement to detect, identify, and trace explosives used in crimes.
Lautenberg introduced a similar proposal in 2003 as part of his "Homeland Security Gun Safety Act of 2003."  Current law does not require an individual to produce a permit, identification or undergo a background check when purchasing up to fifty pounds of black powder.  To make matters worse, no permit or background check is required for the purchase of any quantity of black powder substitute or smokeless powder.  Current explosives laws also do not prevent the manufacture of homemade explosives without a license, unless the manufacturer is "engaged in the business" of making explosives.  Additionally, under current law, for those explosives that do require a permit to purchase, being a known or suspected terrorist does not disqualify a person from receiving a permit. 
In October 2010, Sen. Lautenberg released a report, "Firearms, Explosives and Terrorists – A Looming Threat – A Major U.S. Vulnerability," examining the dangers posed to the United States by terrorism attacks using explosives.  The report points to the Mumbai attacks and attempted bombing in Times Square, as demonstrating the interest and ability of terrorists to launch attacks in the United States using explosives.  
-
SENATOR HARRY REID: WE ARE NOT GIVING UP ON BACKGROUND CHECKS
-
THEY COME FOR THE AMMO: NEW BILL WOULD REQUIRE BACKGROUND CHECKS FOR "EXPLOSIVE MATERIALS"
Mac Slavo
April 26th, 2013
SHTFplan.com
Never one to let a crisis go to waste, Senator Harry Reid has introduced a new bill that would require background checks for anyone purchasing "explosive materials" or "powders" commonly used to manufacture ammunition and fireworks.
The Boston bombers utilized black powder sourced from common fireworks to manufacture the bombs that left 3 people dead and scores wounded in the worst terrorist attack on U.S. soil since September 11th.
Senator Frank Lautenberg, who wrote the bill, claims the incident in Boston, "shows that background checks are needed for explosive materials."
"It defies common sense that anyone, even a terrorist, can walk into a store in America and buy explosive powders without a background check or any questions asked."

"Requiring a background check for an explosives permit is a small price to pay to ensure the safety of our communities."
The purchase of black powder in amounts over 50 pounds already requires a background check, but the new bill would lower the thresholds and will also include "smokeless powders," which are used for the production of ammunition.
The move by Reid and Lautenberg, who both supported President Obama's failed comprehensive national gun control overhaul last month, has Second Amendment advocates concerned. According to The Truth About Guns the language of the bill, which is yet to be made available, may place stringent restrictions on the purchase of certain quantities of ammunition:
Depending on the bill's language, it would include not only loose gunpowder (such as that used by handloaders) but could also cover standard ammunition cartridges.

Lautenberg and Reid are trying to label these propellants as "explosives" in the wake of the Boston bombings and use that tragedy to limit general access to ammunition and reloading components . . .

It's a back door way to make gun ownership more difficult and possibly put smaller local ammunition manufacturers out of business.
Because a potential terrorist could conceivably take apart ammunition and use the propellant to manufacture a bomb, ammunition purchases containing enough powder to exceed the new threshold set forth by the bill will likely require a federal background check, similar to purchasing a firearm.
Reid and Lautenberg will also give the Attorney General power to forbid the sale of explosive powders to anyone who is believed to be purchasing it for the purpose of terrorism, a term that has been broadly defined in contemporary America to include anyone who may have second amendment oriented views, reads survival literature, home schools their kids, prefers precious metals over centrally printed Federal Reserve notes, or expresses a fear of big government.
The bill may never make it past committee, but it introduces a dangerous new strategy that shifts the gun-control focus away from firearms and targets gun accessories, magazines, and ammunition.
-
NEW SENATE BILL WOULD FORCE DHS TO REPORT BULLET PURCHASES
Susanne Posel
Occupy Corporatism
April 27, 2013
Last month, the Obama administration showed support for the UN Arms Trade Treaty (ATT) – global control over eligibility of citizens to own a firearm.
Another step toward destroying the 2nd Amendment has come from an executive action by admission of the Vice President Joe Biden and with the assistance of the Secretary of the Department of Health and Human Services (DHHS).
The Importation of Defense Articles and Defense Services (IDADS) empower Attorney General Eric Holder "to designate defense articles and defense services as part of the statutory USML for purposes of permanent import controls."
IDADS takes language from the ATT and applies it to gun control measures domestically. The DHHS will support the IDADS by providing research and studies that legitimize its existence and need for implementation.
Kathleen Sebeilus, Secretary of the DHHS, explained: "In order to protect our children and communities, we must ensure that information on potentially dangerous individuals who are prohibited from possessing firearms is available to the background check system. At the same time, it is important to note that the vast majority of Americans with mental health conditions are not violent and that those with mental illness are in fact more likely to be victims than perpetrators. We do not want to discourage individuals who need help from seeking mental health services, and our actions will be carefully tailored to ensure patient confidentiality as well as public health and safety."
Senators Jim Inhofe and Frank Lucas have proposed the Ammunition Management for More Obtainability (AMMO) Act of 2013 that "would require the Government Accountability Office (GAO) to conduct a report on the purchasing of ammunition by federal agencies, except the Department of Defense, and its effect on the supply of ammunition available to the public."
AMMO would also "restrict agencies from obtaining additional ammunition for a six-month period if current agency stockpiles are higher than its monthly averages prior to the Obama Administration."
Inhofe explained: "President Obama has been adamant about curbing law-abiding Americans' access and opportunities to exercise their Second Amendment rights," said Inhofe. "One way the Obama Administration is able to do this is by limiting what's available in the market with federal agencies purchasing unnecessary stockpiles of ammunition. As the public learned in a House committee hearing this week, the Department of Homeland Security has two years' worth of ammo on hand and allots nearly 1,000 more rounds of ammunition for DHS officers than is used on average by our Army officers. The AMMO Act of 2013 will enforce transparency and accountability of federal agencies' ammunition supply while also protecting law-abiding citizen's access to these resources."
This legislation was inspired by the enigmatic attitude of the Department of Homeland Security concerning their recent purchases of hollow point bullets totaling in the 1.8 billion.
DHS told House Representative Jason Chaffetz at a House Oversight Subcommittee hearing that they were purchasing so many rounds because it was cheaper to buy in bulk and their concern was to save taxpayer money.
They also pointed out that because of extensive training; they were using 116 million for an estimated 70,000 agents. Chaffetz replied that is added up to "roughly 1,000 rounds more per person" and that "their officers use what seems to be an exorbitant amount of ammunition."
Nick Nayak, chief procurement officer for DHS, asserted that the solicitations for ammunition are for the next 2 – 5 years and because it is not an immediate call for stock then this does not constitute a "hoarding" by the department.
It is estimated that $37 million in taxpayer money is being used to purchase this massive amount of ammunition admit shortages in the private retail sector.
Humberto Medina, training officer for DHS, claims that DHS is not attempting to cause a shortage in the private sector for ammunition and that these purchases are legitimate.
Scott McCurley, manager of a shooting range in Maryland and US veteran said: "Obviously you want to know how a hollow point is going to cycle through your weapon. But I don't think there's much of a difference when training. One box of rounds per gun is enough. The cost outweighs the purpose."
In a statement concerning the bullet purchases, DHS wrote that the agency "routinely establishes strategic sourcing contracts that combine the requirements of all its components for commonly purchased goods and services such as ammunition, computer equipment, and information technology services. These strategic sourcing contracts help leverage the purchasing power of DHS to efficiently procure equipment and supplies."
The statement goes on to say: "A separate 5-year department-wide contract allows the purchase of UP TO 450 million rounds of duty ammunition for our law enforcement officers and agents. With more than 100,000 armed law enforcement personnel in DHS, significant quantities of ammunition are used to support law enforcement operations, quarterly qualifications, and training, to include advanced firearms training exercises."
For target practice, hollow point bullets train the agents and officers on how to shoot multiple targets with one bullet and would succeed in the kills-to-targets ratio by teaching armed agents how to kill more people.
Initially, Janet Napolitano, Secretary of DHS, did not want to publically acknowledge Congress questions into the solicitations for 1.8 billion rounds of hollow point bullets.
House Representative Tim Huelskamp said: "They have no answer for that question. They refuse to answer to answer that…. They refuse to let us know what is going on, so I don't really have an answer for that."
A letter to DHS was signed by House Representative Doug LaMalfa and 15 other supporters in Congress that demanded an explanation for the "stockpiling" and addressed concerns of Americans that the DHS were purposefully causing a shortage in the public sector.
Local police departments have begun rationing out bullets to officers because of the shortage manifesting in the private retail sector which is believed to be a by-product of the purchases by DHS.
The shortage has increased demand and caused prices to rise. "Panic-buying" has caused US citizens to wait in long lines for bullets at retailers all across the nation.
The National Shooting Sports Foundation (NSSF) reports that there are "spot shortages" due to gun owners buying as much as they are allowed at one time. Some retailers have begun limiting the amount of rounds customers can purchase which also adds to the frenzy.
Retailers say that customers are afraid that with federal gun grabs looming and state laws passing to restrict the 2nd Amendment and the threat of an economic collapse, there is an intensification of need and want for guns and bullets.
Larry Hyatt, owner of Hyatt Gun Shop explained: "We absolutely are in uncharted territory. Our store is 53 years old, and we have never seen anything like this. We have had some spot shortages and busy gun times in the past. This is a level (of demand) never before seen. The political turmoil is intensifying it. People feel like this administration is very anti-gun, and they are going for the legal gun owner." Among the rumors he hears, he says, are that taxes on ammunition are going up and that background checks for ammunition purchases are coming. Whether true or not, this information is out there, and people are getting it while they can."
For manufacturers, this controversy has meant boosts in sales for both ammunition and firearms.
-
SARAH BRADY: WE'RE NOT GOING AWAY
-
ROUND TWO FOR GUN CONTROL MAY TAKE A 'NEXT NEWTOWN'
By Shane Goldmacher |National Journal

Wednesday, April 24, 2013
A week after gun legislation suffered a stinging defeat in the Senate, an uncomfortable realization has settled over the Capitol that it will likely take another mass shooting or similar tragedy to reignite momentum for gun control.
President Obama called last week's vote "round one." Senate Majority Leader Harry Reid, D-Nev., pledged that it was "just the beginning." But gun-control advocates, both inside and outside of Congress, have identified no immediate path forward to alter a political landscape that left them five votes short in the Senate of passing a bill requiring expanded background checks for gun purchases.
Focus in the Capitol has already shifted to immigration, renewed fiscal skirmishes, and the Boston bombings (though some questions remain over how the suspects obtained firearms). Even Sen. Pat Toomey, R-Pa., the chief Republican coauthor of the background-check plan, has said it is time to move on.
Proponents of new gun restrictions still hope to use the 2014 elections to upend the current dynamics, in which voting against the gun lobby is deeply feared, especially in GOP-leaning states. They plan to rely upon the impassioned pleas of the families of the Newtown shooting victims, New York Mayor Michael Bloomberg's money, and former Rep. Gabrielle Giffords' national stature. Before the next election, though, the truth is that another tragedy may be the only way to shake loose the legislation.
"Unfortunately, tragically, regrettably, there'll be other incidents of gun violence that will remind us of how much is at stake," said Sen. Richard Blumenthal, a Connecticut Democrat who has pushed hard for new gun laws after the December shooting that left 20 elementary school students dead.
The calls for stricter gun laws were loudest in the immediate aftermath of Newtown. But as the weeks and months passed, the powerful National Rifle Association, which opposed virtually any new firearm limits, including background checks, regained its footing.
On Wednesday, MSNBC's Joe Scarborough told Toomey that he was still shocked that the Senate couldn't pass expanded background checks with 60 votes when it was an issue supported by "95 percent" of the public, as Scarborough put it.
"I would suggest that we heard from the 5 percent who opposed—several times from each one of them," Toomey replied. "It was a much more vocal and much more passionate expression from that camp."
To advance the bill in the future, added Toomey, "I think the most important thing, frankly, is members of Congress need to hear from people—and the people who support these background checks need to be as vocal as those who don't."
It is a shortcoming that gun-control advocates acknowledge. "We talk about that as the passion gap, and we have to close that," said Ladd Everitt, spokesman for the Coalition to Stop Gun Violence. He said his group had spent the last week "thanking and spanking" senators for their votes.
"If we really want to succeed, what we really need to do is demonstrate that our movement can reward allies and punish people who vote against us," Everitt said.
Accusations that the White House did not move fast enough have been a recurrent critique of the administration's handling of the gun issue after the Newtown massacre.
Expanding background checks reaps as much as 90 percent support in polling. But a new Pew Research Center/Washington Post poll shows far more division on the recent gun bill: 47 percent of Americans were "disappointed" or "angry" at the legislation's defeat, but 39 percent were "very happy" or "relieved."
Sen. Joe Manchin, D-W.Va., the other chief architect of the bipartisan compromise on background checks, suggested last Friday that the legislation would have proven "much more acceptable" if it had been on the floor in January. That's when emotions still ran high after Newtown and the gun lobby was more divided.
"At that time we could have done something. So you seize the moment," Manchin said, though he and Toomey didn't reach a deal on background checks until April. Manchin has said he will continue to pressure his colleagues, one by one, though such an approach seems unlikely to break the deadlock.
Now, at least, Democrats and their allies have a package of gun-control measures—led by the Manchin-Toomey proposal—ready to be enacted practically immediately. Reid can bring the failed background-checks effort back to the floor at almost any time.
"The next Newtown is inevitable if we don't act…. This is just our reality," Everitt said. "Those things can help inform debate and galvanize people to act."
-
OBAMA MOVES ON GUNS WITHOUT CONGRESS
-
EXECUTIVE ACTION: OBAMA TO BAN IMPORTATION OF AMMO, MAGAZINES AND GUN ACCESSORIES WITHOUT CONGRESSIONAL APPROVAL
by Mac Slavo | SHTF Plan
Over the course of the last month, while Americans were distracted with the threat of nuclear war on the Korean peninsula and the devastation wrought by the Boston bombings, President Obama was quietly working behind the scenes to craft laws and regulations that will further erode the Second Amendment.
Congress, and thus We the People, may have unequivocally rejected federal legislation in March which aimed to outlaw most semi-automatic rifles, restrict magazine capacity, and force national registration, but that didn't stop the President from ceding regulatory control over firearms importation to the United Nations just two weeks later. What the UN Arms Trade Treaty, passed without media fanfare by 154 counties, would do is to restrict the global trade of, among other things, small arms and light weapons. Opponents of the treaty argue that loopholes within the new international framework for global gun control may make it illegal for Americans to purchase and import firearms manufactured outside of the United States.
To further his gun-grabbing agenda, however, President Obama and his administration didn't stop there.
Now they're taking another significant step against Americans' right to bear arms – and they're doing it through Presidential Executive Action, a strategy that, once again, bypasses Congressional oversight and the legislative process.
…it appears that the BHO Administration is taking executive action on firearms importation. Take a few minutes to read this: After Senate setback, Obama quietly moving forward with gun regulation. Here is the key portion of the article:
"The Importation of Defense Articles and Defense Services — U.S. Munitions Import List references executive orders, amends ATF regulations and clarifies Attorney General authority "to designate defense articles and defense services as part of the statutory USML for purposes of permanent import controls," among other clauses specified in heavy legalese requiring commensurate analysis to identify just what the administration's intentions are. Among the speculations of what this could enable are concerns that importing and International Traffic in Arms Regulations [ITAR] may go forward to reflect key elements within the United Nations Arms Trade Treaty."[Emphasis added.]
Depending on how it is implemented, the implications of this change could be huge. With the stroke a of a pen and without the consent of Congress, ATF bureaucrats could make ANY gun part or accessory (including magazines) or ammunition that were originally manufactured or perhaps even those designed for military use no longer legal for importation for civilian use. That might mean no more milsurp parts sets. No more milsurp magazines. No more milsurp ammo. No more milsurp optics. Perhaps not even spare firing pins. This could be ugly.

I strongly recommend that you stock up on magazines, ammunition and spare parts for any of your imported military pattern guns, as soon as possible! Once an import ban is implemented, prices will skyrocket.

Source: James Rawles' Survival Blog via The Prepper Website
Just five days ago the President vowed to push forward on gun control without Congress and Nancy Pelosi argued that no matter what Congress says, gun control is inevitable.
This latest round of Executive Actions is what they meant.
A direct on attack on the second amendment is difficult if not impossible, so they are trying to slither their way in through the backdoor by restricting international trade so we can't import new firearms, by restricting access to accessories and gun parts, by heavily taxing ammunition and gun purchases, by mandating policies like forcing gun owners to have liability insurance, and of course, by identifying potentially dangerous gun owners and simply taking their firearms because of public safety concerns.
The President recently suggested that the American people have spoken, and that they want guns to be restricted, banned and heavily regulated.
If that's so, then how is that a bipartisan Congress overwhelmingly rejected the President's bid to restrict and outlaw private ownership of millions of weapons and gun accessories?
Going through the United Nations and now implementing Executive Actions to bypass America's Constitutionally mandated system of checks and balances is an act of desperation.
Those who would take our rights have been left with no choice but to try and force their agenda upon us through dictatorial means.
-
FBI WANTS YOU TO KNOW ABOUT EXPLOSIVE TANNERITE
Infowars.com
May 7, 2013
Back in March, the FBI released a bulletin warning that "criminals and extremists" might use a material used for "exploding targets" in recreational shooting to build IEDs.
-
-
"The FBI assesses with high confidence recreationally used exploding targets (ETs), commonly referred to as tannerite, or reactive targets, can be used as an explosive for illicit purposes by criminals and extremists and explosive precursor chemicals (EPCs) present in ETs can be combined with other materials to manufacture explosives for use in improvised explosive devices (IEDs)," the FBI warned on March 5.
The FBI describes "extremists" as "international terrorists, homegrown violent extremists, domestic terrorists, and lone wolf offenders operating in the United States or abroad."
Tannerite, however, would not prove to be a practical material for a terrorist IED, that is unless a terrorist does not have an issue with exposing himself to capture. Tannerite can only be exploded by using a high velocity rifle bullet — and that means he would need to be within  several hundred years of the target.
Leave it up to the FBI, though, to frighten folks into believing there is another substance out there that terrorists can use at marathons.
If you like to use reactive material in your recreational shooting, you might want to stock up on this stuff. It will probably be illegal before too long.
-
VICE PRESIDENT JOE BIDEN: GUN CONTROL 'WILL PASS BEFORE THE YEAR IS OUT'
Biden said it's never been a simple issue, but that Congress has miscalculated how deeply the public feels about it and has failed to stand up to groups like the National Rifle Association, particularly after the shootings in Newtown. He said the public is looking to Congress to be mature enough to figure out a way to diminish the chance it will happen again.
"For the first time ever, you have people who are for gun safety, for increasing background checks," Biden said. "Two out of three of them say it will be a major determining factor in how I vote. That's the political dynamic that has changed. So I think we're going to get this anyway. I think this will pass before the year is out, within this Congress."
-
VICE PRESIDENT JOE BIDEN: 'I GUARANTEE YOU, BARACK OBAMA AIN'T TAKING MY SHOTGUNS…IF HE TRIES TO FOOL WITH MY BARETTA HE'S GOT A PROBLEM…'
-
JOE BIDEN ADMITS GUN CONTROL WILL NOT STOP MASS SHOOTINGS OR SAVE LIVES
"Nothing we're going to do is going to fundamentally alter or eliminate the possibility of another mass shooting or guarantee that we will bring gun deaths down to a thousand a year from what it is now."
-
FLASHBACK: OBAMA: "I WILL NOT TAKE YOUR GUNS AWAY"
By Gregory Gwyn-Williams, Jr. | CNS News
December 28, 2013
At a campaign event in Lebanon, Virginia in 2008, then-Senator Barack Obama said that he will not take Americans' guns away.
"When you all go home and you're talking to your buddies and you say, ah 'He wants to take my gun away.'  You've heard it here,  I'm on television so everybody knows it.  I believe in the Second Amendment. I believe in people's lawful right to bear arms. I will not take your shotgun away. I will not take your rifle away. I won't take your handgun away."
Since that statement, it has become clear that Obama simply and with devious charisma, lies to the American public in order to achieve his agendas.
-
–
WHITE HOUSE RELEASES PHOTO OF OBAMA SHOOTING A GUN
By DANIEL HALPER | The Weekly Standard
February 2, 2013
-
"President Barack Obama shoots clay targets on the range at Camp David, Md., Saturday, Aug. 4, 2012. (Official White House Photo by Pete Souza)," the caption reads.
"This official White House photograph is being made available only for publication by news organizations and/or for personal use printing by the subject(s) of the photograph. The photograph may not be manipulated in any way and may not be used in commercial or political materials, advertisements, emails, products, promotions that in any way suggests approval or endorsement of the President, the First Family, or the White House."
-
BARACK OBAMA: 'I GO SHOOTING ALL THE TIME'
By Jon Swaine, Washington | telegraph.co.uk
Amid conservative anger over Mr Obama's proposals to ban assault weapons as part of a drastic overhaul of US gun control laws, the president said that he was a keen clay-pigeon shooter.
Asked in a magazine interview whether he had ever fired a gun, Mr Obama said he did so with guests at the president's rural retreat.
"Up at Camp David, we do skeet shooting all the time," he said. "And I have a profound respect for the traditions of hunting that trace back in this country for generations.
"And I think those who dismiss that out of hand make a big mistake".
Mr Obama's plans for tighter firearms regulations were drawn up by Joe Biden, his vice-president, following the massacre of 26 people, including 20 young pupils at a primary school in Connecticut last month.
Mr Biden – whose proposals also include a background check system on all Americans trying to buy guns and a 10-shot limit for ammunition clips – has been quick to note that he owns a shotgun.
The president, however, rarely speaks personally about firearms, and is dismissed by many enthusiasts as an elite urban law professor who does not appreciate America's heritage of gun ownership.
He accepted in his interview that gun culture in rural areas was "very different" to that in urban areas, such as his home town of Chicago, where it is more frequently linked to serious crime.
"If you grew up and your dad gave you a hunting rifle when you were 10, and you went out and spent the day with him and your uncles, and that became part of your family's traditions, you can see why you'd be pretty protective of that," Mr Obama told The New Republic.
He made clear, however, that his daughters Sasha, 11, and Malia, 14, did not join the clay-pigeon shooting parties at Camp David, in rural Maryland.
A week before the Super Bowl, the most keenly-awaited event in the US sporting calendar, the president risked further angering the heartland by expressing concern about the safety of American football.
Several high-profile professional players have in recent years developed brain damage, which has been linked to the frequent heavy impacts on their skulls caused by the sport.
"I'm a big football fan, but I have to tell you if I had a son, I'd have to think long and hard before I let him play football," said Mr Obama.
-
-
-
AARON DYKES: WHAT IS THE SECOND AMENDMENT?
-
Second Amendment — The right to keep and bear arms.  A well regulated Militia, being necessary to the security of a free State, the right of the People to keep and bear Arms, shall not be infringed.
-
SUPPORTERS OF THE SECOND AMENDMENT ARE FOLLOWING THE FOOTSTEPS OF THE FOUNDING FATHERS.
-
THE FOUNDING FATHERS WANTED THE AMERICAN PEOPLE ARMED
-
-
Aaron Dykes
Infowars.com
January 22, 2012
The Founding Fathers agree: an armed population makes good government. Numerous quotes from the revolutionary era make their intent extremely clear — that individuals were meant to keep and bear arms for the protection of the country and the defense of its Constitution and Bill of Rights.
"One death is a tragedy; one million is a statistic." - Joseph Stalin
"If guns are outlawed, only outlaws will have guns." - Anonymous American adage
"The Constitution shall never be construed to authorize Congress to prevent the people of the United States, who are peaceable citizens, from keeping their own arms." 
– Samuel Adams
"Who are the militia? Are they not ourselves? Is it feared, then, that we shall turn our arms each man gainst his own bosom. Congress have no power to disarm the militia. Their swords, and every other terrible implement of the soldier, are the birthright of an American…" – Tench Coxe 1788
"The Constitution preserves "the advantage of being armed which Americans possess over the people of almost every other nation…(where) the governments are afraid to trust the people with arms." - James Madison, The Federalist, No. 46
"Ideas are more powerful than guns. We would not let our enemies have guns, why should we let them have ideas." - Joseph Stalin
"In earlier times, it was easier to control one million people than to physically kill one million people; today, it is infinitely easier to kill one million people than to control one million people." - Zbigniew Brzezinski
"Death solves all problems – no man, no problem." - Joseph Stalin
"Education is a weapon whose effects depend on who holds it in his hands and at whom it is aimed." - Joseph Stalin
"The only real power comes out of a long rifle." - Joseph Stalin
"The best we can hope for concerning the people at large is that they be properly armed." 
– Alexander Hamilton, The Federalist Papers
"Those now possessing weapons and ammunition are at once to turn them over to the local police authority. Firearms and ammunition found in a Jew's possession will be forfeited to the government without compensation. Whoever willfully or negligently violates the provisions will be punished with imprisonment and a fine." - Nazi Law (Regulations Against Jews' Possession of Weapons), 1938
"Arms discourage and keep the invader and plunderer in awe, and preserve order in the world as well as property… Horrid mischief would ensue were the law-abiding deprived of the use of them.
" –Thomas Paine
"It is the duty of the patriot to protect his country from its government." - Thomas Paine
"When governments fear the people, there is liberty. When the people fear the government, there is tyranny. The strongest reason for the people to retain the right to keep and bear arms is, as a last resort, to protect themselves against tyranny in government." - Thomas Jefferson
"Those who beat their swords into plowshares usually end up plowing for those who didn't.
" – Ben Franklin
"If the opposition disarms, well and good. If it refuses to disarm, we shall disarm it ourselves." - Joseph Stalin
"What country can preserve its liberties if their rulers are not warned from time to time that their people preserve the spirit of resistance. Let them take arms." – Thomas Jefferson
"A free people ought not only to be armed and disciplined, but they should have sufficient arms and ammunition to maintain a status of independence from any who might attempt to abuse them, which would include their own government." – George Washington
"Guard with jealous attention the public liberty. Suspect everyone who approaches that jewel. Unfortunately, nothing will preserve it but downright force. Whenever you give up that force, you are ruined…The great object is that every man be armed. Everyone who is able might have a gun." 
– Patrick Henry
"Are we at last brought to such an humiliating and debasing degradation that we cannot be trusted with arms for our own defense?" – Patrick Henry
"The right of the people to keep and bear…arms shall not be infringed. A well regulated militia, composed of the people, trained to arms, is the best and most natural defense of a free country…" 
–James Madison, I Annals of Congress 434 (June 8, 1789)
"(The Constitution preserves) the advantage of being armed which Americans possess over the people of almost every other nation…(where) the governments are afraid to trust the people with arms." –James Madison
"If the representatives of the people betray their constituents, there is then no recourse left but in the exertion of that original right of self defense which is paramount to all positive forms of government…" – Alexander Hamilton, The Federalist (#28)
"To disarm the people is the best and most effective way to enslave them." – George Mason
"The supreme power in America cannot enforce unjust laws by the sword; because the whole body of the people are armed, and constitute a force superior to any bands of regular troops that can be, on any pretense, raised in the United States." 
– Noah Webster, "An Examination into the Leading Principles of the Federal Constitution (1787)
"A free people [claim] their rights as derived from the laws of nature, and not as the gift of their chief magistrate." –Thomas Jefferson, Rights of British America, 1774
"The balance of power is the scale of peace. The same balance would be preserved were all the world destitute of arms, for all would be alike; but since some will not, others dare not lay them aside. And while a single nation refuses to lay them down, it is proper that all should keep them up. Horrid mischief would ensue were one half the world deprived of the use of them; for while avarice and ambition have a place in the heart of man, the weak will become a prey to the strong." - Thomas Paine, "Thoughts on Defensive War", July, 1775
"Political power grows out of the barrel of a gun." - Mao Zedong, "Problems of War and Strategy", 1938
"To preserve liberty, it is essential that the whole body of the people always possess arms, and be taught alike, especially when young, how to use them." - Richard Henry Lee, 1778
"The right of citizens to bear arms is just one more guarantee against arbitrary government, one more safeguard against the tyranny which now appears remote in America, but which historically has proved to be always possible." - Hubert Humphrey, "Know Your Lawmakers", Guns magazine, February 1960
"The most foolish mistake we could possibly make would be to allow the subject races to possess arms. History shows that all conquerors who have allowed their subject races to carry arms have prepared their own downfall by so doing." - Adolf Hitler, April 1942
"If gun laws in fact worked, the sponsors of this type of legislation should have no difficulty drawing upon long lists of examples of crime rates reduced by such legislation. That they cannot do so after a century and a half of trying — that they must sweep under the rug the southern attempts at gun control in the 1870-1910 period, the northeastern attempts in the 1920-1939 period, the attempts at both Federal and State levels in 1965-1976 — establishes the repeated, complete and inevitable failure of gun laws to control serious crime." - Orrin Hatch, "The Right to Keep and Bear Arms"
"After a shooting spree, they always want to take the guns away from the people who didn't do it. I sure as hell wouldn't want to live in a society where the only people allowed guns are the police and the military." – William S. Burroughs, 1991
"The very atmosphere of firearms anywhere and everywhere restrains evil interference – they deserve a place of honor with all that's good."
- George Washington
-
IT'S NOT ABOUT GUN CONTROL IT'S ABOUT PEOPLE CONTROL
Anthony Gucciardi
Infowars.com
April 29, 2013
Gun free zones don't lower crime rates or even prevent mass shootings, so what do they do? Gun control allows megalomaniacal politicians to exercise control over law-abiding citizens through unconstitutional legislation that paves the way towards eroding the Bill of Rights at large.
The simple fact of the matter is that the attacks on the Second Amendment should concern you, even if you don't own a gun. In fact, I am definitely not someone you would consider a 'gun nut'. Far from it, I actually grew up with the impression that guns were killing weapons that the average person would never truly need. After all, you could simply call a gun-wielding police officer if anything went wrong. So what drove me to become passionate on protecting the Second Amendment, even to the point of producing the new documentary Disarmed: A History of Gun Control?
It comes down to the fact that gun control and the attacks on the Second Amendment amount to much more than guns themselves. In fact, the Second Amendment's fall will signify the fall of the Constitution at large — the very fabric of the United States. You see if the government can override the Second Amendment, why can't they override the First Amendment? Or how about the Constitution as a whole? If we can confiscate all modern firearms and override the Constitution through federal or state law, then the Constitution now becomes a secondary piece of paper.
THE POLITICAL DOMINO EFFECT
Now gun control advocates would never want to give up the First Amendment. In fact, virtually everyone who hates the Second Amendment (which is actually an extreme minority blown up by the media) loves the First Amendment. They would tell you that giving up the First Amendment would ruin the country, no one would be granted free speech — our freedom would collapse overnight.
The error here is assuming that we can permit the government, a government full of power-hungry sociopaths, to eradicate one Amendment while assuming we will preserve the others. How could anyone think this? The answer is that they aren't thinking, they're responding to events that the media broadcasts to them in a certain light. Mass shootings in schools and movie theaters have pushed the mantra that it's the guns that are to blame and nothing else.
You're not supposed to ponder on why Batman shooter James Holmes traveled out of his way to the one movie theater that did not allow attendees to bring in their legal concealed carry weapons. You're not supposed to ask about the fact that the Sandy Hook shooting occurred in one of the most extreme 'gun free' zones in the nation. You're especially not supposed to investigate into why Columbine shooter Dylan Klebold was so afraid of the looming concealed carry law in the area. Instead, you're supposed to emotionally react to the issue of guns. And from that reaction, your response is not supposed to be logical but emotional.
It's not logically to think that destroying the Second Amendment and eroding our rights to own a weapon will not cause a political domino effect that leads to the dismantling of our Bill of Rights. No, it's an emotional response that says 'ban the guns' without logical thought. Even examining the statistics reveals this to be the case as well.
FORMER OBAMA SECRET SERVICE: IT'S PEOPLE CONTROL, NOT GUN CONTROL
Former Obama Administration Secret Service member Dan Bongino stated it correctly when he explained in a passionate speech that gun control is not about controlling guns. Instead, it's about 'people control'. After withdrawing from the Secret Service without retirement pay to inform the public regarding gun control, Dan Bongino reveals that he is also not a 'gun nut' as some might think. It simply comes down to protecting our rights.
Watch the former Obama Secret Service member's speech below:
-
-
65% SEE GUN RIGHTS AS PROTECTION AGAINST TYRANNY
January 18, 2013
Two-out-of-three Americans recognize that their constitutional right to own a gun was intended to ensure their freedom.
The latest Rasmussen Reports national telephone survey finds that 65% of American Adults think the purpose of the Second Amendment is to make sure that people are able to protect themselves from tyranny. Only 17% disagree, while another 18% are not sure. (To see survey question wording, click here.)
Not surprisingly, 72% of those with a gun in their family regard the Second Amendment as a protection against tyranny. However, even a majority (57%) of those without a gun in their home hold that view.
Many gun control advocates talk of the right to gun ownership as relating to hunting and recreational uses only.
While there are often wide partisan differences of opinion on gun-related issues, even 54% of Democrats agree with 75% of Republicans and 68% of those not affiliated with either major party that the right to own a gun is to ensure such freedom.
As Americans search for answers to the Newtown shooting, attitudes on gun ownership are "not likely to change in a nation where six out of 10 adults would rather live in a neighborhood where they can own a gun and most would feel safer if their children attended a school with an armed security guard." Scott Rasmussen explains in his latest weekly newspaper column that if Congress is "not willing to go as far as the president wants on gun control, perhaps they… might take stronger action on mental health issues or increase the penalties for crimes committed with a gun."
In the wake of the horrific elementary school massacre in Connecticut, 51% favor stricter gun control laws. There is strong support for background checks of gun owners, but a plurality believes dealing with mental health issues will lead to more effective results. Fifty-nine percent (59%) think Congress and President Obama are likely to create stricter gun control laws.
-
44% THINK GOVERNMENT EFFORT TO CONFISCATE ALL GUNS LIKELY
Thursday, April 04, 2013
A sizable number of Americans think the federal government is coming after their guns.
Forty-four percent (44%) of Likely U.S. Voters believe it is at least somewhat likely that the government will try to confiscate all privately owned guns over the next generation or so, according to a new Rasmussen Reports national telephone survey. Fifty percent (50%) feel gun confiscation is unlikely. This includes 20% who think the government is Very Likely to make this move and 23% who say it's Not At All Likely.
-
51% THINK BACKGROUND CHECKS FOR GUN BUYERS WILL NOT REDUCE VIOLENT CRIME
Tuesday, April 02, 2013
Support for requiring a strict background check to buy a gun remains high, but most voters believe these checks will not reduce the level of violent crime in America.  A new Rasmussen Reports national telephone survey finds that 75% of Likely U.S. voters believe a strict background check should be required for anyone to buy a gun in the United States. Only 16% disagree.
-
BACKLOG ON GUN ORDERS HITS 2 MILLION
Sturm, Ruger shipments surpass 500,000 for first time in history
Paul Joseph Watson
Infowars.com
April 30, 2013
While questions continue to swirl about the Department of Homeland Security's huge ammo buying spree, Americans are finding it increasingly difficult to obtain firearms, with backlogs surging despite Sturm, Ruger gun shipments surpassing 500,000 for the first time in history.
"America is weaponizing itself at an unheard of pace, with both Sturm, Ruger shipments and units produced surpassing 500,000 each in one quarter for the first time in history," reports Zero Hedge.
Figures show that units produced and shipped by the company have gone beyond 1 million a quarter for the first time ever.
There is also a 2 million backlog on guns on order, a 100% increase from a year ago and a 40% increase on the previous quarter.
As we previously reported, demand is so high that customers are not even waiting for gun stores to stock shelves before purchasing ammunition and firearms.
There are even reports of customers waiting outside for trucks to arrive in an attempt to purchase ammunition before it is even offloaded.
Gun stores across the nation are beginning to resort to bullet rationing in an attempt to satisfy as many customers as they can, while some police departments are being forced to barter between themselves to meet demand.
In the midst of all this, the Department of Homeland Security continues to be under scrutiny for its huge ammunition buys, with the Government Accountability Office announcing that an investigation of the purchases is "just getting underway."
Explanations for why Americans continue to seek out guns and ammunition at breakneck speed range from concerns about the Obama administration's strict gun control agenda in the aftermath of the Sandy Hook shootings, to the possibility that domestic unrest could be right around the corner.
-
GAO NOW INVESTIGATING DHS AMMO PURCHASES
The Government Accountability Office tells Whispers it is now investigating large ammunition purchases made by the Department of Homeland Security. Chuck Young, a spokesman for GAO, says the investigation of the purchases is "just getting underway."
The congressional investigative agency is jumping into the fray just as legislation was introduced in both the Senate and the House to restrict the purchase of ammo by some government agencies (except the Department of Defense). The AMMO Act, introduced Friday, would prevent agencies from buying more ammunition if "stockpiles" are greater than what they were in previous administrations.
Donelle Harder, a spokeswoman for Sen. Jim Inhofe, R-Okla., who introduced the legislation in the Senate, tells Whispers the bill would also require GAO to share the findings of its report on DHS purchases with Congress.
Officials at DHS have denied to both Whispers and lawmakers that it is stockpiling ammunition. The Associated Press reported in February that DHS wanted to buy more than 1.6 billion rounds of ammunition, but DHS officials testified last week it was only planning to buy up to 750 million.
-
MARIJUANA LAWS A NEW TOOL TO BAN GUN OWNERSHIP
Feds promise crackdown on any 'prohibited possessor' in states where pot is 'legal'
By Bob Unruh | World Net Daily

The Obama administration has a zero tolerance policy on enforcing federal drug laws, White House drug czar Gil Kerlikowske recently told the National Press Club. So why should gun-owners be paying attention?
The website for the Office of National Drug Policy includes this warning: "Marijuana and other illicit drugs are addictive and unsafe especially for use by young people. … Marijuana contains chemicals that can change how the brain works. And the science, though still evolving in terms of long-term consequences of marijuana use, is clear: marijuana use is associated with addiction, respiratory and mental illness, poor motor performance, and cognitive impairment, among other negative effects."
Why, then, hasn't the Obama administration launched legal action against Colorado and Washington, where voters last fall voted to "legalize" marijuana under their state laws – even though federal law doesn't allow that?
After all, the White House has been more than emphatic that state laws exempting people from the federal Obamacare law are invalid, and when Arizona took it upon itself to adopt a state law to enforce federal immigration restrictions, Washington went after those renegades immediately in the courts.
Is there something about the idea of legalizing marijuana that Washington LIKES?
That seemingly strange idea may have been borne out just days ago when the Congressional Research Service released its report on the "State Legalization of Recreational Marijuana: Selected Legal Issues."
As attorneys Todd Garvey and Brian Yeh wrote in the report, Washington has flexibility regarding drug prosecution, stating, "The extent to which federal authorities will actually seek to prosecute individuals who are engaged in marijuana-related activities in Colorado and Washington remains uncertain. President Obama himself has suggested the prosecuting simple possession is not a priority, while the Department of Justice has said only that 'growing, selling or possession any amount of marijuana remains illegal under federal law.'"
What is more certain, they wrote, is that federal firearms regulators will be aggressive about banning anyone who uses marijuana from buying – or possessing – a weapon.
"With the legalization of marijuana for recreational purposes in Colorado and Washington, it seems likely the ATF will … consider a recreational user of marijuana to be a prohibited possessor of firearms regardless of whether the use is lawful under state provisions," they wrote.
The attorneys said the ATF specifically has stated, "any person who uses or is addicted to marijuana, regardless of whether his or her state has passed legislation authorizing marijuana use for medicinal purposes, is an unlawful user of or addicted to a controlled substance, and is prohibited by federal law from possessing firearms or ammunition."
They further wrote, "These individuals are to answer 'yes' when asked on the firearms transfer form if they are unlawful users of a controlled substance."
Answering falsely, of course, is also a felony.
According to the Denver Post, the CRS report was touted by U.S. Rep. Jared Polis, D-Colo., an advocate of legalized marijuana, for saying that while "the federal government may use its power of the purse to encourage states to adopt certain criminal laws … it … is limited in its ability to directly influence state policy by the Tenth Amendment."
Polis told the Post, "I've long believed that Colorado, Washington and other states that have decriminalized or legalized marijuana for personal or medical use have acted within the legal bounds of the law."
But Obama attacked a state decision to enforce federal immigration standards, so why, as the Post reports, are "Colorado, Washington and 17 other jurisdictions … still holding out for any word from the Department of Justice on whether marijuana possession and distribution – which is illegal under federal law – will be enforced, despite the legalization within local borders."
Dave Workman, senior editor at TheGunMag.com, a spokesman with the Second Amendment Foundation and a former member of the NRA board of directors wrote about the possible solution last fall as the votes in Washington and Colorado were approaching.
"A source with the Bureau of Alcohol, Tobacco, Firearms and Explosives in Washington, D.C. … confirmed what had been explained in a Sept. 21, 2011, letter from Arthur Herbert, assistant director for enforcement programs and services to firearms retailers…
"Washington state gun owners need to know they cannot get stoned and head for the gun range or hunting camp," he wrote.
A letter from Herbert, at the time, blew out of the water the option for the libertarian concept of unrestricted guns and unrestricted marijuana.
"There are no exceptions in federal law for marijuana purportedly used for medicinal purposes, even if such is sanctioned by state law," he wrote. Even selling a gun to someone can catch an owner outside the law.
"An inference of current use may be drawn from evidence of a recent use or possession of a controlled substance or a pattern of use or possession that reasonably covers the present time," Herbert wrote.
Workman told WND his assumption is that the Obama administration is hesitant to step on the toes of marijuana users who may support the left-leaning administration.
At the same time, with Obama's agenda for gun rules, regulations, restrictions and requirements looming large, anything that has the potential to trip up a gun owner couldn't be all bad.
Impacts from strategies such as this are not unknown. There are millions of Americans whose ability to obtain a firearm could be challenged under the position that they are taking a variety of mood-altering psychiatric drugs carrying the FDA's "suicidality" warning label. An increasingly  high percentage of Americans are taking these meds, which have demonstrated an alarmingly high correlation with school shooters.
And the government has been using its interaction with veterans to designate many of them – by the tens of thousands – incapable of handling their own financial affairs and therefore banned from having guns.
A lawsuit was just filed by the United States Justice Foundation against the Veterans Administration for snatching veterans' gun rights without "due process" or any "factual or legal basis."
WND has published multiple reports about how returning veterans were being deprived of their Second Amendment rights without a court-based adjudication competency process, based on arbitrary VA agency decisions.
The problem arises when the agency wants to appoint a fiduciary – someone to advise a disabled veteran or one receiving certain government benefits – to help with the management of those benefits.
The government then routinely notifies the FBI's NICS system, a federally maintained list of those whose competency has been challenged, and that means they no longer can purchase a gun – or even keep the one they may have.
Michael Connelly, executive director of the USJF, told WND the initial lawsuit is to compel the VA to respond to two requests under the Freedom of Information Act.
"The information requested included Veterans Benefits Administration rules, regulations and criteria for making 'determinations of incompetency due to a physical or mental condition of a benefit recipient,'" the legal team explained.
"The USJF has received numerous complaints from military veterans around the country who are being declared incompetent to handle their own financial affairs and then told that they can no longer purchase or own firearms or ammunition," said Connelly. "This determination is being made without due process protections for the veterans and the basis for the incompetency ruling is often arbitrary and without a factual or legal basis."
CRS attorneys, however, note that there doesn't have to be a huge case for an American to pay huge consequences.
"Given the Obama administration's informal statements and current approach to medical marijuana, it would appear unlikely that the DOJ is going to expend significant resources to investigate and prosecute individuals who merely possess and use less than one ounce of marijuana, in private, pursuant to Washington or Colorado Law," they wrote.
"However, even if the probability of becoming the subject of a federal criminal prosecution for a violation … appears remote, there does exist a number of other consequences under federal law that are triggered by the mere use of marijuana, even absent an arrest or conviction.
"Most prominently among these concerns is the possibility that marijuana users may lose their ability to purchase and possess a firearm …"
-
RELATED POST: TWO PEOPLE SHOT AT 4/20 RALLY, POT CELEBRATION IN DENVER'S CIVIC CENTER PARK; POLICE SEARCHING FOR SUSPECTS
-
-
WILL GANG OF EIGHT IMMIGRATION BILL LEAD TO GUN CONFISCATION?
"Immigration reform could be a bonanza for Democrats [and] cripple Republican prospects in many states they now win easily." — Politico, April 22, 2013
In 1984, California was sufficiently conservative so that it cast its electoral votes for President Ronald Reagan. It was not fiercely pro-gun, but, then again, it wasn't New York.
But, in 1986, Reagan signed an immigration amnesty bill, called Simpson-Mazzoli. The bill was small compared to the current amnesty bill. Three million illegals benefited.
But that was enough to change California from a sometimes "swing state" to a state almost wholly controlled by Leftists. Within 20 years — and continuing to this day — California couldn't pass enough gun bans, gun registration, ammunition limits, and ammunition registration.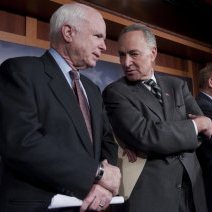 So it is with some concern that Chuck Schumer's amnesty bill (S. 744) which is currently on the table would cover 11,000,000 to 20,000,000 illegal aliens — four to seven times the size of the Simpson-Mazzoli bill.
We predict that, if the bill is passed, by 2035, the American electorate will have changed so fundamentally that California-style gun control could become a very real possibility in this country!
We know you're tired. We have just fought a hard-fought battle over explicit gun control in the Senate — a battle which we won.
But it does strike us as interesting that the same gun control crazies who pushed gun control want to slam immigration amnesty through the Senate quickly so they can redirect their fire against us again.
Who are the chief architects of forging a more anti-gun electorate? Well, the chief sponsor of S. 744 is Chuck Schumer, and he is joined by other Second Amendment haters such as Dick Durbin (D-IL), Bob Menendez (D-NJ) and compromiser John McCain (R-AZ).
Over the next week or so, we'll let you in on some of the anti-gun specifics of Schumer's "amnesty bill," as it's correctly dubbed. But for starters, the bill would push us towards a biometric ID card, which is something that GOA has opposed for years — given that a de facto National ID poses a huge threat to gun owners' privacy.
But then there's the fact that Schumer's "amnesty bill" requires the government to give its okay — in a Brady Gun Check-type procedure — before you could get a private job in America (section 3(c)(2)(A)(iii)). Does anyone not see why this might be a problem?
We've just gone through excruciating pain to stop the expansion of Brady Checks for guns. Now we turn around and the same parties who were pushing that are now pushing Brady Checks for private jobs.
It's ironic that those pushing for background checks are adamantly against ID's for voting because that would disenfranchise the elderly, the poor, and minorities. Hmm, so they do understand that background checks — as a prior restraint — are a fundamentally flawed concept?
But this is where the real fun starts. You feed the potential employee's info into a government database and, according to Senator Durbin, "up pops a picture." And, says Durbin, "if that picture doesn't match [the one on your ID], you may not be employed."
The Brady Check deals with a list of names which is in the millions. It deals only with things like names and social security numbers, not pictures. Yet it gives "false negatives" 8% of the time. And if you're one of those 8% who are illegally denied a gun, the FBI's response, more often than not, is "So sue us." If this weren't bad enough, the system breaks down for days at a time — normally the times when the most people need it.
Do we really want to expand this flawed concept to other areas of our lives?
If this weren't bad enough, we know that, once the government has to give its approval before you can do something, it's an almost iron-clad guarantee that it will exercise that power in a political manner. Under the Brady Check system, 165,000 law-abiding honorable veterans have lost their gun rights, not because they have done anything wrong, but because they sought counseling from the VA on the basis of a traumatic experience in the military.
Watching Schumer explain on the Senate floor why those veterans should lose their constitutional rights without any court order — while he vigilantly defends due process for foreign terrorists — is like watching a dung beetle drag its "prey" back to its lair.
So we know 165,000 non-politically correct veterans lost their gun rights under Brady Checks. Who will become politically incorrect unemployable non-persons under Brady Checks for Jobs?
Now, one would think that the fact that one million people in Boston were put under house arrest last week because our current immigration system allowed two asylum-seekers from terrorist-filled Chechnya to become legal residents and, in one case, a citizen of our country, will put the skids on the "inevitability" of Schumer's amnesty bill. After all, gun control was "inevitable" too.
But the bottom line is this: Just as we saw the gun ramifications of ObamaCare, we will also see the problems with a bill that alters the electorate in such a way that the Second Amendment will cease to exist. In doing so, we will need to make sure that we don't have most of our guns registered or confiscated in 2035 because short-sighted politicians listened to MSNBC and turned our country blue.
But we will also make sure that we do not take bad gun law and turn it into bad employment law.
ACTION: Contact your Senators and ask them to oppose the anti-gun Schumer amnesty bill (S. 744).
Click here to send your Senators a prewritten email.
-
RELATED POST: OBAMA CAMPAIGN PLANS MAJOR PUSH FOR GANG OF EIGHT IMMIGRATION BILL
-
NEW LAW PROTECTS SECOND AMENDMENT FROM FEDS
Bills 'nullifying' Washington overreach gaining momentum across the country
by Garth Kant | World Net Daily
It was called the strongest pro-gun bill in the country, and now it's the law in Kansas.
The law is designed to counter the push by liberal federal lawmakers for increased restrictions on gun rights. It nullifies any new limits on firearms, magazines and ammunition – whether enacted by Congress, presidential executive order or any agency.
If Congress would have passed the Senate amendment expanding federal background checks, for example, the Kansas law would nullify it in the state.
Kansas Gov. Sam Brownback, a Republican, signed Senate Bill 102 into law yesterday, which exempts Kansas from any laws the federal government might pass that would infringe on Second Amendment rights.
Specifically, the Kansas law prevents federal law enforcement officials from enforcing any laws restricting Second Amendment rights.
To ease concerns by some lawmakers over showdowns, federal officers would not be handcuffed or jailed, but they would be prosecuted.
The law is significant not just because of its intent, but because of who signed it. Brownback is a major political figure in the Republican Party who served as a congressman and a senator for the state until election as governor in 2010. Throwing his weight behind a "nullification" law lends credibility to a growing trend.
An impressive 32 state legislatures have now introduced pro-Second Amendment "nullification" bills. The progress of the bills can be tracked at the Tenth Amendment Center's website.
Montana began the trend with its Firearms Freedom Act. The law is currently tied up in the 9th Circuit Court of Appeals, which heard arguments last month. The Cato and Goldwater Institutes have filed a friend-of-the-court brief, "arguing that federal law doesn't preempt Montana's ability to exercise its sovereign police powers to facilitate the exercise of individual rights protected by the Second and Ninth Amendments."
As WND reported, several more states have now passed laws modeled after Montana's Firearms Freedom Act. Earlier this month, Arizona joined Wyoming, South Dakota, Utah, Tennessee and Montana.
The laws are generally justified by references to the Second, Ninth and Tenth Amendments to the Constitution. The Second Amendment guarantees the right to firearms. The Ninth Amendment makes it clear that citizens have rights not specifically listed in the Constitution. And the Tenth Amendment says states have powers not specifically given to the federal government or specifically denied to states.
Supporters of states' rights have said the Tenth Amendment can nullify federal laws that are unconstitutional or beyond the federal government's powers.
"Nullification" has been used as a legal argument to try to overturn everything from pro-slavery laws to Obamacare, always unsuccessfully. The U.S. Supreme Court has ruled that under the Supremacy Clause of the Constitution, federal law is superior to state law and that federal courts have the final say on interpreting the Constitution.
But with the momentum of 32 states having introduced pro-Second Amendment nullification bills, that may change.
Michael Boldin, founder of the Tenth Amendment Center, said there are many ways to nullify a law.
"The courts can strike a law down. The executive branch could refuse to enforce it. People in large numbers might refuse to comply. A number of states could pass a law making its enforcement illegal. Or a number a states could refuse to cooperate in any way with its enforcement."
Before it became law, Boldin called the Kansas measure the strongest nullification bill in modern American history.
A key provision of the Kansas' Second Amendment Protection Act reads:
(a) Any act, law, treaty, order, rule or regulation of the government of the United States which violates the Second Amendment to the Constitution of the United States is null, void and unenforceable in the state of Kansas.
Boldin wrote yesterday that another key part of the law is that Kansas "would not be allowed to participate in any federal gun control measures that restrict the individual right to keep and bear arms as understood in 1861."
That's because any federal laws undermining the Second Amendment would not be part of what Kansas agreed to when it joined the U.S.
According to Boldin, there is another key factor that may swing power in the favor of states seeking to enforce nullification laws.
He wrote, "The federal government does not have the manpower to enforce all its laws. State and local law enforcement often times carry the water during investigations and actual arrests.
"If states pass laws banning both state and local participation – in any way – with the enforcement of a federal law – that federal law would never be enforced."
As WND reported earlier this month, a key supporter of Montana's Firearms Freedom Act says nullification laws are needed to break a near-monopoly on guns by the federal government.
According to Gary Marbut of the Montana Shooting Sports Association, the "current federal scheme of regulating the supply system for new firearms in the U.S. is so complete it might actually constitute a government monopoly on the supply of firearms."
"Under current federal regulation, no firearm may be made and sold to another person without federal government permission – not one firearm," he said.
To submit to a government gun monopoly, he said, would be to believe "that the Constitution is an old, dead, obsolete and meaningless piece of paper, the Ninth Amendment is as worthless as the rest, and has no relevance to the [Montana Firearms Freedom Act]."
Derek Sheriff reported at the Arizona Tenth Amendment Center that Arizona's bill asserts the state's "sovereignty under the Tenth Amendment and the people's unenumerated rights under the Ninth Amendment."
"They also emphasize the fact that when Arizona entered the union in 1912, its people did so as part of a contract between the state and the people of Arizona and the United States," he said.
Kurt Hofmann of the St. Louis Gun Rights Examiner said the surging movement across the states is "a challenge to the federal government's grotesquely expansive use of the interstate commerce to regulate – well … everything, whether it has anything to do with interstate commerce or not."
"Liberty doesn't just happen – it needs to be worked for," he said. "Getting that work done can make the difference between having to work for liberty, and having to fight for it."
Marbut, who has described himself as the godfather of the Firearms Freedom Act movement, has reported previously that while the Constitution's Commerce Clause can be viewed as regulating interstate commerce, it also can be viewed as having been modified when the later Second Amendment assuring citizens of the right to own weapons was adopted.
No less significant, he suggests, is the Ninth Amendment, which states, "The enumeration in the Constitution of certain rights shall not be construed to deny or disparage others retained by the people."
Boldin said Washington likely is looking for a way out of the dispute.
"I think they're going to let it ride, hoping some judge throws out the case," he told WND. "When they really start paying attention is when people actually start following the [state] firearms laws."
WND reported that when Wyoming joined the states with self-declared exemptions from federal gun regulation, officials there took the unusual step of including penalties for any agent of the U.S. who "enforces or attempts to enforce" federal gun rules on a "personal firearm."
The penalties could be up to two years in prison and $2,000 in fines for an offender.
But the bellwether likely is to be the lawsuit agaisnt the Montana law, which was the first to go into effect.
As WND reported, the action was filed by the Second Amendment Foundation and the Montana Shooting Sports Association in U.S. District Court in Missoula, Mont., to validate the principles and terms of the Montana Firearms Freedom Act, which took effect Oct. 3, 2009.
Marbut argues that the federal government was created by the states to serve the states and the people, and it is time for the states to begin drawing boundaries for the federal government and its agencies.
-
SEQUESTER, TIGHT BUDGETS MEANS DHS BUYING LESS AMMUNITION
By Stephen Dinan | The Washington Times
Homeland Security officials tried to mollify Congress' concerns over the department's ammunition purchases Thursday, but they may have made things worse by providing conflicting information that left House members fuming.
Department officials testified that their agents and officers average about 1,300 rounds of ammunition a year for training, qualifying and operations — about 1,000 more small-arms rounds than are assigned for every member of the military.
But lawmakers on a House investigative committee said the department contradicted itself on several accounts, including Secretary Janet A. Napolitano, who testified last week to another committee that her employees go through about 150 million rounds of ammunition in a year. The number is closer to 110 million.
"When the secretary of Homeland Security says it's 150 million rounds, and it's off by tens of millions of rounds — who's minding the store?" said Rep. Jason Chaffetz, Utah Republican and chairman of the national security subcommittee.
Mr. Chaffetz said he took a trip to the southwest border earlier this month and heard from three Border Patrol agents in three different sectors who said their ammunition supply has just been cut.
Nick Nayak, Homeland Security's chief procurement officer, said in his written testimony that the department is actually trying to cut down on its ammunition purchases because of tighter budgets. And he said the total number of rounds the department has options to buy is about 750 million over the next five years.
"I have no idea where the billion or over ever came from," Mr. Nayak said.
Mr. Nayak and Bert Medina, director of the Immigration and Customs Enforcement National Firearms and Tactical Training Unit, also rejected fears of some gun owners that the ammunition purchases are meant to crowd the market so civilians can't buy any.
They said Homeland Security's purchases come to about 1 percent of the total number of rounds manufactured in the U.S. every year.The department is trying to recover its footing after months of speculation about the ammunition buys, which officials initially ignored.
Ms. Napolitano said last week that she didn't think anyone would actually believe the reports, and she specifically questioned the credibility of the Drudge Report, which linked to several of the stories posing questions.
Since then the department has tried to clarify what it's doing — though with varying success.
"You've got a credibility problem — plain and simple," said Rep. Jim Jordan, an Ohio Republican.
Homeland Security said it had 263 million rounds of ammunition stockpiled as of November, which is more than two years' worth.
In 2012, the department used 88.3 million rounds for training, and 27.9 million rounds for operational purposes. Customs and Border Protection, which includes the Border Patrol, used the most ammunition at nearly 38 million rounds, while Immigration and Customs Enforcement used more than 28 million rounds.
Rep. Carolyn B. Maloney, New York Democrat, wondered why the department needed to have any inventory at all.
"Can't you just order ammunition as you need it?" she asked.
The officials said that would be a problem because of the long lag time on contracts, and also because they sometimes have trouble getting ammunition that meets their standards.
-
RELATED POST: DEPARTMENT OF HOMELAND SECURITY SEEKS CONTROL OF ALL COMMERCIAL AMMUNITION
-
DHS DENIES AMMO PURCHASES AIMED AT CIVILIANS
-
Officials at the Department of Homeland Security denied Thursday that its large-scale ammunition purchases were an effort keep bullets out of the hands of private citizens.
At a hearing on Capitol Hill Thursday, top DHS training officer Humberto Medina said he could "say categorically that was not a factor at all" in the purchases. He also noted that ammunition DHS purchased would be used for both operations and training purchases.
The Associated Press reported in February that DHS was planning to buy more than 1.6 billion rounds over the next five years, a number that sparked fears of government stockpiling – which DHS previously denied to Whispers. Officials told lawmakers DHS actually was planning to buy only up to 750 million rounds.
But Rep. Darrell Issa, R-Calif., said it still looked like the government was unnecessarily amassing ammunition.
"The idea that you have to have excess rounds, year after year, flies in the face of common sense," Issa said. Medina argued that DHS keeps a reserve of ammunition because of market fluctuations and because of past problems with vendors.
In fiscal year 2012, DHS purchased more than 103 million rounds of ammunition, to be used by about 70,000 DHS officers who are currently authorized to use weapons. Rep. Jason Chaffetz, R-Utah, said Thursday that "the math" didn't make sense, pointing out that this means an average 1300-1600 rounds per DHS officer – some 1000 rounds more than the average for an officer in the Army.
DHS agents and officers need extensive training because they are "exposed to a variety of situations" and "only have that weapon to protect their lives," Medina said. "They can't contact air support [like an officer in an army could.] They have to be proficient at a very high level."
-
REPS CHALLENGE DHS AMMO BUYS, SAY AGENCY USING 1,000 MORE ROUNDS PER PERSON THAN ARMY
Published April 26, 2013
FoxNews.com
Republican Rep. Jason Chaffetz said Thursday that the Department of Homeland Security is using roughly 1,000 rounds of ammunition more per person than the U.S. Army, as he and other lawmakers sharply questioned DHS officials on their "massive" bullet buys.
"It is entirely … inexplicable why the Department of Homeland Security needs so much ammunition," Chaffetz, R-Utah, said at a hearing.
The hearing itself was unusual, as questions about the department's ammunition purchases until recently had bubbled largely under the radar — on blogs and in the occasional news article. But as the Department of Homeland Security found itself publicly defending the purchases, lawmakers gradually showed more interest in the issue.
Democratic Rep. John Tierney, D-Mass., at the opening of the hearing, ridiculed the concerns as "conspiracy theories" which have "no place" in the committee room.
But Republicans said the purchases raise "serious" questions about waste and accountability.
Chaffetz, who chairs one of the House oversight subcommittees holding the hearing Thursday, revealed that the department currently has more than 260 million rounds in stock. He said the department bought more than 103 million rounds in 2012 and used 116 million that same year — among roughly 70,000 agents.
Comparing that with the small-arms purchases procured by the U.S. Army, he said the DHS is churning through between 1,300 and 1,600 rounds per officer, while the U.S. Army goes through roughly 350 rounds per soldier.
He noted that is "roughly 1,000 rounds more per person."
"Their officers use what seems to be an exorbitant amount of ammunition," he said.
Nick Nayak, chief procurement officer for the Department of Homeland Security, did not challenge Chaffetz's numbers.
However, Nayak sought to counter what he described as several misconceptions about the bullet buys.
Despite reports that the department was trying to buy up to 1.6 billion rounds over five years, he said that is not true. He later clarified that the number is closer to 750 million.
He said the department, on average, buys roughly 100 million rounds per year.
He also said claims that the department is stockpiling ammo are "simply not true." Further, he countered claims that the purchases are helping create broader ammunition shortages in the U.S.
The department has long said it needs the bullets for agents in training and on duty, and buys in bulk to save money.
While Democrats likened concerns about the purchases to conspiracy theories, Republicans raised concern about the sheer cost of the ammunition.
"This is not about conspiracy theories, this is about good government," Rep. Jim Jordan, R-Ohio, said.
Rep. Darrell Issa, R-Calif., who chairs the full Oversight and Government Reform Committee, said he suspects rounds are being stockpiled, and then either "disposed of," passed to non-federal agencies, or shot "indiscriminately."
If that is the case, he said, "then shame on you."
-
INHOFE, LUCAS INTRODUCE BILL LIMITING FEDERAL AGENCIES FROM STOCKPILING AMMUNITION
Friday, April 26, 2013
WASHINGTON, D.C. – U.S. Sen. Jim Inhofe (R-Okla.) and Congressman Frank Lucas (R-OK-3) today introduced in their respective chambers the Ammunition Management for More Obtainability (AMMO) Act of 2013. The legislation would require the Government Accountability Office (GAO) to conduct a report on the purchasing of ammunition by federal agencies, except the Department of Defense, and its effect on the supply of ammunition available to the public. The AMMO Act would restrict agencies from obtaining additional ammunition for a six-month period if current agency stockpiles are higher than its monthly averages prior to the Obama Administration.
"President Obama has been adamant about curbing law-abiding Americans' access and opportunities to exercise their Second Amendment rights," said Inhofe. "One way the Obama Administration is able to do this is by limiting what's available in the market with federal agencies purchasing unnecessary stockpiles of ammunition. As the public learned in a House committee hearing this week, the Department of Homeland Security has two years worth of ammo on hand and allots nearly 1,000 more rounds of ammunition for DHS officers than is used on average by our Army officers. The AMMO Act of 2013 will enforce transparency and accountability of federal agencies' ammunition supply while also protecting law-abiding citizens access to these resources."
 
"After hearing from my constituents about the shortage of ammunition in Oklahoma and the Department of Homeland Security's profligate purchases of ammunition," said Lucas. "We have introduced the AMMO Act of 2013 to curtail these purchases so Americans can exercise their Second Amendment rights without being encumbered by the federal government. I was surprised to find out the DHS has the right to buy up to 750 million rounds of ammunition over the next five years, while it already has two years worth of ammo already. This is an issue that must be addressed, and I am pleased this legislation provides us the opportunity to do so."
-
BILL TAKES AIM AT DEPARTMENT OF HOMELAND SECURITY'S AMMO STOCKPILING
DHS officials claim it is "simply not true" that agency is hoarding bullets
Steve Watson
Infowars.com
April 26, 2013
In response to nationwide shortages of ammunition and concerns amongst Americans regarding the Department of Homeland Security's enormous ammo orders, Senate and House Republicans have introduced legislation that would limit stockpiling of bullets by federal agencies.
The bill, known as the Ammunition Management for More Obtainability Act, or AMMO act for short, was authored by Sen. Jim Inhofe (R., Okla.) and Rep. Frank Lucas (R., Okla.) who say that there must be more "transparency and accountability" regarding government stockpiling.
"President Obama has been adamant about curbing law-abiding Americans' access and opportunities to exercise their Second Amendment rights," Inhofe said in a statement provided to the Washington Free Beacon.
"One way the Obama administration is able to do this is by limiting what's available in the market with federal agencies purchasing unnecessary stockpiles of ammunition."
The legislation would stop short of limiting the Department of Defense on ammo purchases, but would prevent the DHS and U.S. Immigration and Customs Enforcement (ICE) from purchasing or storing more ammunition than those agencies retained on average between 2001 and 2009.
"As the public learned in a House committee hearing this week, the Department of Homeland Security has two years worth of ammo on hand and allots nearly 1,000 more rounds of ammunition for DHS officers than is used on average by our Army officers," Inhofe said.
"The AMMO Act of 2013 will enforce transparency and accountability of federal agencies' ammunition supply while also protecting law-abiding citizens access to these resources." the Senator added.
"After hearing from my constituents about the shortage of ammunition in Oklahoma and the Department of Homeland Security's profligate purchases of ammunition," Rep. Lucas said in a statement, "We have introduced the AMMO Act of 2013 to curtail these purchases so Americans can exercise their Second Amendment rights without being encumbered by the federal government."
As we recently reported, the DHS announced plans to purchase another 360,000 rounds of hollow point ammunition to add to the roughly 2 billion bullets already bought over the past year.
During Thursday's hearing, the DHS denied that it was stockpiling ammunition with the DHS's chief procurement officer saying it is "simply not true".
DHS' head training officer also claimed that keeping bullets out of the hands of private citizens was not a motivating factor behind the mass bullet purchases.
Rep. Jason Chaffetz, R-Utah, said Thursday that "the math" on the massive bullet purchases didn't make sense, arguing that the purchases are exorbitant and wasteful and that "It is entirely … inexplicable why the Department of Homeland Security needs so much ammunition."
Democratic Rep. John Tierney, D-Mass., at the opening of the hearing, ridiculed the concerns as "conspiracy theories" which have "no place" in the committee room.
"This is not about conspiracy theories, this is about good government," Rep. Jim Jordan, R-Ohio, retorted.
Rep. Darrell Issa, R-Calif., who chairs the full Oversight and Government Reform Committee, said he suspects rounds are being stockpiled, and then either "disposed of," passed to non-federal agencies, or shot "indiscriminately."
If that is the case, then shame on you." Issa told the DHS officials.
The entire hearing can be viewed in the videos below (skip to the 6.40 mark on part 1):
-
-
-
-
FACEBOOK SHUTS DOWN PENNSYLVANIA GUN STORE'S AR-15 GIVEAWAY
S.H. Blannelberry
Guns.com
April 23, 2013
-
by S.H. Blannelberry
Late last week, a Pennsylvania-based gun store had its Facebook page suddenly deactivated after administrators at the social media giant reportedly learned the shop's proprietor was using the store's Facebook presence as a way to raffle off semiautomatic firearms.
In talking with The Blaze.com, Erik Lowry, who owns Pittsburgh Tactical Firearms in McKeesport, Pennsylvania, explained the situation, although even he is a little unclear about why exactly his store's fan page, which had over 27,000 friends, was shut down.
On Sunday, he had plans to run a huge giveaway that would have included an AR-15 as the main prize, but close to the eve of the giveaway he awoke to calls and emails from concerned customers wondering what happen to PTF's Facebook page.
According to Lowry, there was no warning, no explanation, just a simple message, "Your page has been unpublished and it cannot be published again."
Following news of the shut down, Lowry desperately tried to contact FB admin, sending them over 100 messages through an appeals process but all that reaching out was to no avail.
"I still don't know what's going on," Lowry told The Blaze over the phone on Sunday.
Clues for why FB opted to shut down PTF's fan page without warning come via a news forum called Vocativ, which recently ran a story on gun giveaways within the FB community.  A FB spokesman first admitted that the company was unaware of the firearm-related raffles and then said they violated policy.
"Our Ad Guidelines prohibit promotion of the sale of weapons and the Ad Guidelines apply to Pages with commercial content on them," the Facebook spokesman told Vocativ. "Ads may not promote the sale or use of weapons, ammunition, or explosives."
"Most of these should be removed per our terms," he added
Even though Lowry may have been in violation of the terms, he still believes that he should have been given a warning and a chance to make things right.
"I am very adamant about following rules. I'm not the type of person who will stick it to the man," Lowry said. "[It] at least should have been a courtesy for someone to contact us and say 'this is why we did it.'
"The lack of communication is so, incredibly frustrating."
Like many businesses these days, social media plays a critical role in PTF's ability to communicate with customers.  Lowry said that since his FB page was shut down, his business is losing upwards of $500 to $1,000 per day.
Moving forward, Lowry plans on contacting the NRA to see if there is any legal recourse or support the nation's gun lobby can provide.
"This kind of censorship is unconstitutional," Lowry complained.
In the meantime, one can visit PTR on Facebook or check for updates via its sister site 'Miss Pittsburgh Tactical.'
Also, Voactiv updated their article with the following:
In response to Vocativ's investigation of gun sweepstakes on Facebook, the social network has taken down the pages of at least five groups that have been giving away free firearms on the site.

In the process of reporting the story, Vocativ provided Facebook with several examples of  active gun giveaways on their platform. On Friday, Facebook explained that the sweepstakes violate the company's advertising guidelines and that the pages in question had been removed. "Facebook strives to create a safe and trusted environment for everyone that uses our service," the company told Vocativ in a statement.
-
SENIOR ADVISED TO REMOVE HER LEGALLY HELD FIREARM TO REMAIN IN HER PRIVATE RESIDENCE
James White and Michael Hebert
northwestlibertynews.com
April 27, 2013
Prepared to be even more shocked at how far people will go to disarm you? So you were horrified by images of black uniformed SWAT teams forcing people out of their homes in Boston; the images, regardless of the motives behind them, of block to block, house to house searches looked like something out of science fiction or NAZI Germany SS Forces in Europe during WWII. The mind-set, and agenda, by some very dark forces in American Government to disarm you have been programming the public through movies, video games and television to accept gun confiscation. Let me give you one example of how that ugly mind set has crept deep into our society, and how one woman is fighting back after she was illegally and unconstitutionally disarmed last week.
(northwestlibertynews) Clare, MI- Senior citizen Sondra White is no criminal.  She is no threat, and she has no criminal background.  She has not harmed anyone, nor does she intend to.  How do I know these things, you ask?  I know, because Sondra White is my mother.  It began near the end of January with a tenant meeting to discuss the dangerous and rapidly deteriorating structure known in those parts as, "Clare Castle," a 3 yr. old senior living high-rise located in the middle of Michigan's lower "mitten." A link to the letter sent by my mother to the other 23 residents can be found here.  The residents, whose repeated complaints about breathing drywall dust, hard to open doors, and what can only be described as a raw sewage smell, came together as one unit and met to discuss their grievances.   My mother, always outspoken, is the committee chairperson for "Clare Castle," and was the meeting organizer.
I have included the resulting notes of the resident meeting here ( page 1  page 2 ).  As I reviewed the written request by the residents, no item listed within them seemed at all unreasonable.  You will judge this matter yourself, no doubt.  Keep in mind that these are ALL senior residents, your grandmother or elder parent's age.  As time would tell, these actions by my mother put a target on her back as a whistleblower and her legally owned firearm came into the crosshairs.  How the knowledge of my mother's firearm came to be known by anyone else but her is murky.  Perhaps it came up in a casual conversation with a neighbor?  I do not know these facts, but I do know that no laws were broken because her residence is private, and the firearm is legally registered to her.
The building manager, who was beginning to feel the heat, had her boss, the Regional Property Manager, respond to the residents on March 7, 2013 with the letter found here ( Page 1  Page 2  Page 3 ).  The manager of the Castle, not unlike any other would be tin-pot dictator, had established her network of lap-dog, snitches who feel important because they are "on the inside" with someone whom they see as "more important."  You know these people… They make me sick.  At any rate, the manager proceeded to pull residents into her office to privately discuss with them their fears about my mother and her legally registered firearm.  Evidence of this will be presented later.  Although written evidence comes from only one resident, my mother was privately informed that this practice was wide-spread.  Once the manager's snitches were questioned, the fix was in, and the hammer fell on March 23rd.
A suspicious persons complaint was filed against my mother by the building manager with "Threats of a Firearm" added to the comments.  The official filing can be seen here.  Subsequently, the Clare police arrived at my mother's private residence to answer the complaint.  Being a small town, the Chief of Police happened to respond to the call.  The Chief informed my mother that it is, indeed, her Constitutional right to own a firearm, and since it was legally registered she could have it in her home.  He said, however, to keep the peace it may be a good idea to take it out of the building.  My mother, threatened by the weight of the machine, complied with the chief's request and removed her firearm.  Her notarized statement can be seen here.  Four days later, on March 27th, my mother was served with a 30 day eviction notice. (This is the same day that another resident, Carol Geiling, was called in the manager's office to vilify my mother. Carol's statement can be found here).  The nature of the violation states generally that she frightens other residents and has been threatening to use her gun on them.  The lease violation and reason for the eviction can be found here.  As time passed, my mother's anxiety grew.
Like the sands in an hour-glass, the days left for her to have a place to live were slipping away.  I spoke to my mother right around that time, her some 1800 miles away, and she expressed to me her concerns.  I urged her to stand up and fight, and to stop being a victim.  I cannot say for certain how much impact my words had on her, but she did take action a short time later when she received a 7-day notice to move on April 16th.  The 7-day eviction notice can be seen here ( Page 1  Page 2 ).  My mother, on advice from a friend, went to see Attorney Ghazey H. Aleck, II.  "Gus," as called by his friends, was the perfect person for the job.  He has a long record for defending freedom, and a strong Libertarian background.  The request through FOIA for the remaining documents can be seen here.  Inside sources have revealed that the police statement is not consistent with the reason for eviction.  I will update the documents as they become available.  The response by Gus back to the would-be tyrants can be seen here.  Names have been kept visible to expose the guilty.  As of this writing, the attorneys for the other side want to meet next Tuesday, April 30th, to discuss a resolution.  Uh-huh, I bet that they do.
Sondra recorded a statement with a summary of events that can be found here
Is the building manager an anti-gun liberal, or did the political climate created by the gun-hating mainstream media make my mother's firearm an easy scapegoat to cover up her whistleblowing?  Perhaps a bit of both, for I do not pretend to know.  I can say this though; I am willing to bet that there are thousands of senior citizens who are bullied into giving up their legally owned firearms in lieu of a place to live.  If this is happening, it needs to be exposed and needs to be stopped.  I am advising my mother to insist that a public statement, broadcast or print, is made by the corporation that owns the building.  In that statement, they need to make it known, loud and clear, that senior citizens have just as much protection under the Constitution as anyone half their age.  And, the 2nd Amendment right afforded to us by the US Constitution does not expire once your Social Security kicks in.
-
U.S. COMPANIES PURCHASED 900 MILLION ROUNDS OF AMMO FROM RUSSIA
Infowars.com
April 27, 2013
The outlandish purchase of billions of rounds of ammunition by the federal government has created a serious shortage in the United States. In response, according to a Russian website (Lenta.ru), suppliers in the United States are turning to Russia to fill the gap.
From Lenta.ru (translated by Google) on Friday:
U.S. private companies purchased from Russian producers 900 million rounds of ammunition for rifles and pistols. This is with reference to sources in the military-industrial circles reported April 26 the newspaper "Izvestia".
The subject of the contract with the Russian factories, steel machine-gun cartridges of 7.62 x 39 millimeters and a pistol – caliber 9×19 mm. It is reported that customers were five U.S. companies, including Intrac Arms International LLC and Wolf Perfomance Ammunition.
Negotiations on the supply began in 2011 with the participation of "Rosoboronexport". The first batch of cartridges were sent to American buyers in early 2013. Amount of the contract is not a source told the publication.
For information about the availability of the agreement "News" confirmed at the Ulyanovsk cartridge plant. Representative of the plant said that the U.S. has guaranteed the U.S. Defense Department, according to which the cartridges are intended only for private buyers, but not for the army units, or exports.
In an interview with the editor of Maxim world.guns.ru Popenker reported that demand for ammunition in the United States by a massive government contracts to the needs of the army and security forces. "Therefore, there is a shortage of cartridges that private companies-sellers compensated for by imports" – added Popenker. Ammunition, according to the expert, U.S. citizens can also buy for the future, fear of restrictions on weapons by the government.
7.62 millimeters is most prevalent with the advent of the Kalashnikov AK-47 and its variants, which are popular among the American population. The U.S. also has a large demand for self-loading carbine Simonov (SKS), which uses the same ammunition. Sales rifle as a weapon, produced more than half a century ago, in the U.S., there are restrictions on additional equipment.
Nine-millimeter cartridges (Para) for guns gained popularity in the United States in the early 1990s. Then the police and army units began to use weapons of mass production, "Smith & Wesson" and "Beretta", which applies this caliber ammunition.
-
AMMO FACTORY ALL FIRED UP AMID GUN BAN THREAT
Proposed measures to control guns in the United States have boosted sales of ammunition.
Manufacturers and gun shops across America are reporting record sales with gun enthusiasts worried that tighter weapons laws will lead to a shortage of bullets.
Sky News has gained rare access to an ammunition factory in Missouri, where they say business has never been better.
Sierra produces millions of loaded cartridges and bullets each week.
It's careful not to reveal secrets to rivals – it won't say exactly how many – but what's certain is that this is a bright spot in an otherwise gloomy economy.
At the moment Sierra simply can't meet the demand from anxious gun enthusiasts, who in fear of President Barack Obama's drive to tighten gun laws, are stockpiling ammunition.
The company makes bullets for every market. The most popular are .30 calibre for competitive shooting and target practice.
It also produces America's most popular handgun bullet – the 9mm – which is commonly found in instances of gun crime.
It also manufactures .223 calibre bullets for bolt action and assault rifles. Such weapons are used primarily for hunting.
But a semiautomatic Bushmaster .223 was also used in the Newtown massacre in which 26 children and teaching staff were killed by a gunman who shot 154 rounds in less than five minutes.
The ethics of the ammunition industry don't really register with those who depend on it for a living.
Most of the 150 workers here own guns. When they're not making bullets – they're firing them on hunts or at shooting ranges.
For them, the only moral issue is any threat to their right to own one. They say efforts to control the industry have only boosted it.
Sierra worker Willy Tague said the company had never been busier.
He said: "We could work seven days a week and not meet the demands right now. It's just crazy up there – supply and demand – we just can't keep up with demand."
His colleague Barry Brock said: "They're stockpiling because they're afraid of what's going to happen – at least they're cautious about it."
Dawn Smith has worked at Sierra for three years. I asked her if she ever worries about the bullets she makes getting into the wrong hands.
She replied: "Not really, because we make bullets for all kinds of people. There are lots of people that shoot.
"There are good people out there. There are also bad people, but it could be a knife, it could be a bomb, it could be anything – you can't look at it that way."
Some states are pushing for a 50% tax on ammunition. The thinking is that if guns are beyond control, the focus should shift to what actually kills people.
Matt Reams, the vice president of sales and marketing, said that's a measure that would harm their industry and do little to tackle the problem.
He said: "Any time there's a tragedy like what happened in Newtown there's obviously a public outcry – everybody on both sides of the fence are outraged by those types of thing.
"But sometimes the politicians in their hurry to capitalise on that might not figure the perfect law that actually makes a difference and keeping that from happening again.
"They just want to look like they're making a change and a difference to how the laws are represented in the US."
Down in the underground shooting range batches are put to the test before they're sold across America.
Sierra has posted a message on its website reassuring customers that it's going all out to meet the increased demand – which isn't showing any signs of dipping.
-
UNPRECEDENTED SHORTAGES OF AMMO, PHYSICAL GOLD AND PHYSICAL SILVER
Michael Snyder
Economic Collapse
April 26, 2013
All over the United States we are witnessing unprecedented shortages of ammunition, physical gold and physical silver.  Recent events have helped fuel a "buying frenzy" that threatens to spiral out of control.  Gun shops all over the nation are reporting that they have never seen it this bad, and in many cases any ammo that they are able to get is being sold even before it hits the shelves.  The ammo shortage has already become so severe that police departments all over America are saying that they are being told that it is going to take six months to a year to get their orders.  In fact, many police departments have begun to trade and barter with one another to get the ammo that they need.  Meanwhile, the takedown of paper gold and paper silver has unleashed an avalanche of "panic buying" of physical gold and physical silver all over the planet.  In the United States, some dealers are charging premiums of more than 25 percent over the spot price for gold and silver and they are getting it.  People are paying these prices even though they are being told that delivery will not happen for a month or two in many cases.  Some dealers are feverishly taking as many orders as they can, and they are just hoping that they will be able to get the physical gold and silver to eventually fill those orders.  Personally, I have never seen anything like this.  If things are this tight now, what is going to happen when the next major financial crisis strikes and people really begin to panic?
The shortages and rationing of ammunition at gun shops all over America just seem to keep getting worse.  The following is from an article by a gun owner down in Texas named Brad Meyer…
If you'd like to see a normally sullen sales clerk chortle with derisive pleasure, just walk into just about any gun range, sporting goods store or mass merchandiser and try and buy a couple boxes of .22 ammunition.

Gun enthusiasts are up in arms about a nationwide shortage of ammunition. Handgun ammo in general is particularly difficult to find – and when you do find it, there are restrictions on the amount you can buy and how much you're going to be paying for it.

While the list of hard to find ammo is long, .22 long rifle and 9mm handgun ammunition are particularly difficult to find in quantity. And the few places that have it are charging a premium rate and usually limiting purchases to one box, per person, per day.
Many gun owners try to find ammunition by going on the Internet, but things have gotten so tight that now any ammo that becomes available online is often gone within seconds…
There are websites where people across the country post links to where ammunition is available – and it sells out within seconds. Not minutes or hours – seconds.
Unfortunately, all of this demand is also driving up prices.  Just check out what Meyer says is happening to the price of standard .22 ammo…
The demand is driving up the cost of ammunition. Six months ago, standard .22 ammo – the most common type of bullet produced in the world – could be had in bulk for around five cents apiece. It is now going for 50 cents or more on some websites – and people are paying it.
But this shortage is not just affecting private citizens.  According toNewmax, police departments all over the nation are dealing with ammo shortages unlike anything that they have ever seen before…
Sheriff Anthony DeMeo of Nye County, Nev., was told his department's regular order of 50,000 rounds could take up to a year to arrive.

"This is the first time ever I've heard that there's a problem with a law-enforcement agency getting ammo for their agency," DeMeo told The Las Vegas Sun.

These departments are not alone. Law enforcement agencies in Oklahoma, Wisconsin, Arizona, and Georgia are among many that are having to limit how much they give their officers due to the shortage.
Could you imagine waiting for "up to a year" to get more ammunition?
A recent article posted on CNSNews.com had some more examples of police departments that are reporting that there is a massive wait to get more ammo…
Chief Pryor of Rollingwood, Texas says of the shortage:

"We started making phone calls and realized there is a waiting list up to a year.  We have to limit the amount of times we go and train because we want to keep an adequate stock."

"Nobody can get us ammunition at this point," says Sgt. Jason LaCross of the Bozeman, Montana police department.

LaCross says that manufacturers are so far behind that they won't even give him a quote for an order.

"We have no estimated time on when it will even be available," LaCross says.
This is insane.
What in the world could be causing such an ammo crunch?
Well, certainly the demand for guns and ammo has been trending up in recent years – especially since Barack Obama was elected.
But that doesn't fully account for the shortages that we are witnessing at the moment.
So what is going on?
Well, some people believe that the federal government is responsible.  It has been reported that they have signed contracts to purchase "up to" 1.6 billion rounds of ammunition.  According to Forbes, this amount of ammunition would be enough to fight a "hot war" in America for 20 years…
The Denver Post, on February 15th, ran an Associated Press article entitled Homeland Security aims to buy 1.6b rounds of ammo, so far to little notice.  It confirmed that the Department of Homeland Security has issued an open purchase order for 1.6 billion rounds of ammunition.  As reported elsewhere, some of this purchase order is for hollow-point rounds, forbidden by international law for use in war, along with a frightening amount specialized for snipers. Also reported elsewhere, at the height of the Iraq War the Army was expending less than 6 million rounds a month.  Therefore 1.6 billion rounds would be enough to sustain a hot war for 20+ years.  In America.
Could this be a way that the Obama administration is trying to restrict the amount of ammo that gets into the hands of private citizens?
That is what some people are suggesting.
According to talk radio show host Michael Savage, the ammo contracts that the federal government has signed give them priority over all other purchasers…
What Homeland Security is doing here is they're issuing a contract to buy up to that amount of ammo if they want it…

It's a way to control the amount of market that's available on the commercial market at any time.

If they go to the ammo manufacturers and say give me 50 million rounds, give me another 30 million rounds… if they periodically do this in increments, they're going to control how much ammo is available on the commercial market.

As part of their contract it stipulates in there that when the government calls and says give us another quantity, that everything they make has to go to the government priority one before any of it goes to the commercial market.

So, if  they get nervous, all they have to do is use that contract that they have in place… and they just say 'give us some more.'
So whenever the government wants to tighten the supply of ammunition, all they have to do is invoke their contracts and order more for themselves.
Meanwhile, Obama appears to be doing other things to restrict the amount of ammo that gets into the hands of private gun owners.
For example, there are reports that the Obama administration plans to use executive orders to greatly restrict the importation of ammo from overseas.
So if anything, the shortage of ammunition is only going to get worse, not better.
Meanwhile, the "panic buying" of physical gold and physical silver that we have seen lately has really run down inventories.
According to Reuters, demand has become so intense that the U.S. Mint has suspended sales of gold coins for the first time since 2009…
The U.S. Mint said it has suspended sales of its one-tenth ounce American Eagle gold bullion coins as surging demand after bullion's plunge to two-year lows depleted the government's inventory. This marks the first time it has stopped selling gold product since November 2009, dealers said.
At the same time, precious metals dealers all over the country are scrambling to meet the voracious demand that they have been seeing this month.  The following is an excerpt from a letter that the CEO of Texas Precious Metals recently sent out to his customers…
The physical silver market is, in a word, ugly. There is no telling at this point when mint inventories will return to normal, but you can be sure it will not happen within the next 8 weeks. Most dealers, at this point, are selling their current customer demand forward, meaning they are selling product they do not presently have, expecting to pull from future mint allocations. Consequently, future allocations will face pressure from today's demand. It is not my intent here to comment on the business practices of other companies, but I will say that no one can possibly predict future allocations at the time. The US mint, for example, releases its allocations weekly, and until then, dealers have no insight into allocation levels. Last week, we turned away business in excess of 100,000 ozs of silver because of stock depletion. However, we stand by the notion that it is better to lose a sale than lose a customer by delaying delivery two months (or more).
A similar thing is happening over in Asia.  According to the Financial Times, soaring demand has caused a shortage of gold at the Hong Kong Gold & Silver Exchange Society…
Haywood Cheung, president of the Hong Kong Gold & Silver Exchange Society, said the exchange had effectively run out of most of its holdings as members looked to meet a shortfall in supply amid rampant retail demand for gold products.

"In terms of volume, I haven't seen this gold rush for over 20 years," he told the Financial Times on Monday, adding that the exchange only had around twenty 1kg bars, and 100 five-tael bars left in its inventory. "Older members who have been in the business for 50 years haven't seen such a thing."
But most disturbing of all is what Jim Sinclair told King World Newsrecently.  Apparently his friend went to get his gold out of a Swiss bank the other day and they refused to give it to him…
A person that I know with significant deposits in one of the primary Swiss banks, in allocated gold, wanted to take out his gold and was just refused on the basis of directives from the central bank….

They told him the amount was in excess of 200,000 Swiss francs and the central bank had instructed them not to do it because it has to do with anti-terrorism and anti-money laundering precautions.

I really wonder whether those are precautions or whether the gold simply isn't there. Now you tell me that a London delivery has basically failed. It has to raise our suspicions that the lack of physical gold behind the paper gold is literally so severe that we are coming to understand that it is in fact not there.

The gold that people think is stored is not stored, and the inventory of the warehouses for exchanges may not be holding deliverable gold. There has always been speculation about whether or not the physical gold the US claims to store is in fact in those vaults.

The greatest train robbery in history might be all of the gold, and it would only be something like we have described above that would happen right before gold makes historic highs.

There simply is no gold behind the paper. One example is AMRO, a second is your example with Maguire, and a third is my dear friend who was refused his gold on the basis that its value was too high. Remember this friend of mine had his gold in an allocated account in storage at a major Swiss bank. I repeat, there is no gold.
So are we going to see more of this?
Will it soon become evident that there is simply not enough physical gold to cover all of the promises that the banks have made?
Jim Sinclair sure seems to think so.
In another interview, John Embry expressed similar sentiments to King World News…
This gets back to the tip of the iceberg when the Dutch Bank ABN AMRO came out and literally said that if you have allocated gold with us, you can't have it.

That, to me, is a default, and it gets back to what Jim Sinclair related when one of his friends went to a Swiss bank and couldn't get his allocated gold.  I mean that's preposterous.  If it's allocated it should be there, but it's clearly not there.  I think this is the beginning of the end of the massive Ponzi scheme in paper gold.  I have been talking about this for some time, and it will have an enormous impact on future gold and silver prices.

When it becomes widely known that all of the people who think they own gold in fact don't own gold, that it's been hypothecated and re-hypothecated so many times that there are 100 claims for every single ounce of physical gold, that is when the prices of gold and silver will really go berserk to the upside, and at that point the shorts will have serious problems."
If those that helped engineer the recent takedown of paper gold and silver were hoping to scare people away from physical gold and silver, then they failed miserably.  For even more on this, please see my recent article entitled "10 Signs The Takedown Of Paper Gold Has Unleashed An Unprecedented Global Run On Physical Gold And Silver".
All of this is just another example why I encourage people to get prepared while times are still relatively good.
Once disaster strikes, it may be too late to get the things that you need.
Right now there are a whole lot of people out there wishing that they had stocked up on ammo when it was much cheaper and much more readily available.
We are moving into a time when everything that can be shaken will be shaken.  Use the stability provided by the false bubble of economic hope that we are experiencing right now as an opportunity to get prepared.  The next major wave of the economic collapse is rapidly approaching and time is running out.