PRESIDENT OBAMA: WINDOW OF OPPORTUNITY TO ATTACK IRAN OPENS IN JUNE 2013
RELATED POSTS:
NETANYAHU: IRAN CLOSER TO NUCLEAR 'RED LINE'
BREAKING NEWS: RUSSIA THREATENS THE UNITED STATES WITH NUCLEAR ATTACK
NORTH KOREA SAYS IT WILL LAUNCH A NUCLEAR ATTACK ON THE UNITED STATES
JAPANESE PRIME MINISTER PREPARES FOR WAR WITH CHINA
UNITED STATES CIVIL WAR 2016; U.S. MILITARY OFFICERS ARE BEING TOLD TO PLAN TO FIGHT AMERICANS
MAX KEISER PLANTS HIS FLAG: TOTAL GLOBAL ECONOMIC COLLAPSE BY APRIL 2013
Kurt Nimmo
Infowars.com
The Times of Israel reports that president Obama will tell Israel's prime minister Netanyahu during a visit next month that a "window of opportunity" for a military strike on Iran will open in June 2013 if current diplomatic efforts fail.
Photo: U.S. Department of Defense.
Israeli TV reported on Monday that the United States will tell Israel to "sit tight" on the sidelines and keep a low profile as it attacks Iran's nuclear facilities.
Obama set the June attack deadline last year. At the time it was rumored that Israel would attack Iran prior to the U.S. presidential election in November.
Iran recently met with the International Atomic Energy Agency to discuss its nuclear program. The United States and Israel have repeatedly claimed Iran is working on a nuclear weapon despite a lack of conclusive evidence.
The Obama administration has said on numerous occasions that Iran does not have a nuclear weapons program. The Israelis have admitted this as well. Moreover, the intelligence community in the U.S. released a National Intelligence Estimate in 2007 indicating Iran does not have a nuclear weapons program. Under the terms of the 1968 Nuclear Non-Proliferation Treaty, Iran has the right to produce nuclear power for peaceful purposes.
The so-called P5+1 nations – the United States, Russia, China, Britain, France and Germany – will meet today in Almaty, Kazakhstan, to discuss Iran's nuclear program. Secretary of Iran's Supreme National Security Council Saeed Jalili leads the Iranian negotiating delegation and the P5+1 representatives are headed up by EU foreign policy boss Catherine Ashton.
Obama's new Secretary of State, John Kerry, said in London on Monday that an Iranian nuclear program is unacceptable and warned that time for a diplomatic solution is running out. "As we've said again and again, an Iran with a nuclear weapon in that region, and given all that has happened, is simply unacceptable," Kerry said during a news conference.
"The window for a diplomatic solution simply cannot by definition remain open forever. But it is open today. It is open now. There is still time but there is only time if Iran makes the decision to come to the table and negotiate in good faith," Kerry said.
"We are prepared to negotiate in good faith, in mutual respect, in an effort to avoid whatever terrible consequences could follow failure," he added. "And so the choice really is in the hands of the Iranians, and we hope they will make the right choice."
In January, top globalist functionary Henry Kissinger said an attack on Iran will occur in the "foreseeable future" and would lead to a nuclear war and "a turning point in human history."
"There has emerged in the region, the current and most urgent issue of nuclear proliferation. For 15 years, the permanent members of the United Nations Security Council have declared that a nuclear Iran is unacceptable, but it has been approaching," Kissinger said.
-
THE WINDOWS OF OPPORTUNITY TO STRIKE IRAN
-
U.S. PLAN FOR "PINPOINT STRIKE" ATTACK ON IRAN, ISRAELI SECURITY OFFICIAL
By Global Research News and Russia Today
March 21, 2013
The US is taking plans for a possible military operation against Iran "very seriously," a senior Israeli security official, who is said to be in the know about aspects of the American plan, has told Haaretz daily.
"Obama's administration, as opposed to that of his predecessor, George Bush, has prepared a pinpoint military option in the event that the United States decides to attack in the end," the unnamed official told the Israeli newspaper.
"The Americans, if they choose, will be able to mount a focused operation on the Iranian nukes without necessarily sparking a comprehensive regional war."
The source pointed out that Israeli security services are privy to ongoing US moves to tighten sanctions against Iran over its controversial nuclear program and to prepare for a possibility of a military operation.
"It's very important for them to convey determination," the official told the paper. "We saw this in the words of Vice President Joe Biden…we'll hear it again from the president in Israel."
Earlier in March, Biden stated that Obama's threats to use military force to prevent Iran from obtaining nuclear weapons was "not a bluff," adding though that Washington would prefer a diplomatic solution to the standoff with Iran.
"The president of the United States cannot, and does not, bluff," Biden stated during a conference of AIPAC, a lobbying group that advocates pro-Israel policies.
According to the Israeli official, the US Administration "mean what they say." In his view, "Their problem is historical precedent: After North Korea obtained nuclear capability, Israel is skeptical," Haaretz reports.
On Wednesday, Obama arrived in Jerusalem for his first trip to Israel as president to meet with Prime Minister Benjamin Netanyahu. Among other things, the leaders of the allied states are expected to discuss how to contain Tehran's nuclear ambitions.
Ahead of his Middle East tour, Obama reiterated the US commitment to preventing Iran from creating a bomb.
"We think it would take over a year or so for Iran to actually develop a nuclear weapon, but obviously we don't want to cut it too close," he told Israeli Channel 2.  The American leader added he would tell Netanyahu that if diplomatic efforts to sort the Iranian problem fail, "I continue to keep all options on the table." The United States has "significant capabilities" to prevent Iran from obtaining a nuclear weapon "that could threaten Israel or could trigger an arms race in the region," he emphasized.
-
PRESIDENT OBAMA SPEAKS AT AN ARRIVAL CEREMONY IN ISRAEL
Published on Mar 20, 2013
President Obama delivers remarks at a ceremony marking his arrival in Israel. March 20, 2013.
-
-
PRESIDENT OBAMA:  Shalom.  (Applause.)  President Peres, Prime Minister Netanyahu, and most of all, to the people of Israel, thank you for this incredibly warm welcome.  This is my third visit to Israel so let me just say tov lihiyot shuv ba'aretz.  (Applause.)
I'm so honored to be here as you prepare to celebrate the 65th anniversary of a free and independent State of Israel.  Yet I know that in stepping foot on this land, I walk with you on the historic homeland of the Jewish people.
More than 3,000 years ago, the Jewish people lived here, tended the land here, prayed to God here.  And after centuries of exile and persecution, unparalleled in the history of man, the founding of the Jewish State of Israel was a rebirth, a redemption unlike any in history.
Today, the sons of Abraham and the daughters of Sarah are fulfilling the dream of the ages — to be "masters of their own fate" in "their own sovereign state."  And just as we have for these past 65 years, the United States is proud to stand with you as your strongest ally and your greatest friend.
As I begin my second term as President, Israel is the first stop on my first foreign trip.  This is no accident.  Across this region the winds of change bring both promise and peril.  So I see this visit as an opportunity to reaffirm the unbreakable bonds between our nations, to restate America's unwavering commitment to Israel's security, and to speak directly to the people of Israel and to your neighbors.
I want to begin right now, by answering a question that is sometimes asked about our relationship — why?  Why does the United States stand so strongly, so firmly with the State of Israel?  And the answer is simple.  We stand together because we share a common story — patriots determined "to be a free people in our land," pioneers who forged a nation, heroes who sacrificed to preserve our freedom, and immigrants from every corner of the world who renew constantly our diverse societies.
We stand together because we are democracies.  For as noisy and messy as it may be, we know that democracy is the greatest form of government ever devised by man.
We stand together because it makes us more prosperous.  Our trade and investment create jobs for both our peoples.  Our partnerships in science and medicine and health bring us closer to new cures, harness new energy and have helped transform us into high-tech hubs of our global economy.
We stand together because we share a commitment to helping our fellow human beings around the world.  When the earth shakes and the floods come, our doctors and rescuers reach out to help. When people are suffering, from Africa to Asia, we partner to fight disease and overcome hunger.
And we stand together because peace must come to the Holy Land.  For even as we are clear-eyed about the difficulty, we will never lose sight of the vision of an Israel at peace with its neighbors.
So as I begin this visit, let me say as clearly as I can –the United States of America stands with the State of Israel because it is in our fundamental national security interest to stand with Israel.  It makes us both stronger.  It makes us both more prosperous.  And it makes the world a better place.  (Applause.)
That's why the United States was the very first nation to recognize the State of Israel 65 years ago.  That's why the Star of David and the Stars and Stripes fly together today.  And that is why I'm confident in declaring that our alliance is eternal, it is forever – lanetzach.
Thank you very much.  (Applause.)
-
PRESIDENT OBAMA HOLDS A PRESS CONFERENCE WITH PRIME MINISTER NETANYAHU OF ISRAEL
Published on Mar 20, 2013
President Obama and Prime Minister Benjamin Netanyahu of Israel hold a press conference in Jerusalem. March 20, 2013.
-

-
PRESIDENT OBAMA SPEAKS TO THE PEOPLE OF ISRAEL
Published on Mar 21, 2013
President Obama deliver remarks to the Israeli people at the Jerusalem International Convention Center. March 21, 2013.
-
-
OBAMA PLEDGES TO STOP NUCLEAR IRAN, BUT SAYS HE STILL 'PREFERS' DIPLOMATIC RESOLUTION
By Dave Boyer and Abraham Rabinovich | The Washington Times
JERUSALEM — In Israel for the first time in his 4-year-old presidency, President Obama tried to reassure the Israeli public Wednesday that he is determined to prevent Iran from developing nuclear weapons.
"We do not have a policy of containment when it comes to a nuclear Iran," Mr. Obama said at a joint news conference with Israeli Prime Minister Benjamin Netanyahu. But he added, "We prefer to resolve this diplomatically, and there is still time to do this."
The two leaders have clashed often about the urgency of stopping Iran's suspected weapons program with military force if necessary. Mr. Netanyahu has pressed Mr. Obama for stronger action, while the president has favored sanctions to compel Iran to allow international inspections.
After a two-hour meeting with Mr. Obama, Mr. Netanyahu said they agree on the need for further action.
"Diplomacy and sanctions so far have not stopped Iran's nuclear program," Mr. Netanyahu told Mr. Obama. "I want to thank you once again for always making clear that Israel must be able to defend itself, by itself, against any threat."
Mr. Netanyahu said he agreed with the U.S. that it would take Iran about a year to develop a nuclear weapon but said, "Whatever time is left, it's not a lot of time." He agreed that Israel and the U.S. share a "common assessment" of the timetable needed for Iran to build a bomb.
The Iranian threat was high on the agenda as Mr. Obama arrived in Israel for his first presidential visit, and the first foreign trip of his second term. The president also discussed with Mr. Netanyahu the civil war in Syria and prospects for reviving peace talks with the Palestinian Authority.
Mr. Obama said he's hopeful for a two-state solution with the Palestinians, although "we haven't seen the kind of progress that we would like to see."
Looking to hit the restart button on his administration's relationship with the United States' biggest Middle East ally, Mr. Obama immediately set about his effort to win over a largely disaffected Israeli public and reaffirm his relationships with Israeli leaders as the two countries seek solutions to major issues such as Iran, Syria and a Palestinian state.
At the arrival ceremony Wednesday at Ben Gurion Airport, the president began his speech by saying in Hebrew, "Good to be here again.
He ended by saying, "Our alliance is eternal" — a powerful statement from an American leader, especially when he used the Hebrew word "lanetsach" for "eternal."
Despite the large-scale financial assistance he has provided Israel and the support he has given Israeli leaders at the United Nations, Mr. Obama has been regarded by much of the Israeli public as unenthusiastic, and sometimes annoyed, by the Jewish state.
A poll published this week shows that 51 percent of the Jewish public in Israel sees him as neutral in his attitude toward Israel and the Arabs, while 10 percent see him as downright hostile. Most said they do not see him safeguarding Israel's interests.
In his remarks Wednesday, Mr. Obama showed that he had taken under advisement past criticism about his seeming coolness, including complaints that he seems to regard Israel as a post-Holocaust refuge rather than as a state with an ancient connection to its territory. He did not mention the Holocaust at the airport.
Instead, he referred to the Jewish people's 3,000-year-old history in the area and called today's Israelis "the sons of Abraham and the daughters of Sarah."
Although officials in both camps have lowered expectations, the weighty regional issues facing the countries make it unlikely that the three-day visit will pass without substantive talks.
Topping the agenda is Iran. Mr. Netanyahu, who last year said that the "red line" concerning Iran's nuclear program will be reached this spring or summer, heard a different assessment last week from Mr. Obama, who put it at a year or more.
Mr. Netanyahu is expected to press Mr. Obama for reassurances that the United States will act well before Iran has turned the last screw in a nuclear device.
Mr. Obama, in turn, will want reassurances from Mr. Netanyahu that Israel will not launch a pre-emptive strike on its own.
The two leaders and their aides also will discuss possible scenarios regarding Syria. It is believed that Mr. Obama may ask for Israeli gestures of good will toward the Palestinians, but it is doubtful that he will seek a resumption at present of serious peace negotiations, given the fractured state of the Palestinian camp.
In moving down the reception line at the airport, Mr. Obama paused before two liberal ministers — Finance Minister Yair Lapid and Justice Minister Tzipi Livni — and said he looks forward to working with them.
Israeli President Shimon Peres, in his airport address, said he looks forward to the creation of a prosperous and independent Palestinian state — a sentiment not shared by right-wing ministers shaking Mr. Obama's hand.
Initial reaction to Mr. Obama's visit from ordinary Israelis appeared positive, but most said they would reserve their opinion until his visit is over.
"I've been suspicious about him," said Mary Ann Wolinksy, a Jerusalem housewife. "I've felt that he thinks the other side — the Arabs — have not been given a fair shot. I believe that's not correct. The Arabs just will not accept us. But I'm glad that he came. If he sees this close up as a democratic and vibrant country, it may change some of his thinking."
Reuven Schindler, a sociology professor at Bar-Ilan University, said that he always has regarded Mr. Obama as a friend and that his visit will allow skeptical Israelis to look at him anew.
"He was very relaxed and seemed to be enjoying himself," Mr. Schindler said. "He comes across as being quite sincere. Israelis haven't seen that before, face to face."
The president's four-day trip will also take him to the West Bank, where he will meet with leaders of the Palestinian Authority, and to Jordan.
-
OBAMA TALKS "PEACE" IN ISRAEL WHILE PREPARING FOR WAR WITH SYRIA AND IRAN
By Bill Van Auken
22 March 2013
In a speech delivered in Jerusalem on Thursday, US President Barack Obama identified US interests unconditionally with Israel while reiterating war threats against both Syria and Iran.
The speech, delivered to several hundred Israeli university students, was ostensibly meant to signal Washington's continued support for the so-called "peace process"—the moribund, decades-old diplomatic charade that has served as a cover for Israeli oppression of the Palestinian people and a means of promoting US objectives elsewhere in the Arab world.
The US administration chose this audience rather than the Knesset for fear that Obama would be heckled by the extreme right-wing Zionist elements that dominate the government of Prime Minister Benjamin Netanyahu.
Before appearing in Jerusalem, Obama made a brief side-trip by helicopter to Ramallah in the occupied West Bank, where he appeared at a press conference with Palestinian Authority (PA) chief Mahmoud Abbas.
Several hundred demonstrators took to the streets of Ramallah to denounce the visit, but were kept far from Abbas' compound by a phalanx of PA police. Confronting the police, demonstrators began chants against Abbas, shouting "down with the military regime."
While mouthing empty platitudes about the accelerating spread of Zionist settlements in the occupied West Bank not being "constructive," Obama made no repeat of his 2009 demand for a freeze on settlement activity. Instead, he pressured the Palestinian Authority and Abbas to drop their own demand for such a freeze.
Obama argued that politics in Israel "are complex" and that the settlements were "not an issue that's going to be solved immediately." He chided the Palestinians for holding the view "that we can only have direct negotiations when everything is settled ahead of time, then there's no point for negotiations."
In reality, the so-called "two-state solution" has become a dead letter, as Zionist settlements have already gobbled up nearly half of the land occupied by Israel in the 1967 war, which was supposedly to be the territory of a Palestinian mini-state. There are now 560,000 Israelis in this territory, 60,000 more than when Obama took office.
The New York Times reported Thursday on a document summing up Palestinian Authority "talking points" for the meeting with Obama that suggested Abbas and the corrupt wealthy clique he represents are prepared to bow even lower to the US and Israel.
The documents propose an agreement in which Netanyahu could "pledge to you secretly that he will stop settlement activities during the period of negotiations."
Both the Israeli press and Palestinian analysts described Obama's address to the Israeli students as the most enthusiastic embrace of the ideology of Zionism by any president in US history. One Israeli newspaper urged Obama to emigrate to Israel and run for office.
Obama first stressed Israel's unconditional right to security—though no such security is on offer to the Palestinians of the West Bank or Gaza or neighboring countries like Lebanon, which have been subjected to repeated Israeli invasions and bombardments. Unlike these countries, Israel serves as a bulwark for US counter-revolutionary and neo-colonial operations in the region.
"The security relationship between the United States and Israel has never been stronger: more exercises between our militaries, and more exchanges among our political, military and intelligence officials than ever before; the largest program to date to help you retain your qualitative military edge," Obama boasted. He announced that discussions were underway to extend for another decade the US military aid program that pours billions of dollars into the Israel Defense Forces every year.
Obama repeated a threat of military action against Syria made the day before during a joint appearance with Netanyahu.
"We will not tolerate the use of chemical weapons against the Syrian people or the transfer of these weapons to terrorists," he said. "The world is watching, and we will hold you accountable."
The overwhelming evidence indicates that a chemical weapon used on Tuesday, killing at least 30 Syrians in a government-controlled area near Aleppo, was indeed the work of "terrorists" —those that the US and its allies are backing in the war for regime change. The US president was not referring to these Al Qaeda-linked forces, however, but rather to the mass Shia political movement, Hezbollah, which has been a dominant force in the Lebanese government. He demanded that all foreign governments join Washington in branding it as a "terrorist organization."
Obama repeated even more forcefully his threats against Iran and its nuclear program, claiming that while Washington would seek to bring about Tehran's submission by diplomatic means, "time is not unlimited."
"I have said to the world that all options are on the table for achieving our objectives," he added. "America will do what we must to prevent a nuclear-armed Iran."
Much of the rest of the speech appealed for the revival of the "peace process" and the "two-state solution." Obama insisted that as part of any settlement, the Palestinians would have to recognize Israel as a "Jewish state," a definition that would consolidate the apartheid-style disenfranchisement of non-Jews, including a large Palestinian population, inside Israel and abrogate any right of Palestinian refugees to return.
While the media praised this peace rhetoric as "bold" and "courageous," the right-wing Zionist politicians of Netanyahu's government brushed aside the US president's remarks.
Netanyahu thanked Obama for the speech and his "unqualified support of Israel." His new economy and trade Minister, Naftali Bennett, expressed reservations about Obama's reference to Israeli occupation of the West Bank, however, declaring: "A nation cannot be an occupier in its own land."
Danny Ayalon, the right-wing nationalist former deputy foreign minister said the speech was "no problem" as it contained no specific proposals for the so-called peace talks.
Meanwhile, the Jerusalem Post suggested that the talk of reviving the "peace process" was mere window dressing for the main aim of Obama's trip, ratcheting up the war threat against Iran.
"Speculation has been rife for years that the US is holding Israel back when it comes to Iran," the newspaper noted. "Indeed, prior to Obama's trip there was speculation that one of the main purposes of his journey was to hold a bright red stop light up to Netanyahu."
It continued: "Publicly, however, restraining Israel has not been Obama's message. Indeed, the opposite is true – and these are the words the Iranians are hearing as well."
At Wednesday's joint press conference, Obama recognized Israel's unilateral "right" to attack Iran. "Each country has to make its own decisions when it comes to the awesome decision to engage in any kind of military action, and Israel is differently situated than the United States," he said.
"Obama hopes it will not come to that on Iran, he hopes the Iranians will back down," the Jerusalem Post commented. "But if they don't, the credible military threat Netanyahu wants to see waved along with the economic, political and diplomatic pressure already being applied against Iran is no less than Israel itself. Iran, and the international community, have been warned."
Ten years after invading Iraq, US imperialism is laying the groundwork for a war against Iran, which has three times both the land mass and population of Iraq. The motives are the same: control of one of the world's most geo-strategically vital and energy-rich regions.
Any Israeli attack on Iran would draw in the US in short order. With his public endorsement of Israel's "right" to launch such an attack, Obama has set in motion forces that are driving toward a conflagration.
-
CLOCK RUNS AS OBAMA FACES PRESSURE FOR STRIKE ON IRAN
By Indira A.R. Lakshmanan and Terry Atlas -Bloomberg
Mar 5, 2013
U.S. Vice President Joe Biden said there remains "time and space" for diplomacy aimed at averting military action to prevent Iran from becoming a nuclear weapons power.
Still, the pressure on President Barack Obama's administration to move toward military action is growing as Iran advances its uranium enrichment capabilities, and U.S. lawmakers, Israel and Persian Gulf allies press for results.
Today, U.S. Secretary of State John Kerry said negotiating time is "finite."
"The clock is ticking and the president has made that clear," Kerry said in an interview in Doha with Andrea Mitchell of NBC News. "The president's policy is that Iran will not get a nuclear weapon."
Iran is using negotiations to "buy time" to pursue a nuclear weapons program, Israeli Prime Minister Benjamin Netanyahu said yesterday in a video address to the American Israel Public Affairs Committee's annual conference in Washington. Although Iran's uranium enrichment activities have yet to cross Israel's "red line," the Islamic Republic is "getting closer" to the point where it would be capable of quickly producing a nuclear weapon, he said.
U.S. Senator John McCain, an Arizona Republican, told the group, a major pro-Israel lobby, that diplomatic efforts with Iran "have failed, and it is very clear that they are on the path of having a nuclear weapon."
Saudi Doubts
Separately, Saudi Foreign Minister Saud al-Faisal, following a meeting in Riyadh with Kerry, said yesterday that negotiations with Iran should have a time limit because the Iranians "have not proved to anybody that they are sincere" in their talks.
Biden, who addressed about 13,000 people at the Aipac conference shortly before Netanyahu spoke, said that Obama "is not bluffing" when he says he will prevent Iran from getting a nuclear weapon. "We are looking to and ready to negotiate peacefully, but all options, including military force, are on the table," Biden said.
For now, it's important to show that the U.S. and its partners have made a real attempt to settle the issue peacefully, he said.
"If, God forbid, the need to act occurs, it is critically important for the whole world to know we did everything in our power, we did everything that reasonably could have been expected, to avoid any confrontation," Biden said. "And that matters because, God forbid, if we have to act, it's important that the rest of the world is with us."
Contingency Planning
The Pentagon is pursuing "serious contingency planning" – – along with the administration's strategy of "tough-minded" and "crippling" sanctions — "with the objective of preventing Iran from acquiring a nuclear weapon," Defense Secretary Chuck Hagel said in written answers to the Senate Armed Services Committee obtained yesterday by Bloomberg News.
Iran was the No. 6 producer in the Organization of Petroleum Exporting Countries in February, and any rise in tensions would hit oil markets. After declining in the past month, West Texas Intermediate crude for April delivery advanced 33 cents, or 0.4 percent, to $90.45 a barrel at 9:01 a.m. on the New York Mercantile Exchange.
The U.S. and its negotiating partners — France, the U.K., Russia, China and Germany — presented a new offer to Iran last week at talks in Kazakhstan. If Iran agrees to cease its output of 20 percent enriched uranium, the group would ease restrictions on Iran's exports of petrochemical products and some additional items, Russia's chief negotiator and Deputy Foreign Minister Sergei Ryabkov said in an interview.
Next Round
Negotiations are slated to continue on a technical level in Istanbul and then resume in Almaty on April 5, when world powers will be looking for a clear response from Iran. "The ball remains in the Iranian court," European Union foreign affairs spokesman Michael Mann told reporters in Brussels yesterday.
In the meantime, Iran announced that it's moving ahead with plans to install 3,000 new-generation centrifuges at its Natanz uranium-enrichment facility. Iran says its atomic program is for civilian energy and medical uses, and the UN's International Atomic Energy Agency says it hasn't detected any diversion of enriched uranium for possible military use.
The head of the IAEA, Yukiya Amano, publicly urged Iran yesterday to allow inspectors to visit the Parchin military site in response to intelligence that Iran had secretly operated a blast chamber there for testing nuclear-weapons components. Iran has cleaned up the site about 20 kilometers (12 miles) southeast of Tehran while preventing IAEA inspectors from visiting, saying it's not covered by inspection requirements.
'Red Line'
"Diplomacy has not worked," Netanyahu said, speaking via satellite from Israel. Iran is "running out the clock. It has used negotiations, including the most recent ones, in order to buy time to press ahead with its nuclear program."
Netanyahu said Iran hasn't yet crossed the "red line" that he laid out in a speech at the United Nations last September, meaning the Islamic Republic hasn't stockpiled enough medium-enriched uranium to fuel a nuclear weapon if further enriched.
"We have to stop its nuclear enrichment program before it's too late," the Israeli leader added.
Netanyahu's remarks indicated that his timeline for possible military action is shorter than Obama's. The prime minister "made clear that the gaps between his position on Iran and President Obama's remain considerable," Shimon Stein, a research fellow at Tel Aviv University's Institute for National Security Studies, said in a telephone interview.
Senate Resolution
Last week, 15 U.S. senators co-sponsored a non-binding resolution by Republican Senator Lindsey Graham of South Carolina that cites concern about Iran's nuclear activities and expresses support if "Israel is compelled to take military action in self-defense." Today, some of the Aipac conference attendees will lobby their representatives on Capitol Hill.
In public remarks yesterday in Riyadh with Kerry, the Saudi foreign minister criticized Iran for continuing negotiations "to ask for more negotiation in the future."
"They reach common understanding only on issues that require further negotiation," said Prince Saud, whose Arab, Sunni Islamic country is the U.S.'s most important Gulf ally and a nation historically hostile to Persian Shiite Iran.
Kerry repeated the U.S. priority on negotiations to stop Iran from acquiring a nuclear weapon, while cautioning that "talks will not go on for the sake of talks."
-
OBAMA SAYS IRAN A YEAR AWAY FROM NUCLEAR WEAPON
March 14, 2013
JERUSALEM (AP) — Iran is about a year away from developing a nuclear weapon and the United States remains committed to doing everything in its power to prevent that from happening, President Barack Obama said in an exclusive interview aired Thursday on Israeli TV.
Just days before he is to arrive in Israel for his first presidential visit, Obama told Israel's Channel 2 TV that while he still prefers diplomacy over force, but that a nuclear Iran is a "red line" and all options remain on the table to stop it.
"Right now, we think it would take over a year or so for Iran to actually develop a nuclear weapon, but obviously we don't want to cut it too close," he said.  "So when I'm consulting with Bibi (Israeli Prime Minister Benjamin Netanyahu) as I have over the last several years on this issue, my message to him will be the same as before: `If we can resolve it diplomatically that is a more lasting solution. But if not I continue to keep all options on the table."'
The timeline for action against Iran has been one of the most fraught disputes in an already tense relationship between Obama and Netanyahu. Israel has repeatedly threatened to act militarily should Iran appear to be on the verge of obtaining a bomb, while the U.S. has pushed for more time to allow diplomacy and economic sanctions to run their course.
Obama's forecast gives more time than that of Netanyahu, who has signaled that the coming months present a point of no return in dealing with Iran.
The American president nonetheless took a stern tone toward Iran in the half-hour long interview.
"What I have also said is that there is a window, not an infinite period of time, but a window of time where we can resolve this diplomatically and it is in all of our interests" to do this, he said. "They (Iran) are not yet at the point, I think, where they have made a fundamental decision to get right with the international community … I do think they are recognizing that there is a severe cost to continue on the path they are on and that there is another door open."
Israel considers a nuclear-armed Iran to be an existential threat, citing Iranian denials of the Holocaust, its calls for Israel's destruction, its development of missiles capable of striking the Jewish state and its support for hostile Arab militant groups. Tehran says its nuclear program is peaceful and designed to produce energy and medical isotopes, a claim that Israel and many Western countries reject.
Obama said that a nuclear Iran would also be "dangerous for the world. It would be dangerous for U.S. national security interests."
In the interview, Obama also spoke about his relationship with Netanyahu — claiming it is not as tense as reported — and encouraged Israelis and Palestinians to resume peace talks.  He also said he had no immediate plans to release convicted spy Jonathan Pollard, whom Israel has been pressuring to set free after 28 years in prison for spying for them.
Obama arrives in Israel Wednesday for a three-day visit that is seem primarily as a means to convey the closeness of the U.S.-Israel alliance.
-
OBAMA'S ISRAEL VISIT IS ON TO SWEETEN THE PILL OF A NUCLEAR IRAN
DEBKAfile Special Report
March 9, 2013
President Barack Obama will visit Israel later this month, the 20th, even if Israeli Prime Minister Binyamin Netanyahu fails to put together a governing coalition beforehand. "We're going," White House spokesman Josh Earnest said at a briefing for reporters Friday, March 9. In answer to a question, he said, "The formation of the Israeli government is the responsibility of Prime Minister Netanyahu and other senior officials of the Israeli government…"
Secretary of state John Kerry thought otherwise when he skipped a visit to Israel as not worthwhile until a government is in place. (Netanyahu's deadline for forming a government has been extended to March16.)
debkafile reports from its Washington sources that President Obama's calculations for making the trip are a lot more complicated than Kerry's. According to some Israeli circles, none of them are good news for their country.
He arrives less than a month after the last Six-Power (US, Russia, UK, France, China and Germany) nuclear discussions with Iran ended in Kazakhstan. After those talks, US and Western media trumpeted "an unusual sense of optimism" or more cautiously allowed "a faint and perhaps fleeting light at the end of one of the world's most durable tunnels."
Western sources predicted on the strength of these assessments that the follow-up to Kazakhstan in April, shortly after Obama's talks in Jerusalem, would be devoted to "cementing that progress," which translated into rewarding putative nuclear concessions by Iran with the easing of economic sanctions.
However, according to debkafile's military and intelligence sources, this diplomatic fluff, while representing elation in Washington, London, Moscow, Paris and Berlin, caused serious disenchantment in Jerusalem, which viewed it as a smokescreen for concessions to, and not by, Iran.
They have found that the "fleeting light" appearing at the end of the Iranian nuclear tunnel obscures three dangerous US concessions to Tehran:
1. President Obama has given in to the Fordo uranium enrichment plant continuing to operate instead of shutting down, as demanded by Israel – even though its function is to turn out 20 percent pure (near-weapons grade) uranium;
2.  He has even consented to the Iranians continuing to manufacture uranium to that level;
3. Washington has dropped its insistence on Iran sending out of the country its stocks of 3.5-5 percent enriched uranium.
With these gains, the Iranian negotiators must have been laughing all the way home from their talks with the six big powers on 26-27 of February and crowing over what one Israeli official called "Tehran's huge success and Israel's total defeat."
Conscious of how these concessions to the Islamic Republic are received in Jerusalem, it is no wonder that President Obama brushed off the invitation to address the Israeli Knesset, where lawmakers would likely put him on the spot. He has chosen instead to deliver a speech at Jerusalem's Convention Center, so as to deliver his message straight to the Israeli public.
By going over the heads of Israel's government and parliament to face a less informed audience, he believes he can get away with sweet-talking his surrender to a nuclear Iran.
Former military intelligence chief, Amos Yadlin stepped in with a timely comment last week when he said that an Israeli strike against Iran's nuclear facilities would be no more than a one-night operation.
So when Air Force One lands in Israel March 20 and Israeli dignitaries push forward to greet the US president, a small group of anonymous Air Force pilots will be watching from a distance, waiting for the order to fly out and carry out their mission in a single night.
After Jerusalem, President Obama continues to the Palestinian Authority and then Jordan.
-
ELITES CONTINUE TO PUSH FOR WAR WITH IRAN
James P. Tucker Jr.
American Free Press
March 14, 2013
President Obama, who takes dictation from Bilderberg, has done an about-face. After having been critical of Israel's expansionist wars in the past, he is visiting Israel for the first time March 20 to grovel apologies.
"This trip is a signal that the president has an interest in . . . the broader concerns that Israel is facing," said Dennis Ross, a Bilderberg luminary and senior Middle East adviser in Obama's first term. "It will be the president traveling to Israel to ask for a new beginning." (He will also be "asking" for a Middle East war.)
In June 2009, Obama said "the United States does not accept the legitimacy of continued Israeli settlements" in Palestinian lands after the 1967 invasion of Egypt and Golan heights. Obama had also been critical of Israel's brutal occupation of Palestinian land, including killing and torturing men, old women and children. Now, Obama is embracing Israeli Prime Minister Benjamin Netanyahu and increasing aid to Israel. These heads of state will discuss military attacks on Iran to prevent the development of "nuclear weapons."
Iran is a signatory to the Nuclear Nonproliferation Treaty and promises not to develop nuclear weapons. Its facilities are inspected regularly. Israel has had nuclear weapons for decades but refuses to sign onto international agreements that regulate nuclear weapons. Additionally, Israel refuses to allow nuclear inspectors a peek.
On March 1, Iranian Foreign Minister Ali Akbar Salehi, an MIT-trained engineer, said the nuclear negotiations were "on the right track and moving in the right direction.
"Our case is neither like North Korea's nor Libya's," Salehi said. "It will be resolved. We have nothing to hide and we have always been clean."
The warmongers persist, however.
"Iran has a long track record for feints, misdirection and failure to deliver," said Clifford Kupchan, a former State Department official and Middle East analyst for Eurasia Group, a consulting firm with Bilderberg ties.
During a March 4 reception in Washington, D.C., Bilderberg attendee Richard Perle was overheard by an AMERICAN FREE PRESS source pressing for war with the Persian country. Perle callously claimed that a war with Iran would only take "two or three days" and the U.S. military "would have low casualties."
Perle is best known as one of the leading architects behind President George W. Bush's war on Iraq, arguing that the U.S. military needed only 40K soldiers to take over the country. Ten years later, Perle has been proven wrong on Iraq. He is also wrong on Iran. A war against the Iranian people would be a disaster for America.
-
JOHN KERRY CONCEDES IRAN IS MOVING CLOSER TO POSSESSING NUCLEAR WEAPON
At the end of his first overseas trip as Secretary of State, John Kerry acknowledged that despite the continued diplomacy and tough sanctions being leveled against Iran, the regime continues to get closer to possessing a nuclear weapon.
"Lines have been drawn before and they've been passed," Kerry said. "That's why the president has been so definitive this time. This is a very challenging moment with great risks and stakes for everybody because the region will be far less stable and far more threatened if Iran were to have a nuclear weapon."
Kerry sat down with ABC News' Martha Raddatz in Qatar as his first overseas trip as President Obama's secretary of state wound down.
Kerry said the threat extends beyond the possibility that Iran could actually use the weapon on its enemies, specifically Israel. Iran simply having a nuclear weapon would "spur a nuclear arms race" in the region and could be used to support terrorists groups like Hezbollah, he said.
The secretary warned that despite last week's negotiations in Almaty between the United States, it's allies and Iran, which he called "useful," time for Iran to cooperate is running out.
"If they keep pushing the limits and not coming with a serious set of proposals or prepared to actually resolve this, obviously the risks get higher and confrontation becomes more possible," he said.
On Syria, the other major focus of this trip, Kerry reiterated that the status quo in the conflict-ridden country is not acceptable. With more than 70,000 people killed over the last two years and recent reports of President Assad al-Bashir using Scud missiles to attack civilian areas, the secretary acknowledged that America must do more.
At a Friends of Syria Meeting in Rome last week Kerry announced the United States would give an additional $60 million in non-lethal aid to Syria's political opposition. The money will be used for communications equipment, training advocates and local governing councils, and to help the opposition deliver services and food to Syrians living in opposition-held areas.
But Kerry also announced that for the first time the United States will be providing non-lethal aid to Syria's military opposition too. For now the help will consist of food and medical supplies, but ABC News learned last week that the aid could eventually include body armor, military training and even tanks.
Kerry would not specifically comment on whether the United States is considering additional aid to the rebel fighters, or on the timing of that decision, but said that it is clear Assad needs to go – and quickly.
"There is a holistic, united effort now that is focused on trying to save lives in Syria, and make it clear to President Assad that we are determined and that he needs to think hard about his calculation in raining Scuds down on his population," said Kerry.
Syria's opposition also has its own problems with extremists elements increasingly playing a role, including carrying out a suicide bombing attack, which killed more than 50 people in Damascus earlier this month. Kerry said that the international community has to be careful about making sure a post-Assad Syria is not substituting one oppressive situation for another.
"I want to emphasize for all of the Alawites who are fearing for their future, for the Christians, or the Druze, or any group there, Sunni, Shiite – they all need to know that the vision of the Syrian opposition, the promise of the Syrian opposition is to have a Syria in which all votes are represented and protected," he said.
-
KERRY STEPS UP U.S. WAR THREATS AGAINST SYRIA AND IRAN
By Chris Marsden
6 March 2013
US Secretary of State John Kerry's first tour of the Middle East has been the occasion for naked warmongering against Syria and Iran.
At a press conference in Riyadh Monday, Kerry spoke alongside Saudi Arabia's foreign minister, Prince Saud al-Faisal.
Kerry declared his support of the arming of the Syrian opposition by Saudi Arabia, Qatar, Kuwait, Jordan and Turkey, stating that the US will continue to work with its "friends to empower the Syrian opposition."
Responding to a question over the danger of weapons finding their way into the hands of Al Qaeda-style groups, Kerry declared that there were no guarantees, but added, "There is a very clear ability now in the Syrian opposition to make certain that what goes to the moderate, legitimate opposition is, in fact, getting to them, and the indication is that they are increasing their pressure as a result of that."
Several Arab and Turkish media sources reported more unambiguous comments by Kerry saying baldly, "[W]e should actively provide the moderate Syrian opponents with the [sic] arms."
Last week, prior to and during the Friends of Syria conference in Rome, Kerry signalled a major increase in non-lethal aid to the opposition—which has now been redefined to cover all manner of military equipment including armoured personnel carriers. But this is only a public pose of not providing military assistance. Kerry announced $60 million in aid to the Syrian National Council in addition to $50 million previously pledged and $385 million in "humanitarian aid."
Saudi Arabia in all events understood that Kerry was providing US support for the arming of the opposition. Prince Saud declared, "As for providing enough aid and security for the Syrians, Saudi Arabia will do everything within its capabilities to help in this."
The reality is that nothing is being done regarding arming the opposition without US agreement and collusion.
Writing in Britain's Daily Telegraph, Shashank Joshi of the Royal United Services Institute noted that "Syria-watchers, like bloggers Eliot Higgins and James Miller" had noticed that the "surge of outside arms into Syria" came "from the former Yugoslavia" rather than "from the north, via Turkey, and many have clearly come from the arsenals of pro-rebel Arab countries. … [I]t looks like large volumes of surplus Croatian arms are being purchased with Saudi Arabian money and picked up by Jordanian aircraft, and then ferried across the Syria-Jordan border to Syrian rebels who have, in all likelihood, been vetted (and some of them trained) by the United States. Although the US role may seem small, it is probably pivotal to the whole thing."
US officials have previously acknowledged that it is training opposition forces in Jordan under a covert program run by the CIA.
Kerry was equally bellicose towards Iran, stating that he and Prince Saud had discussed "our shared determination to prevent Iran from acquiring a nuclear weapon."
Talks on Tehran's alleged nuclear arms program "will not go on for the sake of talks, and talks cannot become an instrument for delay that in the end make the situation more dangerous," he warned. "So there is a finite amount of time."
"[President Barack] Obama has made it clear that Iran will not get nuclear weapons," he threatened.
"The negotiations cannot go on forever," echoed Prince Saud. "We can't be like the philosophers who keep talking about how many angels a pinhead can hold."
Kerry's statements in Saudi Arabia were also noteworthy for his specifically targeting Russia for criticism. Speaking of the Syrian regime, he said, "Believe me, the bad actors, regrettably, have no shortage of their ability to get weapons from Iran, from Hezbollah, from Russia, unfortunately, and that's happening."
That same day, Kerry's threats against Iran were reinforced by comments of Vice President Joe Biden, speaking to the annual conference of the American Israel Public Affairs Committee in Washington.
Biden said of the US using military force to prevent Iran securing a nuclear weapon, "The president of the United States cannot, and does not, bluff. President Barack Obama is not bluffing."
Addressing the conference via satellite link, Israeli Prime Minister Binyamin Netanyahu said to loud applause, "Words alone will not stop Iran. Sanctions alone will not stop Iran. Sanctions must be coupled with a clear and credible military threat if diplomacy and sanctions fail." Israel has also read the signals emanating from Washington regarding Syria, indicating that it will be on board should an escalated military offensive begin.
At the United Nations Monday, Israel warned the Security Council that it could not be expected to "stand idle" as Syria's civil war spills over its border.
Israel's ambassador to the UN, Ron Prosor, wrote to the 15-member council to complain about shells from Syria landing in Israel. "Israel cannot be expected to stand idle as the lives of its citizens are being put at risk by the Syrian government's reckless actions," he stated.
Echoing Prosor, Defense Minister Ehud Barak warned that Israel's attack on what he described as a Syrian arms complex in Jamraya, in the Qasioun mountains on January 30, showed that Tel Aviv is serious about preventing the flow of heavy arms into Lebanon. This was a public acknowledgement that Israel had carried out the strike that killed two workers and injured five others at what Syria states is a military research centre.
Russia's UN Ambassador Vitaly Churkin, president of the Security Council for March, said "a very new and dangerous phenomenon" of armed groups operating in the area of separation in the Golan Heights "potentially can undermine security between Syria and Israel."
Britain too has taken its cue from Washington. In November, the UK recognised the Syrian National Congress as the legitimate representative of the Syrian people. In January it provided £9.4 million in communications equipment, technical aid and "humanitarian support". More is to be announced today. But Foreign Secretary William Hague has made a series of provocative statements that go far beyond its official promise of a package of "nonlethal military assistance", such as bulletproof vests, armoured vehicles and night-vision equipment.
On Sunday Hague described President Bashar al-Assad as "delusional" for attacking the British government's "tradition of bullying and hegemony" in a Sunday Times interview.
"The British government wants to send military aid to moderate groups in Syria, knowing all too well that such moderate groups do not exist in Syria", said Assad. "[W]e all know that we are now fighting al-Qaida or Jabhat al-Nusra, which is an offshoot of al-Qaida, and other groups of people indoctrinated with extreme ideologies. This is beyond hypocritical."
Speaking on the BBC's Andrew Marr Show, while dismissing Assad's charges, Hague then said Britain could not rule out providing arms to the Syrian opposition as the situation was "too dangerous to the peace and security of that entire region, and thereby to the world" to be ignored.
In a parliamentary debate on the issue, Foreign Office Minister Hugo Swire told MPs that all options for "non-lethal" help were on the table for Syria.
Yesterday, in Doha, Qatar, Kerry told CNN that arms would not be sent to Syria, "At the moment. … But the president has made it clear, as has every other country at the table, that we will not allow President Assad to slaughter his people and to continue to rain Scuds on innocent women and children and to literally destroy his country in the effort simply to hold onto power."
The message is clear: Not if, but when.
-
U.S. VICE PRESIDENT REINFORCES MILITARY THREAT AGAINST IRAN
By Peter Symonds
7 March 2013
US Vice President Joe Biden has again menaced Iran with the threat of unprovoked American military attack, declaring that "the window is closing" for a negotiated solution to the current confrontation over the country's nuclear programs.
Biden was speaking on Monday to the pro-Israeli lobby group American Israeli Public Affairs Committee (AIPAC), in the lead up to President Obama's visit to Israel later this month. He went out of his way to emphasise the Obama administration's unalloyed support for the Zionist state across all issues, including US assistance to ensure Israel's military superiority, American diplomatic support for Israel in the UN and their "shared interests" in ensuring pro-Western regimes in Syria and Egypt.
However, on the issue of Iran, Biden was particularly emphatic. To the cheers of 13,000 AIPAC supporters, he declared that Obama was committed "to prevent Iran from acquiring a nuclear weapon. Period. (Applause) End of discussion. Prevent—not contain—prevent. (More applause)."
The vice president then added: "The president has flatly stated that… big nations can't bluff. And presidents of the United States cannot and do not bluff. And President Obama is not bluffing. He is not bluffing. (Applause)"
This naked and unabashed display of support for another war of aggression in the Middle East has more than a whiff of fascism about it. The US and its regional ally Israel are recklessly threatening an attack on Iran that could trigger a far broader regional conflict along sectarian lines: Shiite Iran versus Israel, the US and its Sunni allies such as Saudi Arabia.
The pretext for a war against Iran is no more plausible than the justifications for the criminal invasion of Iraq or the current operation to oust Iran's ally in Syria, the regime of President Bashir al-Assad. Against the unsubstantiated claims of the US and Israel, Iran has repeatedly denied any plans to build a nuclear weapon, has signed the Nuclear Non-proliferation Treaty and its nuclear installations are subject to international inspection
Public differences between the US and Israel over the efficacy of international sanctions and talks, as well as the timing of any military assault, are purely tactical. Biden restated the Obama administration's preference for "a diplomatic solution", saying that "there is still time and space to achieve the outcome."
However, what Washington means by "a diplomatic solution" is the capitulation of the Iranian regime to its demands. Renewed international talks took place in Kazakhstan where the US and its allies made a new "offer" to Iran that would impose tight restrictions on uranium enrichment in return for minor alterations to the economically crippling sanctions imposed on Iran. Further talks are scheduled this month and next. But even if a deal were struck on this basis, it only lead to an endless series of US demands for Iran to effectively shut down key aspects of its nuclear program.
Biden spelt out the real purpose of the talks to his AIPAC audience, saying: "If, God forbid, the need to act occurs, it is critically important for the whole world to know we did everything in our power… to avoid any confrontation." In other words, as the US prepares for another war, it is "critically important" that it postures as a peace-maker to blunt the anti-war opposition it will inevitably arouse.
At every stage, Biden explained, the Obama administration is maintaining the closest collaboration with Israel. "We are in constant dialogue, sharing information with the Israeli military, the Israeli intelligence services, the Israeli political establishment at every level," he said.
Israeli Prime Minister Benjamin Netanyahu, who also addressed the AIPAC gathering via satellite link, was far blunter about the need for "a clear and credible military threat if diplomacy and sanctions fail." He was dismissive of any prospect of a peaceful outcome, declaring: "From the bottom of my heart and from the clarity of my brain, words alone will not stop Iran. Sanctions alone will not stop Iran."
Netanyahu inflated the "threat" posed by Iran, declaring: "Iran enriches more and more uranium, it installs faster and faster centrifuges… We have to stop its nuclear enrichment program before it's too late."
These remarks are utterly hypocritical given that Israel remains the only country in the Middle East known to have a substantial arsenal of nuclear weapons. In addition, it has a long record of military aggression against neighbouring Arab states. Israel, in league with the US, is determined to prevent any rival having even the potential to build a nuclear device, as part of the broader joint strategy of maintaining American-Israeli dominance over the strategic region.
Netanyahu pointedly noted that Iran had "still not crossed the red line I drew at the United Nations last September." In that speech, the Israeli prime minister made the utterly bogus claim that by the middle of this year Iran would have completed "90 percent" of the work necessary to build a nuclear weapon. On Monday, he declared that Iran was "getting closer to that red line"—that is, to the trigger for a US or Israeli military attack.
During Obama's visit to Israel this month, the issue of war against Iran and its timing will undoubtedly be at the top of the agenda. Obama did not visit Israel during his first term of office, but focussed instead on patching up relations with the "Muslim world"—in particular with the Arab bourgeois regimes of the Middle East—in the wake of the Iraq war. He has now completely dropped this window-dressing, including his limited criticisms of Israeli settlements in Palestinian territory.
It is of course impossible to predict the exact outcome of Obama's trip, but the preparations for war are being put in place. In testimony before the US Senate yesterday, General James Mattis, head of the US Central Command, noted that Obama had "taken no option off the table, and my role is to provide him military options."
Defending the current international talks, Mattis said: "I don't believe that we should stop negotiations because they do not prevent us from doing other things at the same time. For example, while negotiating, I've requested and received additional forces in the Gulf by the decision of the secretary of defence to ensure that we are ready to reassure our friends that we mean business and temper the Iranians' designs."
-
VICE PRESIDENT JOE BIDEN TO AIPAC: OBAMA NOT BLUFFING OVER IRAN MILITARY THREAT
Vice-president tells Aipac that military option remains on the table for Obama to prevent Iran obtaining a nuclear weapon
By Ewen MacAskill | guardian.co.uk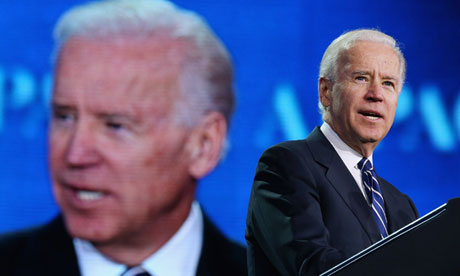 Joe Biden also said the US remained committed to a two-state solution to the Israeli-Palestinian conflict. Photograph: Chip Somodevilla/Getty Images
-
Barack Obama's threats to use military force to prevent Iran securing a nuclear weapon are more than idle bluffs, vice-president Joe Biden told the biggest pro-Israeli lobbying group Aipac on Monday.
Biden said that while the US preferred a diplomatic solution to the standoff with Iran, a military option remained on the table.
"The president of the United States cannot, and does not, bluff. President Barack Obama is not bluffing," Biden told the audience in Washington.
Israel is seeking assurances of support from the US, should it decide to launch air strikes against Iran's nuclear facilities.
There has been scepticism about Obama's commitment to a military option against Iran, given the administration's general unwillingness to be drawn into new conflicts after the experience of the Iraq and Afghanistan wars. Some observers feel that Obama's threat is aimed purely at putting pressure on Iran to resolve the standoff diplomatically and not embark on another conflict.
Pro-Israel supporters of the military option, speaking at Aipac's annual conference, attempted to counter Obama's reticence by insisting the military option would only require an overnight air strike, rather than a prolonged conflict.
In contrast with the run-up to the Iraq war, the US is determined to show that it is pursuing all alternatives to conflict. Biden said that if the US had to take military action, it was critical that the world knew it had tried everything in its power to prevent such an eventuality.
Obama, in an interview last year, insisted he was not bluffing. But his public pronouncements contrasted with behind-the-scenes US pressure on Israel to hold back from an air strike, particularly in the White House election year. The White House views Iran as the top foreign policy priority of Obama's second term.
The US and other governments held inconclusive talks with Iran recently, and further talks are planned. The new US secretary of state John Kerry, at a press conference in Saudi Arabia on Monday, said there was a "finite" time for conclusion of the talks.
Iran denies it is pursuing a nuclear weapon, and insists it only wants nuclear power to meet domestic energy needs.
Addressing the conference via satellite link from Israel, prime minister Binyamin Netanyahu said Iran had not yet crossed the red line on the nuclear issue but it was getting closer. He expressed scepticism about the value of sanctions and called for a more credible military threat.
Biden was speaking before a trip planned by Obama to Jerusalem later this month, provided an Israeli government is in place by then. Iran, not Palestine, is the key issue for Israel at present, though Biden stressed that the White House remained committed to a two-state solution to the Israeli-Palestinian conflict.
Obama is viewed with suspicion by many Israelis who see him as too sympathetic to the Palestinians, but Biden's credentials as a staunch supporter of Israel have seldom been challenged. Biden insisted that he and Obama were deeply committed to the security of Israel.
"It is in our naked self-interest, beyond the moral impertive," Biden said.
The vice-president said the US works hard to ensure Israel retains a qualitative edge in military hardware, even at a time of recession.
Aipac members are planning a mass lobby of Congress on Wednesday and, among other issues, will be seeking to establish whether US aid to Israel will suffer from the $85bn in budget cuts ordered by Obama on Friday.
-
AIPAC SIGNALS IRAN ENDGAME
Kurt Nimmo
Infowars.com
March 5, 2013
Last month's hope of a constructive outcome during nuclear talks between Iran and the West in Kazakhstan were dashed this week as the AIPAC meeting commenced in Washington.
-
-
On Monday, Joe Biden made it clear that Obama is behind an attack on Iran. He told attendees Obama's policy "is to prevent Iran from acquiring a nuclear weapon. Period. Period. End of discussion."
"We have to stop Iran's nuclear enrichment program before it's too late," Israeli Prime Minister Benjamin Netanyahu said via satellite. "Words alone will not stop Iran. Sanctions alone will not stop Iran. Sanctions must be coupled with a clear and credible military threat if sanctions fail."
Arizona Senator John McCain, who chanted "Bomb, bomb, bomb, bomb Iran" during a campaign stop in 2007, gave a harsh critique of Obama's foreign policy during AIPAC's Monday's Foreign Policy Roundtable. "[The Iranians] must understand that there is no space between the United States and Israel," McCain said. "They believe in Tehran right now that there is space between the United States and Israel … We need members of the National Security team who are pro-Israel, not anti-Israel."
Obama's top adviser on Iran in the National Security Council, the globalist Dennis Ross, who is a member of both the CFR and the Trilateral Commission, said the P5+1 negotiation strategy that showed promise has failed. "It's time to go to an endgame," Ross said Sunday. The "Iranians have been playing the rope-a-dope strategy," he added. "If you're denying an excuse [for refusing an agreement], and the Iranians don't respond, then maybe the position of the P5+1 has to be […] alright, we are beginning to lose patience."
The Bush era neocon ideologue and senior fellow for Middle East studies at the Council on Foreign Relations, Elliott Abrams, was less sanguine. "I worry about what I see in the papers," said George W. Bush's former deputy national security adviser. "It appears to me we are negotiating with ourselves. We see no concessions with Iran." Abrams said "the goal of sanctions is to prevent them from getting closer to a nuclear weapons capability, and we are failing to do that."
Congress has also inched closer to a military confrontation with Iran. South Carolina Republican senator Lindsey Graham has sponsored a resolution calling for rejecting "containment" of Iran in favor of the often cited "military option" under the guise of protecting Israel. Overwhelming majorities in both chambers support the resolution. "The Congress is ready to do what is necessary to support military intervention if sanctions don't work," Graham said.
"I think it is the challenge of our time. We are really going to be defined by Iran's quest for a nuclear weapon," Graham told his colleagues. "If we hit Iran, we open Pandora's box. If they get a nuclear weapon, we empty Pandora's box," he explained. "We win, they lose." He also said that Iran's nuclear program would not be the only target. If the United States attacks, "you are not just going to hit one mountain. You'd try to take down the country's defense system."
The chorus call for an attack on Iran will likely reach a crescendo in April when Obama treks to Israel and meets with Netanyahu. "They want to have a better understanding," Dennis Ross said, "of when does prevention as objective fail, and force become inevitable."
-
ESCALATING PRESSURE ON IRAN
Secretary of State John Kerry's clear where he stands. He laid down markers. He demands Iran comply with Washington's demands. Left unsaid is what follows otherwise.
On February 26, nuclear talks will resume. P5+1 countries (Washington, Britain, Germany, China and Russia) will meet Iranian negotiators. They'll do so in Almaty, Kazakhstan.
Targeting Iran's peaceful nuclear program is red herring cover for regime change. Good faith negotiations aren't possible. Washington obstructs them. So does Israel behind the scenes.
Kerry disingenuously says:
"The international community is ready to respond if Iran comes prepared to talk real substance and to address the concerns, which could not be more clear, about their nuclear program."
"It's disturbing," he added. "And so my plea to the Iranians – or my statement – is a clear statement. We are prepared to let diplomacy be the victor in this confrontation over their nuclear program."
"The president has made it clear. He is prepared to talk about a peaceful nuclear program."
"Iran has a choice. They have to prove to the world that it is peaceful and we are prepared to sit reasonably and negotiate how they can do that. Or they can chose to be more isolated."
"The president has made it clear that his preference is to have a diplomatic solution. But if he cannot get there, he is prepared to do whatever is necessary to make certain that Iran does not have a nuclear weapon."
Kerry, Obama, other US officials, and Israeli ones want Iran to prove a negative. They demand unconditional surrender. Conflict resolution won't follow because both countries obstruct it. War preparations continue.
Anything in 2013 is possible. Obama talks peace. At the same time, he plans war. That's how rogue leaders operate. Obama replicates the worst of them.
Iran sought normalized relations for decades. Washington and Israel categorically spurn them. Iran can't have them without good faith partners.
Washington and Israel oppose peace, justice, and equitable conflict resolution. Heavy-handed pressure bullies other countries to go along. At issue is unchallenged regional dominance.
War is an option of choice. Harsh sanctions increase pressure. Imposing them violates international law. Washington and Israel spurn it with impunity.
They commit crimes of war, against humanity, and genocide. Rule of law principles don't matter. Nor do body counts and unspeakable human misery inflicted.
Ahead of late February talks, Washington imposed new sanctions. Doing so reveals its duplicitous agenda. America's all take and no give. Ultimatums substitute for good faith relations.
Iranian broadcasting and director were blacklisted. Its iFilm was removed from the Galaxy 19 satellite platform. So was Press TV. It provides 24-hour English language programming.
Real news and information are featured. Washington wants them suppressed. It's not the first time Press TV was targeted. European satellite provider Eutelsat blocked it.
So did Spanish satellite company Hispasat. They cited EU pressure for doing so. Washington's long arm applied pressure. So did Israel's.
New sanctions also target Iran's Communications Regulatory Authority and Electronic Industries. Foreign Ministry spokesman Ramin Mehmanparast said they're "designed to put pressure on the nation and to create a gap between the (Iranian) nation and government."
"In the remaining time (ahead of elections), they want to create tension, crisis, and instability in the country by imposing great pressure."
Internal opposition forces are supported. It's done ahead of June 2013 elections.
Washington did so in 2009. It tried manipulating green revolutionary fervor. Post-election, tensions and instability were stoked. Unrest was fomented.
UN Secretary-General Ban Ki-moon showed which side he backs. He falsely accused Iran of "arrests, threats and use of force."
The mainstream media claimed electoral fraud. Obama said the world was "appalled and outraged" by Iran's attempt to crush dissent. He claimed America didn't interfere in Iran's affairs. He lied. Expect more of the same this June.
Iran asserts its state sovereignty rights. It has every right to do so. It's not about to roll over for Washington, Israel, or its Lobby. It urges good faith negotiations. It won't engage any other way.
Iman Khamenei rejects direct US talks. Why bother without a good faith partner.
"I am not a diplomat," he said. "I am a revolutionary and speak frankly, honestly, and firmly. An offer of talks makes sense only when the side (making the offer) shows its goodwill."
"Negotiation is meaningful when the two sides talk with goodwill, under equal conditions and without seeking to deceive each other. Therefore, 'negotiation for the sake of negotiation', 'tactical negotiation' and negotiation offer in order to sell a superpower's gesture to the world is a deceptive move."
"You (the Americans) point the gun at Iran and say either negotiations or we pull the trigger! You should know that pressure and negotiations do not go together, and the (Iranian) nation will not be intimidated by such things."
"We, of course, understand their (the Americans') need for negotiations, because the Middle East policy of the Americans has failed, and in order to compensate for this failure, they need to play a trump card."
"Negotiation with the United States does not solve any problem because they have not fulfilled any of their promises in the past 60 years."
On February 8, Murdoch's Wall Street Journal responded. It headlined "The Ayatollah Always Says No."
"Joe Biden won't forget it the next time the US tries to reach out diplomatically to Iran."
It hasn't done so in good faith since 1979. Expect nothing different now.
The Journal claims otherwise. America offers good faith bilateral talks, it says. It never has and doesn't now. Khamenei knows Washington's velvet glove is cast iron inside.
It's hardline and belligerent. It's all take and no give. Journal editors point fingers the wrong way. "The Ayatollah quashed" previous deals, they said. Past US efforts ended in failure.
"Why does the Ayatollah keep saying no?" Journal editors say "get ready for this shocker….Iran really wants a bomb." Saying so belies annual US intelligence assessments.
Journal editors leave inconvenient facts unmentioned. Vilifying propaganda substitutes for truth and full disclosure. The mainstream media prioritize it.
They do so to misinform, manipulate public sentiment, and manufacture consent for war. They convince people to support what they should abhor. They persuade them to hate alleged enemies. Most often they should admire and respect them.
Propaganda glorifies war in the name of peace. Managed news misinformation repeats ad nauseam. Big lies repeated often enough get people to believe them.
Invasions and occupations are called liberating struggles. Plunder is called economic development. Exploitation and imperial control are called democracy.
Might justifies right. Nations are destroyed to free them. Code language conceals real motives. Policy involves ravaging the world one country at a time or in multiples. Nations are destroyed for their own good. Monied interests alone benefit.
Political speech masks policies. News is carefully filtered. Fiction substitutes for fact. Free and open societies aren't tolerated.
Dissent is marginalized and suppressed. Imperial wars are called liberating ones. Human rights are violated for our own good. Patriotism means going along with what harms us.
Terrorism is what they do, not us. Reasons why imperial wars are waged are suppressed. Wealth and power alone matter. Sacrificing human lives and freedoms are small prices to pay. Humanity is at risk but who cares.
The mainstream media aid and abet state crimes. Where it ends, who knows. Money power won't sustain a ravaged planet. Militarism and perpetual wars assure it.
-
U.S. GIVES IRAN UNTIL MARCH 2013 TO COOPERATE WITH IAEA
By Fredrik Dahl
VIENNA (Reuters) – The United States set a March deadline on Thursday for Iran to start cooperating in substance with a U.N. nuclear agency investigation, warning Tehran the issue may otherwise be referred to the U.N. Security Council.
The comments by U.S. diplomat Robert Wood to the board of the International Atomic Energy Agency signaled Washington's growing frustration at a lack of progress in the IAEA's inquiry into possible military dimensions to Tehran's nuclear program.
Iran – which was first reported to the U.N. Security Council over its nuclear program by the IAEA's 35-nation board in 2006 and then was hit by U.N. sanctions – rejects suspicions it is on a covert quest for atomic bomb capability.
But its refusal to curb nuclear work with both civilian and military applications, and its lack of openness with the IAEA, have drawn tough Western punitive measures and a threat of pre-emptive military strikes by Israel.
A year ago, the IAEA published a report with a trove of intelligence indicating past, and some possibly continuing, research in Iran that could be relevant for nuclear weapons.
The IAEA has since tried to gain access to Iranian sites, officials and documents it says it needs for the inquiry, but so far without any concrete results in a series of meetings with Iran since January. The two sides will meet again in December.
In his statement, Wood requested IAEA Director-General Yukiya Amano to say in his next quarterly report on Iran, likely due in late February, whether Tehran has taken "any substantive steps" to address the agency's concerns.
"If by March Iran has not begun substantive cooperation with the IAEA, the United States will work with other board members to pursue appropriate board action, and would urge the board to consider reporting this lack of progress to the U.N. Security Council," Wood said, according to a copy of his statement.
"Iran cannot be allowed to indefinitely ignore its obligations … Iran must act now, in substance," Wood said.
Amano earlier told the board that there had been no progress in his agency's year-long push to clarify concerns about suspected atom bomb research in Iran, but said he would continue his efforts.
EU SEES IRANIAN "PROCRASTINATION"
A simple majority in the IAEA board would be required to refer an issue to the U.N. Security Council, which has imposed four sanctions resolutions on Iran since 2006.
It is unclear whether Russia and China – which have criticized unilateral Western sanctions on Iran – would back any U.S. initiative to report Iran again to the Security Council.
Wood later told reporters he hoped the December talks between the IAEA and Iran would be fruitful. But, he added, "I have my doubts about the sincerity of Iran."
The 27-nation European Union told the board that Iran's "procrastination" was unacceptable. "Iran must act now, in a substantive way, to address the serious and continuing international concerns on its nuclear program," it said.
Iran's ambassador to the IAEA, Ali Asghar Soltanieh, criticised what he called "political noise" and "pressure" from the United States and the EU.
Diplomacy between Iran and the powers – the United States, China, Russia, France, Germany, and Britain – has been deadlocked since a June meeting that ended without success.
Both sides now say they want to resume talks soon, after the re-election of U.S. President Barack Obama, and diplomats expect a new meeting in Istanbul in December or January.
Iran is ready for a "face-saving" negotiated solution to the nuclear dispute, but the West must accept the reality that Tehran would never suspend uranium enrichment, Soltanieh said.
Refined uranium can be used to fuel nuclear energy plants, Iran's stated aim, and also provide bomb material if processed further, which the West suspects is Iran's ultimate aim.
The West wants Iran to suspend enrichment, but Iran is showing no sign of backing down.
Iran "has provocatively snubbed the international community by expanding its enrichment capacity in defiance of multiple United Nations Security Council resolutions," Wood said.
-
IRAN ATTACK POSTPONED UNTIL SPRING 2013
Paul Joseph Watson
Infowars.com
Thursday, March 29, 2012
Israel's plan to attack Iran has been postponed until spring 2013 following a war simulation that showed Iran could kill 200 Americans with a single missile strike, according to a report by senior Haaretz correspondent Amir Oren.
"At 8:58 P.M. on Tuesday, Israel's 2012 war against Iran came to a quiet end. The capricious plans for a huge aerial attack were returned to the deep recesses of safes and hearts. The war may not have been canceled but it has certainly been postponed. For a while, at least, we can sound the all clear: It won't happen this year. Until further notice, Israel Air Force Flight 007 will not be taking off," writes Oren.
According to the report, a war simulation conducted by the U.S. Central Command found that an Israeli attack on Iran's nuclear facilities would immediately be followed by an Iranian missile launch that would kill 200 Americans, a price deemed not worth paying by U.S. generals.
During the same meeting, Israeli Defense Minister Ehud Barak also acknowledged that Israel would not act alone in striking Iran before the U.S. presidential elections in November, according to Oren, meaning that, "For all intents and purposes, it was an announcement that this war was being postponed until at least the spring of 2013."
A delay in launching the attack until next spring would scupper expectations that the military assault was set to take place before the end of this year, a time frame that Russia understood the Israelis were working to. Last month, Chief of the General Staff of the Russian Armed Forces Nikolai Makarov stated that an Israeli decision on whether or not to attack would be made before the summer.
In January, the U.S. cancelled a joint military exercise with Israel which was perceived by many as a sign that the Americans were getting cold feet.
Earlier this month it was also reported that Israel had "agreed to hold off a strike on Iran's nuclear sites this year in exchange for receiving U.S. military equipment," including bunker-busting bombs and refueling planes. The deal was seen as a tacit admission that the Obama administration would support Israel in launching the attack but only after the election in November.
If a decision has been made to postpone the attack, expect the United States to withdraw at least some of its naval might from the Persian Gulf. The U.S. currently has the USS Carl Vinson and the USS Abraham aircraft carriers patrolling the Strait of Hormuz, along with the USS Makin Island, a Wasp-class amphibious assault ship. Earlier this month it was announced that four additional mine countermeasure ships were also heading for the region.
-
MICHAEL PENTO: "Israel will finally address the Iran issue in 2013.  I think they attack Iran in April or May.  That sends oil prices of WTI (West Texas Intermediate Crude Oil) to $170 a barrel.  If that's the case, then you can kiss whatever nascent recovery that we have in this country [United States] and around the globe goodbye."
-
THE DAY THE WORLD ENDED: ISRAEL STRIKES IRAN: WORLD WAR III SIMULATION
-
FutureMoneyTrends.com, a top trends research newsletter, has released a World War 3 simulation video, "The Day The World Ended." The purpose of this simulation is to show people just how fast things could get ugly if we go to war with Iran. During the simulation, oil prices spike to $130 per barrel, but by the end of the day are trading for $405. Gold and silver become unavailable as the world floods into safety as oil prices force a systemic economic collapse. Riots, civil unrest, and drastic government action are taken during the start of this war.
FutureMoneyTrends.com helps many investors strategically look at how future trends and scenarios will help or hurt their portfolio. This simulation is not an exact prediction, however FutureMoneyTrends.com does believe events could unfold quickly if Iran responds striking at the heart of the world's petroleum market.
Much in the press is about Iran and Israel, but military planners and pundits should take note that Iran is also enemies with Saudi Arabia and they know that the U.S. cannot survive without oil. Though 90% of U.S. oil imports come from areas not in the middle east, prices are set on a global market, so crisis in the middle east will be a direct crisis for the U.S. economy. During the FutureMoneyTrends.com war simulation, Iran strikes Saudi oil fields in response to Israel striking Iranian nuclear sites. Once this happens, to put it nicely, all hell breaks loose.
Those who watch "The Day The World Ended – WW3 Simulation" by FutureMoneyTrends.com, be prepared for an intense 8 minute simulation. Once finished, you can visit FutureMoneyTrends.com/theend to watch more, as well as download their free report on how to survive and thrive during a currency crisis.
In order to watch Part 2, Visit: http://FutureMoneyTrends.com/TheEnd
-
MARTIN INDYK: THE UNITED STATES WILL GO TO WAR WITH IRAN BY 2013
Martin Indyk believes US likely to go to war with Iran in 2013; says Israel's insistence that US publicly declare 'red line' for Iran an 'unreasonable requirement'
Former US Ambassador to 

Israel

 Martin Indyk predicts that the United States will go to war with 

Iran

 as early as 2013. "I'm afraid that 2013 is going to be a year in which we're going to have a military confrontation with Iran," he said in an interview on CBS' "Face the Nation." 
During the interview, Indyk pointed out that the time has not come, yet, for the US to take military action. "Iran doesn't have a nuclear weapon. While there's still time, there's not a lot of time," he said.
Indyk's remarks came during a discussion with foreign policy experts on the latest protests in the Middle East and Israel's public statements pressuring the United States over Iran.
As for the public dispute between Prime Minister Benjamin Netanyahu and President Barack Obama over Iran, Indyk said he does not think that "the difference between Netanyahu and Obama on this is that great, in terms of the President's commitment not to allow Iran to acquire nuclear weapons."
On Israel's insistence that Washington publicly declare a "red line'" that Iran will not be permitted to cross, Indyk said "that is an unreasonable requirement.The idea of putting out a public red line – in effect issuing an ultimatum – is something that no president would do," he said.
"If you noticed, Governor Mitt Romney is not putting out a red line; Senator McCain didn't, either. And neither is Netanyahu for that matter, in terms of Israel's own actions," he added.
Richard Haas, president of the Council on Foreign Relations, echoed Indyk's assessment that negotiations with Iran have not dissuaded the Iranians to halt their nuclear program. He said Netanyahu has sought to increase pressure publicly because "he doesn't want these things to be drawn out indefinitely."
.
MIDDLE EAST WAR COULD ERUPT RIGHT AFTER U.S. PRESIDENTIAL ELECTION
by Vladimir Sazhin | Global Research
While Israel's right-wing politicians consolidate, the military makes no effort to conceal its active preparations for combat. Military exercise follows military exercise. Some experts even concede that the al-Hartum factory strike, widely attributed in the press to Israel, could have been a rehearsal of sorts.
Iranians are not sleeping through the crisis either; in early October they initiated the launch into Israel's airspace of the Iranian drone aircraft Hesballoy. On October 29 a large-scale military exercise began in the region along the Iraqi border.
Some political experts claim there will be a risk that a new "big wave" in the Middle East could reach its peak after the American presidential elections, and that the region might plummet into the abyss. They say that Israel is ready to attack Iran's nuclear facilities.
At the same time the Islamic Republic, whose economy is on the verge of collapse due to sanctions, is also prepared to stand up to Israel.
So far, uncertainty in the US presidential race has served as a containment factor. But what will happen after the elections?
Irina Fedorova, a specialist in Iranian-US relations, delivers a "partly cloudy" forecast for the near future; "Before the Inauguration on January 20 it is hardly possible to anticipate any sudden political moves from the US president, who will be elected on November 6. The main task of the new, or old, president with the US political elite will be the formation of a new government. That is why foreign policy issues will not take precedence in that period.
"The issue that will influence the US president's opinion on the possibility of a military strike against Iran will be the crisis in Syria, including the problem of Bashar al-Assad. Until those problems are resolved, the US president's attention will be focused on Syria."
The Israeli factor cannot be ignored either: the current situation in Israel provides much food for thought. The Knesset is dissolved and elections are set for January 22, the day after the new president of the USA is inaugurated. There are two politicians who are ready for a war against Iran; Benjamin Netanyahu from Likud and Avigdor Lieberman of Israel is Our Home [Yisrael Beiteinu], and there is a very real possibility that one of them will win.
The likelihood of finding a solution to the Iranian problem between the US and Israeli elections cannot be ruled out completely, but during that period, anti-war pressure on the Cabinet will dwindle to almost zero. That is because, although Knesset deputies continue with their duties, they are essentially already "lame ducks" in the absence of a sitting parliament. The current Knesset cannot be expected to address the issue of a no-confidence vote before the elections and, in the event of a successful strike against Iran, as anticipated by its proponents, it would be seen as a vote winner in the election run-up.
While Israel's right-wing politicians consolidate, the military makes no effort to conceal its active preparations for combat. Military exercise follows military exercise. Some experts even concede that the al-Hartum factory strike, widely attributed in the press to Israel, could have been a rehearsal of sorts.
Iranians are not sleeping through the crisis either; in early October they initiated the launch into Israel's airspace of the Iranian drone aircraft Hesballoy. On October 29 a large-scale military exercise began in the region along the Iraqi border.
It is not however the growing military activity in Iran that worries Israel, but the Iranian nuclear programme. Recently, there was an announcement that Iran had finished the installation of a centrifuge at the Fordo underground military facility. Western experts believe that Iranian nuclear specialists can now produce uranium enriched not only to 60%, but the 90% purity required for weapons grade material. If true that can only serve to encourage Israel to strike first.
Irina Fedorova observed: "There can be unpredictable decisions in politics and it is possible that the situation could arise when the Israeli military, without Washington's approval, would start an operation against Iran. In that case the USA would, without doubt, support Israel."
And many experts believe that that is just what is likely to happen, right after the US presidential elections.
.
FOUR SIGNS THAT ISRAEL'S SHOWDOWN WITH IRAN IS ALMOST HERE
By The Week's Editorial Staff | The Week
Israel warns that the clock is ticking, and that Iran is dangerously close to acquiring nuclear weapons. Is a long-feared military clash looking more and more likely?
Over the last several days, Israeli Prime Minister Benjamin Netanyahu has loudly and repeatedly urged that President Obama draw a "red line" that Iran's nuclear program can't cross, warning that without such a line, the Islamic Republic will likely be within reach of building its first atomic bomb in six or seven months. Obama administration officials say Netanyahu's timetable is wrong, and that Tehran will need at least a year to gather the nuclear fuel it would need, and even longer to fit a warhead onto a missile. Is a violent showdown between Iran and Israel nearly here? Many analysts see Netanyahu's increasingly vocal demands as proof that conflict is looming. Here, four other signs that the clock might really be running out:
1. Iran is getting more and more belligerent
Tehran hasn't exactly been mending its ways in the face of aggressive warnings and tightening sanctions, says Tyler Durden at Zero Hedge. In fact, Iran's Revolutionary Guard recently stoked tensions even further by admitting that "its troops are now on the ground in Syria," helping the embattled regime in its effort to wipe out the pro-democracy opposition. Of all the disturbing developments surrounding Iran's refusal to curb its nuclear program, that could be the one "to light this whole mess on fire."
2. And accusing nuclear inspectors of sabotage
Iran's nuclear program chief, Fereydoon Abbasi-Davani, says "only mutual trust" will allow his country to soothe the West's fears about his country's nuclear program, say Najmeh Bozorgmehr and James Blitz in Britain's Financial Times, which Iran insists is for peaceful purposes. But it's becoming pretty clear that neither side believes a word the other says. This week, Abbasi-Davani even accused International Atomic Energy Agency inspectors of having been infiltrated by "terrorists and saboteurs" who in August used explosives to knock out power to one of Iran's uranium enrichment facilities. The IAEA, of course, denies the charge, and says Iran is simply unwilling to cooperate to provide "credible assurance" that it's not trying to build a bomb.
3. The West is gathering an armada off Iran
If you need proof that Western leaders think Israel is getting ready to strike Iran, take a look at the Persian Gulf, says Sean Rayment at Britain's Telegraph. The U.S. and Britain are massing an armada of warships because they believe that Tehran would respond to an attack on its nuclear facilities by mining or blockading the Strait of Hormuz, a shipping lane that handles 35 percent of the world's oil distributed by sea. This "unprecedented show of force" is a clear sign that the long-feared showdown might be near.
4. Diplomacy is going nowhere
"There is still time" to work out a negotiated solution and avoid war, Martin Indyk, America's former ambassador to Israel tells CBS News. "I'm pessimistic about that," though, as Iran hasn't budged. If nothing changes, "then I am afraid that 2013 is going to be a year in which we're going to have a military confrontation with Iran."
.
HENRY KISSINGER PREDICTS NUCLEAR WAR WITH IRAN
Kurt Nimmo
Infowars.com
Globalist kingpin Henry Kissinger is now talking up a nuclear conflagration.
Speaking at the World Economic Forum held in Davos, Switzerland, Kissinger said a crisis involving a nuclear Iran in the "foreseeable future" will lead to a nuclear war and "a turning point in human history," the BBC reports.
"There has emerged in the region, the current and most urgent issue of nuclear proliferation. For 15 years, the permanent members of the United Nations Security Council have declared that a nuclear Iran is unacceptable, but it has been approaching," Kissinger said.
He then said governments will "come to a determination of how to react, or the consequences of non-reaction… [in] a few years."
Under the terms of the 1968 Nuclear Non-Proliferation Treaty, Iran has the right to produce nuclear power for peaceful purposes. The United Nations International Atomic Energy Agency has found no evidence Iran is developing a nuclear weapons program and Defense Secretary Leon Panetta told Face the Nation earlier this month that Iran is not currently building a nuclear weapon.
In 2012 American spy agencies agreed with a 2007 intelligence finding that concluded Iran had abandoned its nuclear weapons program. "The officials said that assessment was largely reaffirmed in a 2010 National Intelligence Estimate, and that it remains the consensus view of America's 16 intelligence agencies," the New York Times reported.
In 2011 it was reported by the United States Institute of Peace and others that Iran was having problems with its nuclear program. In addition to fending off U.S. and Israeli cyber attacks, persistent sabotage of its nuclear facilities and the assassination of its scientists, Iran is finding it difficult to obtain essential parts on the international market and until recently had issues with its centrifuges.
In January the International Atomic Energy Agency officially confirmed that Iran had started enriching uranium to the 20-percent level. "The IAEA can confirm that Iran has started the production of uranium enriched up to 20 percent using IR-1 centrifuges in the Fordo Fuel Enrichment Plant," the agency said in a statement," RIA Novosti reported.
20 percent uranium enrichment is a long way off from more than 90 percent, the amount required to make an atomic weapon.
In November, Kissinger said the U.S. has a "limited time" to negotiate with Iran before military action will be taken against its nuclear program, although he did not address Iran's inability to produce weapons grade uranium.
-
-
DAVOS 2013: KISSINGER SAYS IRAN NUCLEAR CRISIS IS CLOSE
BBC News
Former US Secretary of State Henry Kissinger has warned that a crisis involving a nuclear Iran is in the "foreseeable future".
The Nobel Peace laureate, 89, was speaking about prospects in the Middle East at the World Economic Forum.
He said nuclear proliferation in the region triggered by an armed Iran would increase the chances of an atomic war – "a turning point in human history".
He also urged the US and Russia to co-operate in resolving Syria's conflict.
"There has emerged in the region, the current and most urgent issue of nuclear proliferation. For 15 years, the permanent members of the United Nations Security Council (UNSC) have declared that a nuclear Iran is unacceptable, but it has been approaching," he said.
"In a few years, people will have to come to a determination of how to react, or the consequences of non-reaction.
"I believe this point will be reached in a very foreseeable future," he added.
'Nuclear war'
In his assessment of the stand-off between Iran and Western powers over its nuclear programme – which Tehran argues is for peaceful and civilian purposes – Mr Kissinger called for "serious" negotiations on both sides to look for solutions.
"Unilateral intervention by Israel would be a desperate last resort, but the Iranians have to understand that if they keep using the negotiations to gain time to complete a nuclear programme then the situation will become extremely dangerous."
The consequences of Tehran's programme, he said, would be that other countries in the region would also want nuclear arms.
"The danger is that we could be reaching a point where nuclear weapons would become almost conventional, and there will be the possibility of a nuclear conflict at some point… that would be a turning point in human history," he said.
"If Iran acts as a nation and not as a revolutionary cause, there is no reason for America or other permanent members of the UNSC to be in conflict with it, nor any countries in the region. On that basis I would hope that a negotiated solution would be found in a measurable time."
Meanwhile, Mr Kissinger advocated a US-Russia understanding over the conflict in Syria, while opposing military intervention.
"The Syrian problem would best be dealt internationally by Russia and America not making it a contest of national interests," he said.
"I would hope that the undertaking of the US foreign policy will not be be characterised by the divisions that we see in [its] domestic policy."
-
TOP GENERAL: AT LEASE ONE ARAB STATE TO GO NUCLEAR IF IRAN DOES
CENTCOM head: 'At least one other nation…at a leadership level, they have assured me they would not stay without a nuclear weapon if Iran armed'
BY: Washington Free Beacon Staff
March 5, 2013
Commander of U.S. Central Command Gen. James Mattis said Tuesday that "at least one other nation" has told him "at the leadership level" they will seek nuclear weapons if Iran goes nuclear:
SEN. LINDSEY GRAHAM (R., S.C.): If the Iranians develop a nuclear capability, how certain are you that other nations in the region would acquire an equal capability?

MATTIS: At least one other nation has told me they would do that, at a leadership level, they have assured me they would not stay without a nuclear weapon if Iran armed.

GRAHAM: Was that a Sunni-Arab state?

MATTIS: Yes, sir.

GRAHAM: So the likelihood of Sunni-Arab states acquiring nuclear capability to counter the Shia Persians is great, would you not agree with that?

MATTIS: I agree, and also other non-Sunni-Arab states in the general region.
The statements by Mattis contradict the findings of a recent report drafted by former Obama Pentagon official Colin Kahl and produced for the Center for New American Security. That report argues that Saudi Arabia–as well as other states–would be unlikely to develop nuclear weapons if Iran acquired nuclear weapons.
-
JOHN REES: UNITED STATES INTERVENTION IN IRAN WILL DRAG CHINA AND RUSSIAN INTO WAR
Uploaded on Jan 6, 2012
Iran is accusing the EU of waging an economic war. It's in response to Europe considering banning Iranian oil imports in the coming weeks. There's already a verbal standoff over sanctions imposed by the U.S. at the end of last year, aimed at pressing Iran into abandoning its nuclear programme. Tehran threatened to block a key maritime trade route in the Persian Gulf, and later backed off, but is still warning U.S. ships against sailing in the area. Iran will reportedly hold another naval drill next month. But anti-war activist John Rees sees Western worries over Iran's supposed nuclear ambitions, as an excuse to curtail Iranian influence in the region.
-
IRAN GIVES OK FOR COUNTERATTACK IF INVADED
Infowars.com
March 17, 2013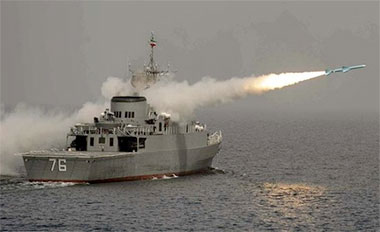 Iran launched a guided missile destroyer Sunday on the oil-rich Caspian Sea. Photo: Press TV.
-
As tension grows over Iran's nuclear program, the Islamic Republic has given its military the go-ahead to counter attack, according to Press TV."Our commanders have received authorization to immediately respond to any hostile action by the enemy without allowing enemy to think twice [about its act of aggression]," Brigadier General Masoud Jazayeri, the Deputy Chief of Staff of Iran's Armed Forces, said on Saturday.
Press TV reported that the decision was made in response to recent threats by Israel to attack Iran. On March 4, in a speech delivered to the annual American Israel Public Affairs Committee, Israeli prime minister Benjamin Netanyahu said if Iran crosses "the red line" Israel has established a military response to its nuclear program is inevitable.
"Words alone will not stop Iran. Sanctions alone will not stop Iran. Sanctions must be coupled with a clear and credible military threat if diplomacy and sanctions fail," Netanyahu said.
On Sunday, Iran launched a domestically built Jamaran-2 guided missile destroyer from the port city of Anzali, about 150 miles northwest of Tehran on the oil-rich Caspian Sea.
Iran, Russia, Azerbaijan, Kazakhstan and Turkmenistan are at odds on how the strategic area should be divided.
-
TEHRAN: OUR COMMANDERS NOW AUTHORIZED TO OPEN FIRE.  GO HOME OBAMA!
DEBKAfile Special Report
March 17, 2013
The words and deeds coming out of Washington in the last three days bring little comfort to the Israeli government as it prepares for Barack Obama's first visit as president Wednesday, March 20.
According to an authoritative leak, Washington has effectively cancelled the Europe-based missile shield system that was designed to protect that continent and Israel against Iranian ballistic missile attack. The cancellation was part of the plan announced by Defense Secretary Chuck Hagel last week to install 14 additional missile interceptors in California and Alaska to build up United States defenses against a threatened North Korean attack.
Not only has the Obama administration reduced its missile defense commitment to Europe and Israel, debkafile notes that Washington persists in overlooking the tight coordination in tactics and diplomacy on nuclear issues between Pyongyang and Tehran.
The European-based missile shield has been put forward by Moscow repeatedly as a major obstacle to Russian-US cooperation on nuclear arms reduction and "other issues" – meaning the really hot-button ones of a nuclear Iran and the Syrian civil war.  By meeting Moscow's complaint, Barack Obama was gambling heavily on coming out of the understandings he reached with Russian President Vladimir Putin with an acceptable settlement of the Iranian nuclear controversy and the future of the Assad regime in Syria.
So far, his winnings are slim.
Russian officials are not rushing forward to welcome the reshuffling of missile shields between Europe and America. Kremlin circles were quoted Sunday by The New York Times as commenting stiffly that there would be no reaction until they were fully briefed by American officials next week.
In any case, Tehran wants no part in the diplomatic softball game the Obama administration is playing with Moscow. Indeed, Iranian officials are behaving exactly like their North Korean partners – with threats.
Saturday, March 16, Deputy Chief of Staff of the Iranian Armed Forces Brig. Gen. Massoud Jazayeri broadcast two bellicose messages on the Revolutionary Guards website sephanews.com:
1 "Our commanders have been authorized to respond to any kind of hostile move by the enemy."
debkafile's military sources note that this message appeared two days after Iranian Air Force fighters tried to shoot down a US Predator drone flying over the Strait of Hormuz. It also comes at a time that Iranian officers are found on field combat duty in Syria and Lebanon as well.
2.  The Iranian general went on to declare: "Mr Obama, do not make a mistake: we too have all our options on the table. Before you get deeper in the region's quagmire, go back home!"
This was Tehran's answer to the US President's comment Thursday in an Israeli TV Channel 2 interview:
"I have been crystal clear about my position on Iran possessing a nuclear weapon – that is a red line for us. If we can resolve it diplomatically that's a more lasting solution, but if not I continue to keep all options on the table." Obama added that Tehran is "over a year or so" away from getting a nuclear bomb.
In Tehran's tightly controlled publicity environment,  General Jazayeri would not have dismissed the prospect of the US activating its military options with such contempt without authorization from the highest level, i.e. supreme leader Ayatollah Ali Khamenei.
He was effectively telling the US president that, after pulling American forces out of the Middle East and relegating the handling of the Syrian issue to Moscow, "Mr.Obama" had burned his military options in the Middle East and should go home.
Our Iranian sources add that that Jazayeri's remark was addressed equally to Israel. If Obama's main purpose in his visit is to hear what Israelis have to say – as he himself has stressed – then he is wasting his time. , In Tehran's view, the Israelis too have no place in the Middle East and should get out – as Iran's leaders often declare..
-
KHAMENEI: IRAN WILL DESTROY TEL AVIV IF ATTACKED
Iran's Supreme Leader says Islamic Republic would destroy Tel Aviv, Haifa if Israel launches a military attack against it.
By REUTERS, JPOST.COM STAFF
MARCH 21, 2013
DUBAI – Iran's most powerful authority said the Islamic Republic would destroy the Israeli cities of Tel Aviv and Haifa if Israel launched a military attack against it.
"At times the officials of the Zionist regime (Israel) threaten to launch a military invasion but they themselves know that if they make the slightest mistake the Islamic Republic will raze Tel Aviv and Haifa to the ground," Ayatollah Ali Khamenei said during an address, broadcast live on state television.
Israel has threatened military action against Iran unless it abandons nuclear activities which the West suspects are intended to develop nuclear weapons, allegations Tehran denies.
Khamenei also took to his official Twitter account to express his thoughts on Israel's threats to Iran:
-
KHANMENEI: IRAN WILL DESTROY ISRAELI CITIES IF ATTACKED
By Marcus George and Zahra Hosseinian
DUBAI (Reuters) – Iranian Supreme Leader Ayatollah Ali Khamenei warned on Thursday that the Islamic Republic would destroy the Israeli cities of Tel Aviv and Haifa if its nuclear infrastructure came under attack from the Jewish state.
Israel puts little stock in big power negotiations aimed at curbing Iran's uranium enrichment – which Western nations suspect is a conduit to nuclear weapons capability – and has repeatedly hinted at pre-emptive war against its arch-enemy.
During a visit to Israel on Thursday, U.S. President Barack Obama acknowledged its security concerns, saying, "America will do what we must to prevent a nuclear Iran." But he also said big powers believed there was still time for a diplomatic solution.
Russia said Iran and six global powers made headway in expert-level talks this week to ease the 10-year-long standoff over Tehran's nuclear ambitions, but the risk of backsliding towards confrontation remained.
Higher-level political talks between the powers and Iran are to resume in the Kazakh city of Almaty early next month, part of a concerted effort to avert another Middle East war that could balloon oil prices and wreak havoc on the global economy.
Khamenei, in a televised speech marking the Iranian new year, said: "At times the officials of the Zionist regime (Israel) threaten to launch a military invasion but they themselves know that if they make the slightest mistake the Islamic Republic will raze Tel Aviv and Haifa to the ground."
But the top Shi'ite Muslim cleric, Iran's most powerful figure, dismissed any threat from Israel, describing it as "not big enough to stand out among the Iranian nation's enemies".
The standoff now turns on Iran's enrichment of uranium to a fissile purity of 20 percent, which the West sees as a big step towards processing the material for use in nuclear bombs. Tehran says 20 percent enrichment will yield solely fuel for a medical research reactor, and that its nuclear quest is wholly peaceful.
"We have told you numerous times that we are not after nuclear weapons," Khamenei said, addressing Washington in front of thousands of adoring faithful who had come to the Imam Reza Shrine in Mashhad to hear him speak.
COOL TO DIRECT U.S.-IRANIAN CONTACT
He responded coolly to recent U.S. suggestions of direct talks between the two countries, which have had no diplomatic relations since Iran's 1979 Islamic Revolution and the ensuing hostage crisis involving American diplomats in Tehran.
"I am not optimistic about these talks. Why? Because our past experiences show that talks for the American officials do not mean for us to sit down and reach a logical solution … What they mean by talks is that we sit down and talk until Iran accepts their viewpoint," the top Shi'ite Muslim cleric said.
"I am not optimistic about their comments but I am not opposed either," he said adding that the solution to the issue was "close-by and easy" if only the United States genuinely wanted to reach an agreement.
Touching on a central Iranian demand, Khamenei called for Iran's "natural right" to enrich uranium for nuclear energy to be recognized by the world. Western powers have refused on the grounds that Iran has hidden nuclear work from U.N. inspectors in the past and not opened up to their investigations.
At technical-level talks in Istanbul on Monday, the six powers gave Iran more details of proposals made in Almaty where they offered Tehran modest sanctions relief if it curbed its most sensitive nuclear activity.
"This progress is real but it is not sufficient to speak of a definitive shift," Russian Deputy Foreign Minister Sergei Ryabkov, Moscow's chief negotiator, told reporters.
"We cannot say this progress is irreversible. This alarms us a little, but from round to round, we have a more and more businesslike discussion of all the issues."
LIMITED CONCESSIONS ON OFFER
Western officials have said the offer entailed an easing of a ban on trade in gold and other precious metals as well as an import embargo on Iranian petrochemical products.
In exchange, a senior U.S. official said, Iran would among other things have to suspend uranium enrichment to the fissile concentration of 20 percent at its Fordow underground facility and "constrain the ability to quickly resume operations there".
Iran has been wary, suggesting that the powers are asking for concessions more significant than they have offered Tehran.
Obama, in a speech to Israeli university students, said "strong and principled diplomacy" remained the best way to ensure that Iran eschewed nuclear weapons.
"We know that there remains time to pursue a diplomatic resolution …with the sense of urgency that is required. But Iran must know this time is not unlimited," he said.
"Iran must not get a nuclear weapon. This is not a danger that can be contained. I have said to the world that all options are on the table for achieving our objectives," Obama added, alluding to last-resort military action.
Israeli cabinet minister Silvan Shalom, asked whether Israeli and U.S. timelines for action on Iran were converging, told Israel Radio: "He (Obama) also knows that there is a target date for the matter of attacking Iran to deny it nuclear weapons. He knows it, and we know it."
KHAMENEI: IRAN WON'T BUCKLE TO PRESSURE
Khamenei said Iran's struggles over the past year against international sanctions imposed over its contested nuclear program resembled a battle and that its enemies had confessed to trying to "cripple the Iranian nation".
"What happened last year, we need to learn a lesson," he said, alluding to what he described as Iran's significant scientific and military advances. "This vibrant nation will never be brought to its knees."
But he acknowledged that Iran had work to do to ensure it could meet the challenge of economic warfare waged against it. He said Iran needed to shake off dependence on oil exports and the government needed to adopt astute economic policies.
The last 12 months have inflicted a heavy financial burden on Iran's population as sanctions, combined with what critics say is government mismanagement, have torn the economy.
With inflation and unemployment soaring and the value of the Iranian currency halved since a year ago, the vast majority of Iranians have tightened their belts to celebrate Iran's new year – or Nowruz, the nation's most important holiday.
Traditional foods and purchasing new clothes – central Nowruz traditions – have become a great deal more expensive.
The government has set up subsidized local markets to try to restrain food prices and warned Of heavy fines for those caught profiteering, but that has not prevented an inflationary spiral.
A kilo of pistachios has more than doubled in recent months, forcing many Iranians to stop buying a traditional Nowruz food.
"How are ordinary people suppose to afford that? What would be next? Probably next year, we can't even afford simple fruits," said 48-year-old Shahrokh, who works in a taxi agency.
-
IRAN LAUNCHES DESTROYER IN CASPIAN SEA
By Craig Giammona, NBC News
With President Mahmoud Ahmadinejad looking on, Iran launched a domestically built destroyer in the Caspian Sea Sunday, the Iranian media reported.
The event marked first time Iran has launched a major warship in the oil-rich region, according to The Associated Press.
The 1,420-ton warship, which is longer than a football field and can sail at 30 knots with a 20,000-horsepower engine, was put in the water near the northern port city of Bandar Anzali, about 150 miles northwest of Tehran, the Iranian media said.
The ship, named Jamaran 2, is equipped with advanced artillery and torpedo systems, can carry surface to air missiles and has a helicopter landing pad.
It was described by state media as a "symbol of the Islamic Republic's capability and strength that conveys the message of peace and friendship to the Caspian Sea states," according to Press TV, an English-language media outlet based in Tehran.
Press TV said the ship will formally join the Iranian navy in six months, after the completion of final tests.
Iran previously launched a version of the Jamaran destroyer in the Persian Gulf in 2010, AP reported.
In the last two decades, Iran has been building a self-sufficient military, reportedly producing its own jet fighters, tanks, missiles and light submarines as well as torpedoes.
Both Israel and the United States have not ruled out military strikes against Iran's nuclear facilities. The West suspects Iran is pursuing nuclear weapons, a charge Iran denies.
Israeli Prime Minister Benjamin Netanyahu is expected to press President Obama about a potential strike on Iran during a meeting between the leaders scheduled for Wednesday in Israel.
-
IRAN: PRESIDENT AHMADINEJAD UNVEILS NEW FIGHTER JET
Ahmadinejad points to domestically made Qaher-313 as proof of Iran's growing self-reliance in the field of military technology.
by Reuters
February 3, 2013
Iran unveiled what it said was a new, domestically built fighter jet on Saturday, local media reported.
President Mahmoud Ahmadinejad said at a ceremony in Tehran that the Qaher 313 demonstrated Iran's growing self-reliance in the field of military technology.
Iran's functional air force has been limited to perhaps as few as a few dozen strike aircraft, either Russian or aging US models acquired before the 1979 Iranian revolution.
The Islamic Republic, under an international arms embargo, has long struggled to find spare parts and some military experts say the fleet is outdated.
"This advanced fighter jet with unique physical characteristics has a very low radar cross section and therefore is capable of operating at low altitudes," Defense Minister Ahmad Vahidi said of the Qaher 313, according to Mehr news agency.
Tensions in the region have simmered over Tehran's nuclear program. Israel has threatened to bomb its nuclear sites if diplomacy and sanctions fail to stop Iranian nuclear activity the West suspects is aimed at developing a weapons capability.
Iran denies the weapons charge, saying it seeks only electricity and medical isotopes.
"Now the speed of Iran's development in science and technology does not depend on circumstances, it depends on our will," Ahmadinejad said on Saturday in remarks carried on state television. "We should set higher targets. We see that it is possible, we have the capabilities."
"This project carries the message of brotherhood, peace, and security and it doesn't pose any threat to anyone. There is no intention to interfere in any other country's affairs," he said.
Iran often holds military drills and announces weapons advances that it says are for purely deterrent purposes, though some analysts are skeptical of such reported advances because they cannot be independently verified.
Western sanctions levied on Iran's energy and banking sectors have damaged its economy and limited oil sales, a major source of revenue for the government. But Tehran has shown no sign of backing down from what it says is its right to enrich uranium for civilian uses.
Iran is commemorating the 34th anniversary of the 1979 Islamic revolution that toppled the US-backed Shah in 10 days of events that began on Thursday.
-
REPORT: IRAN TEST-FIRES SHORT-RANGE MISSILES
March 14, 2013
TEHRAN, Iran (AP) – Iranian media say the military has test-fired several short-range missiles, including the type Palestinian militant Hamas group used to attack Tel Aviv last November.
Thursday's report by the semi-official Fars news agency says the missiles were tested during an army exercise in central Iran. It says the missiles fired were Nazeat-10 and Fajr-5.
During weeks of fighting in November, Gaza's Hamas rulers fired Iranian-made Fajr-5 rockets that came close to Israel's heartland, including the cities of Tel Aviv and Jerusalem for the first time.
Later, Iran admitted supplying Hamas with the technology
to produce Fajr-5. The missile has a range of 75 kilometers, or 45 miles. The range of the Nazeat-10 missiles is about 100 kilometers, or 62 miles.
Iran regularly holds maneuver to test and promote its military power
.
-
EXCLUSIVE INTERVIEW WITH IRANIAN PRESIDENT MAHMOUD AHMADINEJAD
-
-
AHMADINEJAD: IRAN IS ALREADY A NUCLEAR STATE
In interview with Al-Ahram on eve of Islamic Summit Conference in Cairo, Iranian president also says his country opposes outside intervention in Syria.
By Jack Khoury | Haaretz
Feb.06, 2013
Iranian president Mahmoud Ahmadinejad says that while Iran is already a nuclear state, it has no intention of attacking Israel. Ahmadinejad was interviewed on the eve of his visit to Cairo, where he will attend the 12th Islamic Summit Conference due to open there on Wednesday. Before his trip, he gave a long interview to the editor-in-chief of the Egyptian newspaper Al-Ahram. Although Al-Ahram ran the entire interview only in its print edition, excerpts appear on Egyptian websites.
Ahmadinejad said the world must now treat Iran as a nuclear country. "They want Iran to go back to what it was in the past, but they won't succeed. They assume we'll give in to pressure; such thoughts are misguided. We're already an industrial and nuclear country, a country that has conquered space. For years we have been thinking about sending a human being into space, and we will do that, with Allah's help. We must ensure development and growth and bring them to pass, and the world must acknowledge our progress," he said, adding that the best solution was cooperation with Iran.
Mentioning the possibility of an Israeli attack on Iran, Ahmadinejad said that while it might be easy to launch missiles or attack using fighter jets, Iran's response and defense capability were important in this context. He reiterated that the Zionists were trying to take over the foci of power and wealth throughout the world. "They want to attack Iran, but we're not preparing any attack against them because the purpose of our program is defense."
During the interview, Ahmadinejad condemned what he described as massacres committed by Israel. "For us, supporting the Palestinian people is a matter of human importance in every sense. The Palestinians must receive their rights, and the Zionists are moving closer and closer toward the edge."
He added that his country was opposed to any outside military intervention in Syria, saying that the solution to the crisis there was dialogue between all the Syrian groups.
-
THE IRAN NUCLEAR THREAT AND "THE SECOND HOSTAGE CRISIS"
By Nile Bowie | Global Research
March 20, 2013
From talk of "red lines" and cartoon bombs to having "all options on the table", an undeniably delusional logic emanates from leadership in Washington and Tel Aviv regarding the alleged threat posted by Iran's nuclear program. When Israeli Prime Minister Benjamin Netanyahu famously took to the stage of the UN General Assembly with his doodled explosive, he claimed that Iran would soon have the capability to enrich uranium to 90 percent, allowing them to construct a nuclear weapon by early-mid 2013. In his second administration, Obama, who recently said a nuclear-Iran would represent a danger to Israel and the world, appears to be seeing eye-to-eye with Netanyahu, despite previous reports of the two not being on the same page. For whatever its worth, these two world leaders have taken the conscious decision to entirely ignore evidence brought forward by the US intelligence community, as well as appeals from nuclear scientists, policy-advisers, and IAEA personnel who claim that the "threat" posed by Iran is exaggerated and politicized.
Its common knowledge that Washington's own National Intelligence Estimate (NIE) on Iran, which reflects the intelligence assessments of America's 16 spy agencies, confirmed that whatever nuclear weapons program Iran once had was dismantled in 2003. Mr. Netanyahu has not corrected his statements insinuating that Iran was nearing the red line of 90 percent enrichment, even when recent UN reports that show Tehran has in fact decreased its stockpiles of 20 percent fissile material, far below the enrichment level required to weaponize uranium. Hans Blix, former chief of the International Atomic Energy Agency (IAEA), has challenged previous IAEA reports on Iran's nuclear activities, accusing the agency of relying on unverified intelligence from the US and Israel. Flynt Leverett and Hillary Mann Leverett, former Washington insiders and analysts in the Clinton and Bush administrations, recently authored a book titled "Going to Tehran", arguing that Iran is a coherent actor and that evidence for the bomb is simply not there.
Clinton Bastin, former director of US nuclear weapons production programs, has commented on the status of Iran's capacity to produce nuclear weapons, stating,
"The ultimate product of Iran's gas centrifuge facilities would be highly enriched uranium hexafluoride, a gas that cannot be used to make a weapon. Converting the gas to metal, fabricating components and assembling them with high explosives using dangerous and difficult technology that has never been used in Iran would take many years after a diversion of three tons of low enriched uranium gas from fully safeguarded inventories. The resulting weapon, if intended for delivery by missile, would have a yield equivalent to that of a kiloton of conventional high explosives". Bastin's assessments corroborate reports that show Iran's nuclear program is for civilian purposes; he further emphasizes the impracticality of weaponizing the hexafluoride product of Tehran's gas-centrifuges, as the resulting deterrent would yield a highly inefficient nuclear weapon.
The fact that Iran's Supreme Leader Ayatollah Ali Khamenei issued several fatwas (a religious prohibition) against the production of nuclear weapons doesn't seem to have helped much either. An unceasing combination of Islamophobia-propaganda, a repetitive insistence that Tehran is edging closer to the threshold, and devastatingly negligent misreporting of Iran and its pursuit of domestic nuclear power has created a situation where the country is viewed as an irrational actor. In the court of Western mainstream opinion, Iran is grouped in the same category as bellicose North Korea, despite the fact that it is a law-abiding signatory to the Nuclear non-Proliferation Treaty (NPT) that has consistently cooperated with the IAEA while publically renouncing the use of nuclear weapons. This leads to the current scenario, where Iran and its people are punished under an unethical barrage of economic sanctions for possessing a weapon that they do not possess.
The severity of economic sanctions against Iran and the fabricated allegations of it possessing nuclear weapons serve as a disturbing parallel to the invasion and destruction of Iraq during the Bush administration. From the perspective of this observer, the US does not actually want to go to war with Iran – such an ordeal would bring about an array of overwhelmingly negative ramifications that Obama would probably want to avoid. What the US does want to do however, is to dismantle the foundations of the Islamic Republic by completely destroying its economy through sanctions, prompting the population to rise up and overthrow the regime – so basically, Obama is happy to conduct war by other means. Ayatollah Khamenei's recent proclamations of the US holding a gun to the head of the Iranian nation can only be perceived as entirely accurate.
Its easy to see why the Supreme Leader has doubts over the prospect of negotiations with the US; the deal put forward at the most recent meeting of the P5+1 essentially argued that the US would roll back sanctions that prevent Iran from trading gold and precious metals in exchange for Iran completely shutting down its uranium enrichment plant at Fordo. The substance of this offer appears like it was deliberately drafted to be rejected by the Iranian side, given the fact that it would mandate Iran to shutdown one of its main facilities while keeping in place the most punishing sanctions that have destroyed the Iranian currency and made life-saving medications unaffordable for most – its more of an insult than an offer. For the average Iranian business owner and worker, US-led sanctions and currency devaluation have affected everyday transactions that provide paychecks and economic viability for millions of people.
From urban shopkeepers to rural restaurant owners, many have been forced to close their businesses because they are unable to profit from reselling imported goods purchased with dollars. Isolation from the global banking system has made it increasingly more difficult for Iranian students studying abroad to receive money from their families.
Sanctions targeting Iran's central bank aim to devastate the Iranian export economy, affecting everyone from oil exporters to carpet weavers and pistachio cultivators. By crippling Iranian people's livelihoods and hindering their ability to pursue education and afford necessities, the Obama administration believes such measures will erode public confidence in the government and challenge its legitimacy. It is important to recognize that these sanctions are not only aimed against Iran's government, but at its entire population, especially to the poor and merchant population. An unnamed US intelligence source cited by the Washington Post elaborates,
"In addition to the direct pressure sanctions exert on the regime's ability to finance its priorities, another option here is that they will create hate and discontent at the street level so that the Iranian leaders realize that they need to change their ways."
These sanctions, which are Obama's throwback to ham-fisted Bush-Cheney era policies, must be seen as part of a series of measures taken to coax widespread social discontent and unrest. US sanctions have broadened their focus, targeting large swaths of the country's industrial infrastructure, causing the domestic automobile production to plummet by 40 percent, while many essential medical treatments have more than doubled in price. Patients suffering from hemophilia, thalassemia, and cancer have been adversely affected, as the foreign-made medicines they depend on are increasingly more difficult to get ahold of. Over the past two years, general supermarket goods have seen a price hike between 100 to 300 percent. For the first time in the world, a media ban has been imposed, on PressTV, Iran's state-funded English language international news service. Ofcom, a UK-based communications regulator linked to the British government, spearheaded the prohibition. The European Union has also imposed a travel ban on Press TV CEO Mohammad Sarafraz and eight other officials.
While editorials and commentators in the New York Times and Washington Post regularly accuse Iran of violating international law, the editors of these papers have shown no willingness to scrutinize the US and Israel by holding them accountable when they violate international law, namely, a prohibition of "the threat or use of force" in international relations unless a nation is attacked or such force is authorized by the UNSC, as embodied in the United Nations Charter. It is undeniable that by failing to question the brutal tactics meted out by Washington and Tel Aviv, these papers and the commentators affiliated with them endorse policies that intimidate and coerce civilian populations, in addition to employing terrorist tactics such as targeted cyber-strikes and extrajudicial assassinations – all of which the Iranian nation has been subjected to in utter defiance of the standards and rules of international law and their fundamental bedrock of protecting civilians.
The facts have been proven time and time again, Iran seeks economic development, technological advancement, and energy independence – it wants domestic nuclear power and the freedom to enrich uranium to 20 percent for the medical development of radio-pharmaceuticals and industrial isotopes, as it is entitled to as an NPT signatory. Washington's threats to impose "secondary" sanctions against third-country entities doing business with the Islamic Republic represents a mafia-mentality so characteristic of the unipolar reality in which the US sees itself. Washington has recently threatened energy-hungry Pakistan with sanctions over its partnership with Tehran in a $7.5-billion gas pipeline between the two nations, a project that would do infinite good by promoting regional stability and delivering energy to poverty stricken regions in Pakistan. Washington's sanctions regime will collapse if the US Congress insists that China sharply cut its energy trade and relations with Iran. China will not adhere to such stringent foreign interference into its trade relationships, and Washington is in no position to sanction China because it buys oil from Iran.
If Beijing calls Washington's bluff, other growth-focused non-Western economies like India, Malaysia, and South Korea will be less fearful of conducting business and buying oil from Tehran. Obama has taken some cues from the revolutionary students of 1979 and his administration has come up with a hostage crisis of its own, involving holding captive the civilian population of Iran – and Washington looks keen to let the sanctions bite until either the regime bows down, or the people rise up. One of the best examples of the perverted logic behind the US position on Iran comes from Vice President Joe Biden, who recently stated, "We have also made clear that Iran's leaders need not sentence their people to economic deprivation". Such a statement embodies the upside-down logic of Washington policy-makers who claim the moral high ground while enabling terrorism and engaging in unethical campaigns of economic and military warfare – the present state of affairs simply cannot continue.
-
NORTH KOREA'S NUCLEAR TEST WILL BOOST IRAN
By Con Coughlin | telegraph.co.uk
As North Korea braces itself for another round of international condemnation in the wake of its latest nuclear test, the one country that will be maintaining a discreet silence is Iran.
Unlike Pyongyang's previous nuclear tests, which are understood to involve the testing of plutonium warheads, the most recent underground explosion was to test a uranium device – the same kind of nuclear weapon that intelligence officials believe the Iranians are working on.
Indeed, Iran's nuclear weapons programme bears many striking similarities to the research being undertaken in North Korea. The delivery system for Iran's nuclear device is an advanced form of the Soviet-era Scud missile – just like the North Koreans. And Iranian scientists are working on a project similar to the North Koreans which would enable them to attach a nuclear device comprising enriched uranium to the missiles.
We should not be surprised, though, by the similarities between the two programmes. Both Iran and North Korea have benefited from the expert advice they have received from Dr AQ Khan, the "father" of Pakistan's nuclear bomb, and teams of nuclear scientists regularly shuttle between Tehran and Pyongyang to share their research material.
And the fact that North Korea has been able to detonate three nuclear devices with relative impunity will only serve to encourage Iran that, when the time comes, it will be able to test a device of its own without any unwelcome interference from the West.
-
NORTH KOREA AND IRAN – PARTNERS IN NUCLEAR AND MISSILE PROGRAMS
DEBKAfile Special Report
February 12, 2013
There is full awareness in Washington and Jerusalem that the North Korean nuclear test conducted Tuesday, Feb. 12, brings Iran that much closer to conducting a test of its own. A completed bomb or warhead are not necessary for an underground nuclear test; a device which an aircraft or missile can carry is enough.
Mahmoud Ahmadinejad's boast this week that Iran will soon place a satellite in orbit at an altitude of 36,000 kilometers – and Tehran's claim on Feb. 4 to have sent a monkey into space – highlight Iran's role in the division of labor Pyongyang and Tehran have achieved in years of collaboration: the former focusing on a nuclear armament and the latter on long-range missile technology to deliver it.
Their advances are pooled. Pyongyang maintains a permanent mission of nuclear and missile scientists in Tehran, whereas Iranian experts are in regular attendance at North Korea's nuclear and missile tests.
Since the detonation of the "miniature atomic bomb" reported by Pyongyang Tuesday – which US President Barack Obama called "a threat to US National security"- Iran must be presumed to have acquired the same "miniature atomic bomb" capabilities – or even assisted in the detonation.
Word of the North Korean atomic test reminded US officials of Ahmadinejad's boast only a couple of days ago about the forthcoming launch of an Iranian satellite into orbit.  The two events clearly hang together as probably coordinated between Tehran and Pyongyang.
Ahead of the UN Security Council emergency session later Tuesday, Kim Jong Un's government warned of "stronger actions" after the nuclear test.  Its diplomat warned the UN disarmament forum that his country will "never bow to any resolutions."
The nuclear threat is not the only unconventional warfare peril looming closer. In Damascus, Syrian rebels are nearer than ever before to crashing through the capital's last lines of defense. Tuesday, they were only 1.5 kilometers short of the heart of Damascus.
Western and Israeli military sources believe that if the Syrian rebels reach this target, the Syrian ruler Bashar Assad will have no qualms about using chemical weapons for the first time in the two-year civil war to save his regime. Both the US and Israel have warned him that doing so would cross a red line.
debkafile's military sources report that Syrian rebel forces, spearheaded by an Al Qaeda-allied Islamist brigade, gained entry Tuesday to the 4th Division's (Republican Guard) main base in the Adra district of eastern Damascus and are fighting the defenders in hand to hand combat for control of the facility.
Other rebel forces are retaking parts of the Damascus ring road in fierce battles, thereby cutting off the Syrian army's Homs units in the north from their supply lines from the capital.
These two rebel thrusts, if completed, would bring the Syrian army closer than ever before to collapse. Assad is therefore expected to use every means at his disposal to cut his enemies down.
-
IRAN'S BID TO BUY BANNED MAGNETS STOKES FEARS ABOUT MAJOR EXPANSION OF NUCLEAR CAPACITY
By Joby Warrick | The Washington Post
February 13, 2013
Iran recently sought to acquire tens of thousands of highly specialized magnets used in centrifuge machines, according to experts and diplomats, a sign that the country may be planning a major expansion of its nuclear program that could shorten the path to an atomic weapons capability.
Purchase orders obtained by nuclear researchers show an attempt by Iranian agents to buy 100,000 of the ring-shaped magnets — which are banned from export to Iran under U.N. resolutions — from China about a year ago, those familiar with the effort said. It is unclear whether the attempt succeeded.
Although Iran has frequently sought to buy banned items from foreign vendors, this case is considered unusual because of the order's specificity and sheer size — enough magnets in theory to outfit 50,000 new centrifuges, or nearly five times the number that Iran currently operates.
The revelation of the new orders for nuclear-sensitive parts coincides with Iran's announcement that it plans to add thousands of more-advanced, second-generation centrifuges that would allow it to ramp up its production of enriched uranium even further, analysts said.
Iran insists that its nuclear program is peaceful and that its enrichment efforts are directed toward medical research and energy production. The disclosure of the purchase attempt comes at a time when the country is seeking to gain diplomatic leverage ahead of negotiations on proposed limits to its nuclear program.
The attempt, nonetheless, has fueled Western concerns that Iran is planning a major expansion in its nuclear capacity that would allow it to make atomic weapons quickly if it chooses to do so.
"They are positioning themselves to make a lot of nuclear progress quickly," said a European diplomat with access to sensitive intelligence on Iran's nuclear facilities, speaking on the condition of anonymity because of the sensitivity of the matter. "Each step forward makes the situation potentially more dangerous."
A shrinking of Iran's timeline for obtaining a weapons capability could increase pressure on Israel, which in recent months has appeared to ease off from threats of a preemptive strike on Iran's nuclear facilities. In a speech Monday to American Jewish leaders, Israeli Prime Minister Benjamin Netanyahu said Iran had not crossed the "red line" that would warrant a military strike, but he said the country' s recent nuclear advances "shorten the time it will take them to cross that line."
Complicating Israel's calculus, Iran has simultaneously taken steps to ease Western anxiety over its nuclear program, chiefly by converting a portion of its uranium stockpile into a metal form that cannot be easily used to make nuclear weapons. A Foreign Ministry spokesman confirmed Tuesday that the conversion of some of Iran's uranium stockpile was underway. "This work is being done," the spokesman, Ramin Mehmanparast, told reporters in Tehran.
A report by the U.N. nuclear watchdog, due for release this week, is expected to document Iran's seemingly contradictory moves, portraying the country as carefully avoiding provocative behavior even as it quietly prepares to increase production at its two uranium-enrichment plants.
Engineers recently installed more than 1,000 new IR-1 centrifuge machines at Iran's largest uranium plant, near the city of Natanz, adding to the roughly 9,000 IR-1 machines currently in operation, said officials of the International Atomic Energy Agency. An additional 2,800 IR-1s have been installed near the city of Qom at a small enrichment plant built beneath a mountain to shield it against airstrikes. But most of the machines are not operational.
Iran has sought to acquire a long list of sensitive materials in recent months, U.S. officials said. In October, federal prosectors secured a guilty plea from a Texas-based Taiwanese national who was charged with helping Iran obtain more than 100,000 parts from U.S. companies over a five-year period, including electronics used in nuclear installations and in missile guidance systems.
The purchase order for the magnets — copies of which were obtained by the Washington-based Institute for Science and International Security and shown to The Washington Post — suggests that a vastly larger expansion could be just over the horizon.
The specific dimensions spelled out in the order form match precisely — to a fraction of a millimeter — those of the powerful magnets used in the IR-1, a machine that spins at supersonic speeds to purify uranium gas into an enriched form that can be used in nuclear power plants. With further processing, the same machines can produce highly enriched uranium for nuclear weapons.
With two magnets needed per machine, the order technically could supply Iran with enough material for 50,000 new gas centrifuges, although some of the magnets would probably have been reserved for repairs and spare parts, said David Albright, ISIS president and a former IAEA inspector.
"It implies that they want to build a lot more centrifuges," he said.
The magnets are made of an unusual alloy known as barium strontium ferrite and were ordered from a Chinese vendor in late 2011. The order was placed by an Iranian businessman, who said the magnets were needed for a "great factory" engaged in a "new project" inside Iran, according to the online order.
U.S. intelligence officials declined to comment on the specifics of the magnets case. One official who closely tracks Iranian procurement efforts said Iran still actively seeks banned technology from a variety of foreign vendors, often using front companies and cover stories to conceal the intended use of the materials it buys.
According to the ISIS investigation, the company that placed the order had been previously linked to Iranian efforts to acquire sensitive technology. The Canadian government placed the firm under sanctions late last year because of unspecified proliferation concerns.
Independent nuclear experts who reviewed the magnets case generally backed the ISIS conclusions. Olli Heinonen, who led IAEA nuclear inspections inside Iran before his retirement in 2010, said the type of magnet sought by Iran was highly specific to the IR-1 centrifuge and could not, for example, be used in the advanced IR-2M centrifuges that Iran has recently tested.
"The numbers in the order make sense, because Iran originally told us it wanted to build more than 50,000 of the IR-1s," Heinonen said. "The failure rate on these machines is 10 percent a year, so you need a surplus."
Heinonen said IAEA officials also have documented Iranian efforts to obtain critical parts for the IR-2M machines, which represent a significant technical advance from the clunky, unreliable IR-1.
Nonetheless, Iran has avoided what many experts consider Israel's new "red line": a stockpile of medium-enriched uranium greater than 530 pounds, roughly the amount needed to build a weapon if further purified. At the current pace, Iran could reach that theoretical threshold by the middle of next year, said a Western diplomat privy to internal IAEA reports on Iran's nuclear progress.
"Adding new machines just means you get there a lot faster," the diplomat said.
-
HERE IS HOW THE UNITED STATES AND ISRAEL ARE PREPARING FOR WAR WITH IRAN
By Michael Kelley and Robert Johnson | Business Insider
Talk of a joint U.S.-Israeli military strike on Iran has waned recently — while talk of U.S.-Israel cyberattacks have taken its place — but that hasn't stopped Iran, Israel and the U.S. from continuing "to prepare all other options" for a possible strike against Iran's nuclear facilities.
U.S. defense contracts, an Iranian F-16 acquisition, and Israel's new military preparations suggest that all sides are getting ready for whatever may come.
Among recent U.S. defense contracts that could relate to an Iranian attack, Raytheon was awarded a $338 million contract to provide the Navy with 361 Tomahawk cruise missiles in their most recent configuration.
Of those, 238 of the misses will be designed to launch from submarines and the remainder from Navy ships like the Ticonderoga class Arleigh Burke guided missile cruiser currently operating with the 5th Fleet based in Bahrain east of Iran.
These are the same missiles that started the Libyan Operation Odyssey Dawn bombing campaign last March when 124 were launched from Navy ships and subs against Qaddafi's missile defense radars and anti-aircraft sites around Tripoli.
The U.S. could simply be renewing depleted reserves from that mission, as well as others, or it could be planning ahead for a specific attack. With work on the contract expected to be completed in 2014, this particular batch wouldn't be used in any immediate action, but could replenish reserves spent in any upcoming airstrikes.
Taking out radar and aircraft defenses would be one step in an Iranian attack. Another, equally as vital, would be determining where Tehran's fleet of submarines may be parked in the Persian Gulf.
There are several ways of locating a sub accurately enough to destroy it, and one of them is using the ERAPSCO sonar buoy.
The buoys are a one-time-use asset that gets dropped into the water to work with other buoys pinpointing underwater objects. The Navy just ordered 17,000 of them under a $13 million contract days after the Tomahawk order. The buoys can be used for research as well, but in the face of biting defense cuts, it seems possible the Navy has something mission-focused for them in mind. Their delivery is also expected in early 2014, to potentially replenish supplies used before then.
USS Carl Vinson and the USS Bunker Hill
Both of these acquisitions could be part of a standard ordering cycle that we simply have no idea of, but in light of the following developments we thought them worth mentioning.
On May 9 the U.S. House of Representatives passed the United States-Israel Enhanced Security Cooperation Act of 2012, which seeks to "reaffirm the commitment to Israel's security as a Jewish state; provide Israel with the military capabilities to defend itself by itself against any threats… [and] expand military and civilian cooperation" among other statements of U.S. policy.
Former counter-terrorism specialist and CIA military intelligence officer Philip Giraldi wrote that the bill "basically provides Israel with a blank check drawn on the U.S. taxpayer to maintain its 'qualitative military edge' over all of its neighbors combined." (To that end the U.S. is stockpiling an increasing number of weapons in Israel.)
The Israeli government has been on lockdown since Netanyahu joined forces with the Kadima party and its Iranian-born leader Gen. Shaul Mofaz.
One senior Israeli figure with close ties to the leadership told Reuters that Netanyahu had made the decision to attack Iran before the U.S. presidential election in November so that the move "will bounce the Americans into supporting them."
Israel just bought its fourth German-made sub capable of launching nuclear-tipped cruise missiles and German news source Der Spiegel subsequently reported that these are already deployed.
F/A-18E Super Hornet
Iran is not sitting idly by, but rather proactively waiting for a strike. Emily J Blasco of the InterAmerican Security Watch reports that Iran has been calibrating their anti-aircraft system to the specifications of a U.S.-made F-16 fighter that it received from Venezuela in 2006. (Venezuela purchased  F-16s from the U.S. before Hugo Chavez came to power.)
The U.S. has squadrons of F-16 based in the Persian Gulf and Israel's 362 F-16s would be in play if they chose to launch attacks from a base in Azerbaijan (which is to the north of Iran).
According to the confidential testimony offered by a high-ranking member of the Venezuelan Air Force (FAV), an F-16 was disassembled in Venezuela, placed in sealed containers without any description of its contents and taken to Iran. Venezuelan pilots were then sent to reassemble the fighter and provide training to Iranians.
This allows Iran to familiarize its radar and defense systems with the F-16 before a possible attack. Blasco notes that possessing an F-16 "allows Iran to learn how to detect its presence in the radar or the speed in which it approaches [and] will be very useful in enemy combat."
Overall we know that discussion between Iran and major world powers (the P5+1) that sought to resolve the row over Tehran's disputed nuclear activities have broken down again, but no one has given any strong indications of what it would take for the conflict to spill over from the cyber realm to the physical world.
Nevertheless U.S., Israel and Iran seem to be ready if it does.
-
DANGEROUS CROSSROADS: THE THREAT OF A PRE-EMPTIVE NUCLEAR WAR DIRECTED AGAINST IRAN
By Prof Michel Chossudovsky | Global Research
March 26, 2013
For more than a decade, Iran has been doggedly accused without evidence of developing nuclear weapons. The Islamic Republic is relentlessly portrayed by the Western media as a threat to the security of Israel and of the Western World.
In a bitter irony, the assessment of America's Intelligence Community concerning Iran's alleged nuclear weapons capabilities refutes the barrage of media disinformation as well as the bellicose statements emanating from the White House. The 2007 National Intelligence Estimate (NIE): "judges with high confidence that in fall 2003, Tehran halted its nuclear weapons program." (2007 National Intelligence Estimate Iran: Nuclear Intentions and Capabilities; November 2007, See also Office of the Director of National Intelligence (ODNI))
"We assess with moderate confidence Tehran had not restarted its nuclear weapons program as of mid-2007, but we do not know whether it currently intends to develop nuclear weapons.
- We continue to assess with moderate-to-high confidence that Iran does not currently have a nuclear weapon.
- Tehran's decision to halt its nuclear weapons program suggests it is less determined to develop nuclear weapons than we have been judging since 2005. Our assessment that the program probably was halted primarily in response to international pressure suggests Iran may be more vulnerable to influence on the issue than we judged previously." (2007 National Intelligence Estimate Iran: Nuclear Intentions and Capabilities; November 2007)
In February 2011, The Director of National Intelligence James R. Clapper (image right) – while presenting the 2011 National Intelligence Estimate (NIE) to the Senate Select Committee on Intelligence – intimated -with some hesitation – that the Islamic Republic was not seeking to develop nuclear weapons capabilities: "we do not know if Iran will eventually decide to build nuclear weapons."
The 2011 NIE largely confirms the findings undertaken by the US intelligence community in the 2007 NIE, which remains, according to The New York Times, "the consensus view of America's 16 intelligence agencies."
Post 9/11 pre-emptive nuclear war doctrine
First formulated in the Bush administration's 2002 'Nuclear Posture Review', the pre-emptive nuclear war doctrine -integrated into the Global War on Terrorism – started to take shape in the immediate wake of the war on Iraq. A pre-emptive'defensive' nuclear attack on Iran using tactical nuclear weapons was envisaged to annihilate the Islamic Republic's non-existent nuclear weapons program.
So-called 'mini nukes' were identified as the 'ideal weapon' to conduct a pre-emptive nuclear attack.
In 2003, the mini nukes, consisting of bunker-buster bombs with nuclear warheads, were re-categorized by the US Senate as bona fide conventional weapons. The new definition of a nuclear warhead has blurred the distinction between conventional and nuclear weapons.
Senator Edward Kennedy, at the time, accused the Bush Administration for having developed "a generation of more useable nuclear weapons."
Through a propaganda campaign which enlisted the support of'authoritative' nuclear scientists, the mini-nukes were upheld as an instrument of peace rather than war.
"Administration officials argue that low-yield nuclear weapons are needed as a credible deterrent against rogue states [Iran, North Korea]. Their logic is that existing nuclear weapons are too destructive to be used except in a full-scale nuclear war. Potential enemies realize this, thus they do not consider the threat of nuclear retaliation to be credible. However, low-yield nuclear weapons are less destructive, thus might conceivably be used. That would make them more effective as a deterrent."(Opponents Surprised By Elimination of Nuke Research Funds, Defense News, November 29, 2004)
In an utterly twisted piece of logic, nuclear weapons are presented as a means to building peace and preventing 'collateral damage'. The Pentagon had intimated, in this regard, that the mini-nukes are 'harmless to civilians' because the explosions 'take place underground'. Each of these mini-nukes, nonetheless, constitutes – in terms of explosion and potential radioactive fallout – a significant fraction of the atom bomb dropped on Hiroshima in 1945.
Estimates of yield for Nagasaki and Hiroshima indicate that they were respectively of 21,000 and 15,000 tons. Mini-nukes have a yield (explosive capacity) between one third and six times a Hiroshima bomb.
Following the 2003 Senate Green Light, which upheld mini nukes as 'humanitarian bombs', a major shift in nuclear weapons doctrine has unfolded. The low-yield nukes had been cleared for'battlefield use'. In contrast to the warning on a packet of cigarettes (see the proposed Food and Drug Administration label) the 'advisory' on the 'dangers of nuclear weapons to human health' is no longer included in military manuals. The latter have been revised. This 'new' generation of tactical nuclear weapons is considered 'safe'. The dangers of nuclear radiation are no longer acknowledged. There are no impediments or political obstacles to the use of low yield thermonuclear bombs.
The 'international community' has endorsed nuclear war in the name of World Peace.
Mini-nukes: Preferred weapons system of 'pre-emptive nuclear war'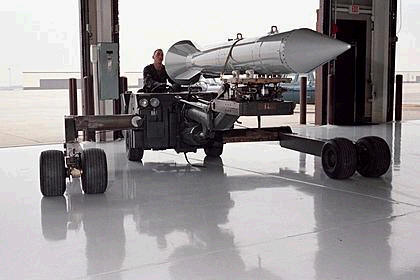 While reports tend to depict the tactical B61 bombs as a relic of the Cold War era, the realities are otherwise: mini-nukes are the chosen weapons system under the doctrine of pre-emptive nuclear war, to be used in the conventional war theater against terrorists and 'state sponsors of terrorism', including the Islamic Republic of Iran.
Concrete plans to wage a pre-emptive nuclear attack on Iran have been on the Pentagon drawing board since 2004. A pre-emptive nuclear attack would consist in the deployment of B-61 tactical nuclear weapons directed against Iran. The attacks would be activated from military bases in Western Europe, Turkey and Israel.
In 2007, NATO confirmed its support for America's nuclear pre-emption doctrine in a report entitled 'Towards a Grand Strategy for an Uncertain World: Renewing Transatlantic Partnership'. The report (authored by former defense chiefs of staff of the US, UK, Germany, France and the Netherlands, and sponsored by the Dutch Noaber Foundation) calls for a pre-emptive 'first strike' use of nuclear weapons, against non-nuclear states as: 
"the ultimate instrument of an asymmetric response – and at the same time the ultimate tool of escalation. Yet they are also more than an instrument, since they transform the nature of any conflict and widen its scope from the regional to the global. Regrettably, nuclear weapons – and with them the option of first use – are indispensable, since there is simply no realistic prospect of a nuclear-free world." (Ibid, p.96-97, emphasis added).
According to the authors, Iran constitutes a major strategic threat – not only to Israel, "which it has threatened to destroy, but also to the region as a whole." (Ibid, p.45) What is required is for the Atlantic Alliance to "restore deterrence through [military] escalation."
In this context, the Report, endorsed both by NATO and the Pentagon, contemplates the notion of:
"escalation dominance, the use of a full bag of both carrots and sticks—and indeed all instruments of soft and hard power, ranging from the diplomatic protest to nuclear weapons." (Report, p.96. emphasis added)
In December 2011, less than a year following the publication of the 2011 National Intelligence Estimate (NIE), which underscored that Iran does not have a nuclear weapons program, a'no options off the table' agenda directed against Iran was put forth by the Obama administration. What was envisaged was a planned and coordinated US-NATO Israel military posture with regard to Iran. It was understood, as intimated by former Defense Secretary Leon Panetta, that Israel would not act unilaterally against Iran. In the case of an attack on Iran, the green light would be granted by Washington.
"Any military operation against Iran by Israel must be coordinated with the United States and have its backing," said Panetta.
The various components of the military operation would be firmly under US Command, coordinated by the Pentagon and US Strategic Command Headquarters (USSTRATCOM) at the Offutt Air Force base in Nebraska.
Military actions by Israel would be carried out in close coordination with the Pentagon. The command structure of the operation is centralized and ultimately Washington decides if and when to launch the military operation.
In March 2013, the 'all options' resolution in relation to Iran was on the agenda during the president's official visit to Israel. While an integrated US-NATO-Israel approach in response to'the perils of a nuclear-armed Iran' war was reasserted, the tone of the discussions was in the direction of military action against Iran.
Obama's visit to Israel was preceded by high-level bilateral consultations, including the visit of IDF Chief of Staff Benny Gantz to Washington in February for discussions with the Chairman of the US Joint Chiefs of Staff General Martin Dempsey pertaining to Iran and Syria. Benny Gantz was accompanied by Maj. Gen. Aviv Kochavi, director of IDF Military Intelligence, at the meeting with his US counterparts. The new head of the Pentagon Chuck Hagel will be visiting Israel in April in a follow-up meeting.
"Tweeters pointed out that when Obama took his jacket off, Netanyahu promptly mimicked the president. Everything seems well coordinated."(Photo from twitter.com user @netanyahu)
In the course of Obama's visit, Prime Minister Netanyahu reiterated the need for "a clear and credible threat of military action [against Iran]," while intimating that Israel could act unilaterally. In this regard, it is worth noting that in August 2012, a few months prior to the US presidential elections, a leaked IDF briefing document (translated from Hebrew) revealed the details of Netanyahu's proposed "shock and awe attack" on Iran.
"The Israeli attack will open with a coordinated strike, including an unprecedented cyber-attack … A barrage of tens of ballistic missiles would be launched from Israel toward Iran … from Israeli submarines in the vicinity of the Persian Gulf. The missiles would be armed with … high-explosive ordnance equipped with reinforced tips designed specially to penetrate hardened targets. … A barrage of hundreds of cruise missiles will pound command and control systems, research and development facilities, … among the targets approved for attack— Shihab 3 and Sejil ballistic missile silos, storage tanks for chemical components of rocket fuel, industrial facilities for producing missile control systems, centrifuge production plants and more." (Quoted in Richard Silverstein, Netanyahu's Secret War Plan: Leaked Document Outlines Israel's 'Shock and Awe' Plan to Attack Iran, Tikun Olam and Global Research, August 16, 2012, emphasis added).
The strike details mentioned in the leaked IDF briefing above pertain solely to the use of conventional weapons systems.
-
THE GLOBALIZATION OF WAR
The world's attention is increasingly focused on Syria and Iran as the region continues to move toward military confrontation. Less noticed, however, is that the pieces are being put into place for a truly global conflict, with military buildup taking place in every region and threatening to draw in all of the world's major powers.
-
CHOSSUDOVSKY: UNITED STATES WILL START WORLD WAR III BY ATTACKING IRAN
.
READ THE FULL E-BOOK FREE: TOWARDS A WORLD WAR III SCENARIO
-
WAR ON IRAN WOULD MEAN WORLD WAR III
By Prof Michel Chossudovsky | Global Research
March 31, 2013
The situation today is far more serious. We are at a very dangerous crossroads (M.Ch.)
The military build-up and economic sanctions against Iran are designed to unleash a global war from the Mediterranean to China with unpredictable consequences, warns Michel Chossudovsky, Director of the Centre for Research on Globalization.­Tensions between Iran and the West are close to crisis level. With massive help from the western media, Iran has firmly become embedded as the root of all evil in the minds of many westerners.
The author of the book Towards a World War Three Scenario, The Dangers of Nuclear War told RT that "The issue of Iran's nuclear weapons is a red herring, but this red herring could lead us to a WWIII scenario."  He also recalled all the American military bases with nuclear weapons close to Iran's borders.
-
-
Michel Chossudovsky recalled that a couple of weeks ago [January 2012], America's Secretary of Defense Leon Panetta quite categorically stated to CBS that Iran neither possesses, nor is developing nuclear weapons. Panetta did not rule out that there are still diplomatic means to cut Iran's Gordian knot.
But considering the US military preparations around Iran, this statement rather looks like a deceptive maneuver.
Last week, EU nations adopted an unprecedented set of sanctions against the Islamic Republic.
These include a complete embargo on oil supplies from Iran, and are expected to come into force in July.
"What we are witnessing here is a build-up towards a military confrontation. These sanctions constitute the staging of a military agenda," feels Michel Chossudovsky. "In turn, we have massive deployment of US military hardware, troops going to Israel to be stationed in Israel, more troops go to Kuwait, [American] naval forces are entering the Persian Gulf."
Michel Chossudovsky believes that "What the United States wants now, including its allies, is some kind of a green light which will give a human face to a war."
On Monday, the UN nuclear inspectors started a three-day mission to examine Iran's atomic activities.
Tehran says the talks with the International Atomic Energy Agency, the first in more than three years, will prove its nuclear program is purely peaceful.
With the visit of the IAEA inspectors, Iran is playing a diplomatic card, believes Chossudovsky. The IAEA is not politically controlled, so once it confirms Iran's nuclear program has peaceful purposes, this should undermine the aggressive intentions of the West.
The US needs a contrary statement from the IAEA to use this for transition to a new – military – stage in the Iran drama.
"This war has already started. There are drone attacks, there are special [American] forces inside Iran and there is financial warfare," considers Michel Chossudovsky.
Plans to invade Iran emerged immediately after the invasion of Iraq, Chossudovsky informs, with military preparations begun around 2005, so by now everything should be ready and in place for a full-scale military conflict.
"The WWIII scenario is unthinkable. This war would extend from the Mediterranean to the Chinese border. It could possibly include Russia and China," Michel Chossudovsky concluded. "We could find ourselves at a very critical crossroads."
-
F. WILLIAM ENGDAHL: ALL THE EVENTS HAPPENING IN NORTH AFRICA AND THE MIDDLE EAST WERE PART OF A PLAN INTRODUCED IN 2003 CALLED "THE GREATER MIDDLE EAST PROJECT"
-
PLANS FOR REDRAWING THE MIDDLE EAST: THE PROJECT FOR A NEW MIDDLE EAST
January 27, 2013
The term "New Middle East" was introduced to the world in June 2006 in Tel Aviv by U.S. Secretary of State Condoleezza Rice (who was credited by the Western media for coining the term) in replacement of the older and more imposing term, the "Greater Middle East."
This shift in foreign policy phraseology coincided with the inauguration of the Baku-Tbilisi-Ceyhan (BTC) Oil Terminal in the Eastern Mediterranean. The term and conceptualization of the "New Middle East," was subsequently heralded by the U.S. Secretary of State and the Israeli Prime Minister at the height of  the Anglo-American sponsored Israeli siege of Lebanon. Prime Minister Olmert and Secretary Rice had informed the international media that a project for a "New Middle East" was being launched from Lebanon.
This announcement was a confirmation of an Anglo-American-Israeli "military roadmap" in the Middle East. This project, which has been in the  planning stages for several years, consists in creating an arc of instability, chaos, and violence extending from Lebanon, Palestine, and Syria to Iraq, the Persian Gulf, Iran, and the borders of NATO-garrisoned Afghanistan.
The "New Middle East" project was introduced publicly by Washington and Tel Aviv with the expectation that Lebanon would be the pressure point for realigning the whole Middle East and thereby unleashing the forces of "constructive chaos." This "constructive chaos" –which generates conditions of violence and warfare throughout the region– would in turn be used so that the United States, Britain, and Israel could redraw the map of the Middle East in accordance with their geo-strategic needs and objectives.
New Middle East Map
Secretary Condoleezza Rice stated during a press conference that "[w]hat we're seeing here [in regards to the destruction of Lebanon and the Israeli attacks on Lebanon], in a sense, is the growing—the 'birth pangs'—of a 'New Middle East' and whatever we do we [meaning the United States] have to be certain that we're pushing forward to the New Middle East [and] not going back to the old one."1 Secretary Rice was immediately criticized for her statements both within Lebanon and internationally for expressing indifference to the suffering of an entire nation, which was being bombed  indiscriminately by the Israeli Air Force.
The Anglo-American Military Roadmap in the Middle East and Central Asia 
U.S. Secretary of State Condoleezza Rice's speech on the "New Middle East" had set the stage. The Israeli attacks on Lebanon –which had been fully endorsed by Washington and London– have further compromised and validated the existence of the geo-strategic objectives of the United States, Britain, and Israel. According to Professor Mark Levine the "neo-liberal globalizers and neo-conservatives, and ultimately the Bush Administration, would latch on to creative destruction as a way of describing the process by which they hoped to create their new world orders," and that "creative destruction [in] the United States was, in the words of neo-conservative philosopher and Bush adviser Michael Ledeen, 'an awesome revolutionary force' for (…) creative destruction…"2
Anglo-American occupied Iraq, particularly Iraqi Kurdistan, seems to be the preparatory ground for the balkanization (division) and finlandization (pacification) of the Middle East. Already the legislative framework, under the Iraqi Parliament and the name of Iraqi federalization, for the partition of Iraq into three portions is being drawn out. (See map below)
Moreover, the Anglo-American military roadmap appears to be vying an entry into Central Asia via the Middle East. The Middle East, Afghanistan, and Pakistan are stepping stones for extending U.S. influence into the former Soviet Union and the ex-Soviet Republics of Central Asia. The Middle East is to some extent the southern tier of Central Asia. Central Asia in turn is also termed as "Russia's Southern Tier" or the Russian "Near Abroad."
Many Russian and Central Asian scholars, military planners, strategists, security advisors, economists, and politicians consider Central Asia ("Russia's Southern Tier") to be the vulnerable and "soft under-belly" of the Russian Federation.3
It should be noted that in his book, The Grand Chessboard: American Primacy and Its Geo-strategic Imperatives, Zbigniew Brzezinski, a former U.S. National Security Advisor, alluded to the modern Middle East as a control lever of an area he, Brzezinski, calls the Eurasian Balkans. The Eurasian Balkans consists of the Caucasus (Georgia, the Republic of Azerbaijan, and Armenia) and Central Asia (Kazakhstan, Uzbekistan, Kyrgyzstan, Tajikistan, Turkmenistan, Afghanistan, and Tajikistan) and to some extent both Iran and Turkey. Iran and Turkey both form the northernmost tiers of the Middle East (excluding the Caucasus4) that edge into Europe and the former Soviet Union.
The Map of the "New Middle East"
A relatively unknown map of the Middle East, NATO-garrisoned Afghanistan, and Pakistan has been circulating around strategic, governmental, NATO, policy and military circles since mid-2006. It has been causally allowed to surface in public, maybe in an attempt to build consensus and to slowly prepare the general public for possible, maybe even cataclysmic, changes in the Middle East. This is a map of a redrawn and restructured Middle East identified as the "New Middle East."
MAP OF THE NEW MIDDLE EAST


Note: The following map was prepared by Lieutenant-Colonel Ralph Peters. It was published in the Armed Forces Journal in June 2006, Peters is a retired colonel of the U.S. National War Academy. (Map Copyright Lieutenant-Colonel Ralph Peters 2006).
Although the map does not officially reflect Pentagon doctrine, it has been used in a training program at NATO's Defense College for senior military officers. This map, as well as other similar maps, has most probably been used at the National War Academy as well as in military planning circles.
This map of the "New Middle East" seems to be based on several other maps, including older maps of potential boundaries in the Middle East extending back to the era of U.S. President Woodrow Wilson and World War I. This map is showcased and presented as the brainchild of retired Lieutenant-Colonel (U.S. Army) Ralph Peters, who believes the redesigned borders contained in the map will fundamentally solve the problems of the contemporary Middle East.
The map of the "New Middle East" was a key element in the retired Lieutenant-Colonel's book, Never Quit the Fight, which was released to the public on July 10, 2006. This map of a redrawn Middle East was also published, under the title of Blood Borders: How a better Middle East would look, in the U.S. military's Armed Forces Journal with commentary from Ralph Peters.5
It should be noted that Lieutenant-Colonel Peters was last posted to the Office of the Deputy Chief of Staff for Intelligence, within the U.S. Defence Department, and has been one of the Pentagon's foremost authors with numerous essays on strategy for military journals and U.S. foreign policy.
It has been written that Ralph Peters' "four previous books on strategy have been highly influential in government and military circles," but one can be pardoned for asking if in fact quite the opposite could be taking place. Could it be Lieutenant-Colonel Peters is revealing and putting forward what Washington D.C. and its strategic planners have anticipated for the Middle East?
The concept of a redrawn Middle East has been presented as a "humanitarian" and "righteous" arrangement that would benefit the people(s) of the Middle East and its peripheral regions. According to Ralph Peter's:
International borders are never completely just. But the degree of injustice they inflict upon those whom frontiers force together or separate makes an enormous difference — often the difference between freedom and oppression, tolerance and atrocity, the rule of law and terrorism, or even peace and war.

The most arbitrary and distorted borders in the world are in Africa and the Middle East. Drawn by self-interested Europeans (who have had sufficient trouble defining their own frontiers), Africa's borders continue to provoke the deaths of millions of local inhabitants. But the unjust borders in the Middle East — to borrow from Churchill — generate more trouble than can be consumed locally.

While the Middle East has far more problems than dysfunctional borders alone — from cultural stagnation through scandalous inequality to deadly religious extremism — the greatest taboo in striving to understand the region's comprehensive failure isn't Islam, but the awful-but-sacrosanct international boundaries worshipped by our own diplomats.

Of course, no adjustment of borders, however draconian, could make every minority in the Middle East happy. In some instances, ethnic and religious groups live intermingled and have intermarried. Elsewhere, reunions based on blood or belief might not prove quite as joyous as their current proponents expect. The boundaries projected in the maps accompanying this article redress the wrongs suffered by the most significant "cheated" population groups, such as the Kurds, Baluch and Arab Shia [Muslims], but still fail to account adequately for Middle Eastern Christians, Bahais, Ismailis, Naqshbandis and many another numerically lesser minorities. And one haunting wrong can never be redressed with a reward of territory: the genocide perpetrated against the Armenians by the dying Ottoman Empire.

Yet, for all the injustices the borders re-imagined here leave unaddressed, without such major boundary revisions, we shall never see a more peaceful Middle East.

Even those who abhor the topic of altering borders would be well-served to engage in an exercise that attempts to conceive a fairer, if still imperfect, amendment of national boundaries between the Bosphorus and the Indus. Accepting that international statecraft has never developed effective tools — short of war — for readjusting faulty borders, a mental effort to grasp the Middle East's "organic" frontiers nonetheless helps us understand the extent of the difficulties we face and will continue to face. We are dealing with colossal, man-made deformities that will not stop generating hatred and violence until they are corrected. 6

(emphasis added)
"Necessary Pain"
Besides believing that there is "cultural stagnation" in the Middle East, it must be noted that Ralph Peters admits that his propositions are "draconian" in nature, but he insists that they are necessary pains for the people of the Middle East. This view of necessary pain and suffering is in startling parallel to U.S. Secretary of State Condoleezza Rice's belief that the devastation of Lebanon by the Israeli military was a necessary pain or "birth pang" in order to create the "New Middle East" that Washington, London, and Tel Aviv envision.
Moreover, it is worth noting that the subject of the Armenian Genocide is being politicized and stimulated in Europe to offend Turkey.7
The overhaul, dismantlement, and reassembly of the nation-states of the Middle East have been packaged as a solution to the hostilities in the Middle East, but this is categorically misleading, false, and fictitious. The advocates of a "New Middle East" and redrawn boundaries in the region avoid and fail to candidly depict the roots of the problems and conflicts in the contemporary Middle East. What the media does not acknowledge is the fact that almost all major conflicts afflicting the Middle East are the consequence of overlapping Anglo-American-Israeli agendas.
Many of the problems affecting the contemporary Middle East are the result of the deliberate aggravation of pre-existing regional tensions. Sectarian division, ethnic tension and internal violence have been traditionally exploited by the United States and Britain in various parts of the globe including Africa, Latin America, the Balkans, and the Middle East. Iraq is just one of many examples of the Anglo-American strategy of "divide and conquer." Other examples are Rwanda, Yugoslavia, the Caucasus, and Afghanistan.
Amongst the problems in the contemporary Middle East is the lack of genuine democracy which U.S. and British foreign policy has actually been deliberately obstructing.  Western-style "Democracy" has been a requirement only for those Middle Eastern states which do not conform to Washington's political demands. Invariably, it constitutes a pretext for confrontation. Saudi Arabia, Egypt, and Jordan are examples of undemocratic states that the United States has no problems with because they are firmly alligned within the Anglo-American orbit or sphere.
Additionally, the United States has deliberately blocked or displaced genuine democratic movements in the Middle East from Iran in 1953 (where a U.S./U.K. sponsored coup was staged against the democratic government of Prime Minister Mossadegh) to Saudi Arabia, Egypt, Turkey, the Arab Sheikdoms, and Jordan where the Anglo-American alliance supports military control, absolutists, and dictators in one form or another. The latest example of this is Palestine.
The Turkish Protest at NATO's Military College in Rome
Lieutenant-Colonel Ralph Peters' map of the "New Middle East" has sparked angry reactions in Turkey. According to Turkish press releases on September 15, 2006 the map of the "New Middle East" was displayed in NATO's Military College in Rome, Italy. It was additionally reported that Turkish officers were immediately outraged by the presentation of a portioned and segmented Turkey.8 The map received some form of approval from the U.S. National War Academy before it was unveiled in front of NATO officers in Rome.
The Turkish Chief of Staff, General Buyukanit, contacted the U.S. Chairman of the Joint Chiefs of Staff, General Peter Pace, and protested the event and the exhibition of the redrawn map of the Middle East, Afghanistan, and Pakistan.9 Furthermore the Pentagon has gone out of its way to assure Turkey that the map does not reflect official U.S. policy and objectives in the region, but this seems to be conflicting with Anglo-American actions in the Middle East and NATO-garrisoned Afghanistan.
Is there a Connection between Zbigniew Brzezinski's "Eurasian Balkans" and the "New Middle East" Project?
The following are important excerpts and passages from former U.S. National Security Advisor Zbigniew Brzezinski's book, The Grand Chessboard: American Primacy and Its Geo-strategic Imperatives. Brzezinski also states that both Turkey and Iran, the two most powerful states of the "Eurasian Balkans," located on its southern tier, are "potentially vulnerable to internal ethnic conflicts [balkanization]," and that, "If either or both of them were to be destabilized, the internal problems of the region would become unmanageable."10
It seems that a divided and balkanized Iraq would be the best means of accomplishing this. Taking what we know from the White House's own admissions; there is a belief that "creative destruction and chaos" in the Middle East are beneficial assets to reshaping the Middle East, creating the "New Middle East," and furthering the Anglo-American roadmap in the Middle East and Central Asia:
In Europe, the Word "Balkans" conjures up images of ethnic conflicts and great-power regional rivalries. Eurasia, too, has its "Balkans," but the Eurasian Balkans are much larger, more populated, even more religiously and ethnically heterogenous. They are located within that large geographic oblong that demarcates the central zone of global instability (…) that embraces portions of southeastern Europe, Central Asia and parts of South Asia [Pakistan, Kashmir, Western India], the Persian Gulf area, and the Middle East.

The Eurasian Balkans form the inner core of that large oblong (…) they differ from its outer zone in one particularly significant way: they are a power vacuum. Although most of the states located in the Persian Gulf and the Middle East are also unstable, American power is that region's [meaning the Middle East's] ultimate arbiter. The unstable region in the outer zone is thus an area of single power hegemony and is tempered by that hegemony. In contrast, the Eurasian Balkans are truly reminiscent of the older, more familiar Balkans of southeastern Europe: not only are its political entities unstable but they tempt and invite the intrusion of more powerful neighbors, each of whom is determined to oppose the region's domination by another. It is this familiar combination of a power vacuum and power suction that justifies the appellation "Eurasian Balkans."

The traditional Balkans represented a potential geopolitical prize in the struggle for European supremacy. The Eurasian Balkans, astride the inevitably emerging transportation network meant to link more directly Eurasia's richest and most industrious western and eastern extremities, are also geopolitically significant. Moreover, they are of importance from the standpoint of security and historical ambitions to at least three of their most immediate and more powerful neighbors, namely, Russia, Turkey, and Iran, with China also signaling an increasing political interest in the region. But the Eurasian Balkans are infinitely more important as a potential economic prize: an enormous concentration of natural gas and oil reserves is located in the region, in addition to important minerals, including gold.

 The world's energy consumption is bound to vastly increase over the next two or three decades. Estimates by the U.S. Department of Energy anticipate that world demand will rise by more than 50 percent between 1993 and 2015, with the most significant increase in consumption occurring in the Far East. The momentum of Asia's economic development is already generating massive pressures for the exploration and exploitation of new sources of energy, and the Central Asian region and the Caspian Sea basin are known to contain reserves of natural gas and oil that dwarf those of Kuwait, the Gulf of Mexico, or the North Sea.

Access to that resource and sharing in its potential wealth represent objectives that stir national ambitions, motivate corporate interests, rekindle historical claims, revive imperial aspirations, and fuel international rivalries. The situation is made all the more volatile by the fact that the region is not only a power vacuum but is also internally unstable.

(…)

The Eurasian Balkans include nine countries that one way or another fit the foregoing description, with two others as potential candidates. The nine are Kazakstan [alternative and official spelling of Kazakhstan] , Kyrgyzstan, Tajikistan, Uzbekistan, Turkmenistan, Azerbaijan, Armenia, and Georgia—all of them formerly part of the defunct Soviet Union—as well as Afghanistan.

The potential additions to the list are Turkey and Iran, both of them much more politically and economically viable, both active contestants for regional influence within the Eurasian Balkans, and thus both significant geo-strategic players in the region. At the same time, both are potentially vulnerable to internal ethnic conflicts. If either or both of them were to be destabilized, the internal problems of the region would become unmanageable, while efforts to restrain regional domination by Russia could even become futile. 11

(emphasis added)
Redrawing the Middle East
The Middle East, in some regards, is a striking parallel to the Balkans and Central-Eastern Europe during the years leading up the First World War. In the wake of the the First World War the borders of the Balkans and Central-Eastern Europe were redrawn. This region experienced a period of upheaval, violence and conflict, before and after World War I, which was the direct result of foreign economic interests and interference.
The reasons behind the First World War are more sinister than the standard school-book explanation, the assassination of the heir to the throne of the Austro-Hungarian (Habsburg) Empire, Archduke Franz Ferdinand, in Sarajevo. Economic factors were the real motivation for the large-scale war in 1914.
Norman Dodd, a former Wall Street banker and investigator for the U.S. Congress, who examined  U.S. tax-exempt foundations, confirmed in a 1982 interview that those powerful individuals who from behind the scenes controlled the finances, policies, and government of the United States had in fact also planned U.S. involvement in a war, which would contribute to entrenching their grip on power.
The following testimonial is from the transcript of Norman Dodd's interview with G. Edward Griffin;
We are now at the year 1908, which was the year that the Carnegie Foundation began operations.  And, in that year, the trustees meeting, for the first time, raised a specific question, which they discussed throughout the balance of the year, in a very learned fashion.  And the question is this:  Is there any means known more effective than war, assuming you wish to alter the life of an entire people?  And they conclude that, no more effective means to that end is known to humanity, than war.  So then, in 1909, they raise the second question, and discuss it, namely, how do we involve the United States in a war?
Well, I doubt, at that time, if there was any subject more removed from the thinking of most of the people of this country [the United States], than its involvement in a war.  There were intermittent shows [wars] in the Balkans, but I doubt very much if many people even knew where the Balkans were.  And finally, they answer that question as follows:  we must control the State Department.

And then, that very naturally raises the question of how do we do that?  They answer it by saying, we must take over and control the diplomatic machinery of this country and, finally, they resolve to aim at that as an objective.  Then, time passes, and we are eventually in a war, which would be World War I.  At that time, they record on their minutes a shocking report in which they dispatch to President Wilson a telegram cautioning him to see that the war does not end too quickly.  And finally, of course, the war is over.

At that time, their interest shifts over to preventing what they call a reversion of life in the United States to what it was prior to 1914, when World War I broke out.
(emphasis added)
The redrawing and partition of the Middle East from the Eastern Mediterranean shores of Lebanon and Syria to Anatolia (Asia Minor), Arabia, the Persian Gulf, and the Iranian Plateau responds to broad economic, strategic and military objectives, which are part of a longstanding Anglo-American and Israeli agenda in the region.
The Middle East has been conditioned by outside forces into a powder keg that is ready to explode with the right trigger, possibly the launching of Anglo-American and/or Israeli air raids against Iran and Syria. A wider war in the Middle East could result in redrawn borders that are strategically advantageous to Anglo-American interests and Israel.
NATO-garrisoned Afghanistan has been successfully divided, all but in name. Animosity has been inseminated in the Levant, where a Palestinian civil war is being nurtured and divisions in Lebanon agitated. The Eastern Mediterranean has been successfully militarized by NATO. Syria and Iran continue to be demonized by the Western media, with a view to justifying a military agenda. In turn, the Western media has fed, on a daily basis, incorrect and biased notions that the populations of Iraq cannot co-exist and that the conflict is not a war of occupation but a "civil war" characterised by domestic strife between Shiites, Sunnis and Kurds.
Attempts at intentionally creating animosity between the different ethno-cultural and religious groups of the Middle East have been systematic. In fact, they are part of a carefully designed covert intelligence agenda.
Even more ominous, many Middle Eastern governments, such as that of Saudi Arabia, are assisting Washington in fomenting divisions between Middle Eastern populations. The ultimate objective is to weaken the resistance movement against foreign occupation through a "divide and conquer strategy" which serves Anglo-American and Israeli interests in the broader region.
-
PREPARING FOR WORLD WAR III, TARGETING IRAN
By Prof Michel Chossudovsky | Global Research
January 02, 2013
Humanity is at a dangerous crossroads. War preparations to attack Iran are in "an advanced state of readiness". Hi tech weapons systems including nuclear warheads are fully deployed.
This military adventure has been on the Pentagon's drawing board since the mid-1990s. First Iraq, then Iran according to a declassified 1995 US Central Command document.
Escalation is part of the military agenda. While Iran, is the next target together with Syria and Lebanon, this strategic military deployment also threatens North Korea, China and Russia.
Since 2005, the US and its allies, including America's NATO partners and Israel, have been involved in the extensive deployment and stockpiling of advanced weapons systems. The air defense systems of the US, NATO member countries and Israel are fully integrated.
This is a coordinated endeavor of the Pentagon, NATO, Israel's Defense Force (IDF), with the active military involvement of several non-NATO partner countries including the frontline Arab states (members of NATO's Mediterranean Dialogue and the Istanbul Cooperation Initiative), Saudi Arabia, Japan, South Korea, India, Indonesia, Singapore, Australia, among others. (NATO consists of 28 NATO member states  Another 21 countries are members of the Euro-Atlantic Partnership Council (EAPC), The Mediterranean Dialogue and the Istanbul Cooperation Initiative include ten Arab countries plus Israel.)
The roles of Egypt, the Gulf states and Saudi Arabia (within the extended military alliance) is of particular relevance. Egypt controls the transit of war ships and oil tankers through the Suez Canal. Saudi Arabia and the Gulf States occupy the South Western coastlines of the Persian Gulf, the Straits of Hormuz and the Gulf of Oman. In early June, "Egypt reportedly allowed one Israeli and eleven U.S. ships to pass through the Suez Canal in ….an apparent signal to Iran. … On June 12, regional press outlets reported that the Saudis had granted Israel the right to fly over its airspace…" (Muriel Mirak Weissbach,  Israel's Insane War on Iran Must Be Prevented., Global Research, July 31, 2010)
In post 9/11 military doctrine, this massive deployment of military hardware has been defined as part of the so-called  "Global War on Terrorism", targeting "non-State" terrorist organizations including al Qaeda and so-called "State sponsors of terrorism",. including Iran, Syria, Lebanon, Sudan.
The setting up of new US military bases, the stockpiling of advanced weapons systems including tactical nuclear weapons, etc. were implemented as part of the pre-emptive defensive military doctrine under the umbrella of the "Global War on Terrorism".
War and the Economic Crisis
The broader implications of a US-NATO Israel attack on Iran are far-reaching. The war and the economic crisis are intimately related. The war economy is financed by Wall Street, which stands as the creditor of the US administration. The US weapons producers are the recipients of the US Department of Defense multibillion dollar procurement contracts for advanced weapons systems. In turn, "the battle for oil" in the Middle East and Central Asia directly serves the interests of the Anglo-American oil giants.
The US and its allies are "beating the drums of war" at the height of a Worldwide economic depression, not to mention the most serious environmental catastrophe in World history. In a bitter twist, one of the major players (BP) on the Middle East Central Asia geopolitical chessboard, formerly known as the Anglo-Persian Oil Company, is the instigator of the ecological disaster in the Gulf of Mexico.
Media Disinformation
Public opinion, swayed by media hype is tacitly supportive, indifferent or ignorant as to the likely impacts of what is upheld as an ad hoc "punitive" operation directed against Iran's nuclear facilities rather than an all out war. War preparations include the deployment of  US and Israeli produced nuclear weapons. In this context, the devastating consequences of a nuclear war are either trivialised or simply not mentioned.
The "real crisis" threatening humanity, according to the media and the governments, is not war but global warming. The media will fabricate a crisis where there is no crisis: "a global scare" — the H1N1 global pandemic– but nobody seems to fear a US sponsored nuclear war.
The war on Iran is presented to public opinion as an issue among others.  The fact that an attack on Iran could lead to escalation and potentially unleash a "global war" is not a matter of concern.
The Cult of Killing and Destruction
The global killing machine is also sustained by an imbedded cult of killing and destruction which pervades Hollywood movies, not to mention the prime time war and crime TV series on network television. This cult of killing is endorsed by the CIA and the Pentagon which also support (finance) Hollywood productions as an instrument of war propaganda:
"Ex-CIA agent Bob Baer told us, "There's a symbiosis between the CIA and Hollywood" and revealed that former CIA director George Tenet is currently, "out in Hollywood, talking to studios." (Matthew Alford and Robbie Graham, Lights, Camera… Covert Action: The Deep Politics of Hollywood, Global Research, January 31, 2009).
The killing machine is deployed at a global level, within the framework of the unified combat command structure. It is routinely upheld by the institutions of government, the corporate media and the mandarins and intellectuals of the New World Order in Washington's think tanks and strategic studies research institutes, as an unquestioned instrument of peace and global prosperity.
A culture of killing and violence has become imbedded in human consciousness.
War is broadly accepted as part of a societal process: The Homeland needs to be "defended" and protected.
"Legitimized violence" and extrajudicial killings directed against "terrorists" are upheld in western democracies, as necessary instruments of national security.
A "humanitarian war" is upheld by the so-called international community. It is not condemned as a criminal act. Its main architects are rewarded for their contributions to world peace.
With regard to Iran, what is unfolding is the outright legitimization of war in the name of an illusive notion of global security.
A "Pre-emptive" Aerial attack directed against Iran would lead to Escalation
At present there are three separate Middle East Central Asia war theaters: Iraq, Af-Pak, and Palestine.
Were Iran to be the object of a "pre-emptive" aerial attack by allied forces, the entire region, from the Eastern Mediterranean to China's Western frontier with Afghanistan and Pakistan, would flare up, leading us potentially into a World War III scenario.
The war would also extend into Lebanon and Syria.
It is highly unlikely that the bombings, if they were to be implemented, would be circumscribed to Iran's nuclear facilities as claimed by US-NATO official statements. What is more probable is an all out air attack on both military and civilian infrastructure, transport systems, factories, public buildings.
Iran, with an an estimated ten percent of global oil and gas reserves, ranks third after Saudi Arabia (25 %) and Iraq (11 %) in the size of its reserves. In comparison, the US possesses less than 2.8 % of global oil reserves. The oil reserves of the U.S. are estimated at less than 20 billion barrels. The broader region of the Middle East and Central Asia have oil reserves which are more than thirty times those of the U.S, representing more than 60% of the World's total reserves. (See Eric Waddell, The Battle for Oil, Global Research, December 2004).
Of significance is the recent discovery in Iran of the second largest known reserves of natural gas at Soumar and Halgan estimated at 12.4 trillion cubic feet.
Targeting Iran consists not only in reclaiming Anglo-American control over Iran's oil and gas economy, including pipeline routes, it also challenges the presence and influence of China and Russia in the region.
The planned attack on Iran is part of a coordinated global military road map. It is part of the Pentagon's "long war",  a profit driven war without borders, a project of World domination, a sequence of military operations.
US-NATO military planners have envisaged various scenarios of military escalation. They are also acutely aware of the geopolitical implications, namely that the war could extend beyond the Middle East Central Asia region. The economic impacts on the oil markets, etc. have also been analyzed.
While Iran, Syria and Lebanon are the immediate targets, China, Russia, North Korea, not to mention Venezuela and Cuba are also the object of US threats.
At stake is the structure of military alliances. US-NATO-Israel military deployments including military exercises and drills conducted on Russia and China's immediate borders bear a direct relationship to the proposed war on Iran. These veiled threats, including their timing, constitute an obvious hint to the former powers of the Cold War era not to intervene in any way which could encroach upon a US-led attack on Iran.
Global Warfare
The medium term strategic objective is to target Iran and neutralize Iran's allies, through gunboat diplomacy. The longer term military objective is to directly target China and Russia.
While Iran is the immediate target, military deployment is by no means limited to the Middle East and Central Asia. A global military agenda has been formulated.
The deployment of coalition troops and advanced weapons systems by the US, NATO and its partners is occurring simultaneously in all major regions of the World.
The recent actions of the US military off the coast of North Korea including the conduct of war games are part of a global design.
Directed primarily against Russia and China, US, NATO and allied military exercises, war drills, weapons deployments, etc. are being conducted simultaneously in major geopolitical hotspots.
-The Korean Peninsula, the Sea of Japan, the Taiwan Straits, the South China Sea threatening China.

-The deployment of Patriot missiles in Poland, the early warning center in the Czech republic threatening Russia.

-Naval deployments in Bulgaria, Romania on the Black Sea, threatening Russia.

- US and NATO troops deployments in Georgia.

- A formidable naval deployment in the Persian Gulf including Israeli submarines directed against Iran.
Concurrently the Eastern Mediterranean, the Black Sea, the Caribbean, Central America and the Andean region of South America are areas of ongoing militarization. In Latin America and the Caribbean, the threats are directed against Venezuela and Cuba.
US "Military Aid"
In turn, large scale weapons transfers have been undertaken under the banner of US "military aid" to selected countries, including a 5 billion dollar arms deal with India which is intended to build India's capabilities directed against China. (Huge U.S.-India Arms Deal To Contain China, Global Times, July 13, 2010).
"[The] arms sales will improve ties between Washington and New Delhi, and, intentionally or not, will have the effect of containing China's influence in the region." quoted in Rick Rozoff, Confronting both China and Russia: U.S. Risks Military Clash With China In Yellow Sea, Global Research, July 16, 2010)
The US has military cooperation agreements with a number of South East Asian countries including Singapore, Vietnam and Indonesia, involving "military aid" as well as the participation in U.S.-led war games in the Pacific Rim (July -August 2010). These agreements are supportive of weapons deployments directed against The People's Republic of China. (See Rick Rozoff, Confronting both China and Russia: U.S. Risks Military Clash With China In Yellow Sea, Global Research, July 16, 2010).
Similarly and more directly related to the planned attack on Iran, the US is arming the Gulf States (Bahrain, Kuwait, Qatar and the United Arab Emirates) with land-based interceptor missiles, Patriot Advanced Capability-3 and Terminal High Altitude Area Defense (THAAD) as well as sea-based Standard Missile-3 interceptors installed on Aegis class warships in the Persian Gulf. (See Rick Rozoff,  NATO's Role In The Military Encirclement Of Iran, Global Research, February 10, 2010).
The Timetable of Military Stockpiling and Deployment
What is crucial in regards to US weapons transfers to partner countries and allies is the actual timing of delivery and deployment. The launch of a US sponsored military operation would normally occur once these weapons systems are in place, effectively deployed with the implementation of personnel training. (e.g India).
What we are dealing with is a carefully coordinated global military design controlled by the Pentagon, involving the combined armed forces of more than forty countries. This global multinational military deployment is by far the largest display of advanced weapons systems in World history.
In turn, the US and its allies have established new military bases in different parts of the world.  "The Surface of the Earth is Structured as a Wide Battlefield". (See Jules Dufour, The Worldwide Network of US Military Bases , Global Research, July 1, 2007).
The Unified Command structure divided up into geographic Combatant Commands is predicated on a strategy of militarization at the global level. "The US Military has bases in 63 countries. Brand new military bases have been built since September 11, 2001 in seven countries. In total, there are 255,065 US military personnel deployed Worldwide." (See Jules Dufour, The Worldwide Network of US Military Bases , Global Research, July 1, 2007
Source: DefenseLINK-Unified Command Plan
World War III Scenario
"The World Commanders' Areas of Responsibility" (See Map above) defines the Pentagon's global military design, which is one of World conquest.  This military deployment is occurring in several regions simultaneously under the coordination of the regional US Commands, involving the stockpiling of US made weapons systems by US forces and partner countries, some of which are former enemies, including Vietnam and Japan.
The present context is characterised by a global military build-up controlled by one World superpower, which is using its numerous allies to trigger regional wars.
In contrast, the Second World War was a conjunction of separate regional war theaters. Given the communications technologies and weapons systems of the 1940s, there was no strategic "real time" coordination in military actions between broad geographic regions
Global warfare is based on the coordinated deployment of a single dominant military power, which oversees the actions of its allies and partners.
With the exception of Hiroshima and Nagasaki, the Second World War was characterized by the use of conventional weapons. The planning of  a global war relies on the militarization of outer space. Were a war directed against iran to be launched, it would not only use nuclear weapons, the entire gamut of new advanced weapons systems, including electrometric weapons and environmental modification techniques (ENMOD) would be used.
The United Nations Security Council
The UN Security Council adopted in early June a fourth round of sweeping sanctions against The Islamic Republic of Iran, which included an expanded arms embargo as well "tougher financial controls". In a bitter irony, this resolution was passed within days of the United Nations Secrity Council's outright refusal to adopt a motion condemning Israel for its attack on the Gaza Freedom Flotilla in international waters.
Both China and Russia, pressured by the US, have endorsed the UNSC sanctions' regime, to their own detriment. Their decision within the UNSC contributes to weakening their own military alliance, the Shanghai  Cooperation organization (SCO), in which Iran has observer status. The Security Council resolution freezes China and Russia's respective bilateral military cooperation and trade agreements with Iran. It has serious repercussions on Iran's air defense system which in part depends on Russian technology and expertise.
The Security Council resolution grants a de facto "green light" to wage a pre-emptive war against Iran.
-
TOWARDS A WORLD WAR III SCENARIO, THE MILITARY ROAD MAP AND THE ROLE OF ISRAEL IN TRIGGERING AN ATTACK ON IRAN
By Prof Michel Chossudovsky | Global Research
January 02, 2013
The stockpiling and deployment of advanced weapons systems directed against Iran started in the immediate wake of the 2003 bombing and invasion of Iraq. From the outset, these war plans were led by the US, in liaison with NATO and Israel.
Following the 2003 invasion of Iraq, the Bush administration identified Iran and Syria as the next stage of "the road map to war". US military sources intimated that an aerial attack on Iran could involve a large scale deployment comparable to the US "shock and awe" bombing raids on Iraq in March 2003:
"American air strikes on Iran would vastly exceed the scope of the 1981 Israeli attack on the Osiraq nuclear center in Iraq, and would more resemble the opening days of the 2003 air campaign against Iraq.(See Globalsecurity )
"Theater Iran Near Term"
Code named by US military planners as TIRANNT, "Theater Iran Near Term", simulations of an attack on Iran were initiated in May 2003 "when modelers and intelligence specialists pulled together the data needed for theater-level (meaning large-scale) scenario analysis for Iran." ( (William Arkin, Washington Post, 16 April 2006).
The scenarios identified several thousand targets inside Iran as part of a "Shock and Awe" Blitzkrieg:
"The analysis, called TIRANNT, for "Theater Iran Near Term," was coupled with a mock scenario for a Marine Corps invasion and a simulation of the Iranian missile force. U.S. and British planners conducted a Caspian Sea war game around the same time. And Bush directed the U.S. Strategic Command to draw up a global strike war plan for an attack against Iranian weapons of mass destruction. All of this will ultimately feed into a new war plan for "major combat operations" against Iran that military sources confirm now [April 2006] exists in draft form.

… Under TIRANNT, Army and U.S. Central Command planners have been examining both near-term and out-year scenarios for war with Iran, including all aspects of a major combat operation, from mobilization and deployment of forces through postwar stability operations after regime change." (William Arkin, Washington Post, 16 April 2006)
Different "theater scenarios" for an all out attack on Iran had been contemplated:  "The US army, navy, air force and marines have all prepared battle plans and spent four years building bases and training for "Operation Iranian Freedom". Admiral Fallon, the new head of US Central Command, has inherited computerized plans under the name TIRANNT (Theatre Iran Near Term)." (New Statesman, February 19, 2007)
In 2004, drawing upon the initial war scenarios under TIRANNT,  Vice President Dick Cheney instructed USSTRATCOM to draw up a "contingency plan" of a large scale military operation directed against Iran "to be employed in response to another 9/11-type terrorist attack on the United States" on the presumption that the government in Tehran would be behind the terrorist plot. The plan included the pre-emptive use of nuclear weapons against a non-nuclear state:
"The plan includes a large-scale air assault on Iran employing both conventional and tactical nuclear weapons. Within Iran there are more than 450 major strategic targets, including numerous suspected nuclear-weapons-program development sites. Many of the targets are hardened or are deep underground and could not be taken out by conventional weapons, hence the nuclear option. As in the case of Iraq, the response is not conditional on Iran actually being involved in the act of terrorism directed against the United States. Several senior Air Force officers involved in the planning are reportedly appalled at the implications of what they are doing—that Iran is being set up for an unprovoked nuclear attack—but no one is prepared to damage his career by posing any objections." (Philip Giraldi, Deep Background,The American Conservative  August 2005)
The Military Road Map: "First Iraq, then Iran"
The decision to target Iran under TIRANNT was part of the broader process of military planning and sequencing of military operations. Already under the Clinton administration, US Central Command (USCENTCOM) had formulated  "in war theater plans" to invade first Iraq and then Iran. Access to Middle East oil was the stated strategic objective:
"The broad national security interests and objectives expressed in the President's National Security Strategy (NSS) and the Chairman's National Military Strategy (NMS) form the foundation of the United States Central Command's theater strategy. The NSS directs implementation of a strategy of dual containment of the rogue states of Iraq and Iran as long as those states pose a threat to U.S. interests, to other states in the region, and to their own citizens. Dual containment is designed to maintain the balance of power in the region without depending on either Iraq or Iran. USCENTCOM's theater strategy is interest-based and threat-focused. The purpose of U.S. engagement, as espoused in the NSS, is to protect the United States' vital interest in the region – uninterrupted, secure U.S./Allied access to Gulf oil." (USCENTCOM, http://www.milnet.com/milnet/pentagon/centcom/chap1/stratgic.htm#USPolicy, link no longer active, archived at http://tinyurl.com/37gafu9)
The war on Iran was viewed as part of a succession of military operations.  According to (former) NATO Commander General Wesley Clark, the Pentagon's military road-map consisted of a sequence of countries: "[The] Five-year campaign plan [includes]… a total of seven countries, beginning with Iraq, then Syria, Lebanon, Libya, Iran, Somalia and Sudan."  In "Winning Modern Wars" (page 130) General Clark states the following:
"As I went back through the Pentagon in November 2001, one of the senior military staff officers had time for a chat. Yes, we were still on track for going against Iraq, he said. But there was more. This was being discussed as part of a five-year campaign plan, he said, and there were a total of seven countries, beginning with Iraq, then Syria, Lebanon, Libya, Iran, Somalia and Sudan. (See Secret 2001 Pentagon Plan to Attack Lebanon, Global Research, July 23, 2006)
The Role of Israel
There has been much debate regarding the role of Israel in initiating an attack against Iran.
Israel is part of a military alliance. Tel Aviv is not a prime mover. It does not have a separate and distinct military agenda.
Israel is integrated into the "war plan for major combat operations" against Iran formulated in 2006 by US Strategic Command (USSTRATCOM). In the context of large scale military operations, an uncoordinated unilateral military action by one coalition partner, namely Israel, is from a military and strategic point almost an impossibility. Israel is a de facto member of NATO. Any action by Israel would require a "green light" from Washington.
An attack by Israel could, however, be used as "the trigger mechanism" which would unleash an all out war against Iran, as well retaliation by Iran directed against Israel.
In this regard, there are indications that Washington might envisage the option of an initial (US backed) attack by Israel  rather than an outright US-led military operation directed against Iran. The Israeli attack –although led in close liaison with the Pentagon and NATO– would be presented to public opinion as a unilateral decision by Tel Aviv. It would then be used by Washington to justify, in the eyes of World opinion, a military intervention of the US and NATO with a view to "defending Israel", rather than attacking Iran. Under existing military cooperation agreements, both the US and NATO would be "obligated" to "defend Israel" against Iran and Syria.
It is worth noting, in this regard, that at the outset of Bush's second term, (former) Vice President Dick Cheney hinted, in no uncertain terms, that Iran was "right at the top of the list" of the "rogue enemies" of America, and that Israel would, so to speak, "be doing the bombing for us", without US military involvement and without us putting pressure on them "to do it" (See Michel Chossudovsky, Planned US-Israeli Attack on Iran, Global Research, May 1, 2005): According to Cheney:
"One of the concerns people have is that Israel might do it without being asked… Given the fact that Iran has a stated policy that their objective is the destruction of Israel, the Israelis might well decide to act first, and let the rest of the world worry about cleaning up the diplomatic mess afterwards," (Dick Cheney, quoted from an MSNBC Interview, January 2005)
Commenting the Vice President's assertion, former National Security adviser Zbigniew Brzezinski in an interview on PBS, confirmed with some apprehension, yes: Cheney wants Prime Minister Ariel Sharon to act on America's behalf and "do it" for us:
"Iran I think is more ambiguous. And there the issue is certainly not tyranny; it's nuclear weapons. And the vice president today in a kind of a strange parallel statement to this declaration of freedom hinted that the Israelis may do it and in fact used language which sounds like a justification or even an encouragement for the Israelis to do it."
What we are dealing with is a joint US-NATO-Israel  military operation to bomb Iran, which has been in the active planning stage since 2004. Officials in the Defense Department, under Bush and Obama, have been working assiduously with their Israeli military and intelligence counterparts, carefully identifying targets inside Iran. In practical military terms, any action by Israel would have to be planned and coordinated at the highest levels of the US led coalition.
An attack by Israel would also require coordinated US-NATO logistical support, particularly with regard to Israel's air defense system, which since January 2009 is fully integrated into that of the US and NATO. (See Michel Chossudovsky,  Unusually Large U.S. Weapons Shipment to Israel: Are the US and Israel Planning a Broader Middle East War?  Global Research, January 11,2009)
Israel's X band radar system established in early 2009 with US technical support has "integrate[d] Israel's missile defenses with the U.S. global missile [Space-based] detection network, which includes satellites, Aegis ships on the Mediterranean, Persian Gulf and Red Sea, and land-based Patriot radars and interceptors." (Defense Talk.com, January 6, 2009,)
What this means is that Washington ultimately calls the shots. The US rather than Israel controls the air defense system: "'This is and will remain a U.S. radar system,' Pentagon spokesman Geoff Morrell said. 'So this is not something we are giving or selling to the Israelis and it is something that will likely require U.S. personnel on-site to operate.'" (Quoted in Israel National News, January 9, 2009).
The US military oversees Israel's Air Defense system, which is integrated into the Pentagon's global system. In other words, Israel cannot launch a war against Iran without Washington's consent. Hence the importance of the so-called "Green Light" legislation in the US Congress sponsored by the Republican party under House Resolution 1553, which explicitly supports an Israeli attakc on Iran:
"The measure, introduced by Texas Republican Louie Gohmert and 46 of his colleagues, endorses Israel's use of "all means necessary" against Iran "including the use of military force." … "We've got to get this done. We need to show our support for Israel. We need to quit playing games with this critical ally in such a difficult area."' (See Webster Tarpley, Fidel Castro Warns of Imminent Nuclear War; Admiral Mullen Threatens Iran; US-Israel Vs. Iran-Hezbollah Confrontation Builds On, Global Research, August 10, 2010)
In practice, the proposed legislation is a "Green Light" to the White House and the Pentagon rather than to Israel. It constitutes a rubber stamp to a US sponsored war on Iran which uses Israel as a convenient military launch pad. It also serves as a justification to wage war with a view to defending Israel.
In this context, Israel could indeed provide the pretext to wage war, in response to alleged Hamas or Hezbollah attacks and/or the triggering of hostilities on the border of Israel with Lebanon. What is crucial to understand is that a minor "incident" could be used as a pretext to spark off a major military operation against Iran.
Known to US military planners, Israel (rather than the USA) would be the first target of military retaliation by Iran. Broadly speaking, Israelis would be the victims of the machinations of both Washington and their own government. It is, in this regard, absolutely crucial that Israelis forcefully oppose any action by the Netanyahu government to attack Iran.
Global Warfare: The Role of US Strategic Command (USSTRATCOM)
Global military operations are coordinated out of US Strategic Command Headquarters (USSTRATCOM) at the Offutt Air Force base in Nebraska, in liaison with the regional commands of the unified combatant commands (e.g.. US Central Command  in Florida, which is responsible for the Middle East-Central Asian region, See map below)  as well as coalition command units in Israel, Turkey, the Persian Gulf and the Diego Garcia military base in the Indian Ocean.  Military planning and decision making at a country level by individual allies of US-NATO as well as "partner nations" is integrated into a global military design including the weaponization of space.
Under its new mandate, USSTRATCOM has a responsibility for "overseeing a global strike plan" consisting of both conventional and nuclear weapons. In military jargon, it is slated to play the role of "a global integrator charged with the missions of Space Operations; Information Operations; Integrated Missile Defense; Global Command & Control; Intelligence, Surveillance and Reconnaissance; Global Strike; and Strategic Deterrence…. "
USSTRATCOM's responsibilities include: "leading, planning, & executing strategic deterrence operations" at a global level, "synchronizing global missile defense plans and operations", "synchronizing regional combat plans", etc. USSTRATCOM is the lead agency in the coordination of modern warfare.
In January 2005, at the outset of the military deployment and build-up directed against Iran, USSTRATCOM was identified as "the lead Combatant Command for integration and synchronization of DoD-wide efforts in combating weapons of mass destruction." (Michel Chossudovsky, Nuclear War against Iran, Global Research, January 3, 2006).
What this means is that the coordination of a large scale attack on Iran, including the various scenarios of escalation in and beyond the broader Middle East Central Asian region would be coordinated by USSTRATCOM.
Map: US Central Command's Area of Jurisdiction
Tactical Nuclear Weapons directed against Iran
Confirmed by military documents as well as official statements, both the US and Israel contemplate the use of nuclear weapons directed against Iran. In 2006, U.S. Strategic Command (USSTRATCOM) announced it had achieved an operational capability for rapidly striking targets around the globe using nuclear or conventional weapons. This announcement was made after the conduct of military simulations pertaining to a US led nuclear attack against a fictional country. (David Ruppe, Preemptive Nuclear War in a State of Readiness: U.S. Command Declares Global Strike Capability, Global Security Newswire, December 2, 2005)
Continuity in relation to the Bush-Cheney era:  President Obama has largely endorsed the doctrine of pre-emptive use of nuclear weapons formulated by the previous administration. Under the 2010 Nuclear Posture Review, the Obama administration confirmed  "that it is reserving the right to use nuclear weapons against Iran" for its non-compliance with US demands regarding its alleged (nonexistent) nuclear weapons program. (U.S. Nuclear Option on Iran Linked to Israeli Attack Threat – IPS ipsnews.net, April 23, 2010). The Obama administration has also intimated that it would use nukes in the case of an Iranian response to an Israeli attack on Iran. (Ibid). Israel  has also drawn up its own "secret plans" to bomb Iran with tactical nuclear weapons:
"Israeli military commanders believe conventional strikes may no longer be enough to annihilate increasingly well-defended enrichment facilities. Several have been built beneath at least 70ft of concrete and rock. However, the nuclear-tipped bunker-busters would be used only if a conventional attack was ruled out and if the United States declined to intervene, senior sources said."(Revealed: Israel plans nuclear strike on Iran – Times Online, January 7, 2007)
Obama's statements on the use of nuclear weapons against Iran and North Korea are consistent with post 9/11 US nuclear weapons doctrine, which allows for the use of tactical nuclear weapons in the conventional war theater.
Through a propaganda campaign which has enlisted the support of "authoritative" nuclear scientists, mini-nukes are upheld as an instrument of peace, namely a means to combating "Islamic terrorism" and instating Western style "democracy" in Iran. The low-yield nukes have been cleared for "battlefield use". They are slated to be used against Iran and Syria in the next stage of America's "war on Terrorism" alongside conventional weapons.
"Administration officials argue that low-yield nuclear weapons are needed as a credible deterrent against rogue states. [Iran, Syria, North Korea] Their logic is that existing nuclear weapons are too destructive to be used except in a full-scale nuclear war. Potential enemies realize this, thus they do not consider the threat of nuclear retaliation to be credible. However, low-yield nuclear weapons are less destructive, thus might conceivably be used. That would make them more effective as a deterrent." (Opponents Surprised By Elimination of Nuke Research Funds Defense News November 29, 2004)
The preferred nuclear weapon to be used against Iran are tactical nuclear weapons (Made in America), namely bunker buster bombs with nuclear warheads (e.g. B61.11), with an explosive capacity between one third to six times a Hiroshima bomb. The B61-11 is the "nuclear version" of the "conventional"  BLU 113. or Guided Bomb Unit GBU-28. It can be delivered in much same way as the conventional bunker buster bomb. (See Michel Chossudovsky, http://www.globalresearch.ca/articles/CHO112C.html, see also http://www.thebulletin.org/article_nn.php?art_ofn=jf03norris) . While the US does not contemplate the use of strategic thermonuclear weapons against Iran, Israel's nuclear arsenal is largely composed of thermonuclear bombs which are deployed and could be used in a war with Iran. Under Israel's Jericho‐III missile system with a range between 4,800 km to 6,500 km, all Iran would be within reach.

Conventional bunker buster Guided Bomb Unit GBU-27

B61 bunker buster bomb
Radiactive Fallout
The issue of radioactive fallout and contamination, while casually dismissed  by US-NATO military analysts, would be devastating, potentially affecting a large area of  the broader Middle East (including Israel) and Central Asian region.
In an utterly twisted logic, nuclear weapons are presented as a means to building peace and preventing "collateral damage".  Iran's nonexistent nuclear weapons are a threat to global security, whereas those of the US  and Israel are instruments of peace" harmless to the surrounding civilian population".

"The Mother of All Bombs" (MOAB) Slated to be Used against Iran
Of military significance within the US conventional weapons arsenal is the 21,500-pound "monster weapon" nicknamed the "mother of all bombs" The GBU-43/B or Massive Ordnance Air Blast bomb (MOAB) was categorized "as the most powerful non-nuclear weapon ever designed" with the the largest yield in the US conventional arsenal. The MOAB was tested in early March 2003 before being deployed to the Iraq war theater. According to US military sources, The Joint Chiefs of Staff  had advised the government of  Saddam Hussein prior to launching the 2003 that the "mother of all bombs" was to be used against Iraq. (There were unconfirmed reports that it had been used in Iraq).
The US Department of Defence has confirmed in October 2009 that it intends to use the "Mother of All Bombs" (MOAB) against Iran. The MOAB is said to be  "ideally suited to hit deeply buried nuclear facilities such as Natanz or Qom in Iran" (Jonathan Karl, Is the U.S. Preparing to Bomb Iran? ABC News, October 9, 2009). The truth of the matter is that the MOAB, given its explosive capacity, would result in extremely large civilian casualties. It is a conventional "killing machine" with a nuclear type mushroom cloud.
The procurement of four MOABs was commissioned in October 2009 at the hefty cost of $58.4 million, ($14.6 million for each bomb). This amount  includes the costs of development and testing as well as integration of the MOAB bombs onto B-2 stealth bombers.(Ibid). This procurement is directly linked to war preparations in relation to Iran. The notification was contained in a 93-page "reprogramming memo" which included the following instructions:
"The Department has an Urgent Operational Need (UON) for the capability to strike hard and deeply buried targets in high threat environments. The MOP [Mother of All Bombs] is the weapon of choice to meet the requirements of the UON [Urgent Operational Need]." It further states that the request is endorsed by Pacific Command (which has responsibility over North Korea) and Central Command (which has responsibility over Iran)." (ABC News,  op cit, emphasis added). To consult the reprogramming request (pdf) click here
The Pentagon is planning on a process of extensive destruction of Iran's infrastructure and mass civilian casualties through the combined use of tactical nukes and monster conventional mushroom cloud bombs, including the MOAB and the larger GBU-57A/B or Massive Ordnance Penetrator (MOP), which surpasses the MOAB in terms of explosive capacity.
The MOP is described as "a powerful new bomb aimed squarely at the underground nuclear facilities of Iran and North Korea. The gargantuan bomb—longer than 11 persons standing shoulder-to-shoulder [see image below] or more than 20 feet base to nose" (See Edwin Black, "Super Bunker-Buster Bombs Fast-Tracked for Possible Use Against Iran and North Korea Nuclear Programs", Cutting Edge, September 21 2009)
These are WMDs in the true sense of the word. The not so hidden objective of the MOAB and MOP, including the American nickname used to casually describe the MOAB ("mother of all bombs'), is "mass destruction" and mass civilian casualties with a view to instilling fear and despair.

"Mother of All Bombs" (MOAB)


GBU-57A/B Mass Ordnance Penetrator (MOP)
MOAB: screen shots of test: explosion and mushroom cloud (right)
State of the Art Weaponry: "War Made Possible Through New Technologies"
The process of US military decision making in relation to Iran is supported by Star Wars, the militarization of outer space and the revolution in communications and information systems. Given the advances in military technology and the development of new weapons systems, an attack on Iran could be significantly different in terms of the mix of weapons systems, when compared to the March 2003 Blitzkrieg launched against Iraq. The Iran operation is slated to use the most advanced weapons systems in support of its aerial attacks. In all likelihood, new weapons systems will be tested.
The 2000 Project of the New American Century (PNAC) document entitled Rebuilding American Defenses, outlined the mandate of the US military in terms of large scale theater wars, to be waged simultaneously in different regions of the World:
"Fight and decisively win multiple, simultaneous major theater wars". 
This formulation is tantamount to a global war of conquest by a single imperial superpower. The PNAC document also called for the transformation of  U.S. forces to exploit the "revolution in military affairs", namely the implementation of  "war made possible through new technologies". (See Project for a New American Century, Rebuilding Americas Defenses  Washington DC, September 2000, pdf).  The latter consists in developing and perfecting a state of the art global killing machine based on an arsenal of sophisticated new weaponry, which would eventually replace the existing paradigms.
"Thus, it can be foreseen that the process of transformation will in fact be a two-stage process: first of transition, then of more thoroughgoing transformation. The breakpoint will come when a preponderance of new weapons systems begins to enter service, perhaps when, for example, unmanned aerial vehicles begin to be as numerous as manned aircraft. In this regard, the Pentagon should be very wary of making large investments in new programs – tanks, planes, aircraft carriers, for example – that would commit U.S. forces to current paradigms of warfare for many decades to come. (Ibid, emphasis added)
The war on Iran could indeed mark this crucial breakpoint, with new space-based weapons systems being applied with a view to disabling an enemy which has significant conventional military capabilities including more than half a million ground forces.
Electromagnetic Weapons
Electromagnetic weapons could be used to destabilize Iran's communications systems, disable electric power generation, undermine and destabilize command and control, government infrastructure, transportation, energy, etc.  Within the same family of weapons, environmental modifications techniques (ENMOD) (weather warfare) developed under the HAARP programme could also be applied. (See Michel Chossudovsky, "Owning the Weather" for Military Use, Global Research, September 27, 2004). These weapons systems are fully operational. In this context, te US Air Force document AF 2025 explicitly acknowledgedthe military applications of weather modification technologies:
"Weather modification will become a part of domestic and international security and could be done unilaterally… It could have offensive and defensive applications and even be used for deterrence purposes. The ability to generate precipitation, fog, and storms on earth or to modify space weather, improve communications through ionospheric modification (the use of ionospheric mirrors), and the production of artificial weather all are a part of an integrated set of technologies which can provide substantial increase in US, or degraded capability in an adversary, to achieve global awareness, reach, and power." (Air Force 2025 Final Report, See also US Air Force: Weather as a Force Multiplier: Owning the Weather in 2025, AF2025 v3c15-1 | Weather as a Force Multiplier: Owning… | (Ch 1) at www.fas.org).
Electromagnetic radiation enabling "remote health impairment" might also be envisaged in the war theater. (See Mojmir Babacek, Electromagnetic and Informational Weapons:, Global Research, August 6, 2004). In turn, new uses of biological weapons by the US military might also be envisaged as suggested by the PNAC: "[A]dvanced forms of biological warfare that can "target" specific genotypes may transform biological warfare from the realm of terror to a politically useful tool." (PNAC, op cit., p. 60).
Iran's Military Capabilities: Medium and Long Range Missiles
Iran has advanced military capabilities, including medium and long range missiles capable of reaching targets in Israel and the Gulf States. Hence the emphasis by the US-NATO Israel alliance on the use of nuclear weapons, which are slated to be used either pr-emptively or in response to an Iranian retaliatory missile attack.

Range of Iran's Shahab Missiles. Copyright Washington Post
In November 2006, Iran tests of surface missiles 2 were marked by precise planning in a carefully staged operation. According to a senior American missile expert (quoted by Debka),  "the Iranians demonstrated up-to-date missile-launching technology which the West had not known them to possess." (See Michel Chossudovsky, Iran's "Power of Deterrence"  Global Research, November 5, 2006) Israel acknowledged that "the Shehab-3, whose 2,000-km range brings Israel, the Middle East and Europe within reach" (Debka, November 5, 2006)
According to Uzi Rubin, former head of Israel's anti-ballistic missile program, "the intensity of the military exercise was unprecedented… It was meant to make an impression — and it made an impression." (www.cnsnews.com 3 November 2006)
The 2006 exercises, while  creating a political stir in the US and Israel, did not in any way modify US-NATO-Israeli resolve to wage on Iran.
Tehran has confirmed in several statements that it will respond if it is attacked. Israel would be the immediate object of Iranian missile attacks as confirmed by the Iranian government. The issue of Israel's air defense system is therefore crucial. US and allied military facilities in the Gulf states, Turkey, Saudi Arabia, Afghanistan and Iraq could also be targeted by Iran.
Iran's Ground Forces

While Iran is encircled by US and allied military bases, the Islamic Republic has significant military capabilities. (See maps below) What is important to acknowledge is the sheer size of Iranian forces in terms of personnel (army, navy, air force) when compared to US and NATO forces serving in Afghanistan and Iraq.
Confronted with a well organized insurgency, coalition forces are already overstretched in both Afghanistan and Iraq. Would these forces be able to cope if Iranian ground forces were to enter the existing battlefield in Iraq and Afghanistan? The potential of the Resistance movement to US and allied occupation would inevitably be affected.
Iranian ground forces are of the order of 700,000 of which 130,000 are professional soldiers, 220,000 are conscripts and 350,000 are reservists. (See  Islamic Republic of Iran Army – Wikipedia). There are 18,000 personnel in Iran's Navy and 52,000 in the air force. According to the International Institute for Strategic Studies, "the Revolutionary Guards has an estimated 125,000 personnel in five branches: Its own Navy, Air Force, and Ground Forces; and the Quds Force (Special Forces)." According to the CISS, Iran's Basij paramilitary volunteer force controlled by the Revolutionary Guards "has an estimated 90,000 active-duty full-time uniformed members, 300,000 reservists, and a total of 11 million men that can be mobilized if need be" (Armed Forces of the Islamic Republic of Iran – Wikipedia), In other words, Iran can mobilize up to half a million regular troops and several million militia. Its Quds special forces are already operating inside Iraq.

US Military and Allied Facilties Surrounding Iran
For several years now Iran has been conducting its own war drills and exercises. While its Air force has weaknesses, its intermediate and long-range missiles are fully operational. Iran's military is in a state of readiness. Iranian troop concentrations are currently within a few kilometers of the Iraqi and Afghan borders, and within proximity of Kuwait. The Iranian Navy is deployed in the Persian Gulf within proximity of US and allied military facilities in the United Arab Emirates.
It is worth noting that in response to Iran's military build-up, the US has been transferring large amounts of weapons to its non-NATO allies in the Persian Gulf including Kuwait and Saudi Arabia.
While Iran's advanced weapons do not measure up to those of the US and NATO, Iranian forces would be in a position to inflict substantial losses to coalition forces in  a conventional war theater, on the ground in Iraq or Afghanistan. Iranian ground troops and tanks in December 2009 crossed the border into Iraq without being confronted or challenged by allied forces and occupied a disputed territory in the East Maysan oil field.
Even in the event of an effective Blitzkrieg, which targets Iran's military facilities, its communications systems, etc. through massive aerial bombing, using cruise missiles, conventional bunker buster bombs and tactical nuclear weapons, a war with Iran, once initiated, could eventually lead into a ground war. This is something which US military planners have no doubt contemplated in their simulated war scenarios.
An operation of this nature would result in significant military and civilian casualties, particularly if nuclear weapons are used.
The expanded budget for the war in Afghanistan currently debated in the US Congress is also intended to be used in the eventuality of an attack on Iran.
Within a scenario of escalation, Iranian troops could cross the border into Iraq and Afghanistan.
In turn, military escalation using nuclear weapons could lead us into a World War III scenario, extending beyond the Middle East Central Asian region.
In a very real sense, this military project, which has been on the Pentagon's drawing board for more than five years, threatens the future of humanity.
Our focus in this essay has been on war preparations. The fact that war preparations are in an advanced state of readiness does not imply that these war plans will be carried out.
The US-NATO-Israel alliance realizes that the enemy has significant capabilities to respond and retaliate. This factor in itself has been crucial over the last five years in the decision by the US and its allies to postpone an attack on Iran.
Another crucial factor is the structure of military alliances. Whereas NATO has become a formidable force, the Shanghai Cooperation Organization (SCO), which constitutes an alliance between Russia and China and a number of former Soviet republics has been significantly weakened.
The ongoing US military threats directed  against China and Russia are intended to weaken the SCO and discourage any form of military action on the part of Iran's allies in the case of a US NATO Israeli attack.
Building a Political Consensus for War
In chorus, the Western media has branded Iran as a threat to global security in view of its alleged (non-existent) nuclear weapons program. Echoing official statements, the media is now demanding the implementation of punitive bombings directed against Iran so as to safeguard Israel's security.
The Western media is beating the drums of war. The purpose is to tacitly instil, through repeated media reports, ad nauseam, within people's inner consciousness, the notion that the Iranian threat is real and that the Islamic Republic should be "taken out".
A consensus building process to wage war is similar to the Spanish inquisition. It requires and demands submission to the notion that war is a humanitarian endeavor.
Building a political consensus which is based on an outright lie cannot, however, rely solely on the official position of those who are the source of the lie.
We call upon people across the land, in America,  Western Europe, Israel, Turkey and around the world to rise up against this military project, against their governments which are supportive of military action against Iran, against the media which serves to camouflage the devastating implications of a war against Iran.The military agenda support a profit driven destructive global economic system which impoverishes large sectors of the world population.
A military strike on Iran will be a prelude to World War III.  World War III will be terminal.  It will be the end of civilization. Albert Einstein understood the perils of nuclear war and the extinction of life on earth, which has already started with the radioactive contamination resulting from depleted uranium. "I know not with what weapons World War III will be fought, but World War IV will be fought with sticks and stones."
The media, the intellectuals, the scientists and the politicians, in chorus, obfuscate the untold truth, namely that war using nuclear warheads destroys humanity, and that this complex process of gradual destruction has already commenced.
When the lie becomes the truth there is no turning back.  That's why the Lie must be exposed for what it is and what it does.  Otherwise, when war is upheld as a humanitarian endeavor, Justice and the entire international legal system will be turned upside down.
-
WHO WANTS WAR ON IRAN?
By William Boardman | Global Research
There are those who would have bombed or invaded Iran years ago to make sure there would be no Iranian Bomb, and their voices are getting louder again as another day of high level talks approaches.  Even though Iran's Supreme Leader has spent years forswearing nuclear weapons, which he calls a "crime against humanity," skeptics demand proof that there's nothing to worry about. 
The Iranian nuclear program, whatever it may be, was the only item on the agenda for the seven-nation discussion in Almaty, Kazakhstan, on February 26, and cautious optimism has been expressed by participants including the United States, Russia, and Iran.  Known as the P5+1 because the group includes the five permanent members of the United Nations Security Council (China, France, Russia, United Kingdom, United States) plus Germany, the group is called the E3+3 in Europe.
Perhaps the clearest framework for understanding what the Iranian nuclear development program might or might not be is to keep in mind that the most intense claims that Iran is building nuclear weapons comes from the region's undisputed nuclear-armed state, Israel.  Much like Iraq's Saddam Hussein playing cat-and-mouse with WMDs he didn't have, Iran has cooperated with weapons inspectors only to a point of uncertainty as to whether the program is or is not military.
Iran is one of the 190 countries that have signed the nuclear Non-Proliferation Treaty, which allows for non-military development of nuclear power, nuclear medicine, and other nuclear applications.  Iran claims it has the legal right to enrich uranium as part of its civilian nuclear energy program.
Iran also claims that it has met its obligations to the United Nations' International Atomic Energy Agency (IAEA), although in 2005 the IAEA, in a vote with 12 abstentions, found Iran in non-compliance over its enrichment program (but even the Congressional Research Service was uncertain whether "non-compliance" constituted a "violation" of the treaty).  The dispute had continued ever since, with IAEA inspectors getting inconsistent access to Iran's nuclear infrastructure.  During 2012, four IAEA reports continued to provide inconclusive indications of a possible Iranian nuclear weapons program.
Israel Rejects Nuclear Transparency 
Israel has not signed the Non-Proliferation Treaty and is a presumed nuclear power along with other non-signatories who have nuclear weapons: India, Pakistan, and
North Korea.  In 2010, the IAEA sought to bring Israeli nuclear facilities within the safeguards of IAEA, with only limited success, as Israel did not reveal all its facilities and has not yet does so.    Estimates of the Israeli nuclear stockpile vary from75 to 400 warheads, with 200 thought most likely, which Israel could deliver by missile, aircraft, or submarine.
Israeli Prime Minister Benjamin Netanyahu has suggested more than once that Israeli might act alone against the perceived Iranian nuclear threat, telling the New York Times in November:
"If someone sits here as the prime minister of Israel and he can't take action on matters that are cardinal to the existence of this country, its future and its security, and he is totally dependent on receiving approval from others, then he is not worthy of leading… 

 "I am not eager to go to war….  I have been creating very heavy pressure, and part of this pressure comes from the knowledge some of the most powerful nations in the world have that we are serious. This isn't a show, this is not false."
Netanyahu first called for an attack on Iran at least as early as 1992, when he said the Iranians were only three to five years from producing a nuclear weapon.   But warnings like that are much older, going back to the 1970s and concerns that the Shah of Iran might arm his police state with nuclear weapons.
In Jerusalem on February 12, Netanyahu again threatened Iran:
"They have to know that if the sanctions and diplomacy fall, they will face a credible military threat. That is essential, and nothing else will do the job, and it is getting closer….  This has to be stopped for the interest of peace and security for the entire world."              
Iran Denies Nuclear Weapons, Rejects Transparency
Iran's President Mahmoud Ahmadinejad has often denied the existence of an Iranian nuclear weapons program, as he did in 2008 during an interview with NBC anchor Brian Williams, when he also questioned the utility of nuclear weapons as a source of security:
"Again, did nuclear arms help the Soviet Union from falling and disintegrating? For that matter, did a nuclear bomb help the U.S. to prevail inside Iraq or Afghanistan, for that matter? Nuclear bombs belong to the 20th century. We are living in a new century … Nuclear energy must not be equaled to a nuclear bomb. This is a disservice to the society of man…."   
On February 10, Ahmadinejad, whose term as president ends in a few months, indicated Iran's willingness to discuss its nuclear program in bi-lateral talks with the U.S., adding that: "You pull away the gun from the face of the Iranian nation, and I myself will enter the talks with you."
Ahmadinejad's superior, Iran's clerical Supreme Leader Ali Khamenei gave a foreign policy speech in February 2012 in which he said much the same thing about nuclear weapons that he had said before:
 "The Iranian nation has never pursued and will never pursue nuclear weapons. There is no doubt that the decision makers in the countries opposing us know well that Iran is not after nuclear weapons because the Islamic Republic, logically, religiously and theoretically, considers the possession of nuclear weapons a grave sin and believes the proliferation of such weapons is senseless, destructive and dangerous."
Not being able to confirm reality, in either Israel or Iran, American and Europeam policy makers tend, unquestioningly in public, to trust the former and demonize the latter.  And now as the world enters the fourth decade of fear-mongering about Iran's "nuclear weapons program," some are ratcheting it up again in advance of the Kazakhstan meering, with front page stories that start like this from the February 13 Washington Post:
"Iran recently sought to acquire tens of thousands of highly specialized magnets used in centrifuge machines, according to experts and diplomats, a sign that the country may be planning a major expansion of its nuclear program that could shorten the path to an atomic weapons capability." 
If that assertion seems to have a familiar ring, perhaps it's because it's so similar in structure and content to what then-President Bush falsely stated, in his 2003 state of the union speech, know known as the infamous "Sixteen Words":
"The British government has learned that Saddam Hussein recently sought significant quantities of uranium from Africa."   
Washington Post Works to Create Crisis 
On February 14, under a headline about "the Iranian nuclear crisis," the Post re-hyped the apparent 2011 order of "ring-shaped magnets" from China as a setback to the "Western-led effort to slow or halt Iran's nuclear development." Even though the Post had no idea if the magnets were ever delivered or whether they were actually for centrifuges with a benign purpose.
Taking the Post reports apart on Consortiumnews.com, Robert Parry drew attention to details buried in the story that contradicted the breathless lead – that the centrifuges were old and that Iran had long since told the IAEA of its plans to build 50,000 of them and not some "major expansion of nuclear capacity."
Parry notes that the sole source for the magnet story was a private entity called the Institute for Science and International Security (ISIS) whose head is David Albright and that
 "Though Albright insists that he is an objective professional, ISIS has published hundreds of articles about Iran, which has not produced a single nuclear bomb, while barely mentioning Israel's rogue nuclear arsenal…. 

"The articles not only hype developments in Iran but also attack U.S. media critics who question the fear-mongering about Iran." 
Albright has hyped the threat of weapons of mass destruction before.  In 2002 when the Bush administration was lying the country into a war against Iraq, claiming that Iraq had "a clandestine nuclear weapons effort" as  well as "chemical and biological weapons" – none of which was true.  As Parry sums it up,
 "A decade ago, Albright and the ISIS were key figures in stoking the hysteria for invading Iraq around the false allegations of its WMD program. In recent years, Albright and his institute have adopted a similar role regarding Iran and its purported pursuit of a nuclear weapon, even though U.S. intelligence agencies say Iran terminated that weapons project in 2003." 
 And Who Decides What Is Necessary? 
In his 2013 state of the union, President Obama dealt with Iran in a single, misleading, and threatening sentence:
"Likewise, the leaders of Iran must recognize that now is the time for a diplomatic solution, because a coalition stands united in demanding that they meet their obligations, and we will do what is necessary to prevent them from getting a nuclear weapon."   
Since 1979, the United States has waged a long twilight war against its former puppet state with no apparent understanding of why Iran may still resent the U.S. for overthrowing Iran's elected government in 1953 and imposing one of the world's nastier police state on 70 million people.  There is credible evidence that the U.S. has not only imposed for economic sanctions that are tantamount to acts of war on Iran, but has also colluded in assassinations of at least five Iranian nuclear scientists as well as cyber attacks on the country's infrastructure.
Secretary of State John Kerry suggested on Valentine's Day that if Iran's nuclear program is peaceful, Iran should have no trouble proving it.  He urged the Iranians to make "real offers and engage in real dialogue."
Both the President and the Secretary of State are lawyers, and is aware, most likely, that they don't have enough evidence of Iran's "nuclear weapons program" to show probable cause for a get a search warrant from any fair court, never mind an indictment.
That suggests, to use Obama's words, that perhaps "what is necessary to prevent them from getting a nuclear weapon" might be to stop attacking them.