VENEZUELAN PRESIDENT HUGO CHAVEZ, DEAD AT 58
By Juan Forero, The Washington Post
March 5, 2013
Venezuelan President Hugo Chavez, who went from a young conspiratorial soldier who dreamed of revolution to the fiery anti-U.S. leader of one of the world's great oil powers, died March 5 in Caracas of complications from an unspecified cancer in his pelvic area.
He was 58 and had been president since 1999, longer than any other democratically elected leader in the Americas. Vice President Nicolas Maduro announced the death.
Mr. Chavez first revealed in a brief, dramatic television address in June 2011 that he had undergone two surgical procedures in Cuba. He would go under the knife two more times, greatly weakening the once robust leader. Mr. Chavez had been elected in October 2012 to a third six-year term. But he missed his swearing-in ceremony on Jan. 10 while lying gravely ill in a Havana hospital after undergoing what his aides had called a complex operation a month before.
The country was plunged into an institutional crisis, with Mr. Chavez's foes accusing the government of violating the constitution. But Mr. Chavez's lieutenants managed to buy time until their leader's pre-dawn return to Venezuela on Feb. 18. He remained at a Caracas military hospital, with his Twitter account bursting out messages such as "Onward toward victory always!! We will live and we will triumph!!"
As an obscure 37-year-old lieutenant colonel, Mr. Chavez had led a failed coup in 1992 against President Carlos Andres Perez's government. Six years later, on Dec. 6, 1998, Mr. Chavez was elected president in a landslide after pledging to replace a broken, corrupt political system and redistribute the country's substantial oil-fueled wealth.
Mr. Chavez left Venezuela deeply polarized, his supporters lionizing him as a courageous rebel determined to take on the elites, and his foes painting him as a dangerous demagogue and strongman.
The former army paratrooper promised a revolution and reveled in what he considered a battle to end all vestiges of the power structure then in place in Venezuela, especially its close economic and political ties to the United States.
Quickly moving to overturn the old order, Mr. Chavez marginalized the traditional power brokers who had held influence in Venezuela, attacked establishment institutions and upended the country's economy.
Combative in olive green uniform and red beret, Mr. Chavez called his opponents "degenerates" and "squealing pigs," referred to the Catholic Church hierarchy as "devils in vestments" and labeled critics "counterrevolutionaries."
"Oligarchs tremble, because now is when the revolution is going forward," he warned in 2000, after the constitution had been redrawn and a new legislature dominated by his allies had taken over. "This is going to be delicious; we're going to deliver a knockout punch to the counterrevolution."
His guiding light was the 19th-century independence liberator Simon Bolivar, whose pronouncements, writings and philosophy found their way into nearly every speech Mr. Chavez gave.
The new president renamed the country the Bolivarian Republic of Venezuela, and he labeled his philosophy Bolivarian. Mr. Chavez sought the unification of South America, reviving Bolivar's unmet dream. He also called for a rejection of the so-called Washington Consensus, a policy that includes a drop in tariffs, adherence to tight spending, privatizations of state industries and other economic orthodoxy.
A gifted, charismatic orator with a keen ability to connect with the poor masses, Mr. Chavez was able to marshal public backing for a series of referendums that created a new constitution and permitted him to bring every important institution — from the legislature to the state oil company — under his control.
On the world stage, Mr. Chavez set Venezuela on a collision course with Washington, blaming American foreign policy and U.S.-style capitalism for much of Latin America's social ills.
For an international left that was yearning for a passionate and magnetic leader, Mr. Chavez was a blessing.
He criticized the U.S.-led invasions of Iraq and Afghanistan and, in a speech at the United Nations in 2006, said President George W. Bush was "the devil." He called Tony Blair, then Britain's prime minister, "an imperialist pawn who attempts to curry favor" with the Americans. He accused Israel of genocide, saying its treatment of the Palestinian people was akin to a "new Holocaust."
Mr. Chavez sought out relationships with assorted rebel groups, rogues and pariah governments. He exchanged letters with Ilich Ramirez Sanchez, a Venezuelan-born terrorist known as Carlos the Jackal, who was held in a French prison. He asserted that Moammar Gaddafi's Libya was a model of participatory democracy.
Closer to home, Mr. Chavez expressed affinity for the Revolutionary Armed Forces of Colombia, or FARC, a potent guerrilla group fighting Colombia's U.S.-friendly government. His closest aides built a close relationship with FARC commanders, according to Colombian officials, rebel documents seized in army raids and former rebels.
Ties to Iran and Cuba
Mr. Chavez particularly irked the United States by building a close alliance with Iran and Fidel Castro's regime in Cuba, which found in Venezuela a deep-
pocketed benefactor to replace the one the communist island lost with the breakup of the Soviet Union.
After taking office, Mr. Chavez began providing 100,000 barrels of oil a day to Castro's government at subsidized rates; in exchange, Castro shipped thousands of Cuban workers, from intelligence agents to doctors and sports trainers, to Venezuela.
Drawing from the largest oil deposits in the world, Mr. Chavez embarked on a foreign policy in which oil, provided cheap to prospective allies, was freely used to help build an alliance to counter U.S. influence. In a grandiose plan to unite Latin America, Mr. Chavez formed an alliance he called ALBA, the Bolivarian Alliance for the People of Our America.
He bought more than $2.5 billion in Argentine bonds, created a Bank of the South to counter Washington-based multilateral lenders and pledged to build a pipeline across the continent and construct housing, highways and oil refineries.
Venezuela's opaque financing, though, made it difficult to ascertain exactly how many projects were completed. And by 2012, many of Mr. Chavez's most ambitious projects — a pipeline linking Venezuela to Argentina, the Bank of the South, a refinery in Brazil — had been quietly mothballed, as Venezuela's economy struggled.
Mr. Chavez enjoyed warm ties with most Latin American countries, but his ALBA bloc attracted as members only the anachronistic regime in Cuba and some of the poorest countries in the region, among them Nicaragua and Bolivia.
Some officials who worked with Venezuela said they were put off by Mr. Chavez's revolutionary, anti-U.S., anti-capitalist rhetoric.
"His discourse was political, ideological, about the liberation of the Americas, of fighting the forces of imperialism," said the former governor of Pernambuco state in Brazil's northeast, Jarbas Vasconcelos, who had tried to obtain Venezuelan financing for an oil refinery. "He imagined commanding a revolution in all the Americas against the United States."
The young Chavez
Hugo Rafael Chavez Frias was born July 28, 1954, in the sparsely populated plains state of Barinas, the second of six sons of a couple who were teachers. He grew up poor and dreamed of playing major league baseball (he had a gift for pitching).
Young Hugo had another passion: reading and listening to stories, his imagination fired by tales about the great battles and the prophetic words of the revolutionaries who had founded modern Venezuela.
He had an influential tutor, Jose Esteban Ruiz, a leftist historian who introduced Hugo and his own sons to everything from Machiavelli to Jean Jacques Rousseau's "The Social Contract."
"Put Marxism in your head, I told them," Ruiz later recounted.
At 17, Mr. Chavez joined the Venezuelan army, and he graduated from its military academy in 1975. As a young army officer, he began to gravitate toward left-leaning superiors who spoke of the need to replace Venezuela's two-party system.
Mr. Chavez was assigned to an anti-guerrilla unit in the eastern state of Anzoategui, where the last vestiges of a 1960s-era guerrilla movement remained. He would later say the assignment was morally confusing.
"Why am I here?" Mr. Chavez would recount to Gabriel Garcia Marquez, the Colombian-born, Nobel Prize-winning writer, in a 1999 interview. "On one side are peasants, dressed in military fatigues, torturing peasants who are guerrillas. On the other side are peasant guerrillas killing peasants dressed as military men."
Forming a secret movement with a handful of other army officers, Mr. Chavez began to prepare for the day he would overthrow the state. In 1989, when a popular revolt in Caracas sparked by an increase in fuel prices was violently put down, Mr. Chavez and his co-conspirators decided their time would soon come. Their 1992 uprising quickly unraveled, but Mr. Chavez became a folk hero when the government gave him a moment to speak before the television cameras.
"Comrades, unfortunately, for now, the objectives we set for ourselves have not been achieved," said Mr. Chavez,
ramrod-straight and dashing in his beret. Two words, "for now," or "por ahora," remained ingrained for many Venezuelans.
Released from prison in 1994, Mr. Chavez moved into a small apartment with an influential and well-respected leftist leader, Luis Miquilena, who recalled steering Mr. Chavez's rage toward the virtues of democracy.
"Eventually, he came to see that he could succeed through democratic processes," Miquilena later said. "Chavez embraced democracy out of practical considerations, not theoretical ones. He came around to the idea of participating in elections for a simple reason: He believed that he could win."
Presidential years
Once in office, Mr. Chavez proved to be idiosyncratic and unpredictable. A natural showman, he sold his new government to the masses through his frequent speeches and the Sunday talk show in which he served as both host and guest, "Alo, Presidente," or "Hello, Mr. President." During the show, which could last as long as seven hours, Mr. Chavez would recount his childhood, scold his ministers, sing folk songs and announce major policy decisions.
He began neighborhood "missions" that offered literacy training in poor areas, posted doctors in crowded slums and opened state-operated markets offering subsidized food. The government claimed that under Mr. Chavez, poverty in Venezuela was reduced to 30 percent of the population from more than half when he took office.
The president also advanced on what he called 21st-century socialism, which included the nationalization of hundreds of companies, the seizure of large land holdings, price controls and currency regulations. In speeches blaming capitalism for society's ills, Mr. Chavez said his policies had made Venezuela a more prosperous country, independent of U.S. meddling and influence.
But throughout his presidency, Venezuela's economy was plagued by blackouts, food shortages and a lack of investment, as government interventions, from price controls to the seizures of land and companies, squelched private enterprise.
Though his government was blessed by historically high oil prices, with a barrel hitting $150 in 2008, the economy in Venezuela expanded by about 3 percent a year through his presidency, while much of Latin America boomed.
Analysts who closely tracked Venezuela said that in his long presidency, Mr. Chavez had failed to bring sustainable growth and make long-lasting improvements to modernize his country.
"Chavez deserves credit for putting his finger on the real legitimate grievances that many Venezuelans felt," said Michael Shifter, president of the Washington think tank Inter-American Dialogue. "Where he failed was in constructing alternatives that really produced results."
Shifter also said that although Mr. Chavez promised a clean break from the political machinations of the past, his government was marked by old-fashioned patronage and authoritarianism.
Though Venezuela held frequent elections, the government freely used its influence and economic might to sway the vote.
"I think he proved to be a despot in the end," Shifter said. "He wasn't a dictator. There was a fig leaf of democracy. But I think he was a despot who really wanted to control everything. He was intent on concentrating power in his own hands and was unwilling to create a system that distributed power and constrained his powers."
Mr. Chavez's years in office were also marked by tumult. A series of measures giving the state more control over the economy led to mounting protests in 2002 that culminated with Mr. Chavez's ouster on April 11 after about 20 people were killed in the midst of a march near the presidential palace.
The Bush White House publicly welcomed his removal, saying that Mr. Chavez's heavy-handed governing style had led to his own undoing. But Latin American leaders called it a coup and demanded the president's return. An interim government headed by a mild-mannered businessman, Pedro Carmona, and a group of high-ranking military officers began to dissolve after it closed the National Assembly and supreme court.
Mr. Chavez returned to power 48 hours after being forced to leave the presidential palace, put back in place by a loyal military unit and thousands of poor barrio dwellers who had flooded the city demanding his return.
Mr. Chavez would further strengthen his position against the opposition in December 2002 when an oil strike designed to dislodge him failed. Mr. Chavez fired more than 20,000 workers at the state oil company and brought the behemoth under his watch. A 2005 boycott of legislative elections by Mr. Chavez's opponents made the National Assembly completely pro-Chavez.
Crackdown on opposition
Fully in control by late in the decade, Mr. Chavez became increasingly aggressive against his detractors. Opposition leaders were forced to flee the country, some were arrested after openly criticizing the president, and the government yanked the broadcast license of a television network, RCTV, that had been sharply critical of his governing style. The state also created a vast propaganda apparatus, made up of a half-dozen television stations, newspapers and community radio outlets, which offered endless praise of government initiatives.
The deteriorating situation in Venezuela led the Inter-American Commission on Human Rights, an independent branch of the Organization of American States, to issue a blistering 300-page report in 2010 saying that Mr. Chavez's government constrained free expression, the rights of citizens to protest and the ability of opposition politicians to function. It also outlined how the president held tremendous influence over the judiciary, with judges whose decisions the government didn't like being fired.
Known for his personal attention to many of the details of governing, the president began to call for unusual policies that left some of his supporters scratching their heads. He moved Venezuela's clocks back half an hour, citing the positive "metabolic effect" on the population. He accused Colombian traitors of having murdered Bolivar in 1830 and ordered a national commission made up of some of his ministers to open an investigation.
In a speech in 2011, he even wondered aloud whether the absence of life on the planet Mars was because of capitalism. "I have always said, heard, that it would not be strange that there had been civilization on Mars," Mr. Chavez said. "But maybe capitalism arrived there, imperialism arrived, and finished off the planet."
Mr. Chavez's marriages to Nancy Colmenares and Marisabel Rodriguez ended in divorce. Survivors include three children from his first marriage, Rosa Virginia, Maria Gabriela and Hugo Rafael; and a daughter from his second marriage.
In the early part of his government, Mr. Chavez had met on an airplane with the writer Gabriel Garcia Marquez. The two spoke for hours, and the conversation left a telling impression on the author.
"I was overwhelmed by the feeling that I had just been traveling and chatting pleasantly with two opposing men," Garcia Marquez later wrote in a profile of Mr. Chavez. "One to whom the caprices of fate had given an opportunity to save his country. The other, an illusionist, who could pass into the history books as just another despot."
-
ANALYST ESTIMATES CHAVEZ'S FAMILY FORTUNE AT AROUND $2 BILLION
Criminal Justice International Associates (CJIA), a risk assessment and global analysis firm in Miami, estimated in a recent report that the Chávez Frías family in Venezuela has "amassed a fortune" similar to that of the Castro brothers in Cuba.

According to Jerry Brewer, president of CJIA, "the personal fortune of the Castro brothers has been estimated at a combined value of around $2 billion."

"The Chávez Frías family in Venezuela has amassed a fortune of a similar scale since the arrival of Chávez to the presidency in 1999," said Brewer in an analysis published in their website.

Brewer said that Cuba is receiving about $5 billion per year from the Venezuelan treasury and in oil shipments and other resources.

"We believe that organized bolivarian criminal groups within the Chávez administration have subtracted around $100 billion out of the nearly $1 trillion in oil income made by PDVSA since 1999."
-
CHAVEZ DIES, LEAVING SHARP DIVISIONS IN VENEZUELA
By WILLIAM NEUMAN | The New York Times
CARACAS, Venezuela — President Hugo Chávez of Venezuela died Tuesday afternoon after a struggle with cancer, the government announced, leaving behind a bitterly divided nation in the grip of a political crisis that grew more acute as he languished for weeks, silent and out of sight, in hospitals in Havana and Caracas.
Close to tears and his voice cracking, Vice President Nicolás Maduro said he and other officials had gone to the military hospital where Mr. Chávez was being treated, sequestered from the public, when "we received the hardest and most tragic information that we could transmit to our people."
In short order, police officers and soldiers were highly visible as people ran through the streets, calling loved ones on cellphones, rushing to get home. Caracas, the capital, which had just received news that the government was throwing out two American military attachés it accused of sowing disorder, quickly became an enormous traffic jam. Stores and shopping malls abruptly closed.
As darkness fell, somber crowds congregated in the main square of Caracas and at the military hospital, with men and women crying openly in sadness and fear about what would come next.
In one neighborhood, Chávez supporters set fire to tents and mattresses used by university students who had chained themselves together in protest several days earlier to demand more information about Mr. Chávez's condition.
"Are you happy now?" the Chávez supporters shouted as they ran through the streets with sticks. "Chávez is dead! You got what you wanted!"
Mr. Chávez's departure from a country he dominated for 14 years casts into doubt the future of his socialist revolution. It alters the political balance not only in Venezuela, the fourth-largest supplier of foreign oil to the United States, but also in Latin America, where Mr. Chávez led a group of nations intent on reducing American influence in the region.
Mr. Chávez, 58, changed Venezuela in fundamental ways, empowering and energizing millions of poor people who had felt marginalized and excluded. But his rule also widened society's divisions, and his death is sure to bring vast uncertainty as the nation tries to find its way without its central figure.
"He's the best president in history," said Andrés Mejía, 65, a retiree in Cumaná, an eastern city, crying as he gathered with friends in a plaza. "Look at how emotional I am — I'm crying. I cannot accept the president's death. But the revolution will continue with Maduro."
The Constitution says that, since Mr. Chávez was at the start of a term, the nation should "proceed to a new election" within 30 days, and Foreign Minister Elías Jaua said in a television interview that Mr. Maduro would take the helm in the meantime. The election is likely to pit Mr. Maduro, whom Mr. Chávez designated as his political successor, against Henrique Capriles Radonski, a young state governor who lost to Mr. Chávez in the presidential election in October.
But in light of Mr. Chávez's illness, there has been heated debate in recent months over clashing interpretations of the Constitution, and it is impossible to predict how the transition will proceed.
"We, your civilian and military companions, Commander Hugo Chávez, assume your legacy, your challenges, your project, accompanied by and with the support of the people," Mr. Maduro told the nation.
Only hours earlier, the government seemed to go into a state of heightened alert as Mr. Maduro convened a crisis meeting in Caracas of cabinet ministers, governors loyal to the president and top military commanders.
Taking a page out of Mr. Chávez's time-tested playbook, Mr. Maduro warned in a lengthy televised speech that the United States was seeking to destabilize the country, and the government expelled the two American military attachés, accusing one of seeking to recruit Venezuelan military personnel to carry out "destabilizing projects." He called on Venezuelans to unite as he raised the specter of foreign intervention.
During the speech, Mr. Maduro said the government suspected that the president's enemies had found a way to cause his cancer, a possibility that Mr. Chávez had once raised. Mr. Maduro said scientists should investigate the source of his illness.
Mr. Chávez long accused the United States of trying to undermine or even assassinate him; indeed, the Bush administration gave tacit support for a coup that briefly removed him from power in 2002. He often used Washington as a foil to build support or distract attention from deeply rooted problems at home, like high inflation and soaring crime.
American officials had hoped to improve relations with Venezuela under Mr. Maduro, with informal talks taking place last year. But more recently, the government has appeared to shift into campaign mode, taking sweeping aim at the Venezuelan opposition and playing up the opposition's real or alleged ties to the United States.
"We completely reject the Venezuelan government's claim that the United States is involved in any type of conspiracy to destabilize the Venezuelan government," Patrick Ventrell, a State Department spokesman, said after the expulsion of the American attachés. He added, "Notwithstanding the significant differences between our governments, we continue to believe it important to seek a functional and more productive relationship with Venezuela."
Mr. Chávez's cancer was diagnosed in June 2011, but throughout his treatment he and his government kept many details about his illness secret. He had three operations in Cuba between June 2011 and February 2012, as well as chemotherapy and radiation treatment, but the cancer kept coming back.
Then on Dec. 8, just two months after winning re-election, Mr. Chávez stunned the nation by announcing in a televised address that he needed yet more surgery. That operation, his fourth, took place in Havana on Dec. 11.
In the aftermath, grim-faced aides described the procedure as complex and said Mr. Chávez's condition was delicate. They eventually notified the country of complications, first bleeding and then a severe lung infection and difficulty breathing.
After previous operations, Mr. Chávez often appeared on television while recuperating in Havana, posted messages on Twitter or was heard on telephone calls made to television programs on a government station. But after his December operation, he was not seen again in public, and his voice fell silent.
Mr. Chávez's aides eventually announced that a tube had been inserted in his trachea to help his breathing, and that he had difficulty speaking. It was the ultimate paradox for a man who seemed never at a loss for words, often improvising for hours at a time on television, haranguing, singing, lecturing, reciting poetry and orating.
As the weeks dragged on, tensions rose in Venezuela. Officials in Mr. Chávez's government strove to project an image of business as usual and deflected inevitable questions about a vacuum at the top. At the same time, the country struggled with an out-of-balance economy, troubled by soaring prices and escalating shortages of basic goods.
The opposition, weakened after defeats in the presidential election in October and elections for governor in December, in which its candidates lost in 20 of 23 states, sought to keep pressure on the government.
Then officials suddenly announced on Feb. 18 that Mr. Chávez had returned to Caracas. He arrived unseen on a predawn flight and was installed in a military hospital, where, aides said, he was continuing treatments.
Over nearly a decade and a half, Mr. Chávez made most major decisions and dominated all aspects of political life. He inspired a fierce, sometimes religious devotion among his supporters and an equally fervent animus among his opponents. As many of his followers say, "With Chávez everything, without Chávez nothing."
But that leaves his revolution in a precarious spot without its charismatic leader.
"In regimes that are so person-based, the moment that the person on which everything hangs is removed, the entire foundation becomes very weak because there was nothing else supporting this other than this figure," said Javier Corrales, a professor of political science at Amherst College.
Mr. Chávez's death could provide an opportunity for the political opposition, which was never able to defeat him in a head-to-head contest. Mr. Capriles lost to Mr. Chávez by 11 percentage points in October. But he has twice beaten top Chávez lieutenants in running for governor of his state, Miranda, which includes part of Caracas.
And Mr. Maduro is far from having Mr. Chávez's visceral connection to the masses of Venezuela's poor. Even so, most analysts believe that Mr. Maduro will have an advantage, and that he will receive a surge of support if the vote occurs soon.
But even if Mr. Maduro prevails, he may have a hard time holding together Mr. Chávez's movement while fending off resistance from what is likely to be a revived opposition.
Mr. Chávez's new six-year term began on Jan. 10, with the president incommunicado in Havana. In his absence, the government held a huge rally in the center of Caracas, where thousands of his followers raised their hands to pledge an oath of "absolute loyalty" to their commander and his revolution. Officials promised that Mr. Chávez would have his inauguration later, when he had recovered.
But the hoped-for recovery never came. Now, instead of an inauguration, Mr. Chávez's followers are left to plan a funeral.
The foreign minister, Mr. Jaua, announced that on Wednesday Mr. Chávez's body would be taken to the military academy in Caracas and lie in state there.
Mr. Jaua said that the government would hold a ceremony on Friday with visiting heads of state and that officials would announce later where Mr. Chávez would be laid to rest.
-
LEADER LEAVES DIVISIONS IN NATION, POLITICS
Questions Are Raised Over Succession As Election Is Expected in 30 Days
By DAVID LUHNOW and KEJAL VYAS | The Wall Street Journal
President Hugo Chávez's death leaves Venezuela bitterly divided between Chavistas who adored the populist and those who hated him, plunging the oil-rich South American nation into an uncertain future.
Vice President Nicolás Maduro who was tapped by Mr. Chávez to be his successor in December, is expected to become president until elections are called within 30 days.
It only took a few hours, however, for the first signs of a split to emerge within the ruling United Socialist Party of Venezuela. While Foreign Minister Elías Jaua said Mr. Maduro would become interim president, some members of the National Assembly called for legislative head Diosdado Cabello to assume the post, citing Venezuelan law.
Supreme Court chief Luisa Estella Morales did little to clear up matters, telling Venezuelans to "have faith in your institutions" but not specifying how officials would move forward with the transition of power.
Analysts said there may already be a power struggle under way behind the scenes between Mr. Maduro, a one-time bus driver and union organizer, and Mr. Cabello, seen as well-connected and ruthless.
"It's very early to tell where the real power lies," said David Mares, a professor of political science at Penn State University. "Much depends on the loyalties of the commanders of the…army."
Defense Minister Diego Molero said all top officials had the support of the military, naming both Mr. Maduro and Mr. Cabello.
Even if Mr. Cabello could take the interim post, the government candidate in a snap election would most likely be Mr. Maduro, who was the country's foreign minister for seven years and helped cultivate closer relations with nations opposed to U.S. interests like Iran. He would likely face off against Henrique Capriles, an opposition governor who was defeated soundly by Mr. Chávez in last October's presidential election.
Behind those larger battle lines, smaller intrigues are expected to form in a nation that holds the world's largest proved oil reserves.
"The only thing holding Chavismo together was Chávez, and the only thing holding the opposition together was their opposition to Chávez," said Gil Merkx, a Latin America specialist at Duke University. "So there will be enormous disarray on both sides."
A big question for Venezuela will be whether Mr. Chávez's successor, whoever that may be, will try to uphold his revolution and legacy or set about trying to dismantle much of it.Whatever the case, Mr. Chávez's influence will shape Venezuelan politics and society for many years, analysts say.
"Chavismo will last for years, but among those that carry the legacy, there will be different shades. Some will try to move to a more pragmatic way, some will be more revolutionary," said Alberto Ramos, senior economist for Latin America at Goldman Sachs .
Mr. Maduro will start the election race as a narrow favorite and will likely benefit from the sympathy vote for the late Mr. Chávez, pollsters say.
"He is a substitute selected by Chávez and that has an impact. One can believe that Capriles will remain very important, but Maduro would enter a new race as the favorite," said Luís Vicente León, a local pollster.
With Mr. Chávez's health worsening recently, state television filled the airwaves with round-the-clock video montages and programs seeking to immortalize the charismatic leader's connection with the country's poor. Shots were shown of a smiling Mr. Chávez embracing women and children and waving to large crowds of red-clad supporters. During his presidential campaign last year, Mr. Chávez told his disciples that they would carry on his spirit and legacy.
"I am no longer just me, I am a people," Mr. Chávez, claiming to be cancer-free, said at a July rally. "I feel incarnated in all of you….You, too, are Chávez. Chávez has truly become a people."
His name has been invoked at virtually all state activities and government officials openly called him a father of the nation.
The winner of the election will inherit an economy that has grown quickly over the past decade thanks largely to high oil prices and ramped up government spending, but which faces strains that could spell growing trouble in months and years to come.
A recent currency devaluation of the Strong Bolivar to 6.3 per dollar from 4.3 sent shock waves through the economy. The measure helped narrow a growing gap between what the government spends and takes in—mostly by making dollars earned via oil exports go further in local currency terms. But it also put renewed pressure on prices in a country where inflation is running at about 20%.
The devaluation also did little to stop growing shortages of basics like flour and meat, which are scarce due to a lack of dollars. Worse, the Strong Bolivar weakened after the devaluation on the black market, falling to about 25 per dollar from about 10 per dollar last October.
"I don't think Maduro can sell to the voters a deteriorating economy the same way that Chávez could do by presenting his own vision of the future," said Mr. Ramos at Goldman Sachs. "Governability under Maduro is going to be much weaker than under Chávez."
Venezuela's industrial base has largely been hollowed out by widespread nationalizations under Mr. Chávez, leaving the country increasingly dependent on imports. It also has a growing foreign debt load, at about $90 billion.
Even if Mr. Capriles pulls off an upset, Mr. Chávez's legacy will leave the opposition little room to maneuver when it comes to cutting back on the late president's popular spending programs.
Mr. Capriles has promised to carve out a much bigger role for the private sector in the country's economy, including in the oil industry. But he also has promised to keep the spending programs and even take a few additional steps, such as raising the minimum wage by 20%.
The idea that the government should use oil money to help the poor has always existed in Venezuela, but became more deeply ingrained under Mr. Chávez.
"You can't take away his social programs. The political cost would be too high," says Juan Guerra, a former central bank official and adviser to Mr. Capriles. "People see this as the way that the oil money reaches them."
-
VIEW FROM CARACAS: MIXED FEELINGS IN VENEZUELA'S CAPITAL AMID FEARS OF SPIRALLING VIOLENCE
What needs to happen now is that the government needs to take a strong grip
Alasdair Baverstock | The Independent
When the news arrived at 4.25pm local time yesterday it was greeted with mixed emotions in Caracas. His supporters grieved, his opponents celebrated. But few were shocked. Hugo Chavez had not been seen in public since he flew to Havana on 11 December for surgery on a recurrence of his pelvic tumour. There were the pictures of him smiling with his daughters when he returned home from Cuba last month, but only his inner circle would ever see him in the flesh again. Last night in Caracas, gunshots rang out in the pro-Chavez parts of town. "My mother told me not to come home tonight, to stay in the east, where people are with the opposition," said Oriana Gonzalez, who lives in western Caracas but travels to work across town.
Shortly after the announcement, various military generals appeared on television to announce they would guarantee the "peace and security of the country".
But many feared the violence that has characterised Venezuela in recent years would now spiral out of control.
Raul Villegas, a Chavez supporter from western Caracas, said: "I will not be leaving my house for some time – I expect riots to be happening throughout the city. Caracas isn't safe tonight."
"Everyone expected this sooner or later," said Bruno Cruicchi, a businessman in the Candelaria district. "Our emotions here are varying between sadness and acceptance. We have had a long time to consider this. People around me are shutting up their shops and leaving early because they fear there are going to be riots tonight. What needs to happen now is that the government needs to taker a strong grip, otherwise we're going to have a very difficult situation on our hands," he added.
-
VENEZUELA AFTER CHAVEZ
Nilantha Ilangamuwa Interviews Patrick O'Donoghue
Global Research, March 10, 2013
Many times over the years Chavez complained that he had to act as the mayor of Venezuela and not as president, in other words, officials were not doing their job and all the complaints were coming to him and he had to solve them.
What will happen to Venezuela after an uncertain death of the President Hugo Chavez? Here is with me, Patrick O'Donoghue to discuss present political trends in the country. He is former news editor of VHeadline.com and London correspondent for Las Verdades de Miguel (Venezuelan) weekly newspaper based Caracas .
Q. President Hugo Chavez has just died, what is current political situation in the Country?
A. This evening Vice President Nicolas Maduro will be sworn in as President of the Republic. According to the Constitution, once that happens, the president of the National Assembly has the duty to call elections to take place in 30 days time. The president of the National Assembly is Disodado Cabello, a key personality within the ruling United Socialist Party of Venezuela (PSUV). Cabello, Maduro and state oil company, Petroleos de Venezuela (PSUV) president, Rafael Ramirez have promised to respect the wishes that President Chavez made before he went to Cuba for the final operation in December, and true to his military training, Chavez planned strategy and tactics for the future.
One of the main tactical decisions was to secure that Nicholas Maduro would be the party's candidate in any future election, making the Homeland Plan 2013-2019 the main strategy. Cabello, as a former military man and participant in Chavez' 1992 failed military rising, has been the main contact between Chavez and the military, a role he will continue to play no doubt in the transition and crucial times ahead.
Another "historical task" that the President insisted upon before the operation was the quest to end poverty in Venezuela ; Ramirez will continue to ensure that oil revenue will fund flagship social programs. It is not certain how the opposition will react and it seems most likely that they will continue to try and exploit weaknesses to gain political points. Politically, they have little choice than to make Henrique Capriles Radonski their candidate again against Maduro, despite his losing the presidential race against Chavez last December.
Q. According to the Constitution of the Venezuela, the government must go for a fresh election. Many political commentators were commenting on forthcoming election and noted that will be a very crucial election. Perhaps it will be a huge challenge to the Vice President Nicolas. I would like to have your take?
A. According to the majority of commentators, Maduro is likely to win the election, given the huge popularity and sentiment of the poorer classes towards Chavez as can be seen during the death and mourning period. However, the opposition will probably try to exploit the secrecy surrounding the President's post-operation health after the operation and when he arrived back in Venezuela .
The PSUV is also preparing for elections that had been scheduled in a few months time for mayoralties throughout Venezuela . They easily won state governorship elections also held last December, losing only three governorships. Given the fact that government supporters will adhere strictly to President Chavez' wishes, it is unlikely that Maduro will have any problems from within the PSUV and the wider Patriotic Pole of Chavez supporters, which includes the Communist Party of Venezuela (PCV).
Q. Some of well reputed authors claimed that this unfortunate death of the President Chavez is a plot which might be accomplished or conducted by the foreign intelligence agency. Meanwhile, according to Media, Vice President Nicolas himself claimed that, his cancer was a result of an attack by enemies". What do you think about this and let us know more details on the role of the Foreign Spy agencies in the region?
A. A day before President Chavez died, Vice President Maduro ordered two US military attaches to leave the country within 24 hours for allegedly attempting to contact Venezuelan military officers. The US has no ambassador in Caracas , nor has Venezuelan Ambassador in Washington . The US has ridiculed the accusation that its intelligence agencies caused the death of Chavez through inducing cancer, but within Venezuela and government sectors, the suspicion remains because of the history of the US "dirty tricks," or "black bag" activities in the region. I think people in Venezuela and South America are keeping an open mind on this.
The phrase "I wouldn't put it past them," would be a common sentiment. Both the Americans and Israelis have intelligence operations in Venezuela , the latter because of President Chavez' alignment with many Arab countries and Iran . The Colombians and Brazilians have always had an intelligence presence operational, especially Colombia which has close relations with the US and the United Kingdom and a badlands border area. Cuba has been key in providing training for Venezuelan counter-intelligence and security agencies. When President Chavez came to power and during the first years in office, Venezuela 's security agencies had been heavily infiltrated principally by US, Israel and anti-Cuban agencies based in Miami . We must remember that before Chavez , Venezuela was considered part of the USA 's backyard and a main supplier of oil.
Q. Meanwhile, some of mainstream rights groups claim that the Chavez Regime is based on Authoritarianism. What is your take on his (President's Chavez) political ideology and the system of governance?
A. This is one of the most difficult or grey areas during the Chavez period because it involves the move from one system to an entirely new one. A transition that can never be seamless and without controversy. From representational to participatory democracy. All of the institutions in Venezuela were turned upside down by the arrival of Chavez and the Bolivarian revolution (based on the ideas of the Liberator Simon Bolivar who led the independence struggle against Spain in the 19th century covering five Latin American countries). The basic idea that challenged all of Venezuela 's institutions and the rule of law was their relevance to the poorer sectors Venezuela .
That was the measuring rod and many of the institutions were found at fault. The same could be said of the traditional human rights groups which discovered that under Chavez many of their functions were being assumed by the state. Hence, the rise of partisan HR groups or NGOs funded by the opposition. It could be argued that many of the people Chavez chose as ministers or who were appointed, according to the Constitution, to run institutions were not up to the task.
Many times over the years Chavez complained that he had to act as the mayor of Venezuela and not as president, in other words, officials were not doing their job and all the complaints were coming to him and he had to solve them. For me, that gave rise to some of the accusations that he was authoritarian. Underlying the President's forcefulness and impatience at times, was his promise to make things better for the ordinary people of Venezuela .
As regards freedom of expression and the rule of law, it is a well-known fact that people could and can express what they thought and often did so, especially in the mass media in the hands of the oligarchy. While the government avoided as far as possible any closures, they were able to curtail what I would call OTT destabilisation strategies employed by media barons such as such as Marciel Granier of RCTV by legally refusing to renew air wave licenses. Another fact to consider is that the Bolivarian process also questioned the role of international human rights organisations, especially those belonging to what is now a highly-questioned (not just in Venezuela ) Organisation of American States (OAS). As a result, one of the international successes of Chavez was the creation of the Community of Latin American and Caribbean States (CELAC), which is an organisation of Latin America and Caribbean countries without the USA and Canada .
Agricultural Revolution during first term of the Chavez Government –  Photo by Patrick O'Donoghu
Q. After Chavez, possible nightmare or political disaster in the Country, was a general comment that rose by some of mainstream medias. I would like to have your take on the future of Venezuela ?
A. Many of the commentaries, coming from the United Kingdom and USA suggest that the Venezuelan economy is in dire straits and that sooner or later the country will face disaster. The Financial Times spearheads predictions of economic doom looking at it from a capitalist point of view. The government has been weak in answering these charges, in my view, given that the majority of foreign newspapers and media sources reflect the FT and Bloomberg point of view, ignoring the domestic growth rate, return of gold bullion, lower inflation rate, international reserves and foreign debt payments. No doubt, one of the biggest challenges facing the new government of Maduro, once elected, will be to ensure food security and the success of the agricultural policy;
President Chavez put a huge amount of money and assets into the program. Part of the struggle over the last 14 years has been to curtail sabotage on the part of the private sector that had been subsidised and pampered by former governments. In fact, it is important to point out that the private sector was unable to compete in the early 90s era of globalisation for example, when it became cheaper to import yellow cheese from Uruguay than to buy domestic products.
The new government will also have end to some of the improvisation that was characteristic under Chavez and continue to fight corruption. It will also have to rely on and consolidate people power to ensure that the groundwork laid by Chavez since 2003 continues. That will mean continuing to monitor and curtail sabotage on the part of opposition sectors and of course, meddling by foreign intelligence agencies. Venezuela has a democratic tradition and in the short term, it is unlikely that there will be any major upheaval, even though some commentators are looking at what happened in nearby Grenada under Maurice Bishop.
The high crime rate is another serious challenge that the new government will face and it will have to continue to purge the thoroughly corrupt police forces and boost the new police services started to create public trust. The inability to solve this problem has allowed the opposition to score brownie points among the electorate.
As for foreign policy, the question is whether it is time for change. Nicolas Maduro had been Foreign Minister for the last five to six years. Under the new minister, Elias Jaua, it is possible that there could be a review, especially towards countries, such as Sri Lanka . There was unease – and I include myself – about the Chavez government's too easy acceptance of the Sri Lankan President's version of the civil war in the north of that country and the attempt several years ago to prevent Tamil groups from getting their view across to the Venezuelan government by the Sri Lankan ambassador to Cuba, herself a Tamil.
-
HUGO CHAVEZ'S HANDPICKED SUCCESSOR AT HELM IN VENEZUELA, FOR TIME BEING
CBS News/AP
CARACAS, Venezuela Even in death, Hugo Chavez's orders are being followed. The man he anointed to succeed him, Vice President Nicolas Maduro, will continue to run Venezuela as interim president and be the governing socialists' candidate in an election to be called within 30 days.
Foreign Minister Elias Jaua confirmed those plans Tuesday, just hours after Maduro, tears running down his face, announced the death of Chavez, the larger-than-life former paratroop officer who had presided over Venezuela as virtually a one-man show for more than 14 years.
It was not immediately clear when the presidential vote would be held.
Considerable funeral pageantry was expected to honor Chavez, the political impresario widely adored among Venezuela's poor for putting the oil-rich state in their service.
Seven days of mourning were declared, all school was suspended for the week and friendly heads of state were expected in this economically challenged and violence-afflicted nation for an elaborate funeral Friday. No date or place was announced for Chavez's burial.
Venezuela's constitution specifies that the speaker of the National Assembly, currently Diosdado Cabello, should assume the interim presidency if a president can't be sworn in.
But the officials left in charge by Chavez before he went to Cuba in December for his fourth cancer surgery in a little less than two years have not been especially assiduous about heeding the constitution, and human rights and free speech activists are concerned they will continue to flaunt the rule of law.
Some in anguish, some in fear, Venezuelans raced for home and stocked up on food and water after the government announced Chavez's death, declining to say what exactly killed him. On Monday night, the government had said the president had been weakened by a severe, new respiratory infection.
Tuesday was a day fraught with mixed signals, some foreboding. Just a few hours before announcing Chavez's death, Maduro virulently accused enemies, domestic and foreign and clearly including the United States, of trying to undermine Venezuelan democracy. The government said two U.S. military attaches had been expelled for allegedly trying to destabilize the nation.
But in announcing that the president was dead, Maduro shifted tone, calling on Venezuelans to be "dignified heirs of the giant man."
"Let there be no weakness, no violence. Let there be no hate. In our hearts there should only be one sentiment: Love. Love, peace and discipline."
Opposition leader Henrique Capriles, who lost to Chavez in the October presidential election and is widely expected to be the opposition's candidate to oppose Maduro, was conciliatory in a televised address.
"This is not the moment to highlight what separates us," Capriles said. "This is not the hour for differences; it is the hour for union, it is the hour for peace."
Capriles, the youthful governor of Miranda state, has been bitterly feuding with Maduro and other Chavez loyalists who accused him of conspiring with far-right U.S. forces to undermine the revolution.
Across downtown Caracas, shops and restaurants begin closing and Venezuelans hustled for home, some even breaking into a run. Many looked anguished and incredulous.
"I feel a sorrow so big I can't speak," said Yamilina Barrios, a 39-year-old clerk who works in the Industry Ministry, her face covered in tears. "He was the best this country had."
Others wished Chavez's departure had come through the ballot box.
Carlos Quijada, a 38-year-old economist, said, "Now there is a lot of uncertainty about what will happen."
He said a peaceful transition depends on the government. "If it behaves democratically we should not have many problems," Quijada said.
Like most Venezuelans, he said his big concern is ending violent crime that afflicts all strata of society, from the poor who Chavez wooed with state largesse to the economic elite at the core of the political opposition.
Venezuela has the world's second-highest murder rate after Honduras: 56 people for every 100,000, according to government figures that nongovernmental groups say are understated.
Late Tuesday, the armed forces chief, Gen. Wilmer Barrientos, reported "complete calm" in the country.
But there had been several incidents of political violence.
In one, a group of masked, helmeted men on motorcycles, some brandishing revolvers, attacked about 40 students who had been protesting for more than a week near the Supreme Court building to demand the government give more information about Chavez's health.
The attackers, who didn't wear clothing identifying any political allegiance, burned the students' tents and scattered their food just minutes after Chavez's death was announced.
They burned everything we had," said student leader Gaby Arellano. She said she saw four of the attackers with pistols but none fired a shot.
Outside the military hospital where Chavez's body was visited by loved ones and allies, an angry crowd attacked a Colombian TV reporter.
"They beat us with helmets, with sticks, men, women, adults," Carmen Andrea Rengifo said on RCN TV. Video images showed her bleeding above the forehead but she was not seriously injured.
Maduro and other government officials have recently railed against international media for allegedly reporting rumors about Chavez's health, although RCN wasn't one of those criticized.
After nightfall, several hundred people gathered at Bolivar Square, a symbolic place for Chavistas because it has a huge, 30-foot-tall statue of Simon Bolivar, the 19th century independence hero whom Chavez claimed as his chief inspiration.
Some arrived singing Venezuela's national anthem and holding up posters of Chavez.
One man began shouting through a megaphone a warning to the opposition: "They won't return." The crowd then joined in, chanting, "They won't return."
Chavez leaves behind a political movement firmly in control of a nation that human rights activist Liliana Ortega, director of the non-governmental group COFAVIC, describes as a badly deteriorated state where institutions such as the police, courts and prosecutor's offices have been converted into tools of political persecution and where most media are firmly controlled by the government.
Maduro, whose government role had grown after Chavez went to Cuba for treatment, was belligerent early Tuesday. He reported the expulsion of one of the two U.S. attaches, and also said that "we have no doubt" that Chavez's cancer, first diagnosed in June 2011, was induced by "the historical enemies of our homeland."
Maduro compared the situation to the death of the Palestinian leader Yasser Arafat, claiming Arafat was "inoculated with an illness" and said a "scientific commission will prove that Comandante Chavez was attacked with this illness."
Chavez's inner circle has long claimed the United States was behind a failed 2002 attempt to overthrow him, and he has frequently played the anti-American card to stir up support. Venezuela has been without a U.S. ambassador since July 2010 and expelled another U.S. military officer in 2006.
U.S. State Department spokesman Patrick Ventrell rejected the assertion that the U.S. was trying to destabilize Venezuela. The claim, he said, "leads us to conclude that, unfortunately, the current Venezuelan government is not interested in an improved relationship."
Ventrell added that the assertion that Washington somehow had a hand in Chavez's illness was "absurd."
He hinted the U.S. could reciprocate with expulsions of Venezuelan diplomats.
President Obama said in a statement released Tuesday evening by the White House that, "At this challenging time of President Hugo Chavez's passing, the United States reaffirms its support for the Venezuelan people and its interest in developing a constructive relationship with the Venezuelan government.
"As Venezuela begins a new chapter in its history, the United States remains committed to policies that promote democratic principles, the rule of law, and respect for human rights."
While a working relationship with Venezuela is preferred, administration officials told CBS News, the United States will continue to pursue its interests in South America with or without it.
Chavez rose to fame by launching a failed 1992 coup, but never groomed a successor and many Venezuelans find Maduro, a former union agitator and Chavez's intellectual inferior by bounds, lacking the political heft.
Some political analysts believe that has made him more inclined to go on the attack as the presidential campaign begins in earnest.
Javier Corrales, an Amherst College political scientist, said he was concerned about the "virulent, anti-American discourse" under Maduro. "It seems to me this is a government that is beginning to blame the United States for all its troubles."
"This is very dark," he said. "This is the most nebulous period, the most menacing that the government has been, and the actions have been pretty severe."
Those actions have included hauling into court last week a leading opposition politician, Leopoldo Lopez, to face charges of influence peddling in a 15-year-old case that his lawyers say has passed the statute of limitations.
Lopez, who calls the charges ludicrous, ran logistics for Capriles in the Oct. 7 election after the government barred him from running for office.
In the absence of Chavez, the government is more aggressively seeking "to selectively destroy" opposition activists, Lopez said.
In his case, Lopez expects to be burdened by considerable legal distractions as he helps try to dislodge the Chavistas from power.
-
CAPRILES, MADURO AT EACH OTHER'S THROATS IN VENEZUELA ELECTION
Mar 11 2013
By Andrew Cawthorne and Mario Naranjo
CARACAS (Reuters) – Presidential candidates Nicolas Maduro and Henrique Capriles have begun Venezuela's election race with scathing personal attacks even as mourners still file past Hugo Chavez's coffin.
Maduro, who was sworn in as acting president after Chavez died of cancer last week, is seen as favorite to win the April 14 election, bolstered by an oil-financed state apparatus and a wave of public sympathy over Chavez's death.
"I am not Chavez, but I am his son," Maduro told thousands of cheering, red-clad supporters as he formally presented his candidacy to the election board on Monday.
"I am you, a worker. You and I are Chavez, workers and soldiers of the fatherland," the former bus driver and union activist added after the crowd's emotions were whipped up by recordings of Chavez singing the national anthem.
Thumbing his nose at detractors who scoff at his qualifications, Maduro arrived driving a white bus, waving to supporters. His rally congested downtown, and Capriles sent aides to present his papers rather than going personally.
Chavez made clear before his fourth and last cancer operation in December that he wanted Maduro, his vice president and former foreign minister, to be his Socialist Party's candidate to succeed him if he died.
Maduro has vowed to continue the radical policies of Chavez's 14-year rule in the South American OPEC nation, including the popular use of vast oil revenues for social programs. But Capriles is promising a tough fight.
"Nicolas, I'm not going to give you a free passage … you are not Chavez," Capriles said in a combative speech late on Sunday. He also accused Maduro of lying to minimize Chavez's medical condition while he prepared his candidacy.
"Nicolas lied to this country for months," Capriles said. "You are exploiting someone who is no longer here because you have nothing else to offer the country … I don't play with death, I don't play with suffering, like that."
At stake in the election is not only the future of Chavez's leftist "revolution," but the continuation of Venezuelan oil subsidies and other aid crucial to the economies of left-wing allies around Latin America, from Cuba to Bolivia.
Venezuela boasts the world's largest oil reserves.
Government officials said Capriles was playing with fire, offending Chavez's family and risking legal action by criticizing the handling of his illness and death.
"You can see the disgusting face of the fascist that he is," a visibly furious Maduro said, alleging that the opposition was hoping to stir up violence.
SLURS
Capriles, a descendant of Polish Jews on his mother's side, was a victim of racist and homophobic slurs from Chavez supporters last year. Maduro appeared to allude to his rival's sexuality during Monday's rally.
"I do have a wife, you know? I do like women!" he told the crowd with his wife Cilia Flores at his side, who has served as attorney general but is stepping down to join her husband's campaign.
Though single, Capriles has had various high-profile girlfriends in the past. He scoffs at the personal insults, saying they illustrate the government's aggressive mindset.
Shaken by Chavez's death and now immersed in an ugly election campaign, Venezuelans saw some semblance of normality return on Monday as most schools and shops reopened after being closed for most of last week.
Chavez's many local detractors are keeping a low profile.
But they say his memory is being burnished to forget less savory parts of his rule like the bullying of opponents and stifling of private businesses with nationalizations.
"The government wants to make Venezuelans think it is impossible (for the opposition) to win this election … but we can if we come out and vote," said prominent opposition leader Leopoldo Lopez, rallying supporters.
"Mr. Maduro, use and abuse all the power you want … we will not go down on our knees."
The official mourning period for Chavez ends on Tuesday. However the government extended a temporary ban on alcohol and carrying firearms through March 16.
Several million have paid their respects at his coffin at a military academy in a dramatic outpouring of grief.
Though criticized by many for his authoritarian tendencies and handling of the economy, Chavez was loved by millions, especially the poor, because of his own humble background, plain language and attacks on global "imperialists" and the domestic "elite," as well as his welfare policies in Venezuela's slums.
In death, he is earning a near-religious status among supporters, perhaps akin to that of Argentina's former populist ruler Juan Peron and his deeply loved wife Eva Peron.
State television has been playing speeches and appearances by Chavez over and over, next to a banner saying "Chavez lives forever."
OPPOSITION'S UPHILL STRUGGLE
Though there are hopes for a post-Chavez rapprochement between ideological foes Venezuela and the United States, a diplomatic spat worsened on Monday when Washington expelled two Venezuelan diplomats in a tit-for-tat retaliation.
Two U.S. military attaches were ordered out last week, on the day of Chavez's death, for allegedly conspiring with locals against the government.
Venezuelan opposition TV channel Globovision, which tussled with Chavez's government, said on Monday it had received a "formal buyout offer" and described it as "an attempted forced sale." It did not publicly name the potential buyer.
Globovision said its directors would provide more details in the coming hours. A Globovision employee who declined to be named said management described the business as "economically, legally and politically inviable".
Capriles, a 40-year-old centrist governor who describes himself as a "progressive" and an admirer of Brazil's model, ran in the last presidential election in October, taking 44 percent of the votes, but was unable to prevent Chavez's re-election.
While attacking Maduro's handling of the crisis over Chavez's cancer, Capriles will try to turn the focus of the month-long election campaign to the many day-to-day problems afflicting Venezuelans, from electricity cuts to crime and an inflation rate that is among the world's highest.
Maduro, 50, who echoes Chavez's anti-imperialist rhetoric, is sure to make his former boss the centerpiece of his campaign while casting himself as the only heir.
On Monday, though, he did promise a new anti-crime drive, and to deepen Chavez's social programs, known as "missions," in the slums. He also sought to blame sky high crime levels, which worsened dramatically during Chavez's years in power, on Venezuela's wealthy, saying they had ignored festering social problems and turned their back on the poor.
Two opinion polls before Chavez's death gave Maduro a lead of more than 10 percentage points.
"This is going to be a really tough campaign for us, we know," said an aide at Capriles' office in Caracas.
"It's hard to get everyone enthused and pumped again. We've only got a month, and we're fighting Chavez's ghost, not Maduro. But believe me, we'll give it our best."
-
VENEZUELA CANDIDATE: GOVERNMENT EXPLOITS CHAVEZ DEATH
By VIVIAN SEQUERA
CARACAS, Venezuela (AP) – Venezuelan opposition leader Henrique Capriles on Sunday launched what many consider a doomed candidacy to replace Hugo Chavez with a no-holds-barred attack against a government he accused of coldly betraying Venezuelans' trust.
Chavez's political heirs have toyed with Venezuelans' hopes, lying to them about his deteriorating health by suggesting he could recover and even producing decrees he supposedly signed, said Capriles, whom Chavez defeated by a 12-point margin in October.
He did not make direct reference to the decision to embalm Chavez and put him on permanent display, but he said: "You are playing politics with the president's body."
Capriles accused the socialist government that Chavez left behind after 14 years in power of meticulously planning a campaign to assure the election of Nicolas Maduro, Chavez's desired successor.
"Who knows when President Chavez (really) died," he asked. The government says Chavez succumbed to cancer on Tuesday after a nearly two-year battle. It has offered almost no clinical information.
Capriles also called Defense Minister Diego Molero a "disgrace" for publicly backing Maduro. The constitution forbids the military from taking political sides.
"Don't fool yourselves that you're the good and we're the bad," Capriles said in a 45-minute speech at his eastern Caracas campaign headquarters. "No, you're no better than us. I don't play with death. I don't play with pain."
A picture of Chavez behind him, Maduro appeared almost immediately afterward on state TV, accusing "the losing, miserable candidate" of defaming Chavez and his family.
He called Capriles a "fascist" trying to provoke violence by insulting the "crystalline, pure image of Commander Chavez."
"You have made the biggest mistake of your life," Maduro said. He said that if Chavez's family seeks legal action "don't say afterward that you are being politically persecuted."
Capriles, a state governor, acknowledged facing long odds against a candidate who wields vast public resources and a state media machine – and has the backing of the country's electoral council.
"As one person said today, 'Capriles, they are taking you to a slaughterhouse. Are you going to be lowered into its meat grinder?'" he said.
Capriles said, however, that he felt he had no other choice.
"How am I not going to fight?" he said. "How are we not going to fight? This is not Capriles' fight. This is everybody's fight."
In some upper-class districts of the capital, people launched fireworks, shouted and honked horns as Capriles announced he would run. Political analysts wondered where the Capriles they witnessed on Sunday had been during last year's campaign.
Capriles laid out potential major themes for his campaign, bemoaning violent crime, persistent poverty and a troubled economy that led the government to devalue the currency last month by more than 30 percent.
The electoral council has set the vote for April 14. Formal campaigning begins just 12 days earlier.
Unlike Capriles, Maduro made repeated references to the possibility of violence in the superheated, abbreviated campaign ahead.
Yet he also called for calm.
"We have to continue to rise above every provocation with peace, peace, peace and peace," Maduro said. "Respect, respect, respect."
Opposition critics say Maduro's swearing-in Friday as acting president was unconstitutional. The charter designates the National Assembly interim head of state if a president-elect cannot be sworn in.
Capriles decided to run fully aware that a second presidential defeat could end his political career.
Political consultant Oswaldo Ramirez, who is advising the Capriles campaign, said the candidate must strike a balance between criticizing the failures of Chavez's government and Maduro's role in it, without being seen as attacking the late president.
"He can't speak badly of Chavez, because this feeling on the street is still in full bloom," Ramirez said.
Public opinion was as divided as always Sunday in a country that became dramatically more polarized during Chavez's 14-year rule.
"It's not fair," said Jose Mendez, a 54-year-old businessman of the choice the opposition leader faces. "(Maduro) has an advantage, because of everything they have done since Chavez's death, all the sentiment they've created … But the guy has nothing. He can't hold a candle to Chavez."
But Ramon Romero said the opposition was just making excuses, and had no chance of victory in any case.
"Now their odds are even worse," said the 64-year-old waiter and staunch Chavez supporter. "They don't care about anyone, and we (the voters) have been lifted out of darkness."
-
ALEX JONES: HUGO CHAVEZ IS DEAD
Published on Mar 5, 2013
-
THE CHAVEZ LEGACY
March 13th, 2013
Venezuelan President Hugo Chavez died on March 5th, after a long battle with an undisclosed form of cancer. He had been President for the past 14 years. Acting President Nicolas Maduro has announced new elections for April 14, in which he will be a candidate, as will opposition leader Henrique Capriles. Dangerous polarization and heavy Jacobin threats are growing in the country, and throughout the region, as the British continue to deploy their asset for that purpose, even after his death.
Chavez was originally put in power in Venezuela through actions of the British Embassy in Venezuela, including a high- profile tour of the United Kingdom immediately prior to taking office. The British operation, from the outset, was to use Chavez as a rallying point for continental Jacobinism and radical romanticism, and as the designated heir apparent to Fidel Castro.
Chavez in that sense was following in the footsteps of his hero, South American liberator Simon Bolivar, who was a wholly- owned asset of British intelligence's Jeremy Bentham, until he broke with him at the very end of his life..
Chavez on occasion broke profile with this British imperial game of splitting the continent on "right vs. left" lines. The most memorable was a March 2005 summit with Colombian President Uribe, Brazil's Lula, and Spain's Rodriguez Zapatero, which promoted regional infrastructure integration as the way to achieve peace, at a moment of severe tensions between the "right wing" Uribe and the "left wing" Chavez governments. Similarly, Chavez helped keep Kirchner's Argentina afloat during the worst period of financial warfare against that country, because of their sovereign debt reorganization. When he functioned as part of the informal Ibero-American "Presidents Club," Chavez's better side came forward.
Chavez had his own conscience, and had positive and negative features. But the truth is the truth, and it does no good to cover it up where it is relevant. What we remember, in that regard, is Chavez repeatedly coming to the defense of Colombia's FARC, the world's leading cocaine cartel, with whom he had a strategic alliance. He similarly promoted drug legalization by pushing international coca leaf production and trade, along with Bolivia's Evo Morales, while nominally arguing against legalization inside Venezuela.
Perhaps most significant, Chavez was a self-avowed follower of the legal theories of Carl Schmitt, Adolf Hitler's Crown Jurist. Chavez on numerous occasions specified that his own view that the "leader" of the "people" was above any particular laws, was the same as Schmitt's concept of the unitary executive.
-
PAUL CRAIG ROBERTS ON HUGO CHAVEZ
Paul Craig Roberts
Infowars.com
March 13, 2013
Hugo Chavez, President of Venezuela and world leader against imperialism, died. Washington imperialists and their media and think tank whores expressed gleeful sighs of relief as did the brainwashed US population. An "enemy of America" was gone.
Chavez was not an enemy of America. He was an enemy of Washington's hegemony over other countries, an enemy of Washington's alliance with elite ruling cliques who steal from the people they grind down and deny sustenance. He was an enemy of Washington's injustice, of Washington's foreign policy based on lies and military aggression, bombs and invasions.
Washington is not America. Washington is Satan's home town.
Chavez was a friend of truth and justice, and this made him unpopular throughout the Western World where every political leader regards truth and justice as dire threats.
Chavez was a world leader. Unlike US politicians, Chavez was respected throughout the non-western world. He was awarded honorary doctorates from China, Russia, Brazil, and other countries, but not from Harvard, Yale, Cambridge, and Oxford.
Chavez was a miracle. He was a miracle, because he did not sell out to the United States and the Venezuelan elites. Had he sold out, Chavez would have become very rich from oil revenues, like the Saudi Royal Family, and he would have been honored by the United States in the way that Washington honors all its puppets: with visits to the White House. He could have become a dictator for life as long as he served Washington.
Each of Washington's puppets, from Asia to Europe and the Middle East, anxiously awaits the invitation that demonstrates Washington's appreciation of his or her servitude to the global imperialist power that still occupies Japan and Germany 68 years after World War II and South Korea 60 years after the end of the Korean War and has placed troops and military bases in a large number of other "sovereign" countries.
It would have been politically easy for Chavez to sell out. All he had to do was to continue populist rhetoric, promote his allies in the army, throw more benefits to the underclass than its members had ever previously experienced, and divide the rest of the oil revenues with the corrupt Venezuelan elites.
But Chavez was a real person, like Rafael Correa, the three-term elected president of Ecuador, who stood up to the United States and granted political asylum to the persecuted Julian Assange, and Evo Morales, the first indigenous president of Bolivia since the Spanish conquest. The majority of Venezuelans understood that Chavez was a real person. They elected him to four terms as president and would have continued electing him as long as he lived. What Washington hates most is a real person who cannot be bought.
The more the corrupt western politicians and media whores demonized Chavez, the more Venezuelans loved him. They understood completely that anyone damned by Washington was God's gift to the world.
It is costly to stand up to Washington. All who are bold enough to do so are demonized. They risk assassination and being overthrown in a CIA-organized coup, as Chavez was in 2002. When CIA-instructed Venezuelan elites sprung their coup and kidnapped Chavez, the coup was overthrown by the Venezuelan people who took to the streets and by elements of the military before Chavez could be murdered by the CIA-controlled Venezuelan elites, who escaped with their own venal lives only because, unlike them, Chavez was humanitarian. The Venezuelan people rose in instantaneous and massive public defense of Chavez and put the lie to the Bush White House claim that Chavez was a dictator.
Showing its sordid corruption, the New York Times took the side of the undemocratic coup by a handful of elitists against the democratically elected Chavez, and declared that Chavez's removal by a small group of rich elites and CIA operatives meant that "Venezuelan democracy is no longer threatened by a would-be dictator."
The lies and demonization continue with Chavez's death. He will never be forgiven for standing up for justice. Neither will Correa and Morales, both of whom are no doubt on assassination lists.
CounterPunch, Fairness & Accuracy in Reporting, and other commentators have collected examples of the venom-spewing obituaries that the western presstitutes have written for Chavez, essentially celebrations that death has silenced the bravest voice on earth.http://www.counterpunch.org/2013/03/08/obituaries-for-hugo-chavez/
http://fair.org/take-action/media-advisories/in-death-as-in-life-chavez-target-of-media-scorn/
Perhaps the most absurd of all was Associated Press business reporter Pamela Sampson's judgment that Chavez wasted Venezuela's oil wealth on "social programs including state-run food markets, cash benefits for poor families, free health clinics and education programs," a poor use of money that could have been used to build sky scrappers such as "the world's tallest building in Dubai and branches of the Louvre and Guggenheim museums in Abu Dhabi."
http://www.fair.org/blog/2013/03/06/ap-chavez-wasted-his-money-on-healthcare-when-he-could-have-built-gigantic-skyscrapers/
Among the tens of millions of Washington's victims in the world–the people of Afghanistan, Iraq, Libya, Sudan, Pakistan, Yemen, Somalia, Syria, Palestine, Lebanon, Mali, with Iran, Russia, China, and South America waiting in the wings for sanctions, destabilization, conquest or reconquest, Chavez's September 20, 2006 speech at the UN General Assembly during the George W. Bush regime will stand forever as the greatest speech of the early 21st century.
Chavez beards the lion, or rather Satan, in his own den:
"Yesterday, the devil himself stood right here, at this podium, speaking as if he owned the world. You can still smell the sulfur."
"We should call a psychiatrist to analyze yesterday's statement made by the president of the United States. As the spokesman of imperialism, he came to share his nostrums, to try to preserve the current pattern of domination, exploitation and pillage of the peoples of the world. An Alfred Hitchcock movie could use it as a scenario. I would even propose a title: 'the Devil's Recipe.'"
The UN General Assembly had never heard such words, not even in the days when the militarily powerful Soviet Union was present. Faces broke out in smiles of approval, but no one dared to clap. Too much US money for the home country was at stake.
The US and UK delegations fled the scene, like vampires confronted with garlic and the Cross or werewolves confronted with silver bullets.
Chavez spoke about the false democracy of elites that is imposed by force and on others by "weapons and bombs." Chavez asked, "What type of democracy do you impose with Marines and bombs?"
Wherever George W. Bush looks, Chavez said, "he sees extremists. And you, my brother–he looks at your color, and he says, oh, there's an extremist. Evo Morales, the worthy president of Bolivia, looks like an extremist to him. The imperialists see extremists everywhere. It is not that we are extremists. It is that the world is waking up. It is waking up all over and people are standing up."
In two short sentences totaling 20 words, Chavez defined for all times early 21st century Washington: "The imperium is afraid of truth, is afraid of independent voices. It calls us extremists, but they are the extremists."
Throughout South America and the non-western world, Chavez's death is being blamed on Washington. South Americans are aware of the US congressional hearings in the 1970s when the Church Committee brought to light the various CIA schemes to poison Fidel Castro.
The official document presented to President John F. Kennedy by the US Joint Chiefs of Staff, known as the Northwoods Project, is known to the world and is available online. The Northwoods project consisted of a false flag attack on American citizens in order to blame Cuba and create public and world acceptance for US-imposed regime change in Cuba. President Kennedy rejected the proposal as inconsistent with morality and accountable government.http://en.wikipedia.org/wiki/Operation_Northwoods
The belief has already hardened in South America that Washington with its hideous technologies of death infected Chavez with cancer in order to remove him as an obstacle to Washington's hegemony over South America.
This belief will never die: Chavez, the greatest South American since Simon Bolivar, was murdered by Washington. True or false, the belief is set in stone. As Washington and globalism destroy more countries, the lives of elites become more precarious.
President Franklin Delano Roosevelt understood that security for the rich required economic security for the underclasses. Roosevelt established in the US a weak form of social democracy that European politicians had already understood was necessary for social cohesion and political and economic stability.
The Clinton, Bush, and Obama regimes set about undermining the stability that Roosevelt provided, as Thatcher, Major, Blair, and the current prime minister of the UK undermined the social agreement between classes in the UK. Politicians in Canada, Australia, and New Zealand also made the mistake of handing power over to private elites at the expense of social and economic stability.
Gerald Celente predicts that the elites will not survive the hatred and anger that they are bringing upon themselves. I suspect that he is correct. The American middle class is being destroyed. The working class has become a proletariat, and the social welfare system is being destroyed in order to reduce the budget deficit caused by the loss of tax revenues to jobs offshoring and the expense of wars, overseas military bases, and financial bailouts. The American people are being compelled to suffer in order that elites can continue with their agendas.
The US elites know what is coming. That is why they created a Nazi-style Ministry of the Interior known as Homeland Security, armed with enough ammunition to kill every American five times and with tanks to neutralize the Second Amendment rights of Americans.http://www.informationclearinghouse.info/article34259.htm
http://www.forbes.com/sites/ralphbenko/2013/03/11/1-6-billion-rounds-of-ammo-for-homeland-security-its-time-for-a-national-conversation/
Pistols and rifles are useless against tanks, as the Branch Davidians found out in Waco, Texas. The protection of a small handful of elites from the Americans they are oppressing is also the reason the police are being militarized, brought under Washington's control and armed with drones that can assassinate the real leaders of the American people who will be, not in the legislative, executive, or judicial chambers, but in the streets. http://www.globalresearch.ca/the-militarization-of-law-enforcement-in-america-use-of-military-technology-and-tactics-by-local-level-police/5326303
Internment camps in the US appear to be real and not a conspiracy theory.http://www.youtube.com/watch?v=FfkZ1yri26s
http://info.publicintelligence.net/USArmy-InternmentResettlement.pdf
The threat that the US government poses to its own citizens was recognized on March 7, 2013, by two US Senators, Ted Cruz (R-TX) and Rand Paul (R-KY), who introduced a bill to prevent the US government from murdering its own citizens: "The Federal Government may not use a drone to kill a citizen of the United States who is located in the United States" unless the person "poses an imminent threat of death or serious bodily injury to another individual. Nothing in this section shall be construed to suggest that the Constitution would otherwise allow the killing of a citizen of the United States in the United States without due process of law." http://www.cruz.senate.gov/record.cfm?id=339952
The "indispensable people" with their presidents Bush and Obama have begun the 21st century with death and violence. That is their only legacy.
The death and violence that Washington has unleashed will come back to Washington and to the corrupt political elites everywhere. As Gerald Celente says, the first great war of the 21st century has begun.
-
HUGO CHAVEZ MAY BE DEAD, BUT THE GREAT CANCER OF SOCIALISM CONTINUES TO SPREAD
by Mike Adams, the Health Ranger | NaturalNews
Hugo Chavez is dead, leaving one less control freak tyrant desecrating our planet, but one more empty seat of corruption and power to be filled. Chavez died of cancer, we are told, but the cancer of his left-leaning philosophies continues to disease our world, even rearing its head in the United States of America where government policies increasingly mirror those of Chavez.
Elected by deeply deceived Venezuelan voters in 1998, Chavez then confiscated nearly all private business across the country, amassing a personal fortune of more than $2 billion while impoverishing his countrymen under a tyranny of centralized government power. Chavez ran the kind of government that would simply declare your entire company to be "government property," then they would confiscate all your inventory, bank accounts and intellectual property while claiming it was "for the good of the People."
Chavez shows us where socialism leads
Chavez is the poster child for the inevitable result of socialism. Any nation whose voters give up their personal power and attempt to hand over authority to a nanny state government inevitably end up enslaving themselves under control freak tyrants. That, in turns, leads to poverty, injustice and habitual government violations of human rights.
Like every other statist tyrant, Chavez rose to power by blaming all the country's ills on an imaginary enemy. Just as the United States today blames all its problems on fictional "terrorists," Chavez blamed all his woes on the USA. If anything bad ever happened in Venezuela, it was America's fault, Chavez insisted. And his endless promises of restoring Venezuela to global power through centrally-controlled socialist government were nothing more than a cover story to maintain political power while he and his family members looted Venezuela of all the money they could ferret away.
Chavez was technically more of a thief than a leader, and his thievery wasn't even original. His confiscation of national wealth was no different than the very same confiscations that routinely take place in other socialist / communist nations, including China, North Korea and Cuba. If there's one thing the radical left has perfected over the last century, it's the recipe for amassing huge personal wealth for the elite few while the voters swelter in miserable poverty.
(Even after his death, Chavez is still blaming America for his ills… literally! His fatal cancer was America's fault, you see: somehow America conspired to give the man a fatal disease, it is claimed. This was most likely accomplished by shipping him a few pallets of Diet Coke and letting the guy suck down aspartame all day long.)
Chavez the tyrant, worshipped by fools and feared by whistleblowers
There is no death torturous enough for this demon of a human being who used a concentration of government power to endlessly abuse and exploit his fellow countrymen. As Human Rights Watch explains, "Hugo Chavez's presidency (1999-2013) was characterized by a dramatic concentration of power and open disregard for basic human rights guarantees."
HRW goes on to report:
…Chavez and his followers moved to concentrate power. They seized control of the Supreme Court and undercut the ability of journalists, human rights defenders, and other Venezuelans to exercise fundamental rights. By his second full term in office, the concentration of power and erosion of human rights protections had given the government free rein to intimidate, censor, and prosecute Venezuelans who criticized the president or thwarted his political agenda. In recent years, the president and his followers used these powers in a wide range of prominent cases, whose damaging impact was felt by entire sectors of Venezuelan society.
If all this rings a bell, it's because this is a perfect description of the Obama administration in the United States. Here in America, the mainstream media has been completely taken over by the government, and any journalist who asks a legitimate question is forever barred from attending White House press conferences.
The government has taken over the housing sector (Freddie and Fanny), the automobile sector (government bailouts of car manufacturers), the financial sector (government bailouts of Wall Street banks) and the entire medical system (Obamacare). The more you look at Obama's America, in fact, the more it resembles Chavez's Venezuela.
It's even the same rhetoric: Private industry is bad, government is good. Individualism is bad, collectivism is good. Free speech is bad, conformist ideas are good. Keeping your own paycheck is bad, but having your paycheck confiscated by the government is good.
Oh, and don't forget this little gem: If I asked you in which country the President "legalized" the official murder of its own citizens with absolutely no due process or trial by jury, if you guessed that country to be "Venezuela," you'd be wrong. It's America under Obama. (NDAA)
How about this: In which country are the citizens raided at gunpoint for producing fresh farm products that they wish to take to the market and sell to their neighbors? That's America, too, under the government's raw milk raids.
In which country has the system of justice been completely abandoned and replaced with a vindictive police state apparatus where government prosecutors target political enemies? The answer to that question is "Californizuela," the utopia of runaway socialism, located on the west coast of the former "land of the free" USA, where Chavez-style policies have become the norm.
What we can all learn from the Chavez regime
The lesson with Chavez is the lesson humanity seems cursed to learn over and over again throughout human history: any centralization of power always — ALWAYS — leads to extreme abuses of that power.
In the wake of those abuses, we consistently find human rights violations, election fraud, judicial corruption, state media control, censorship of free speech, the imprisonment of political opponents and other grotesque artifacts of tyranny. The road to that tyranny is, of course, paved with politicians making wonderful-sounding promises that mesmerize gullible populations. But in the end, the result is always the same: widespread poverty, injustice, censorship, suffering and corruption… a cancerous police state gulag government where innovation, individualism, liberty and justice is brutally crushed.
As Investors.com reports on Chavez:
Transparency International has named Venezuela the most corrupt nation in the hemisphere, matching Haiti and besting the likes of Paraguay and Nicaragua. With a $1 trillion oil windfall, that's lots of graft. Venezuela's Hugo Chavez ushered in the era of high oil prices in 1998, slashing output and earning the country a cool $1.125 trillion windfall as oil prices shot from $9 a barrel to more than $100.
That's bizarre, given that Venezuela remains a crime-ridden hellhole, whose vast slums and impoverished people offer not a scintilla of evidence of any spreading prosperity. …Venezuela's budget is secret, its oil earnings are secret, its electoral mechanisms are secret, and its media are largely under government control. Whistle-blowers are hit with draconian punishments.
Chavez represents one position along the line of tyranny extremes, with North Korea's Kim Jong-Un holding the winning spot on the extreme left. Chavez ranks about an "8" on this scale, and Obama a close "7." California is a 5 or 6, depending on where you live there.
This U.S. shift toward tyranny is over a decade old, of course. Beginning 2001, America began sharply moving in the direction of Venezuela. First with Bush and then with Obama, America abandoned its founding principles and began to adopt policies of socialism, ever-expanding government and unconstitutional limits on liberty. Today in 2013, the situation has become so insane that the U.S. government now openly threatens the nation with releasing criminals on the streets if its operating budget is threatened in any way (sequestration). This government has become, at many levels, a mirror image of the cancerous socialist state Chavez built for his own personal gain, and it's going to take a real revolution (at the polls, hopefully) to restore liberty in America and rid this nation of Chavez-like socialist scumbags who incessantly seek to dominate and control their fellow man.
Anyone who praises Chavez is a betrayer of freedom and an enemy of liberty. Beware of any person who says Chavez was a "great hero…" They are tragic fools who know nothing of real history and the darkness that lies in the hearts of those who incessantly seek power.
-
HUGO CHAVEZ AND SOCIALISM
8 March 2013
Hundreds of thousands of Venezuelans filled the streets of Caracas to accompany the casket of President Hugo Chavez to the military academy where he began his career and where his body lay in state before today's funeral.
The former paratrooper lieutenant colonel had been in power for 14 years, and the outpouring reflected popular support for the undeniable, albeit limited, improvements in social conditions for the country's most impoverished layers under his presidency. This includes a halving of the poverty rate, which still remains above Latin America's average.
In Washington, the Obama administration issued a cautious statement calling Chavez's demise a "challenging time" and declaring its hope that the change in leadership in Caracas would promote "a constructive relationship with the Venezuelan government."
Republican leaders in Congress openly celebrated the Venezuelan leader's death. Typical was Ed Royce, chairman of the House Foreign Affairs Committee, who declared, "Good riddance to this dictator."
Chavez's nationalist rhetoric, his government's diversion of revenues from the country's protracted oil bonanza to pay for social assistance programs and its forging of extensive economic ties to China earned him the hatred of both Washington and a fascistic ruling class layer in Venezuela. They did not, however—as both he and his pseudo-left supporters claimed—represent a path to socialism.
Chavez was a bourgeois nationalist, whose government rested firmly on the military from which he came and which continues to serve as the crucial arbiter in the affairs of the Venezuelan state.
While bitterly resented by a reactionary Venezuelan oligarchy, whose preferred method of dealing with the country's impoverished masses is murder and torture, Chavez's misiones, or programs to improve living standards, housing, health care and education, made no serious encroachment on profit interests.
Both the share of the country's economy controlled by the private sector and the portion of national income going to employers as opposed to labor were greater under Chavez than before he took office. An entire new ruling class layer—dubbed the boliburguesia— was spawned by chavismo, growing rich off of government contracts, corruption and financial speculation.
Meanwhile, the "Bolivarian revolution" has done nothing to alter Venezuela's status as a nation dependent upon and oppressed by imperialism. The country's economy is still wholly dependent upon the export of oil (the largest share to the US) and the import of both capital and consumer goods.
In last November's presidential election, Chavez publicly appealed for the support of the wealthy and privileged, insisting that his policies promoted social peace and stability and warded off the threat of civil war.
Chavez had ample reason to promote his policies with the left rhetoric of an ill-defined "21st Century Socialism." The aim, first and foremost, was to divert and contain the militancy of the Venezuelan workers, whose struggles, to the extent they escape the control of the ruling PSUV (Unified Socialist Party of Venezuela) and its affiliated Bolivarian trade union federation, are often branded as "counterrevolutionary."
However, an entire layer of the international pseudo-left—including various organizations and individuals who have in the past cast themselves as "Trotskyists"—attempted to lend credence to this "socialist" rhetoric. This reached ludicrous levels, such as the hailing of Chavez's call for a "Fifth International," which was issued in a rambling speech to a November 2009 gathering of "left" parties in Caracas that included delegations from the Chinese Communist Party, the Brazilian Workers Party, Argentina's Peronist Partido Justicialista and the PRI of Mexico.
The reaction of Francois Sabado, a leading member of both the Pabloite international and the French New Anticapitalist Party, was typical. He described this bringing together of right-wing, anti-working class ruling parties as "an important instrument to fight the ruling classes, not only in Latin America, but in the whole world." He went on to insist that political "divergences" could be overcome and that there was no need of "discussing the historical balance sheets of different currents."
Such "balance sheets" could only lay bare the long and tragic historical experience—particularly in Latin America—with the attempts by political charlatans like Sabado to portray bourgeois nationalist regimes as "revolutionary" and "socialist," subordinating the struggles of the working class to them.
In the 1970s, this took the form of the political tendency led by Nahuel Moreno working to subordinate the Argentine working class to both Peronism and Castroism, politically disarming it in the face of the savage military coup of 1976. A similar role was played by the party of Guillermo Lora in Bolivia in 1971 in relation to the "left" general, J.J. Torres, whose presidency was ended with the right-wing military coup of Gen. Hugo Banzer.
Similar adaptations to the regimes of Gen. Velasco Alvarado in Peru and Gen. Omar Torrijos in Panama led to betrayals and defeats for the working class in these countries, as did the promotion of Castroism and Guevarism throughout the continent.
The painting of chavismo in socialist colors by today's pseudo-lefts is a matter not merely of failing to learn these historical lessons, but rather of deep-rooted class interests. They are drawn to Chavez's "21st Century socialism" precisely because of their hostility to the Marxist conception that a socialist transformation can be carried out only through the independent and conscious struggle of the working class to put an end to capitalism and take power into its own hands. These petty-bourgeois political elements are instead attracted to a policy designed to save capitalism from revolution, imposed from above by a charismatic comandante. These layers have moved far to the right since the hey-day of their adaptation to Castroism in the 1960s and 1970s. Indeed, before his death, some of them who had lauded Chavez turned against him because of his opposition to the US wars for regime change in Libya and Syria, which they themselves have embraced along with imperialism.
Whatever the immediate fate of the unfolding attempts to fashion a new chavismo without Chavez, the class struggle in Venezuela and throughout Latin America will intensify under the impact of the deepening global capitalist crisis. The crucial question is the building of new, independent revolutionary parties, sections of the International Committee of the Fourth International, to fight for the independent political mobilization of the working class as part of the worldwide struggle against capitalism.
-
50 TRUTHS ABOUT HUGO CHAVEZ AND THE BOLIVARIAN REVOLUTION
By Salim Lamrani | Global Research
March 11, 2013
President Hugo Chavez, who died on March 5, 2013 of cancer at age 58, marked forever the history of Venezuela and Latin America.
Translation by Tim Anderson
1. Never in the history of Latin America, has a political leader had such incontestable democratic legitimacy. Since coming to power in 1999, there were 16 elections in Venezuela. Hugo Chavez won 15, the last on October 7, 2012. He defeated his rivals with a margin of 10-20 percentage points.
2. All international bodies, from the European Union to the Organization of American States, to the Union of South American Nations and the Carter Center, were unanimous in recognizing the transparency of the vote counts.
3. James Carter, former U.S. President, declared that Venezuela's electoral system was "the best in the world."
4. Universal access to education introduced in 1998 had exceptional results. About 1.5 million Venezuelans learned to read and write thanks to the literacy campaign called Mission Robinson I.
5. In December 2005, UNESCO said that Venezuela had eradicated illiteracy.
6. The number of children attending school increased from 6 million in 1998 to 13 million in 2011 and the enrollment rate is now 93.2%.
7. Mission Robinson II was launched to bring the entire population up to secondary level. Thus, the rate of secondary school enrollment rose from 53.6% in 2000 to 73.3% in 2011.
8. Missions Ribas and Sucre allowed tens of thousands of young adults to undertake university studies. Thus, the number of tertiary students increased from 895,000 in 2000 to 2.3 million in 2011, assisted by the creation of new universities.
9. With regard to health, they created the National Public System to ensure free access to health care for all Venezuelans. Between 2005 and 2012, 7873 new medical centers were created in Venezuela.
10. The number of doctors increased from 20 per 100,000 population in 1999 to 80 per 100,000 in 2010, or an increase of 400%.
11. Mission Barrio Adentro I provided 534 million medical consultations. About 17 million people were attended, while in 1998 less than 3 million people had regular access to health. 1.7 million lives were saved, between 2003 and 2011.
12. The infant mortality rate fell from 19.1 per thousand in 1999 to 10 per thousand in 2012, a reduction of 49%.
13. Average life expectancy increased from 72.2 years in 1999 to 74.3 years in 2011.
14. Thanks to Operation Miracle, launched in 2004, 1.5 million Venezuelans who were victims of cataracts or other eye diseases, regained their sight.
15. From 1999 to 2011, the poverty rate decreased from 42.8% to 26.5% and the rate of extreme poverty fell from 16.6% in 1999 to 7% in 2011.
16. In the rankings of the Human Development Index (HDI) of the United Nations Program for Development (UNDP), Venezuela jumped from 83 in 2000 (0.656) at position 73 in 2011 (0.735), and entered into the category Nations with 'High HDI'.
17. The GINI coefficient, which allows calculation of inequality in a country, fell from 0.46 in 1999 to 0.39 in 2011.
18. According to the UNDP, Venezuela holds the lowest recorded Gini coefficient in Latin America, that is, Venezuela is the country in the region with the least inequality.
19. Child malnutrition was reduced by 40% since 1999.
20. In 1999, 82% of the population had access to safe drinking water. Now it is 95%.
21. Under President Chavez social expenditures increased by 60.6%.
22. Before 1999, only 387,000 elderly people received a pension. Now the figure is 2.1 million.
23. Since 1999, 700,000 homes have been built in Venezuela.
24. Since 1999, the government provided / returned more than one million hectares of land to Aboriginal people.
25. Land reform enabled tens of thousands of farmers to own their land. In total, Venezuela distributed more than 3 million hectares.
26. In 1999, Venezuela was producing 51% of food consumed. In 2012, production was 71%, while food consumption increased by 81% since 1999. If consumption of 2012 was similar to that of 1999, Venezuela produced 140% of the food it consumed.
27. Since 1999, the average calories consumed by Venezuelans increased by 50% thanks to the Food Mission that created a chain of 22,000 food stores (MERCAL, Houses Food, Red PDVAL), where products are subsidized up to 30%. Meat consumption increased by 75% since 1999.
28. Five million children now receive free meals through the School Feeding Programme. The figure was 250,000 in 1999.
29. The malnutrition rate fell from 21% in 1998 to less than 3% in 2012.
30. According to the FAO, Venezuela is the most advanced country in Latin America and the Caribbean in the erradication of hunger.
31. The nationalization of the oil company PDVSA in 2003 allowed Venezuela to regain its energy sovereignty.
32. The nationalization of the electrical and telecommunications sectors (CANTV and Electricidad de Caracas) allowed the end of private monopolies and guaranteed universal access to these services.
33. Since 1999, more than 50,000 cooperatives have been created in all sectors of the economy.
34. The unemployment rate fell from 15.2% in 1998 to 6.4% in 2012, with the creation of more than 4 million jobs.
35. The minimum wage increased from 100 bolivars ($ 16) in 1998 to 247.52 bolivars ($ 330) in 2012, ie an increase of over 2,000%. This is the highest minimum wage in Latin America.
36. In 1999, 65% of the workforce earned the minimum wage. In 2012 only 21.1% of workers have only this level of pay.
37. Adults at a certain age who have never worked still get an income equivalent to 60% of the minimum wage.
38. Women without income and disabled people receive a pension equivalent to 80% of the minimum wage.
39. Working hours were reduced to 6 hours a day and 36 hours per week, without loss of pay.
40. Public debt fell from 45% of GDP in 1998 to 20% in 2011. Venezuela withdrew from the International Monetary Fund and World Bank, after early repayment of all its debts.
41. In 2012, the growth rate was 5.5% in Venezuela, one of the highest in the world.
42. GDP per capita rose from $ 4,100 in 1999 to $ 10,810 in 2011.
43. According to the annual World Happiness 2012, Venezuela is the second happiest country in Latin America, behind Costa Rica, and the nineteenth worldwide, ahead of Germany and Spain.
44. Venezuela offers more direct support to the American continent than the United States. In 2007, Chávez spent more than 8,800 million dollars in grants, loans and energy aid as against 3,000 million from the Bush administration.
45. For the first time in its history, Venezuela has its own satellites (Bolivar and Miranda) and is now sovereign in the field of space technology. The entire country has internet and telecommunications coverage.
46. The creation of Petrocaribe in 2005 allows 18 countries in Latin America and the Caribbean, or 90 million people, secure energy supply, by oil subsidies of between 40% to 60%.
47. Venezuela also provides assistance to disadvantaged communities in the United States by providing fuel at subsidized rates.
48. The creation of the Bolivarian Alliance for the Peoples of Our America (ALBA) in 2004 between Cuba and Venezuela laid the foundations of an inclusive alliance based on cooperation and reciprocity. It now comprises eight member countries which places the human being in the center of the social project, with the aim of combating poverty and social exclusion.
49. Hugo Chavez was at the heart of the creation in 2011 of the Community of Latin American and Caribbean States (CELAC) which brings together for the first time the 33 nations of the region, emancipated from the tutelage of the United States and Canada.
50. Hugo Chavez played a key role in the peace process in Colombia. According to President Juan Manuel Santos, "if we go into a solid peace project, with clear and concrete progress, progress achieved ever before with the FARC, is also due to the dedication and commitment of Chavez and the government of Venezuela."
-
RUSSIAN LEADER DEMANDS INVESTIGATION OF CHAVEZ' DEATH
Head of Communist Party says simultaneous cancers of Latin-American politicians was "far from a coincidence"
Paul Joseph Watson
Infowars.com
March 6, 2013
Russian Communist Party head Gennady Zyuganov today demanded an international investigation into the death of Venezuela's Hugo Chavez, claiming it was "far from a coincidence" that six leaders of Latin-American countries who had criticized the U.S. simultaneously fell ill with cancer.
Hugo Chavez. Image: Wikimedia Commons
"How did it happen that six leaders of Latin American countries which had criticized US policies and tried to create an influential alliance in order to be independent and sovereign states, fell ill simultaneously with the same disease?" Zyuganov told Russian state television, urging an investigation under "international control" into Chavez's death.
Zyuganov is accurate so far as his claim that six Latin-American leaders were diagnosed with cancer within a relatively close period of time, most notably Argentina's President Cristina Fernández de Kirchner, who was diagnosed with thyroid cancer in December 2012, although later analysis proved that she had never actually suffered from the illness.
Current Brazilian President Dilma Rousseff, Paraguay's Fernando Lugo, and the former Brazilian leader Luiz Inácio Lula da Silva, have all been hit with cancer in the last few years. In 2006 it was also reported that retired Cuban leader Fidel Castro was also diagnosed with cancer.
Zyuganov's comments follow similar rhetoric by Venezuelan Vice President Madurs, who in the hours before the announcement of Chavez' death accused "the historical enemies of our homeland" of being responsible for Chavez' cancer, claiming that Yasser Arafat had also been "inoculated with an illness."
Hugo Chavez himself once speculated that the United States had a cancer weapon after being diagnosed with the disease in 2011. "Would it be so strange that they've invented the technology to spread cancer and we won't know about it for 50 years?" he stated.
"Fidel [Castro] always told me, 'Chávez take care. These people have developed technology. You are very careless. Take care what you eat, what they give you to eat … a little needle and they inject you with I don't know what,' Chavez added.
The fact that Chavez was almost certainly the target of numerous CIA assassination plots has bolstered the belief amongst some that his cancer could have been surreptitiously induced as a means of unseating Chavez from power, successfully achieving what a 2002 coup failed to accomplish.
-
VENEZUELA TAKES PAGE FROM CUBAN PLAYBOOK
Caracas Accuses Washington of Destabilization Plot and Its 'Historic Enemies' of Inducing Chávez's Cancer
By EZEQUIEL MINAYA and DAVID LUHNOW | The Wall Street Journal
.
CARACAS—Shortly before announcing that Hugo Chávez died, Venezuela's government resorted to one of the late president's favorite ploys to try to unite his supporters: allege a conspiracy by the U.S. to destabilize the country.
Vice President Nicolás Maduro kicked out two U.S. military attachés for allegedly plotting against Venezuela and even suggested that Washington may have been behind Mr. Chávez's cancer.
"Behind all of [the plots] are the enemies of the fatherland," Mr. Maduro said on state television, flanked by the entire cabinet, state governors and Venezuela's military commanders.
Mr. Maduro said that the U.S. Embassy's Air Force attaché, Col. David Delmonaco, and another unnamed U.S. military official had approached members of the Venezuelan military and tried to recruit them into plans to "destabilize" the oil-rich South American nation. Mr. Maduro didn't offer further details on the alleged plot.
Mr. Maduro also suggested that the country's "historic enemies," a phrase long used in Venezuela to refer to the U.S. and its allies, may have caused Mr. Chávez's cancer. He said the country would likely discover in the future that Mr. Chávez "was attacked with this illness."
The Obama administration, which has been hoping for closer relations with Venezuela following years of antagonism from Mr. Chávez, rejected the allegations.
"We completely reject the Venezuelan government's claim that the United States is involved in any type of conspiracy to destabilize the Venezuelan government. We reject the specific allegations against members of our Embassy," said State Department spokesman Patrick Ventrell.
"An assertion that the United States was somehow involved in causing President Chávez's illness is absurd, and we definitively reject it," said Mr. Ventrell.
U.S. officials said it was likely that a number of Venezuelan diplomats would be asked to leave the U.S. in the coming days.
Mr. Chávez repeatedly accused the U.S. of meddling in Venezuelan affairs before, including backing a brief coup that ousted the populist briefly in 2002. In December 2011, he said he wouldn't be surprised if "a technology created by the U.S." was responsible for several Latin American leaders being diagnosed with cancer in recent years.
His remarks came shortly after his ally, Argentine President Cristina Kirchner, said she would undergo treatment for thyroid cancer. After removing a growth in her thyroid gland, doctors concluded that cancer cells weren't present.
Brazilian President Dilma Rousseff and former Paraguayan President Fernando Lugo have also battled the disease and say they are now cancer-free
"Wouldn't it be weird if they [the U.S.] had developed a technology for inducing cancer and nobody knows up until now?" he asked, at the time.
Mr. Maduro's rhetoric is similar to the kinds of conspiracy theories that Mr. Chávez wove during his 14 years in power, and which Mr. Chávez seemed to have adopted from his political mentor, Fidel Castro, who has long rallied support among Cubans by portraying the U.S. as an implacable foe.
"This has all the fingerprints of being 'Made in Cuba,' " said Moises Naim, a senior fellow at the Carnegie Endowment for International Peace. "It's like something out of the '60s or '70s, blaming the CIA for poisoning a head of state, but they don't seem to mind trying this in the 21st century."
-
VICE PRESIDENT OF VENEZUELA SAYS HUGO CHAVEZ WAS KILLED BY THE UNITED STATES
-
VENEZUELA TO PROBE CHAVEZ CANCER POISONING ACCUSATION
March 12, 2013
CARACAS (Reuters) – Venezuela will set up a formal inquiry into claims that the late President Hugo Chavez's cancer was the result of poisoning by his enemies abroad, the government said.
Foes of the government view the accusation as a typical Chavez-style conspiracy theory intended to feed fears of "imperialist" threats to Venezuela's socialist system and distract people from daily problems.
Still, acting President Nicolas Maduro vowed to open an investigation into the claims, first raised by Chavez himself after he was diagnosed with the disease in 2011.
"We will seek the truth," Maduro told regional TV network Telesur. "We have the intuition that our commander Chavez was poisoned by dark forces that wanted him out of the way."
Foreign scientists will be invited to join a state committee to probe the accusation, he said.
Maduro, 50, is Chavez's handpicked successor and is running as the government's candidate in a snap presidential election on April 14 that was triggered by the president's death last week.
He is trying to keep voters' attention firmly focused on Chavez to benefit from the outpouring of grief among his millions of supporters. The opposition is centering its campaign on portraying Maduro, a former bus driver, as an incompetent who, they say, is exploiting Chavez's demise.
"Let's take the president (Chavez) away from the political debate out of respect for his memory, his family, his supporters," opposition candidate Henrique Capriles' campaign chief Henri Falcon told reporters.
Polls from before Chavez's death gave Maduro a lead over Capriles of more than 10 percentage points. Capriles lost to Chavez by 11 percentage points in October last year.
ACCUSATIONS FLYING
In an increasingly acrimonious campaign, both sides on Tuesday accused each other of planning violence.
The opposition displayed photos circulating on the Internet showing an assault rifle and a pistol being held up to a TV screen that was broadcasting Capriles' face.
They also said there were indications of plans to attack Capriles when he was scheduled to register his candidacy on Monday. In the end, aides went instead.
Government spokesmen repeated accusations that opposition activists planned to disrupt Maduro's campaign.
Trying to discredit Capriles, they also waved photos of a plush New York apartment they said belonged to him, and copies of university documents that they said showed he never completed a law degree.
Capriles, a 40-year-old business-friendly regional governor running for the opposition's Democratic Unity coalition, is trying to disassociate Maduro from Chavez in voters' minds.
"He's attacking Nicolas Maduro, saying Nicolas is not Chavez," senior Socialist Party official and Maduro's campaign chief Jorge Rodriguez said.
"Of course Nicolas isn't Chavez. But he is his faithful, responsible, revolutionary son. All these insults and vilification are going to be turned into votes for us," he said.
Tuesday was the last day of official mourning for Chavez, although ceremonies appear set to continue. His embalmed body was to be taken in procession to a military museum on Friday.
Millions have filed past Chavez's coffin to pay homage to a man who was adored by many of the poor for his humble roots and welfare policies, but was also hated by many people for his authoritarian style and bullying of opponents.
Though Maduro has spoken about combating crime and extending development programs in the slums, he has mostly used his frequent appearances on state TV to talk about Chavez.
The 58-year-old president was diagnosed with cancer in his pelvic region in June 2011 and underwent four surgeries before dying of what sources said was metastasis in the lungs.
Maduro said it was too early to specifically point a finger over Chavez's cancer, but noted that the United States had laboratories with experience in producing diseases.
"He had a cancer that broke all norms," Maduro told Telesur. "Everything seems to indicate that they (enemies) affected his health using the most advanced techniques."
Maduro has compared his suspicions over Chavez's death with allegations that Palestinian leader Yasser Arafat died in 2004 from poisoning by Israeli agents.
The case echoes Chavez's long campaign to convince the world that his idol and Venezuela's independence hero Simon Bolivar died of poisoning by his enemies in Colombia in 1830.
OPPOSITION'S UPHILL FIGHT
The National Assembly was to debate this week a proposal by pro-government legislators to hold a referendum – possibly also on April 14 – on whether he should be buried at the ornate National Pantheon building in Caracas.
Opponents are outraged at the prospect of a referendum stoking the emotion around Chavez at the same time as the presidential vote.
As well as the wave of sympathy for Chavez, the opposition faces a well-financed state apparatus, institutions packed with government supporters, and problems within its own rank-and-file, still demoralized over October's presidential election defeat and a mauling at gubernatorial polls in December.
Capriles has tried to jump-start his campaign with accusations that Maduro and other senior officials lied about the details of Chavez's illness, hiding the gravity of his condition from Venezuelans.
That has brought him a torrent of abuse in return, with the words "Nazi" and "fascist" being used by senior government officials – despite Capriles' Jewish roots.
At stake in the election is not only the future of Chavez's leftist "revolution," but also the continuation of Venezuelan oil subsidies and other aid crucial to the economies of left-wing allies around Latin America, from Cuba to Bolivia.
The OPEC nation boasts the world's largest oil reserves.
Though there are hopes for a post-Chavez rapprochement between Venezuela and the United States, a diplomatic spat worsened on Monday when Washington expelled two Venezuelan diplomats in a tit-for-tat retaliation.
-
THE DEATH OF HUGO CHAVEZ…EXECUTIVE ORDERS TO "ASSASSINATE FOREIGN LEADERS" EMANATE DIRECTLY FROM THE U.S. PRESIDENT
The Revocation of Executive Order 12333 which banned the CIA from conducting "targeted assassinations"
By Prof Michel Chossudovsky | Global Research
.
Was the president of Venezuela Hugo Chavez Frias the object of a targeted assassination by the Obama administration?
When addressing this issue, it is worth recalling that in the immediate wake of September 11, 2001 President George W. Bush restored the sordid practices of the CIA by revoking President Ford's 1976 Executive Order 12333 which banned the CIA from conducting "targeted assassinations".
The revocation of Executive Order 12333 is of crucial significance. It provides a green light to the US president to "lawfully" order the assassination of  foreign leaders of "rogue states". Although couched in the framework of post 9/11 counter terrorism, the revocation of EO 12333 gives carte blanche to the US Head of State. In this context, the CIA would receive orders to assassinate foreign leaders directly from the US President:
….The Bush administration has concluded that executive orders banning assassination do not prevent the president from lawfully singling out a terrorist [or foreign leader of a rogue state] for death by covert action… Bush's directive broadens the class of potential targets beyond bin Laden and his immediate circle of operational planners, and also beyond the present boundaries of the fight in Afghanistan, officials said. But it also holds the potential to target violence more narrowly than its precedents of the past 25 years because previous findings did not permit explicit planning for the death of an individual … [I]nside the CIA and elsewhere in government,… much of the debate turns on the scope of a targeted killing campaign. …

…The CIA's Directorate of Operations, which runs the clandestine service, is mindful of a traumatizing past in which assassination attempts in Africa, Latin America and the Middle East were blamed on rogue agents when they failed. The agency is determined to leave no room this time for "plausible denial" of responsibility on the part of the president and the agency's top management. That does not mean that operations will be publicly proclaimed, one source said, but that the paper trail inside government must begin undeniably with "the political leadership."
..."The important thing is that the accountability chain is clear," said John C. Gannon, who retired in June as deputy director of central intelligence,… "I would want the president's guidance to be as clear as it could be, including the names of individuals… With explicit authority, he said, "I think the case officers are capable [of targeted killing] and would follow instructions, and would, I think, have the capability of succeeding."
National security officials noted that the White House and at least three executive departments already maintain lists in which terrorists are singled out by name… One view, apparently a minority position but one expressed in private recently by two senior managers in the Directorate of Operations, is that the clandestine service should target not only commanders but also financiers of al Qaeda. "You have to go after the Gucci guys, the guys who write the checks," said one person reflecting that view. It is easier to find financiers, he said, and killing them would have dramatic impact because they are not commonly prepared to die for their cause… Rep. Robert L. Barr Jr. (R-Ga.)… said fundraisers are legitimate targets for death. "Under traditional terms of war, those who assist belligerents are belligerents," he said….
If Bush has drawn up such a list, it is among the most closely held secrets of government. It could not be learned whether names have been proposed to him by the clandestine service, or whether he has signed orders that would amount to individual death warrants …
(Washington Post, 29 October 2001, emphasis added)
American public opinion is led to believe that a policy of "targeted assassinations" in time of war is necessary to "fight evil" and uphold democracy.
Washington had hinted at the time of the revocation of EO 12333 that it is not only Al Qaeda which was being targeted, foreign leaders in "rogue States" or countries "which harbor international terrorism" could also be the object of "targeted assassinations."
The revocation of EO12333 in 2001 has laid the foundations for the establishment of broad procedures, which more recently have resulted under the Obama administration, in the endorsement by the US Congress of targeted assassinations of both foreigners and US citizens.  These procedures de facto also encompass the targeted assassination of foreign heads of state.
With regard to President Chavez, it is important to emphasize that there are  clearly defined procedures pertaining to the "lawful" assassination of foreign heads of State by the US government, allegedly on national security grounds.
There are secret lists of names as confirmed by US government sources.
The orders carried out by the CIA to kill a foreign leader emanate from the US president.
-
THE DEATH OF HUGO CHAVEZ: WAS IT A POLITICAL ASSASSINATION?
Freedom on Information (FOIA) Demands on Possible Assassination Plans
.
Within hours of the announcement of the death of President Hugo Chávez, civil rights groups in the United States filed Freedom of Information Act (FOIA) demands with federal agencies seeking information and documents that "relate to or reference or discuss any information regarding or plans to poison or otherwise assassinate the President of Venezuela, Hugo Chávez."
The records demands have been made to the Central Intelligence Agency, the Department of State, and the Defense Intelligence Agency and have been filed by the civil rights legal organization, the Partnership for Civil Justice Fund, the anti-war group, ANSWER Coalition and Liberation Newspaper.
The Venezuelan government is also calling for an investigation into the circumstances of President Chávez's illness, specifically whether he was poisoned or deliberately exposed to cancer causing elements, according to NBC News and other media outlets.
The opening of the Freedom of Information Act reads as follows:
We are writing to request the following information on behalf of the Partnership for Civil Justice Fund, the ANSWER Coalition (Act Now to Stop War and End Racism), and Liberation Newspaper, pursuant to the Freedom of Information Act, 5 U.S.C. § 552:
All records and documents, including but not limited to, emails, letters, cables or other communications, memoranda, notes, minutes, photographs, audio recordings, video recordings, digital recordings, intelligence assessments, communications, records or other data that relate to or reference or discuss any information regarding or plans to poison or otherwise assassinate the President of Venezuela, Hugo Chávez, who has just died.
This request in made in light of the U.S. government's acknowledged history of knowledge and possession of information regarding, and/or participation in, attempts to assassinate foreign leaders. The acknowledged attempts by the U.S. Government to assassinate foreign leaders, include Fidel Castro, Rafael Trujillo, and General René Schneider Chereau (See, e.g.., January 3, 1975 Memorandum of Conversation between President Gerald Ford and CIA Director William E. Colby), among others [secured by the National Security Archives pursuant to the FOIA].
This request is also made in light of the exhumation of Palestinian leader Yassar Arafat's body to determine whether his death was caused by poisoning, including media reports that "[t]he Institute de Radiophysique discovered abnormal levels of polonium-210" in his personal effects, Chris McFreal, The Guardian, November 27, 2012, Yasser Arafat Exhumed and Reburied in Six-Hour Night Mission: Samples Taken From Corpse of Late PLO Leader Will Be Used to Investigate Claims He Was Poisoned With a Radioactive Substance; Arafat's Body is Exhumed for Poison Tests, New York Times, November 28, 2012.
As described further below, the public has an urgent and compelling need for information underlying any effort to assassinate the President of Venezuela, including any knowledge the U.S. government has or had regarding such efforts and in particular any role the U.S. government had in such efforts. According to multiple media sources, the Venezuelan government is also calling for an investigation into the circumstances of President Chávez's illness, specifically whether he was poisoned or deliberately exposed to cancer causing elements. See, e.g. "Venezuela VP: Chávez's cancer was an 'attack' by his enemies," NBC News, March 5, 2013.
-
CIA AND FBI HAD PLANNED TO ASSASSINATE HUGO CHAVEZ
By Kurt Nimmo | Global Research
.
This empire, unlike any other in the history of the world, has been built primarily through economic manipulation.  "How do we know that the CIA was behind the coup that overthrew Hugo Chávez?" asked historian William Blum in 2002.
"Same way we know that the sun will rise tomorrow morning. That's what it's always done and there's no reason to think that tomorrow morning will be any different."
Now we have a bit more evidence the CIA and the FBI connived with reactionary elements to not only briefly overthrow Chávez, abolish the constitution and the National Assembly, but later assassinate the Venezuelan State Prosecutor, Danilo Anderson. He was killed by a car bomb in Caracas on November 18, 2004, while investigating those who were behind the coup. Giovani Jose Vasquez De Armas, a member of Colombia's right wing paramilitary group called the United Self-Defense Forces of Colombia, claims he was in charge of logistics for the plot to kill Danilo Anderson. Vasquez De Armas told the Attorney General's office that those planning the killing, "all discussed the plan with the help of the FBI and CIA."
And the sun will rise tomorrow.
"According to the Attorney General, Vasquez De Armas said that during a meeting in Darien, Panama, on September 4 and 6, 2003, an FBI Officer called 'Pesquera' and a CIA agent called 'Morrinson,' attended a meeting along with two of the plot's alleged organizers, Patricia Poleo and Salvador Romani, as well as two of those who actually did the killing, Rolando and Otoniel Guevera," writes Alessandro Parma. "An official from the Attorney General's office, speaking on behalf of Vasquez De Armas, said that in Panama the FBI and the plotting Venezuelans agreed, 'to take out Chavez and the Government.' He said, 'the meeting's final objective was to kill President Chavez and the Attorney General.'"
None of this is new or particularly revelatory.  Steve Kangas writes:
"CIA operations follow the same recurring script. First, American business interests abroad are threatened by a popular or democratically elected leader. The people support their leader because he intends to conduct land reform, strengthen unions, redistribute wealth, nationalize foreign-owned industry, and regulate business to protect workers, consumers and the environment. So, on behalf of American business, and often with their help, the CIA mobilizes the opposition. First it identifies right-wing groups within the country (usually the military), and offers them a deal: "We'll put you in power if you maintain a favorable business climate for us." The Agency then hires, trains and works with them to overthrow the existing government (usually a democracy). It uses every trick in the book: propaganda, stuffed ballot boxes, purchased elections, extortion, blackmail, sexual intrigue, false stories about opponents in the local media, infiltration and disruption of opposing political parties, kidnapping, beating, torture, intimidation, economic sabotage, death squads and even assassination. These efforts culminate in a military coup, which installs a right-wing dictator. The CIA trains the dictator's security apparatus to crack down on the traditional enemies of big business, using interrogation, torture and murder. The victims are said to be "communists," but almost always they are just peasants, liberals, moderates, labor union leaders, political opponents and advocates of free speech and democracy. Widespread human rights abuses follow."
Examples include the coup to overthrow the democratically elected leader Mohammed Mossadegh in Iran, the ouster of democratically elected Jacob Arbenz in Guatemala, one coup per year (between 1957-1973) in Laos, the installation of the murderous "Papa Doc" Duvalier in Haiti, the assassination of Rafael Trujillo in the Dominican Republic, the overthrow of Jose Velasco in Ecuador, the assassination of the democratically elected Patrice Lumumba in the Congo (later Zaire), the overthrow of the democratically elected Juan Bosch in the Dominican Republic, the overthrow of the democratically elected government of Joao Goulart in Brazil, the overthrow of the democratically elected Sukarno government in Indonesia, a military coup in Greece designed to install the "reign of the colonels" (when the Greek ambassador complained about CIA plans for Cypress, Johnson told him: "F— your parliament and your constitution"), the overthrow of the popular Prince Sahounek in Cambodia, the overthrow of Juan Torres in Bolivia, the overthrow and assassination of Salvador Allende in Chile, the assassination of archbishop Oscar Romero in El Salvador, and dozens of other incidents rarely if ever taught in American school history lessons.
As John Perkins (author of Confessions of an Economic Hit Man), as a former respected member of the international banking community and National Security Agency economist, told Amy Goodman: "Basically what we were trained to do and what our job is to do is to build up the American empire. To bring—to create situations where as many resources as possible flow into this country, to our corporations, and our government…. This empire, unlike any other in the history of the world, has been built primarily through economic manipulation, through cheating, through fraud, through seducing people into our way of life, through the economic hit men." Perkins' job was "deal-making":
It was giving loans to other countries, huge loans, much bigger than they could possibly repay. One of the conditions of the loan—let's say a $1 billion to a country like Indonesia or Ecuador—and this country would then have to give ninety percent of that loan back to a U.S. company, or U.S. companies, to build the infrastructure—a Halliburton or a Bechtel. These were big ones. Those companies would then go in and build an electrical system or ports or highways, and these would basically serve just a few of the very wealthiest families in those countries. The poor people in those countries would be stuck ultimately with this amazing debt that they couldn't possibly repay. A country today like Ecuador owes over fifty percent of its national budget just to pay down its debt. And it really can't do it. So, we literally have them over a barrel. So, when we want more oil, we go to Ecuador and say, "Look, you're not able to repay your debts, therefore give our oil companies your Amazon rain forest, which are filled with oil." And today we're going in and destroying Amazonian rain forests, forcing Ecuador to give them to us because they've accumulated all this debt. So we make this big loan, most of it comes back to the United States, the country is left with the debt plus lots of interest, and they basically become our servants, our slaves. It's an empire. There's no two ways about it. It's a huge empire. It's been extremely successful.
Most of the money for these loans, according to Perkins, is provided by the World Bank and the International Monetary Fund, the two premier neolib loan sharking operations (it is important to note that the Straussian neocon, Paul Wolfowitz, is now president of the World Bank, thus demonstrating how closely related the neocons and traditional neolibs are).
If the loan sharks are unable to steal natural resources (oil, minerals, rainforests, water) as a condition of repaying this immense debt, "the next step is what we call the jackals."
Jackals are CIA-sanctioned people that come in and try to foment a coup or revolution. If that doesn't work, they perform assassinations—or try to. In the case of Iraq, they weren't able to get through to Saddam Hussein… His bodyguards were too good. He had doubles. They couldn't get through to him. So the third line of defense, if the economic hit men and the jackals fail, the next line of defense is our young men and women, who are sent in to die and kill, which is what we've obviously done in Iraq.
Hugo Chávez is now between the assassination point of this neolib plan and invasion, when "our young men and women" will be "sent in to die and kill" Venezuelan peasants the same way they are now killing poor Iraqis. Of course, it remains to be seen if Bush can actually invade Venezuela—the neocon roster is teeming with targets, from Syria to Iran—and so we can expect the Bushcons and their jackals to continue efforts to assassinate Chávez, as Giovani Jose Vasquez De Armas reveals the CIA and the FBI are attempting to do, with little success. One notable failure by the jackals is Fidel Castro in Cuba, who experienced numerous assassination attempts and CIA counterinsurgency specialist Edward Lansdale's Operation Mongoose (consisting of sabotage and political warfare), also known as the ''Cuba Project.''
As Blum notes, we know all of this is happening, same as we know the sun will come up tomorrow.
-
"CHAVEZ DEATH COULD BE A U.S. PLOT"
By Ria Novosti | Global Research
.
The death of Venezuelan leader Hugo Chavez from cancer may have been part of a plot by the United States to infect its enemies in Latin America with the disease, the leader of Russia's Communist party, Gennady Zyuganov, speculated on Wednesday.
"How did it happen that six leaders of Latin American countries which had criticized US policies and tried to create an influential alliance in order to be independent and sovereign states, fell ill simultaneously with the same disease?" Zyuganov said in comments carried by Russian state television.
"In my view, this was far from a coincidence," said Zyuganov, the head of Russia's second-largest political party. He urged an investigation under "international control" into Chavez's death.
Zyuganov's claim echoed accusations by Venezuelan Vice President Nicolas Maduro, who alleged last week that Chavez had fallen victim to an "imperialist" plot.
"The old enemies of our fatherland looked for a way to harm his health," Maduro said,
Chavez, who died on Tuesday at the age of 58 after an almost two-year battle with cancer, had himself speculated that the United States may have developed methods to infect its enemies with the disease.
"Would it be so strange that they've invented the technology to spread cancer and we won't know about it for 50 years?" Chavez – who once famously called former US President George W. Bush "the devil" – said in late 2011, after he had been diagnosed with the disease.
He was speaking a day after Argentina's President Cristina Fernández de Kirchner was diagnosed with thyroid cancer.
"Fidel [Castro] always told me, 'Chávez take care. These people have developed technology. You are very careless. Take care what you eat, what they give you to eat … a little needle and they inject you with I don't know what,' he said in late 2011 after he had been diagnosed with cancer," Chavez added.
Castro was himself the target of numerous US assassination plots, according to declassified documents published by the CIA in 2007.
Among the other leftwing Latin America leaders diagnosed with cancer are Brazil's current president, Dilma Rousseff, Paraguay's Fernando Lugo, and the former Brazilian leader Luiz Inácio Lula da Silva.
-
U.S. PLOTS CONQUEST OF VENEZUELA IN WAKE OF CHAVEZ' DEATH
Tony Cartalucci
Infowars.com
March 6, 2013
US corporate-financier funded think-tank, the American Enterprise Institute (AEI), declared in its "post-Chávez checklist for US policymakers," that the US must move quickly to reorganize Venezuela according to US interests. Upon its checklist were "key demands":
The ouster of narco-kingpins who now hold senior posts in government
The respect for a constitutional succession
The adoption of meaningful electoral reforms to ensure a fair campaign environment and a transparent vote count in expected presidential elections; and
The dismantling of Iranian and Hezbollah networks in Venezuela
In reality, AEI is talking about dismantling entirely the obstacles that have prevented the US and the corporate-financier interests that direct it, from installing a client regime and extracting entirely Venezuela's wealth while obstructing, even dismantling the progress and geopolitical influence achieved by the late President Hugo Chavez throughout South America and beyond.
The AEI "checklist" continues by stating:
Now is the time for US diplomats to begin a quiet dialogue with key regional powers to explain the high cost of Chávez's criminal regime, including the impact of chavista complicity with narcotraffickers who sow mayhem in Colombia, Central America, and Mexico. Perhaps then we can convince regional leaders to show solidarity with Venezuelan democrats who want to restore a commitment to the rule of law and to rebuild an economy that can be an engine for growth in South America.
Of course, by "Venezuelan democrats," AEI means Wall Street-backed  proxies like Henrique Capriles Radonski and his Primero Justicia (Justice First) political front, two entities the Western media is already gearing up to support ahead of anticipated elections.

West Has Positioned Proxies to Strip Venezuela to the Bones After Chavez' Passing
Primero Justicia (Justice First) was co-founded by Leopoldo Lopez and Julio Borges, who like Radonski, have been backed for nearly a decade by the US State Department. Primero Justicia and the network of foreign-funded NGOs that support it have been recipients of both direct and indirect foreign support for at least just as long.
Image: US State Department document (archived) illustrating the role National Endowment for Democracy (NED)-funded NGOs play in supporting US-backed opposition figures in Venezuela. The US regularly fails to transparently list who is included in extensive funding NED provides opposition groups in Venezeula, so documents like this give a rare glimpse into the names and dynamics actually involved. As was suspected, NED money is going into networks providing support for current presidential candidate, Henrique Capriles Radonski. In this particular document, NED-funded Sumate's legal trouble is described in relation to its attempted defense of Radonski. At the time this document was written, Radonski was in jail pending trial for his role in facilitating the 2002 US-backed failed coup against President Hugo Chavez. The document may still be online at the US State Department's official website here.
….
All three co-founders are US educated – Radonski having attended New York's Columbia University (Spanish), Julio Borges attending Boston College and Oxford (Spanish), and Leopoldo Lopez who attended the Harvard Kennedy School of Government (KSG), of which he is considered an alumni of (and here).
The Harvard Kennedy School, which hosts the notorious Belfer Center, includes the following faculty and alumniof  Lopez, co-founder of the current US-backed opposition in Venezuela:
John P. Holdren, Samantha Power, Lawrence Summers, Robert Zoellick, (all as faculty), as well as Ban Ki-Moon ('84), Paul Volcker ('51), Robert Kagan ('91), Bill O'Reilly ('96), Klaus Schwab ('67), and literally hundreds of senators, ambassadors, and administrators of Wall Street and London's current global spanning international order. Harvard's Kennedy School of Government (KSG) is clearly one of several universities that form the foundation of both creating corporate-financier driven globalist-international policy, as well as cultivating legions of administrators to execute it.
To understand fully the implications of Lopez' education it helps to understand the leadership and principles guiding Harvard's mission statements, best exemplified by KSG' Belfer Center, which to this day, lends its public support to Lopez and his Primero Justicia opposition party.
Image: John P. Holdren (bearded, left), an advocate for population reduction through forced sterilization overseen by a "planetary regime," is just one of many "colorful" characters to be found within the halls of Harvard's Kennedy School of Government from which Primero Justicia co-founder Leopoldo Lopez of Venezuela graduated. To this day, KSG provides forums in support of US-backed opposition bids at seizing power in Venezuela.
….
Named after Robert Belfer of the Belco Petroleum Corporation and later, director of the failed Enron Corporation, the Belfer Center describes itself as being "the hub of the Harvard Kennedy School's research, teaching, and training in international security affairs, environmental and resource issues, and science and technology policy." Robert Belfer still sits in as an International Council Member.
Belfer's director, Graham Allison provides an example of self-serving corporatism steering US policy. He was a founder of the Trilateral Commission, a director of the Council on Foreign Relations (CFR), a consultant to the RAND Corporation, Director of the Getty Oil Company, Natixis, Loomis Sayles, Hansberger, Taubman Centers, Inc., and Belco Oil and Gas, as well as a member of the advisory boards of Chase Bank, Chemical Bank, Hydro-Quebec, and the shady International Energy Corporation, all according to his official Belfer Center bio.
Other questionable personalities involved as Belfer alumnus are Goldman Sachs, CFR member, and former-World Bank president Robert Zoellick. Sitting on the board of directors is CFR member and former Goldman Sachs consultant, Ashton Carter. There is also former director of Citigroup and Raytheon, former Director of Central Intelligence and CFR member John Deutch, who required a pardon by Clinton to avoid prosecution over a breach of security while fumbling his duties at the CIA. Meanwhile, Nathaniel Rothschild of Atticus Capital and RIT Capital Partners, Paul Volcker of the Federal Reserve, and former DHS Secretary Michael Chertoff all serve as Belfer Center's "advisers."
Last but not least, there is John P. Holdren, also a Council on Foreign Relations member, science adviser to both President Clinton and President Obama, and co-author with Paul Ehrilich, of the now notorious "Ecoscience." When Holdren isn't brand-building for "Climate Disruption," he is dreaming of a Malthusian fueled totalitarian global government that forcibly sterilizes the world's population. He feared, erroneously, that overpopulation would be the end of humanity. He claimed in his hubris filled, fact deficient book, "The No Growth Society," that by the year 2040, the United States would have a dangerously unsustainable population of 280 million he called "much too many." The current US population is over 300 million, and despite reckless leadership and policies, it is still sustainable.
One could argue that Lopez' education is in his past, independent of his current political activities, however, the interests driving the agenda of the Belfer Center are demonstrably still backing his Primero Justicia party's bid for seizing power in Venezuela. Lopez, Radonski, and Borges are to this day still receiving substantial funding and support through NGO networks funded directly by the US State Department's National Endowment for Democracy, and is clearly favored by the Western press. Furthermore, the CFR, Heritage Foundation, and other corporate-financier driven think-tanks have all come out in support of Radonski and Primero Justicia, in their bid to "restore democracy" American-style in Venezuela.
With Chavez' passing, the names of these opposition figures will become mainstays of Western reporting ahead of anticipated elections the West is eager to have held – elections the West is well positioned to manipulate in favor of Lopez, Radonski, and Borges.
Whatever one may have thought about Venezuelan President Hugo Chavez and his policies, he nationalized his nation's oil, forcing out foreign multinational corporations, diversified his exports to reduce dependency on Western markets (with US exports at a 9 year low), and had openly opposed corporate-financier neo-imperialism across the globe. He was an obstruction to Western hegemony – an obstruction that has provoked overt, depraved jubilation from his opponents upon his death.
And while many critics are quick to claim President Chavez' policies are a "failure," it would be helpful to remember that the US, on record, has arrayed its vast resources both overtly and covertly against the Venezuelan people over the years to ensure that any system outside the West's sphere of influence inevitably fails.
Dark Days Ahead.
Dark days indeed lay ahead for Venezuela, with the AEI "checklist" foreshadowing an "uprising," stating:
As Venezuelan democrats wage that struggle against chavismo, regional leaders must make clear that Syria-style repression will never be tolerated in the Americas. We should defend the right of Venezuelans to struggle democratically to reclaim control of their country and its future. Only Washington can make clear to Chinese, Russian, Iranian, and Cuban leaders that, yes, the United States does mind if they try to sustain an undemocratic and hostile regime in Venezuela. Any attempt to suppress their self-determination with Chinese cash, Russian arms, Iranian terrorists, or Cuban thuggery will be met with a coordinated regional response.
US military contractors and special forces had been caught operating in and around Venezuela. Just as there were warning signs in Syria years before the 2011 conflict began, the US' intentions of provoking bloodshed and regime change in Venezuela stretch back as far as 2002. Just as Syria is now facing a Western-engineered proxy war, Venezuela will too, with the AEI already declaring US plans to wage a Syria-style proxy war in South America.
The AEI also reminds readers of the West's faux-human rights, "economic development," and "democracy promotion" racket Hugo Chavez had ejected from Venezuela and displaced across parts of South America, and the West's desire to reestablish it:
US development agencies should work with friends in the region to form a task force of private sector representatives, economists, and engineers to work with Venezuelans to identify the economic reforms, infrastructure investments, security assistance, and humanitarian aid that will be required to stabilize and rebuild that country. Of course, the expectation will be that all the costs of these activities will be borne by an oil sector restored to productivity and profitability.

Finally, we need to work with like-minded nations to reinvigorate regional organizations committed to democracy, human rights, anti-drug cooperation, and hemispheric solidarity, which have been neutered by Chávez's destructive agenda.
As the US openly funds, arms, and backs Al Qaeda in Syria, conducts global renditions, operates an international archipelago of torture dungeons, and is only now wrapping up a decade of subjugation and mass murder in Iraq and Afghanistan that is still claiming lives and jeopardizing the future of millions to this day, it is difficult to discern just who the AEI's target audience is. It is most likely those who can read between the lines – the corporate-financier vultures waiting for the right moment to strip Venezuela to the bone.
The fate of Venezuela lies in its people's hands. Covert destabilization must be faced by the Venezuelan people, while the alternative media must do its best to unravel the lies already being spun ahead of long-planned operations in "post-Chavez Venezuela." For the rest of us, we must  identify the corporate-financier interestsdriving this agenda, – interests we most likely patronize on a daily basis, and both boycott and permanently replace them to erode the unwarranted influence they have used, and will continue to use against the Venezuelan people, as well as people across the globe.
-
U.S. BACKED OVERTHROW OF DEMOCRACY: WHAT DOES IT MEAN – "CHAVEZ VIVE, LA LUCHA SIGUE!"
By J. B. Gerald | Global Research
March 10, 2013
In Canada where early March brings no good news, Prime Minister Harper has used the Venezuelan leader's death for ideological propaganda favouring his own brand of economics. At Venezuela's first shock into mourning the Prime Minister responded – "At this key juncture, I hope the people of Venezuela can now build for themselves a better, brighter future based on the principles of freedom, democracy, the rule of law and respect for human rights."
The Ottawa Citizen headlined an article by Terry Glavin, "Hugo Chavez: Venezuela's incompetent fake socialist." The Canadian Broadcasting Company's initial reporting took pains to present the opposition's challenges to the succession of interim President Nicolás Maduro, and Human Rights Watch objections to the Chávez human rights record.
As the West's media opened a one-note program sustaining the importance of corporate profit and inefficiency of any socialism which includes people, faces of newscasters morph into the perfection of Venezuela's elite with perfect teeth and coiffes, the select malls of designer dresses, falsely clean banks, the privilege of not understanding, the outrage at challenges to previous advantage.
It's impossible to respect the casual contempt of the Canadian Prime Minister's response to the death of a world leader who both took care of the poor and by embracing his own multi-racial ancestry challenged the psychological trap of colonialism's caste system and its stigmatization of  'mixed' blood.
The effects of Hugo Chávez the teacher are in motion beyond Venezuela. It is  Chávez before the U.N. General Assembly who compares George W. Bush to the Devil whose sulphurous fumes still linger in the room. Who forges a military tie with the radical left and unions, which eventually bring him to power. Who raises millions of Venezuelans out of poverty and supplies heating oil to the poor of  New England and the South Bronx.
Who brings Simon Bolívar back to the Americas. Who earns the love of the world's poor by championing them at home. Who is at ease with himself. Who likes the colour red. Who acts out liberation theology before a retrograde  Church. Who understands the need for South American and African leaders to ally. Who sings to his people. Who builds a socialist government of aware workers understanding from the start their enemy. Chávez, who conveys to people everywhere, it's all right just to be people.
By March 8th two million Venezuelans filed by their President's casket, some saluting, others with genuflection, some in physical silence, some in tears. Among others, Iran's Mahmoud Ahmadinejad kissed the coffin.
Among mourners who went to pay their respects in Venezuela were the head of State of Brazil and its former president, of Cuba, Argentina,  Chile, Colombia, Ecuador, Haiti, Peru, Bolivia, Belarus, Equatorial Guinea, Uruguay, Costa Rica, Suriname, Aruba, Curacao, Mexico, Guatemala, Salvador, Nicaragua, Panama, the Foreign Minister of Russia, Spain's Prince Felipe de Borbon, but officially to represent Canada – a Parliamentary  secretary to the Minister of Foreign Affairs, Bob Dechert.
India sent its Minister of corporate Affairs. The U.S. sent a Congressman and former Congressman. China sent the chief of its National Development and Reform Commission. Of African countries which generally praised and mourned Chávez, despite the global media accounts stating the attendance of African heads of State, none seem to have appeared at the funeral, suggesting a fear of NATO's ugly stick.  Unofficially, Jean Chretien of Canada was there. The American, Jesse Jackson, shared a prayer. After the funeral Nicolás Maduro was installed as interim President, until the elections, currently called for April 14th.
The opposition candidate, Henrique Capriles Radonski, refused to attend the interim swearing-in ceremony, calling it a fraud and furthering the tactic of questioning the succession's legitimacy. Capriles is widely quoted as saying "Nicolás, no one elected you president. The people didn't vote for you, boy." Yet Chávez chose as his successor, his Vice President Nicolás Maduro. The Venezuelan Constitution's order of Presidential succession notes the Speaker of the National Assembly as successor, but when a President can't be sworn in. Maduro could be and was, with approval of the Speaker of the Assembly who administered the oath of office, as well as of Venezuela's Supreme Court.
While the opposition, representing the elites, continues to object to the swearing-in of Maduro as interim President, claiming a Constitutional violation, as extensively covered in the media, one is reminded of the 2009 Honduran coup d'état. The Honduran elite (with heavy U.S. support and investment for its military electronics command in Honduras) removed democratically elected President Zelaya on the pretext that the President betrayed his Constitution.
The pattern of a U.S. backed military kidnapping and removal was previously established with the removal of Haiti's democratically elected President Aristide. Essentially the same pattern of removal was attempted in the 2004 coup against Chávez which failed. Venezuelans, have worked through questions about Presidential succession quite thoroughly: awaiting Chávez's return to the Presidential Palace after the coup, the Speaker of the National Assembly assumed unofficial authority until the Vice-President was sworn in as temporary President. So the most likely reason for the opposition candidate to confuse the order of succession, is to appeal outside the Venezuelan process, to gain a victory he has no chance of winning by popular vote.
The overthrows of democracy which Americans take casually sadden everyone but corporate financiers. As a people the U.S. still hasn't recovered from the assassinations of the Kennedys. It is possibly, a practice to murder the people's leaders: Arbenz, Lumumba, the Kennedys, King, Malcolm X, René Schneider, Allende, etc.. There was no reciprocation. The leaders who betrayed their people into illegal wars survived untouched. As International Monetary Fund austerity programs disenfranchise the people of democracies, national leaders feed their populations into economic gas chambers of a false necessity. In healthy societies oppressive leaders would be removed by their people's consensus, so the health of our societies is removed.
Interim President of Venezuela Nicolás Maduro has assured a scientific enquiry into the causes of Chávez's death. In January Maduro reported an assassination attempt against himself and another Chávez ally. In 2009 Frederic Laurent Bouquet , admitted he was a French secret service agent, trained in Israel, and engaged in an attempt to assassinate Chávez. Arrested in Venezuela with three citizens of the Dominican Republic, plastique  explosives, and a small arsenal of guns, Bouquet was sentenced to 4 years in prison and in 2012 deported back to France.
There are reasonable allegations that in 2004 Venezuela's State Prosecutor was killed by a right wing Colombian death squad with F.B.I. and C.I.A. assistance. CIA past involvement in the deaths and attempted assassinations of leaders serving the people of their nations is a matter of historical record. With 21rst Century electromagnetic, laser, radar and microwave weapons, biological and chemical technology, historically familiar methods of assassination seem intended for psychological effect or distraction. Current U.S. policy openly subverts the laws of war claiming the legality of assassinating foreign leaders, suspected terrorists, as well as Americans. The assassination of Yassar Arafat, ordered by the Israeli Cabinet was approved by the U.S. government.  When exhumed the Palestinian leader's body revealed abnormally large amounts of radioactive material.
Chávez loved Venezuela's poor. He loved the people of America and Canada, where the increasing numbers of poor find their lives are of no value to political leaders. Chávez provides hope for broken societies to heal. That's part of what it means when you hear Chavez vive, la lucha sigue!
-
MAKING VENEZUELA SAFE FOR THE BANKSTERS
Kurt Nimmo
Infowars.com
March 6, 2013
Now that Hugo Chávez is out of the way in Venezuela, the banksters are free to move forward with the effort to loot and pillage the oil-rich nation. Chávez's idealistic political ideology of Bolivarianism and "socialism of the 21st century" stalled the effort for a number of years, but his death from the ravages of cancer will permit a more compliant leader to be appointed Wall Street overlords.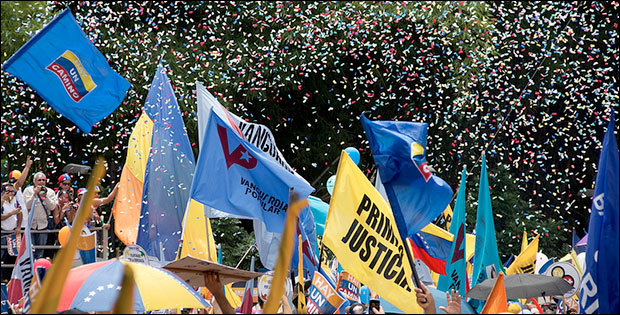 The successor of Hugo Chávez, Henrique Capriles Radonski, and his Justice First political party are creatures of globalist NGOs and the U.S. State Department. Photo: JoséMa Orsini.
It now appears likely post-Chávez Venezuela will be led by the political "centrist" Henrique Capriles Radonski. He will face Chávez's hand-picked successor, Nicolas Maduro. The former bus driver Maduro is currently serving as the interim president. In the presidential race last year, Capriles won 44 percent of the vote. National poll numbers show 50 percent of Venezuelans favor Maduro while 36 percent are for Capriles this time around.
As I noted in 2005, there is no shortage of evidence highlighting efforts on the part of the CIA to get the dreaded Chávez out of the way and finally usher in the rule of the globalist Borg hive and move the nation back into the fold of the World Bank and the IMF. Doing so will allow the creative destruction of structural adjustments to flourish as they have elsewhere in South America and with devastating result. For more on how this process works, see John Perkins and his Confessions of an Economic Hit Man. Additionally, check out the IMF's successful effort to turn Argentina into an economic basket case.
Capriles Radonski, with his background in commerce and tax law, is well-suited to run Venezuela in the fashion banksters deem appropriate for their standard loot-and-pillage mode of operation. He is the former mayor of the Baruta Municipality and a member in good standing with Justice First (Primero Justicia).
Justice First is your typical USAID cut-out. The National Endowment for Democracy (NED) – the globalist organization that picked up where the CIA left off – and USAID established the Office of Transition Initiatives (OTI) in Caracas and from there worked feverishly to undermine Chávez and his dated and dreaded revolutionary socialism not controlled by the globalists. OTI fostered and bankrolled more than 360 "scholarships" that were granted to social organizations, political parties, communities and political projects in Venezuela through Development Alternatives Inc., a company contracted by USAID, which opened an office in the El Rosal sector of Caracas in June 2002, according to Venezuelanalysis.com, a website that provides news about developments in Venezuela.
Justice First figured prominently in this scheme. More damning, it appears Capriles Radonski is nothing if not a creation of the U.S. State Department. "The opposition party which includes the defeated presidential contender, Henrique Capriles Radonski, called Primero Justicia (Justice First) was co-founded by Leopoldo Lopez and Julio Borges, who like Radonski, have been backed for nearly a decade by the US State Department. Primero Justicia and the network of foreign-funded NGOs that support it have been recipients of both direct and indirect foreign support for at least just as long," Tony Cartalucci reported last October.
"NED money is going into networks providing support for current presidential candidate, Henrique Capriles Radonski," Cartalucci noted, citing an unclassified State Department document. "At the time this document was written, Radonski was in jail pending trial for his role in facilitating the 2002 US-backed failed coup against President Hugo Chavez."
Naturally, all of this is overlooked by the establishment media. Instead, we are shown an entirely likeable Capriles Radonski who is said to be a devout Catholic and lover of basketball.
In the lead up to the next election, we can expect more such fluffy coverage of the man slotted to move Venezuela back into the orbit of Wall Street and the banksters.